BIG EAST Women's Basketball
7 Things You Missed In BIG EAST Women's Basketball This Week
7 Things You Missed In BIG EAST Women's Basketball This Week
UConn women's basketball suffers the third loss of the season and DePaul's offense is red-hot. Here are the BIG EAST notes from the last week.
Dec 24, 2021
by Briar Napier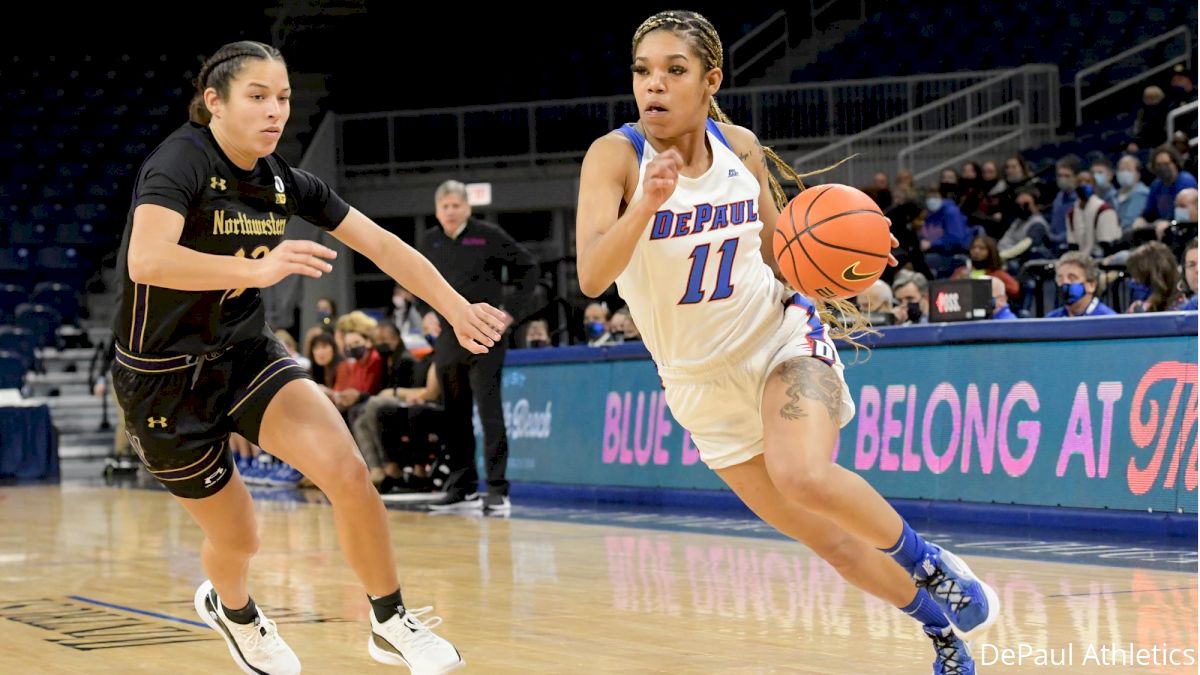 Why and how is this BIG EAST women's basketball season shaping to be unlike any other?
Well, there are a lot of reasons behind that. For one, UConn hit a couple of rocky patches, and on another end, DePaul might have the best offense in the country. But that's not all.
So much happened around the league this week, setting up what should be a hectic new year and meat of the conference BIG EAST schedule as the non-conference play comes to a close.
UConn's Historic Streak Ends
What were you up to on March 7, 2005? For UConn women's basketball, it was the last time the program had been ranked outside of the top 10 of the Associated Press Top 25 poll.
Until this week.
A streak spanning 313 polls of the Huskies in the top 10 ended after they lost 69-64 to Louisville last Sunday, making it UConn's third loss of the season after a defeat in the Bahamas to No. 1 South Carolina and a shocking 57- 44 upset by now-No. 17 Georgia Tech. To put it in perspective, the Huskies haven't had more than three losses in an entire season since 2012-13, and now Geno Auriemma's squad has three in nine games in 2021-22.
Yes, superstar Paige Bueckers being out six to eight weeks with a knee injury has a role to play in that, as do the absences of No. 1 2021 recruit Azzi Fudd and role player Nika Muhl (both with foot injuries). But things still feel a bit off in Storrs, and whether or not the rest of the BIG EAST can take advantage — a two-game stretch next week against Marquette and DePaul should be telling — is up for the rest of the league's teams to decide.
The last time UConn wasn't ranked in the women's top 10 was March 7th, 2005.

That's 313 WEEKS STRAIGHT. pic.twitter.com/QbIjPHdQQh

— FOX College Hoops (@CBBonFOX) December 21, 2021
DePaul Has The Horses To Tussle With Anyone
Speaking of DePaul, you better up the conditioning drills in your practice plans if the Blue Demons are upcoming on your schedule because every game they play is a track meet.
Coach Doug Bruno's team is the No. 1 scoring squad in the country as of Thursday morning with an average of 91.7 points per game, with all five starters (Aneesah Morrow, Lexi Held, Sonya Morris, Deja Church, and Darrione Rogers) averaging double-digit points per game. But Morrow in particular, from esteemed basketball power Simeon in Chicago, has been truly special as one of the country's best freshmen: 18.7 points, 12.0 rebounds, 2.9 steals, and 2.1 blocks per game.
DePaul has hit the 100-point mark six different times this season, including in all three of its Big East games thus far in wins against Butler, Xavier, and St. John's. ESPN's Charlie Creme currently has the Blue Demons as a No. 6 seed in his projected NCAA Tournament field, a ranking that could easily rise if DePaul takes care of business against the teams it should in league play.
Not so fast now 🤫

It's an 11-2 run to open the fourth!#DePaulBall | @lexi_held x @atmballer_24 pic.twitter.com/Hj5CXp4PcI

— DePaul Women's Basketball (@DePaulWBBHoops) December 23, 2021
Butler Celebrates First Win
It's been a bit of a struggle for Butler over the past two seasons, and entering this week the Bulldogs had three wins in their past 30 games — including an 0-10 start to the 2021-22 season.
There's a long way to go for Butler to be up with the upper echelon with the BIG EAST, but getting its first win of the season is a start.
The Bulldogs topped in-state rival Evansville 75-67 on Thursday night at Hinkle Fieldhouse in Indianapolis, paced by an awesome 26-point performance from Furman transfer forward Celena Taborn (11-for-13 shooting). It was a much-needed boost for coach Kurt Godlevske's program, which has four losses of 20 points or more on its resume with just two that it kept within single digits before beating the Purple Aces.
Highlights from today's win over Evansville#ButlerWay pic.twitter.com/Y0ZYP20j8K

— Butler Women's Basketball (@ButlerUWBB) December 22, 2021
Welcome Back, Maddy Siegrist
Filling the shoes for Maddy Siegrist is no small task. Villanova found this out the hard way when their All-BIG EAST forward was out for nearly a month dealing with broken bones in her hand.
Sure enough, since Siegrist returned Dec. 9 against James Madison, the Wildcats are 3-0 and have the league's joint-longest winning streak at the moment. The junior has scored 36, 28, and 24 points against James Madison, Oregon State, and La Salle (respectively), with her return performance against the Dukes in particular — 13-for-26 shooting and 17 rebounds — proving that she didn't lose a touch of talent as she was nursing her injury.
Villanova hasn't played a league game with Siegrist this year yet, leaving Seton Hall (on Dec. 31) and St. John's (on Jan. 2) as the first BIG EAST foes to get a look at her this season. Whether or not they can stop her remains to be seen.
Congrats to Maddy Siegrist on being named USBWA National Player of the Week! 👀 #GoNova

In two wins over JMU & Oregon State last week, Maddy averaged 32.0 points per game and 13.0 rebounds per contest 💪 pic.twitter.com/maiAYJ1rWg

— Villanova Athletics (@NovaAthletics) December 14, 2021
Georgetown Is Turning Heads
As mentioned previously, Villanova has the league's joint-highest winning streak at three games as of Thursday morning. And who would be tied with the Wildcats? None other than coach James Howard's Georgetown Hoyas.
Georgetown struggled the prior two seasons, going a combined 7-40 from 2019-21. But the Hoyas are 6-4, already with a BIG EAST win under its belt (against Providence on Dec. 5) and possessing an underrated defense that gives up just 58.8 points per game. Graduate guard Milan Bolden-Morris is having a great start to the year, averaging a career-high 13.2 points on 43.6% shooting from 3-point range.
Whether or not the good vibes keep coming will probably be more clear a month or so into the conference schedule as the Hoyas play UConn, Villanova, DePaul, and others in January. But after a downtrodden past two years, there's nowhere to go but up.
Another three for Bolden-Morris!! 😤 Hoyas lead by 6!#HOYASAXA #WeAreOne pic.twitter.com/ChOQpXVidb

— Georgetown WBB (@GeorgetownWBB) December 14, 2021
Is Creighton A legitimate BIG EAST Threat?
If you want to start a conversation about the country's most underrated teams, look no further than Creighton. An impressive nine-point win at Arkansas on Tuesday just drives the point home even more for the 8-3 Bluejays.
Coach Jim Flanery's team is three losses of five points or less away from being undefeated (with one of them coming against an unbeaten team on its own in Nebraska) and is a well-rounded group that plays efficient basketball; 74.8% of Creighton's shot attempts to come off an assist, which is the highest rate of any team in the country.
Forward Emma Ronsiek is having a solid sophomore year as the Bluejays' leading scorer (13.9 points per game on 53.4% shooting) but it's veteran guard Tatum Rembao who calls the shots as one of the country's best playmakers (8.5 points, 5.8 assists per game). The analytics favor Creighton, too: Her Hoop Stats projects the Bluejays to lose just four of their remaining 17 games (both games to UConn, away games against Marquette and DePaul).
𝙇𝙀𝙏'𝙎 𝙂𝙊 𝙅𝘼𝙔𝙎!@CreightonWBB goes in to Fayetteville and is bringing a huge dub back to Omaha. @tmrembao15 dishes out 11 assists to help five Bluejays finish in double-figures, led by 20 from Morgan Maly and 15 from Lauren Jensen 💪💪 pic.twitter.com/H5moUdBqgX

— BIG EAST WBB (@BIGEASTWBB) December 21, 2021
Who Is Leading The League Player Of The Year Race?
Had she not suffered a knee injury that is going to keep her out for a big chunk of the league schedule, Paige Bueckers would be the easy nominee. And at 21.2 points, 6.2 assists and 2.7 steals a night on 56.3% shooting, few would likely be up in arms if her return this season goes smoothly and she's back to producing at an elite level.
But Bueckers' absence makes things much more interesting. Huskies senior guard Christyn Williams, a pillar of two Final Four teams, can't be ignored (13.8 points per game) as she's attempted to shoulder the scoring load normally carried by Bueckers.
Seton Hall guard Lauren Park-Lane (17.7 points, 7.1 assists) and guard/forward Andra Espinoza-Hunter (17.4 points, 6.4 rebounds) certainly can't go without mention. But it's difficult to see the run DePaul is on and not give its coaching staff credit for keeping Morrow in Chicago. A bonafide freshman phenom, Morrow deserves plaudits for not just being the BIG EAST's best freshman right now — but maybe its best player, too.
Former Simeon star & 6-time Big East Freshman of the Week Aneesah Morrow is leading DePaul on the court & in the classroom with a 4.3 GPA

"We've had some very good freshmen here, but I don't think anyone has made this kind of national impact this quickly"https://t.co/dHzcIzzfNK

— WGN TV News (@WGNNews) December 22, 2021