2021 Seton Hall vs Villanova - Women's
BIG EAST Games Of The Week: Maddy Siegrist To Set The Pace For Villanova
BIG EAST Games Of The Week: Maddy Siegrist To Set The Pace For Villanova
A new year brings new uncertainties, but we bring you the top BIG EAST Women's basketball games to watch from Dec. 27 to Jan. 2.
Dec 27, 2021
by Briar Napier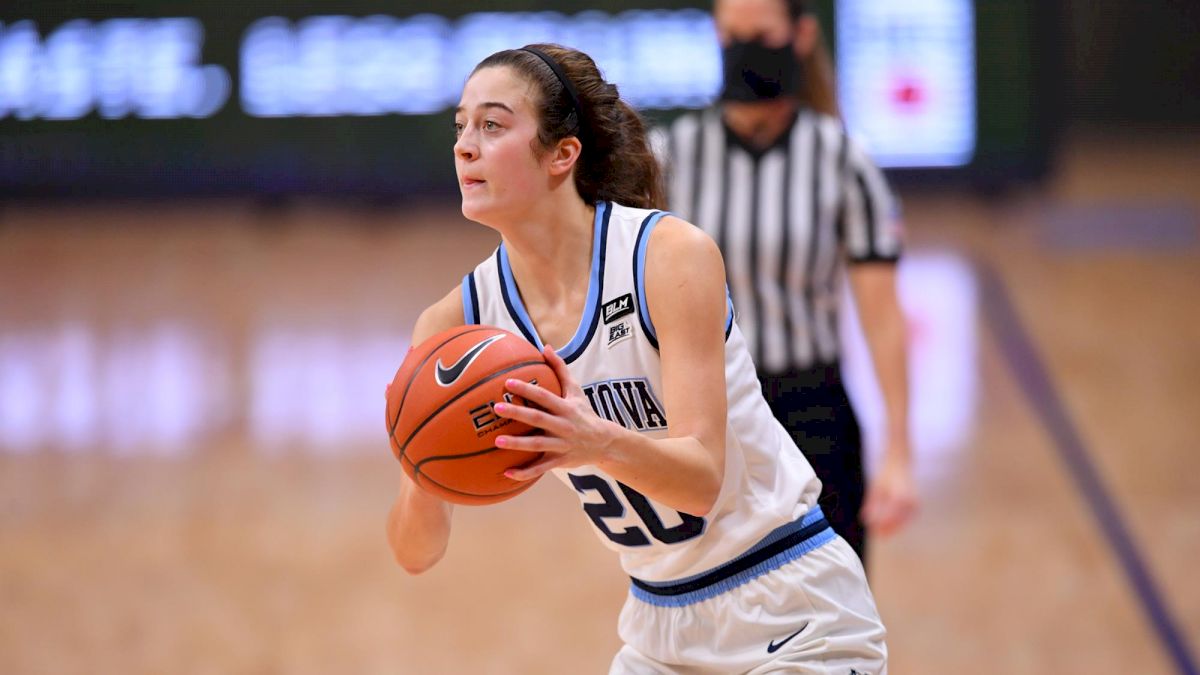 A new year brings new uncertainties, and a resurgence of COVID-19 cases in college athletics hasn't helped establish any stability.
College basketball is more prepared for situations like this than it has ever been, however, and for now, the season will chug along as normal. That's a good thing for BIG EAST women's college hoops fans.
The meat of the conference schedule really kicks in toward the start of the new year next week as non-conference play is done with and multiple dates a week with league foes are subbed in. Check out some of the league's games this week (streamed live on FloSports) that are the games to watch to close out the new year:
St. John's Vs. Georgetown
Georgetown deserves its moment in the sun. After going 7-40 over the past two seasons, the Hoyas are currently over .500 at 5-4 and have a strong defense (58.8 points per game) to back it up. Scoring is inconsistent — Georgetown has limited options outside of guards Milan Bolden-Morris and Kelsey Ransom — but the three-game winning streak it has as of Thursday afternoon, the Hoyas' first since the 2018-19 season, doesn't lie. Meanwhile, it's been a somewhat slow start to the season for the Red Storm, who despite having a stud guard in junior guard Leilani Correa (20.8 points, 5.3 rebounds per game) has been fairly quiet as they sit at 5-6. Forward Rayven Peeples still hasn't returned from a knee injury, making things that much more difficult for St. John's.
Its matchup with Georgetown, however, is a classic clash of styles. The Hoyas' defense has already garnered a mention, but the Red Storm are capable of putting up the points (76.2 per game) — just not as much at stopping them (74.9 points allowed). Role players are probably going to be an X-factor on both sides, of which St. John's likely has the upper hand with players like Danielle Patterson (10.2 points, 7.5 rebounds per game) and Unique Drake (9.5 points, 2.9 assists per game) that have come off of the bench in most of its games this season.
Seton Hall Vs. Villanova
Villanova is a completely different team when All-Big East forward Maddy Siegrist is firing on all cylinders, and you need to just see the Wildcats' last three games to understand why. Siegrist has missed a portion of this season due to broken bones in her hand, a stretch in which the Wildcats went 3-3 with losses in both of their opening Big East games (against Providence and Creighton), and a Big 5 defeat to Philadelphia city rival Temple. The 6-foot-1 junior forward returned for 'Nova's game against James Madison on Dec. 9 and didn't look like she had missed a beat, dropping 36 points in her return. Wins against Oregon State and La Salle have followed, as has a USBWA National Player of the Week honor for Siegrist regarding those outings against the Dukes and Beavers.
Seton Hall and Villanova's records may be identical at 6-5, but don't let the numbers fool you, the Pirates bring quality to the court, too. Most of that comes as part of a loaded backcourt in Lauren Park-Lane (17.7 points, 7.1 assists per game) and Andra Espinoza-Hunter (17.4 points, 6.4 rebounds), who make up one of the conference's most dynamic and effective one-two punches. Defense is a major concern for Seton Hall, however, as they average giving up over 70 points a night. That could leave an opportunity for Siegrist to feast one more time to close out 2021 or if the Pirates keep her at bay, other quality contributors like Lior Garzon (13.8 points per game) or Brianna Herlihy (11.2 points, 8.1 rebounds per game) to spring into action.
Creighton Vs. Xavier
Xavier may not like their odds against Creighton on paper but that might be a different story going into the new year. Fortunately for the Musketeers, basketball games aren't played on paper. Xavier sits at 5-6 and isn't really atrociously bad, per se, at any major team statistic. Putting it all together has just been the main equation the Musketeers have trouble solving. When Xavier has a nice offensive night, like when it scored 85 points against DePaul on Dec. 5, it also gives up 103. Nonetheless, guard, Nia Clark is as strong of a scoring guard as any in the BIG EAST (14.1 points, 3.4 assists per game) — however, turnovers have been an issue (3.7 giveaways a night). It's been a big help for a team that's missed the services of Virginia Tech transfer Shelby Calhoun (11.5 points per game), who has been out of the rotation since the second game. Creighton is about as efficient of an offense as you get anywhere, though, being the nation's leader in assisted shot rate (74.8%) as the Bluejays average an assist and-a-half per giveaway. Sophomore forward Emma Ronsiek (13.9 points per game) has been Creighton's main bucket-getter, but senior guard Tatum Rembao (5.8 assists per game) has been supplying a lot of them. The Bluejays should be well-favored, but the fact that this game will be at the Cintas Center in Cincinnati (where Xavier has only lost once this season) should give the Musketeers a little bit of extra comfort.