CAA Men's Basketball
CAA Games Of The Week: After Upsets, Teams Stay Busy
CAA Games Of The Week: After Upsets, Teams Stay Busy
The New Year starts hot in the CAA with a three-game week, each featuring a full slate of conference games.
Jan 2, 2022
by Kyle Kensing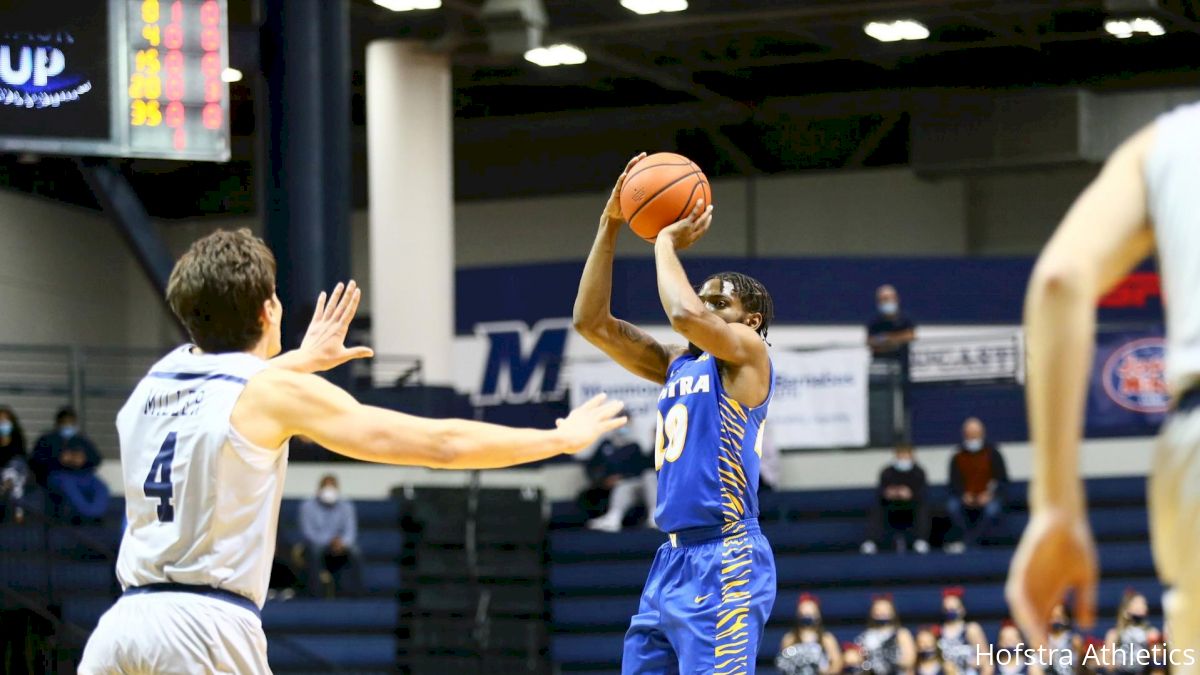 Hello, 2022, and welcome a stacked second week in the Colonial Athletic Association.
The New Year starts hot in the CAA with a three-game week, each featuring a full slate of conference games. Monday's action includes a CBS Sports Network doubleheader, while every matchup on Wednesday and Sunday is featured on FloHoops.
James Madison Vs. Delaware
Last year's regular-season champion will face the preseason favorite in a showdown between two of the CAA's most talented rosters.
James Madison's visit to Delaware may be dependent on the Dukes' ability to field a lineup—their CAA opener scheduled for New Year's Eve against Towson was rescheduled due to COVID protocols—but should this go as scheduled, expect fireworks.
Both won nine games in the non-conference slate with mirror-opposite styles. Delaware boasts a KenPom top 100 offense in adjusted efficiency, while James Madison is just outside the top 100 in adjusted defensive efficiency.
Charleston Vs. Northeastern

Northeastern looks to bounce back from a sluggish start to CAA play. The Huskies dug an early hole in their conference-opening loss at Elon and never recovered.
Returning home should be of benefit to Northeastern, but NU faces a considerable challenge from the most uptempo team in the country.
William & Mary Vs. Elon

Opening CAA conference play with a huge upset of Hofstra, scored on a late-game lay-in, William & Mary takes to the road for the first time.
Both the Tribe and Elon kicked off the league slate strong, with the Phoenix dominating Northeastern behind 43 combined points from the backcourt duo of Hunter McIntosh and Darius Burford.
Big W tonight 😤#Team109 #HeatRises🔥 pic.twitter.com/1fLn7ZrgJA

— Elon Men's Basketball (@ElonMBasketball) December 30, 2021
Charleston Vs. Hofstra

Charleston continues its northeast road swing on the second leg, visiting Long Island and Hofstra. The Pride scored the CAA's signature win of non-conference action when it outran Arkansas, 89-81, in overtime.
Expect a similarly high-scoring affair between Hofstra and Charleston.
James Madison Vs. Drexel

It's the reigning CAA regular-season champion against the reigning CAA Tournament champion when James Madison heads to Philadelphia to face Drexel.
The Dragons should be coming off a health and safety protocol hiatus in time for the Dukes' visit. Going into the pause, James Butler was posting a double-double for Drexel. A matchup between Butler and JMU's high-flying Justin Amadi in the paint should be fun.
Towson Vs. Delaware

Towson's surprising start to 2021-22 takes it into Delaware looking like the potential team to beat in the CAA. The availability of Cam Holden, who sustained a fractured jaw, could loom for the Tigers on this road trip.
His physicality on the interior would need to be replicated in order to slow Dylan Painter, Delaware's dominant big man and the leading scorer among four Blue Hens averaging in double-figures.
Elon Vs. Charleston

Elon pays its first visit to Charleston in the Pat Kelsey era for a Sunday evening affair. The Phoenix's steady 3-point shooting and uptempo pace should make this one a shootout.
The Cougars rank right around the Phoenix in 3-point shooting, just beyond the nation's top 100. Brenden Tucker and John Meeks are both hitting well north of 40 percent from long range to pace Charleston's potent offense.
Hofstra Vs. James Madison
Hofstra's challenging start to conference play continues when it returns to Virginia for a second time already on the young league docket.
All eyes are on the backcourt for this matchup, with the Pride's perimeter group of Aaron Estrada, Jalen Ray and Zach Cooks paired against JMU's Vado Morse, Charles Falden and Takal Molson.