2022 Marquette vs Creighton - Women's
BIG EAST Games Of The Week: Marquette Vs. Creighton
BIG EAST Games Of The Week: Marquette Vs. Creighton
Through the fog of COVID cancelations, a handful of BIG EAST contenders will clash this week.
Jan 2, 2022
by Briar Napier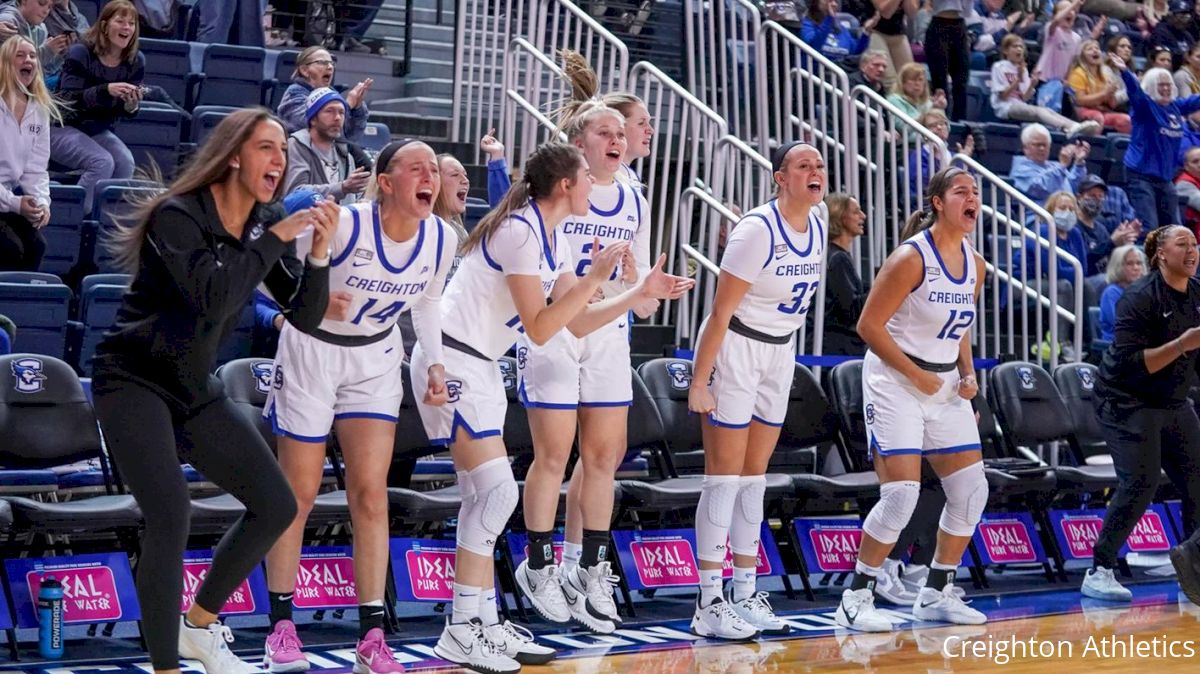 As the world approaches Year 3 of the COVID-19 pandemic, its impact on the sports world is still zero fun.
The virus and the recent surge of the omicron variant has reared its ugly head across the sports world over the past couple of weeks. The BIG EAST women's basketball schedule was not spared, with the league announcing throughout last week that COVID issues in the UConn, Marquette, Georgetown and Providence programs led to canceled games.
Modified protocols from the league will cancel games if there are fewer than seven scholarship players and one countable coach available on a team. As of now, the games below are as scheduled, but could change rapidly as the scope of the virus variant becomes more clear.
Regardless, there's still plenty of BIG EAST games on the docket (for now) with plenty able to be streamed live on FloHoops. Check out three of them in particular for this week's Games of the Week:
Butler Vs. Seton Hall
Even early in BIG EAST play, the upcoming slate of games for Seton Hall is likely a make-or-break scenario of whether or not the Pirates are forces to be reckoned with for league standing.
Picked to finish third in the preseason, Seton Hall has been off to an underwhelming start at 6-5 overall with a 1-2 record in conference play, losses which came to UConn and a 13-point defeat to a St. John's team that's currently under .500. The Pirates need to step it up if they want to be competitive throughout the year, and depending on how results prior to their game against the Bulldogs go—at Villanova and at Georgetown—the Butler game either could be a tune-up or another scrap that Seton Hall doesn't want to find itself in.
On production alone, the Pirates should plunder against Butler: Lauren Park-Lane (17.7 points, 7.1 assists) and Andra Espinoza-Hunter (17.4 points, 6.4 rebounds) still remain one of the BIG EAST's best one-two tandems. Butler, meanwhile, is still pretty hapless at 1-11 with its three conference losses (to DePaul, Marquette and Xavier) coming by an average of 24.3 points. But the Bulldogs have a strength that's a Pirates defensive weakness—the 2-point shot—and with the right offense and a bit of luck, Butler could play its way into making the game interesting.
The Bulldogs are a top-40 team in the country in shooting inside the 3-point arc (51.2 percent) while the Pirates are one of the bottom-100 teams at guarding it (51.3 percent).
Marquette Vs. Creighton
Call this game the clash of the dark horses. Marquette and Creighton, picked fourth and sixth in the BIG EAST Preseason Coaches' Poll, respectively, entered the year projected to be solid, but not world-beating, teams this season.
But did anyone expect the Bluejays to be second in the league table and ahead of UConn in the conference standings entering January—and Marquette to be just right behind the Huskies in fourth? Sure enough, that's the state of the BIG EAST standings in its albeit early days in conference play as of Thursday morning. Creighton's position is definitely the bigger surprise, however, as veteran coach Jim Flanery leads a team that gets off more shots following an assist (74.8 percent) than any other team in America and values possession strongly, holding an incredible assist-to-turnover ratio of 1.5 (second in the country). Efficiency is the name of the game in Omaha, and with 19.5 assists compared to just 13 turnovers a night, it's a formula that's propelled the Bluejays to wins over the likes of Villanova and Arkansas.
But Marquette's M.O. is all about preventing those shots from going up in the first place. The Golden Eagles are OK at creating turnovers (17.1 forced per game) but are much more known this year for making good looks difficult, proven by the fact it's held opponents to just 23.9 percent shooting from 3-point range and 36.4 percent from the field overall. Bruising rebounding might also make a difference Friday as Marquette's total rebound rate—the percentage of total missed shot attempts that end up in its hands—currently sits at 58.3 percent and is one of the best in America. Having four players on the roster (Lauren Van Kleunen, Liza Karlen, Chloe Marotta and Kennedi Myles) that average over five rebounds per game helps, too.
Villanova Vs. Georgetown
Has Georgetown hit a new gear or is the Hoyas' recent run of form just a flash in the pan? Time will tell, but it's hard not to feel good about where you're at as a team if you are coach James Howard.
After going a putrid 7-40 over the prior two seasons, Georgetown will enter 2022 at least .500 as it currently sits at 5-4 with a game on New Years' Eve against St. John's to go. For the projected ninth-best team in the BIG EAST per the league's coaches in the preseason, that's not a bad position to find yourself in. However, there are some important caveats: Georgetown only has two wins against teams that are .500 or better, still has major offensive issues to sort out (57.4 points averaged per game) and has three games against current members of the league's top four in the standings (DePaul, UConn and Marquette) throughout the next few weeks. Plus, the Hoyas are coming back from a COVID-19 outbreak that's left them without a game since Dec. 13.
Villanova, meanwhile, appears to be languishing on paper at 6-5 overall with an 0-2 start in league play, but the Wildcats would almost certainly have a better standing among the league if All-BIG EAST standout Maddy Siegrist wasn't out for nearly a month dealing with broken bones in her hand. Villanova is 3-0 since she returned, and the Wildcats will be well-tuned for the Hoyas as they host UConn just two days prior.
The Hoyas' hallmark this year has been a good—and possibly unproven—defense that picks up the slack for some of their offensive woes, allowing 58.8 points a night. But Siegrist is the type of player that's often matchup-proof and has torn apart many stout defensive units in the past, leaving the Hoyas and Wildcats' matchup at its core coming down to which team's backbone breaks down first.