CAA Men's Basketball
CAA Men's Basketball Report | Jan. 3, 2022
CAA Men's Basketball Report | Jan. 3, 2022
Catch up on the CAA Men's Basketball weekly news, notes, and awards.
Jan 3, 2022
by FloHoops Staff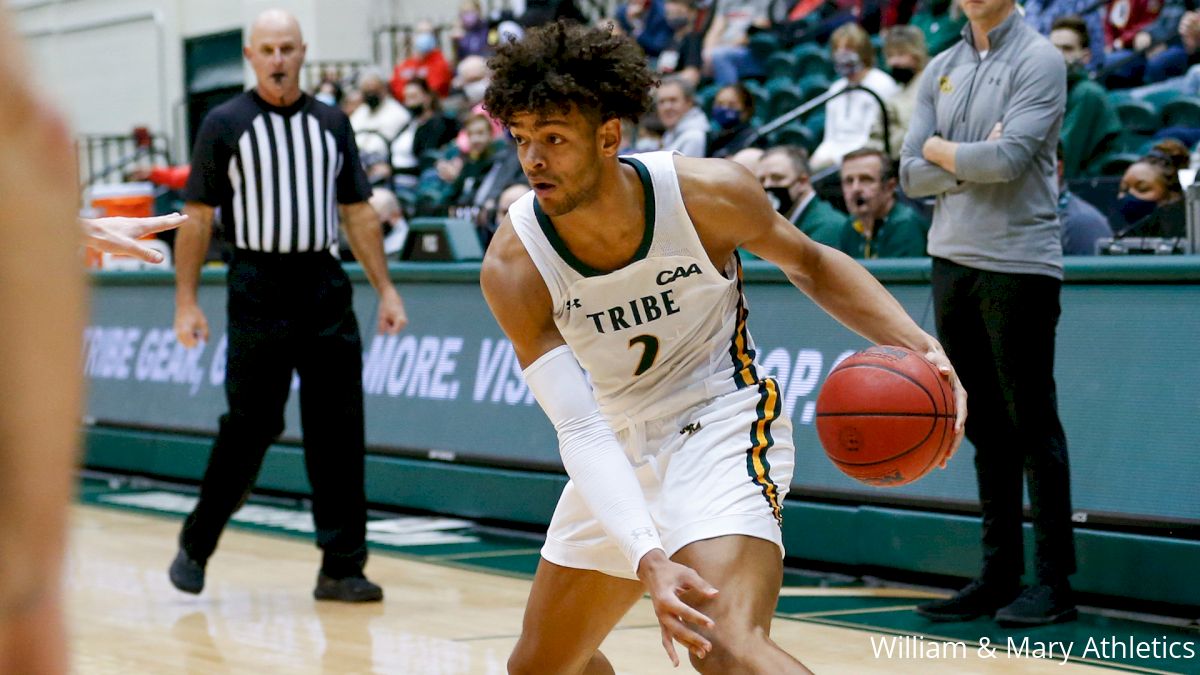 SCHEDULE AND RESULTS
Wednesday, December 29
William & Mary 63, Hofstra 62 *
UNCW 70, Delaware 68 *
Elon 79, Northeastern 62 *
Friday, December 31
William & Mary 71, Northeastern 70 *
Delaware 67, Charleston 66 *
Monday, January 3
Towson at Drexel * (CBSSN)............................................ 6 p.m.
Charleston at Northeastern *............................................. ppd.
UNCW at Hofstra *............................................................. ppd.
James Madison at Delaware *............................................ ppd.
Wednesday, January 5
Towson at Delaware * (FloHoops).................................. 7 p.m.
James Madison at Drexel *.................................. ppd. to Feb. 7
Charleston at Hofstra *...................................................... ppd.
UNCW at Northeastern *.................................................... ppd.
William & Mary at Elon *.................................................... ppd.
Sunday, January 9
Elon at Charleston * (FloHoops)...................................... 4 p.m.
Hofstra at James Madison * (FloHoops)......................... 4 p.m.
Northeastern at Towson * (FloHoops)...................... 4:30 p.m.
William & Mary at UNCW * (FloHoops)........................... 6 p.m.
WEEKLY AWARD WINNERS
PLAYER OF THE WEEK
Darius Burford, Elon
Sophomore | Guard | Bolingbrook, Ill. / Bolingbrook
Burford led the charge for Elon in its CAA-opening win over Northeastern on Wednesday, scoring a season-high 23 points in a 79-62 Phoenix victory. The sophomore from Illinois was 11-of-18 from the field while adding five rebounds, three assists, and three steals. Elon improved to 4-2 this year at home and began conference play Wednesday after playing the 34th-toughest non-conference schedule, according to the NCAA.

ROOKIE OF THE WEEK
Julian Lewis, William & Mary
Freshman | Guard | Ann Arbor, Mich. / Huron
Lewis averaged 12.5 points, 8.0 rebounds, and 4.0 assists per game to help William & Mary to a pair of one-point home wins to begin CAA play. The freshman from Michigan tallied a career-high 11 points and grabbed eight rebounds in Wednesday's 63-62 win over Hofstra before bettering his scoring output with 14 points and eight rebounds in Friday's 71-70 victory over Northeastern. W&M was the first team to open CAA play with two one-point wins since the Tribe did it in 2009-10.
NEWS AND NOTES
DREXEL, TOWSON JOIN THE FUN
After both teams were off last week, Drexel and Towson open their CAA schedules Monday on CBS Sports Network. The Tigers are playing for the first time since a December 22 win at Navy that wrapped up a 9-4 non-conference schedule. The Dragons begin their CAA title defense at home while taking the court for their first game since a December 14 victory over Coppin State.
NEVER LEAVE EARLY
Four of the first five games of CAA play have come down to the final possession with three decided by one point and a fourth by two points. William & Mary defeated Hofstra and Northeastern by one-point margins and Delaware won a one-point game at Charleston after falling to UNCW by two in its league opener.
William & Mary is the first CAA team to win two one-point games to open conference play since the Tribe did it in 2009-10, opening that year's conference slate with a home win over VCU and road victory at Hofstra before playing two more one-point games to begin the league schedule.
OUR HOUSE IS A VERY, VERY, VERY FINE HOUSE
CAA play began with three games Wednesday night and the three home teams in action opened 1-0. Elon led Northeastern wire-to-wire for a 17-point win at Schar Center, UNCW defeated Delaware by two points at Trask Coliseum on a pair of free throws with three seconds remaining, and William & Mary scored twice in the final 15 seconds to defeat Hofstra at Kaplan Arena. Home teams are off to a 4-1 start this conference season after going 49-41 in 2019-20.
RISE AND FIRE
Towson has captured three CAA Player of the Week honors, is the CAA's top team in three-point percentage (37.1) and second in the conference in three-point defense (31.9). Towson has climbed to the top spot among CAA teams in NET (66) and KenPom (110) as of Monday. The KenPom ranking is 188 places higher than where the Tigers finished 2020-21.
WHILE YOU SEE A CHANCE
In a year when minutes for freshmen are limited in many places, Charleston has received key contributions from first-year players. Ben Burnham earned his second Rookie of Week selection December 26 after Reyne Smith captured the first four awards to help the Cougars win six of eight honors to begin the year.
Smith has made 39 three-pointers in his freshman campaign, second among all D1 freshmen and 34th nationally. Smith leads all CAA rookies in scoring (13.0 ppg) and added CBS Freshman of the Week honors earlier this season.
PRIDE ROCKS LITTLE ROCK
After two top-25 opponents in November escaped the grasp of Hofstra in the closing seconds, No. 24 Arkansas was not as lucky, as the Pride walked out of North Little Rock with an 89-81 win.
Aaron Estrada was two assists shy of a triple-double, while Abayomi Iyiola contributed 18 and 14 against his old team. Hofstra arrived day-of-game in the Natural State due to a canceled connecting flight in Washington, D.C. The Pride is at 98 in the NET with the Quad 2 victory over Arkansas followed by a Quad 1 win over Monmouth four days later in New Jersey.
SUPER TUESDAY
Three CAA teams earned resume-building wins on December 7, as conference members collected victories over teams from the ACC, The American, and the A10. James Madison knocked off Virginia in a CBS Sports Network game in Harrisonburg, while Northeastern came back for a home win over UMass and Charleston notched a road victory at Tulane.
AARON'S PARTY
Hofstra's Aaron Estrada is the first two-time CAA Player of the Week this winter thanks to a standout performance at No. 24 Arkansas. Estrada was two assists shy of a triple-double with 22 points, 10 rebounds, and eight assists to defeat the Razorbacks.
Hofstra has won three of the first eight Player of the Week awards this season, as teammate Zach Cooks collected the honor by averaging 27.5 points per game in the season's opening week.
DOUBLY RELIABLE
Drexel's James Butler leads the CAA with six double-doubles this season, notching all six in his last eight games. Butler is third in the league in scoring (14.5 ppg) and stands first in rebounding (10.3 rpg).
MEET ME TONIGHT IN ATLANTIC CITY
The CAA went 7-4 against the Atlantic 10 in the regular season with wins by five different CAA teams: Delaware and Northeastern each recorded two, while Drexel, Hofstra, and James Madison each earned one.
IT'S GOOD TO HAVE OPTIONS
Darlinstone Dubar scored 24 points vs. John Jay to become the fifth Hofstra player with 20 or more points in a game this season. Dubar joins Zach Cooks, Aaron Estrada, Jalen Ray, and Omar Silverio, who have all scored at least 20 in a contest for the Pride this year.
Ray leads all CAA players with five games of 20+ points, while Estrada is second with four. Cooks, Towson's Cam Holden and Nicolas Timberlake, and Delaware's Dylan Painter are tied for third with three 20-point performances on the year.
NOTHING BUT NET
Towson leads CAA teams in the NET rankings at 66. Hofstra is second at 98, while Charleston holds a Quad 1 win with a victory at Chattanooga and Hofstra added one in its non-conference finale at Monmouth.
Elon has played the most Q1 opponents (four), while Hofstra has played the most games against Q1 and Q2 combined (six). Towson, James Madison, Drexel have avoided a Q4 loss on their schedules this season.
WHO HAVEN'T THEY PLAYED?
Elon's game at Arkansas was the Phoenix's seventh against a high-major opponent this season. The Phoenix opened the year at Florida before a trip to the Charleston Classic to face West Virginia, Ole Miss, and Temple. Elon visited regional foes North Carolina and Duke on back-to-back Saturdays in advance of the game in Fayetteville.
BOARD GAMES
Towson's Cam Holden recorded a line of 20 points, 19 rebounds, and eight assists in the Tigers' victory over Penn, good for the first performance of 20/19/8 by a Division I player since Cleveland State's Norris Cole in 2011. Holden earned CAA Player of the Week honors November 29.
TEAM NOTES
Charleston (8-5, 0-1)
• Reyne Smith is second nationally among freshmen and 34th overall with 39 made three-pointers this season.
• The Cougars have won six of the season's first eight Rookie of the Week awards.
• Charleston's adjusted tempo of 76.3 is the fastest in the nation.
• The Cougars swept an in-season home-and-home with Tulane and hold a NET Quad 1 win over Chattanooga.
Delaware (10-5, 1-1)
• Dylan Painter's 60 made free throws rank 25th nationally.
• Ryan Allen's 276 career made three-pointers are one back of Hofstra alum Justin Wright-Foreman for 10th in CAA history.
• Ryan Allen's 35-point effort in a win over La Salle is the top scoring performance by a CAA player this season ... Jameer Nelson Jr.'s 29-point showing vs. Iona is tied for third.
• Kevin Anderson reached 1,000 career points against La Salle, becoming the fifth active CAA player to reach 1K with his current team.
Drexel (5-5, 0-0)
• James Butler has recorded a double-double in six of his last eight games ... Butler's six double-doubles lead the CAA and place him 15th nationally.
• Butler is 17 rebounds away from 15th in CAA history ... His 935 boards are the second-most by a Drexel player in the program's time in the conference.
• Drexel's schedule has included a postponement for an opponent's bus (FDU), a four-hour delay and midgame relocation for a facility issue (Tulane), a game in which both teams wore Drexel uniforms (Coppin State), and four CoVID postponements (Temple, La Salle, Charleston, UNCW).
Elon (4-10, 1-0)
• Darius Burford (23) and Hunter McIntosh (20) provided 20-point efforts in a game Elon never trailed Wednesday ... Burford earned CAA Player of the Week honors.
• Elon played seven high-major opponents in its non-conference schedule, including four ranked or receiving votes in this week's national polls (Arkansas, Duke, Florida, West Virginia)
• Jerald Gillens-Butler hit a game-winning three-pointer with 1.3 seconds left to beat Winthrop.
• Torrence Watson (34) and Zac Ervin (29) have produced two of the top three scoring efforts by a CAA player this season.
Hofstra (8-6, 0-1)
• Hofstra holds a Quad 1 win over Monmouth and Quad 2 victory over Arkansas, both on the road.
• Abayomi Iyiola has averaged 12.0 rebounds per game over his last four contests with at least 11 in all of them.
• Aaron Estrada contributed 22 points, 10 rebounds, and eight assists, while Abayomi Iyiola added 18 and 14 as the Pride knocked off No. 24 Arkansas.
• Hofstra has played three ranked opponents this year, taking Houston to overtime and playing a one-possession game at Maryland.
James Madison (9-2, 0-0)
• The Dukes had earned each of their first six wins over D1 opponents this year by five points or less before the nine-point victory over Radford.
• JMU's 10.5 steals per game rank eighth in the nation.
• Takal Molson scored the final four points of the game to help JMU defeat Virginia for the first time in program history.
• The Dukes' 135 points against Carlow were the most by a CAA team since George Mason in November 1995 ... James Madison's 55 made field goals and 39 assists were records for a CAA team.
UNCW (7-5, 1-0)
• Jaylen Sims sank a pair of free throws with three seconds remaining to defeat Delaware in the CAA opener.
• Sims' layup with two seconds left in overtime lifted UNCW past High Point ... Sims would score a team-high 23 points to push the Seahawks past Campbell.
• Trazarien White scored a career-high 21 points in the win over Mount Olive and earned CAA Rookie of the Week honors.
• The Seahawks have limited opponents to 62.5 points per game during their four-game winning streak.
Northeastern (6-7, 0-2)
• The Huskies hold two of the CAA's seven wins over the A10 this winter ... The CAA is 7-4 as a conference against the A10.
• Chris Doherty is third in the CAA with 9.4 rebounds per game and 15th nationally in offensive rebounding (3.54).
• Northeastern erased a 20-point deficit to defeat Colgate.
• Nikola Djogo and Chris Doherty both contributed double-doubles to send Northeastern to the Paradise Jam title game against Colorado State.
Towson (9-4, 0-0)
• Cam Holden is the first Division I player with 20 points, 19 rebounds, and eight assists in a game since Cleveland State's Norris Cole in 2011.
• Towson is 188 spots above its final 2020-21 ranking in KenPom.
• Towson has recorded a +10 rebounding margin in six of its wins.
• Cam Holden ranks 19th nationally with 123 total rebounds.
William & Mary (3-12, 2-0)
• William & Mary is the first team to open CAA play with back-to-back one-point wins since the Tribe did it in 2009-10.
• The Tribe came back to win in the final seconds against Hofstra on a Julian Lewis layup with 10.9 seconds remaining ... Lewis was named CAA Rookie of the Week.
• W&M alum and former CAA Player of the Year Nathan Knight made his first NBA start for Minnesota against Boston, scoring a career-high 20 points and grabbing 11 rebounds.
• Tyler Rice's nine assists in the opener at Wake Forest were the most by a CAA freshman over the last two seasons.