2022 Seton Hall vs Creighton - Women's
BIG EAST Games Of The Week: Can Creighton Keep Pace In Standings?
BIG EAST Games Of The Week: Can Creighton Keep Pace In Standings?
Between COVID-19 postponements, upstart teams and disappointing programs, the current BIG EAST women's basketball standings have an odd look at the moment.
Jan 9, 2022
by Briar Napier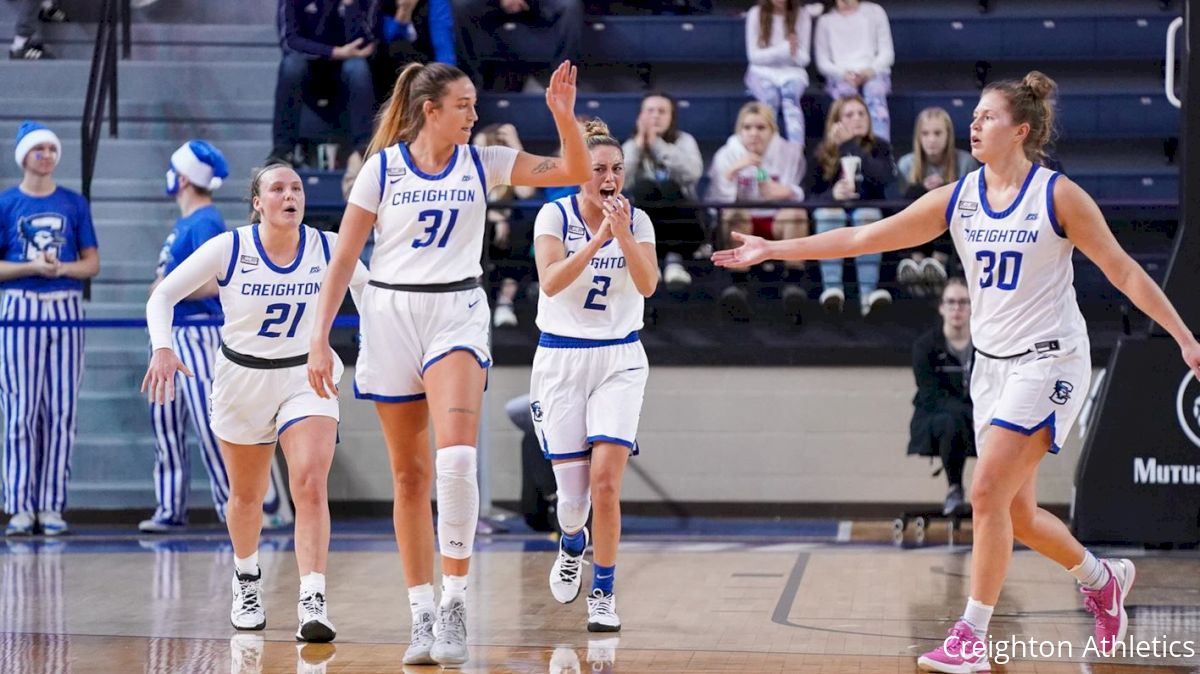 If there's something that can be taken away from the past two seasons of college basketball, it's that anything can happen.
Between COVID-19 postponements, upstart teams and disappointing programs, the current BIG EAST women's basketball standings have an odd look to them at the moment. Whether the table stays that way is anyone's guess, but for now, it's pretty chaotic.
Whichever programs handle the chaos the best, however, might just be the ones holding silverware in a few weeks.
Another slate of BIG EAST women's basketball games can be viewed live on FloHoops this week. Here are three matchups to watch out for across the league:
Providence Vs. Xavier
Originally slated to face off Dec. 31 before COVID-19 issues reared their ugly head, Providence and Xavier are hoping they got the worst of their play out of their systems by the time they face off against each other. The bottom half of the BIG EAST standings can be a lonely place as the league slate goes along, and both the Friars (seventh) and Musketeers (10th) find themselves squarely in the thick of it.
However, both programs are showing signs of fight and—perhaps as a result—some confidence: Providence has won five of its last seven games after starting 1-4, while Xavier beat the brakes off of league cellar-dweller Butler by 22 points on Dec. 29, making a statement that there may be more to the Musketeers than their paltry league standing.
Providence's Janai Crooms vs. Xavier's Nia Clark should be a classic showdown of productive guards, though Crooms—despite standing just 5-foot-10—has the advantage in athletic ability as a double-double-a-night threat (14.3 points, 10.4 rebounds) and underrated shot blocker (1.3 blocks a night). In fact, the Friars as a whole are one of the best shot-swatting teams in the country at 6.1 rejections per game (11th best in the nation), but if the Musketeers can get Providence up in the air and create contact for fouls, that's where the advantage swings in their favor.
Xavier shoots 78.8 percent from the free-throw line for America's 10th-best rate, with five different players averaging over 80 percent for the season. But what really might be the defining factor of the matchup is which version of the Musketeers' defense shows up. This year, Xavier has both held opponents under 50 points twice and allowed over 100 points twice, averaging out to a poor 72.5 points allowed per night as it stands Thursday afternoon. If Crooms gets going or helps other teammates do so—she averages a team-leading 4.6 assists per game—the Friars could run away with the ball game. If the Musketeers' defense comes to play, it could come down to the wire.
DePaul Vs. Marquette
DePaul's seven-game win streak from Nov. 27 through Dec. 19 (when the Blue Demons averaged a dazzling 99.9 points per game) ended with a thud against Notre Dame on Dec. 22, when the Fighting Irish exploited DePaul's sometimes-suspect defense and beat the Blue Demons 91-86 on their home floor. To make matters more complicated, COVID-19 issues in the UConn program shelved what was to be a titanic BIG EAST matchup on New Years' Eve, giving coach Doug Bruno's squad an extended holiday break of 16 days between games.
As DePaul hopes its scheduled return game at Providence on Friday goes smoothly (this preview was written Thursday afternoon), it should be an adequate tune-up for a trip to visit an upstart Marquette team the next week.
Golden Eagles coach Megan Duffy has her team playing elite defense (54.5 points allowed per game) with tough-nosed production inside, with Marquette currently sixth nationally in total rebound rate (58.3 percent) and a quality post scorer in grad student Lauren Van Kleunen (13.9 points, 7.1 rebounds per game). Those parts of the Golden Eagles' game get their toughest test yet against the Blue Demons, who are currently the scoring queens of the country at 91.7 points per game with other elite offensive statistics in tow, such as being No. 1 in assists per game (20.8) and No. 2 in offensive rebounds per game (17.1).
And no one has been able to stop the emerging superstardom of freshman phenom Aneesah Morrow, who's been stuffing stat sheets (18.7 points, 12.0 rebounds, 2.9 steals, 2.1 blocks) and terrorizing opponents down low as one of DePaul's five (!) scorers averaging double figures. All five of those players have started all 14 games, with senior/graduate trio Sonya Morris, Deja Church and Lexi Held making up an experienced, frightening backcourt.
Seton Hall Vs. Creighton
Quick, did you have Creighton (picked to finish sixth in the BIG EAST Women's Basketball Preseason Coaches' Poll) pinned down as the No. 1 team in the league in early January? If so, you might be a time traveler (or just picked a lucky guess).Yes, the fact that UConn is stuck in COVID-19-related limbo—having not played a game since Dec. 19—probably plays a large role in that, but make no mistake, the Bluejays are flying.
Coach Jim Flanery's team responded well from a virus-related stoppage that gave it 12 days off, winning comfortably on the road at Xavier on Jan. 2. Creighton is scheduled to play the Huskies on Sunday in their first game in approximately three weeks, but once that's done and dusted, a home visit against the Pirates awaits five days later. What the Bluejays shouldn't do, however, is think that Seton Hall's current 6-6 record is an excuse to treat them lightly, especially after taking on the many talents at UConn.
The Pirates lost by three points to a red-hot Villanova team this past week, beat Marquette and won by 10 at Princeton when women's basketball analytics site Her Hoop Stats projected them to lose by 23. Inconsistency and a poor defense (71.2 points allowed per game) has been Seton Hall's Achilles' heel all season, but Andra Espinoza-Hunter (17.6 points, 6.4 rebounds per game) and Lauren Park-Lane (17.3 points, 7.3 assists per game) make up about as good of a tandem as you'll see in the BIG EAST. It's a good thing then for Bluejays fans that their team loves to tear up bad defenses: Creighton garners assists on over three-fourths (75.8 percent) of its total shots—the No. 1 rate in America—and also has the nation's best assist-to-turnover ratio at 1.49. Watch for guard Lauren Jensen (10.7 points per game) to potentially shine in this one, an Iowa transfer that is an elite 3-point shooter at 44.1%.