2022 Delaware vs Drexel - Men's
CAA Games Of The Week: Chaos Already Defining CAA Competition
CAA Games Of The Week: Chaos Already Defining CAA Competition
There's still nearly two full months until the CAA Tournament. Expect a road filled with unpredictable detours along the way, but no shortage of excitement.
Jan 10, 2022
by Kyle Kensing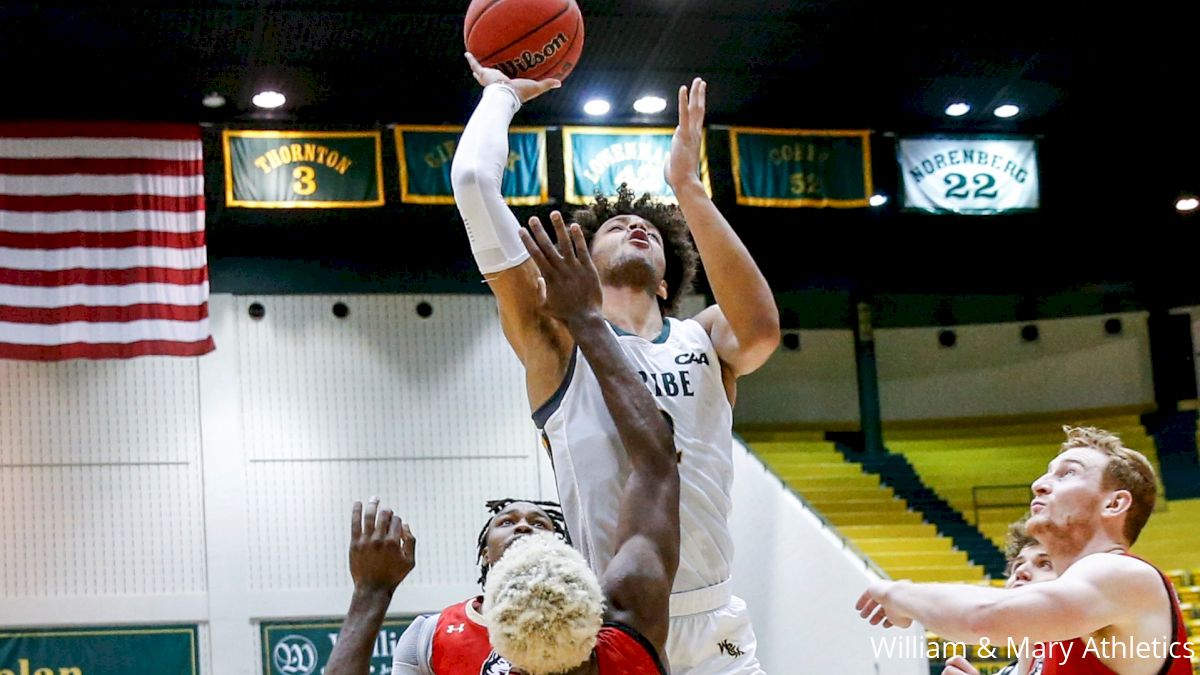 Colonial Athletic Association basketball needed all of one week to defy preseason expectations.
The league standings going into the second week of January have William & Mary, which concluded non-conference play, with the best CAA mark at 2-0.
"It doesn't surprise me," Towson coach Pat Skerry said following the Tigers' 70-67 win Jan. 9 at Northeastern. "Our players and staff are keenly aware that every single team in the league can beat us if we don't execute and put together a good game plan."
The Colonial wasted no time roughing itself up, with six teams already carrying one loss. Only UNC-Wilmington and Drexel at 1-0 each join William & Mary as unblemished in the conference loss column.
So much parity requires resilience; the ability to get up from a loss and come back stronger. Hofstra accomplished exactly that after a stunning loss to William & Mary, beating reigning regular-season CAA champion James Madison.
"Whenever you get a win on the road in this conference, you take 'em," Pride coach Speedy Claxton said.
Meanwhile, there's still nearly two full months until the CAA Tournament. Expect a road to Washington, D.C. filled with unpredictable detours along the way, but no shortage of excitement.
William & Mary Vs. Charleston [POSTPONED]
There may not be a more shocking start to any conference's schedule than William & Mary jumping out to a 2-0 lead in the CAA. The Tribe have doubled their total number of wins from non-conference play, and done it in spectacular fashion with heart-stopping wins over both Hofstra and Northeastern.
"We really struggled to find our stride and click," Tribe head coach Dane Fischer told ESPN 106.1 in Richmond. "I thought we were making progress, and I kept telling our team throughout it, 'This is not a bad team. It's just a team that hasn't learned to play well yet.'"
If the first two games are any indication, William & Mary's has learned to play well, and has done so as a team. Five players scored in double-figures in the win over Northeastern, including Connor Kochera.
Delaware Vs. Drexel
Delaware opened CAA play on both ends of the down-to-the-wire atmosphere shaping early-season league competition. The preseason conference favorite Blue Hens opened with a 70-68 loss at UNC-Wilmington, but regrouped for a 67-66 defeat of College of Charleston, sealed by Kevin Anderson's savvy defense.
Delaware returns after a couple of postponements last week to make the short trip to Philadelphia and face Drexel. The 2021 CAA Tournament winners opened conference play with a statement win over Towson, the Colonial's top-ranked team in KenPom.com ratings heading into league play.
Camren Wynter and James Butler were well-established stars heading into this season, but Mate Okros' 3-point shooting against Towson demonstrated some of the Dragons' versatility.
Okros with the hot hand tonight! He has 15 points on 5-6 from the field.#FearTheDragon pic.twitter.com/FQ2XrOcgOz

— Drexel Men's Basketball (@DrexelMBB) January 4, 2022
Opponents are shooting better than 35 percent from beyond the arc against Delaware on the season, so more opportunities for the 40-percent shooting Okros could be key. The Blue Hens counter with one of the most effective interior scoring offenses in the country.
Delaware shoots almost 54 percent on 2-point field-goal attempts, ranking near the nation's top 50. Dylan Painter's scoring touch inside keys the Blue Hens. His interior matchup with Butler promises to be one of the best pairings all season in the CAA.
Tuesday's trip to Drexel is the first of two marquee road games that could define Delaware's entire championship outlook.
Delaware Vs. Hofstra
Hofstra's bounce-back win over James Madison on Jan. 9 wasn't perfect—coach Speedy Claxton said in his postgame press conference that he wants to see better defense after giving up 80 points to the Dukes—but it was the Pride at their offensive best.
Four players scored at least 15 points, including Abayomi Iyiola, who also grabbed 15 rebounds. Seven of his boards were offensive.
If Iyiola can maintain that level of production, Hofstra has a dangerous interior to complement the proven scoring threats on the perimeter with Aaron Estrada and Jalen Ray.
That's also a team complexion similar to that of Delaware, with Painter manning the middle while Anderson, Ryan Allen and Jameer Nelson Jr. all showed the ability to create points from the outside.