Men's CAA Basketball
CAA Men's Basketball Report | Jan. 10, 2022
CAA Men's Basketball Report | Jan. 10, 2022
Catch up on the CAA Men's Basketball weekly news, notes, and awards.
Jan 11, 2022
by FloHoops Staff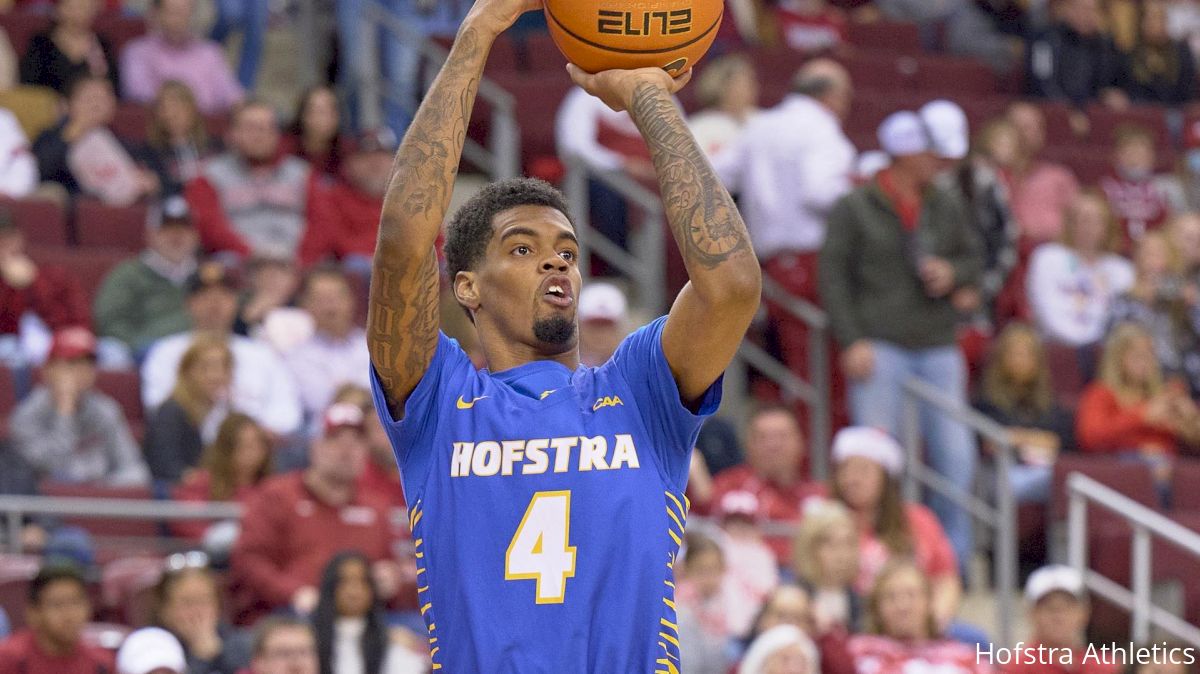 SCHEDULE AND RESULTS
Monday, January 3
Drexel 65, Towson 61 *
Sunday, January 9
Charleston 65, Elon 61 *
Hofstra 87, James Madison 80 *
Towson 70, Northeastern 67 *
Tuesday, January 11
Hofstra at Towson * (CBSSN)........................................................ 5 p.m.
Northeastern at James Madison * (NBCSW+/FloHoops)................. 7 p.m.
Delaware at Drexel * (NBCSP+/FloHoops).................................... 7 p.m.
William & Mary at Charleston *........................................................ ppd.
Wednesday, January 12
Elon at UNCW * (FloHoops)........................................................... 7 p.m.
Saturday, January 15
Drexel at Northeastern * (NESN+/FloHoops)............................... 2 p.m.
Delaware at Hofstra * (FloHoops).................................................... 2 p.m.
Towson at Elon * (FloHoops)......................................................... 4 p.m.
James Madison at William & Mary * (YurView/FloHoops)............... 4 p.m.
WEEKLY AWARD WINNERS
PLAYER OF THE WEEK
Aaron Estrada, Hofstra
Junior | Guard | Woodbury, N.J. / St. Benedict's
Estrada is the first three-time CAA Player of the Week this season thanks to a standout performance in Hofstra's Sunday win at James Madison. The guard from New Jersey scored 20 points while adding seven rebounds and seven assists in the Pride's 87-80 victory over the Dukes – a contest that featured 23 lead changes and was JMU's first home loss of the season. Estrada played all 40 minutes in the victory.

ROOKIE OF THE WEEK
Ben Burnham, Charleston
Freshman | Forward | Fort Mill, S.C. / Carmel Christian School
Burnham collected his third CAA Rookie of the Week honor with an all-around effort to help Charleston to its first victory of conference play. The forward from South Carolina scored 12 points on 5-of-7 shooting while adding four rebounds, two blocks, and a steal in the Cougars' 65-61 win over Elon on Sunday. Charleston has won seven of nine Rookie of the Week honors this season with Burnham's three trailing Reyne Smith's four for the individual lead.
NEWS AND NOTES
HERE WE ARE NOW, ENTERTAIN US
Nine games have been played so far in CAA play with eight decided by single digits, seven by four points or less, and three by a one-point difference. Sunday's three games were decided by an average of 4.7 points; the largest margin of victory on the day (seven) was a game with 23 lead changes.
William & Mary is the first CAA team to win two one-point games to open conference play since the Tribe did it in 2009-10, opening that year's conference slate with a home win over VCU and road victory at Hofstra before playing two more one-point games to begin the league schedule.
HOME IS WHERE THE WINS ARE
Home teams are off to a 7-2 start this conference season after going 49-41 in 2019-20. The .778 home winning percentage ranks second among all Division I conferences. Drexel and Towson will aim to remain unbeaten at home in their Tuesday contests.
AARON'S PARTY
Hofstra's Aaron Estrada is the first three-time CAA Player of the Week this winter after a 20-point, seven-rebound, seven-assist performance in Sunday's win at James Madison. Hofstra has won four of the first nine Player of the Week awards this season, as teammate Zach Cooks collected the honor by averaging 27.5 points per game in the season's opening week.
FRIENDLY COMPETITION
In a year when minutes for freshmen are limited in many places, Charleston has received key contributions from first-year players. Ben Burnham earned his third Rookie of Week selection Monday after Reyne Smith captured the first four awards to help the Cougars win seven of nine honors to begin the year.
Smith has made 39 three-pointers in his freshman campaign, good for fifth among all D1 rookies. Smith leads all CAA freshmen in scoring (12.2 ppg) and added CBS Freshman of the Week honors earlier this season.
NOTHING BUT NET
Towson leads CAA teams in the NET rankings at 82, while Hofstra is second at 94. Charleston holds a Quad 1 win with a victory at Chattanooga and Hofstra added one in its non-conference finale at Monmouth.
Elon and Hofstra have played the most games against Q1 and Q2 (six), while Charleston and Delaware have each played five. Towson, James Madison, Drexel have avoided a Q4 loss on their schedules this season.
DOUBLY RELIABLE
Drexel's James Butler and Towson's Cam Holden lead the CAA with six double-doubles each this winter. Butler and Holden are tied for 23rd nationally in double-doubles.
Delaware's Dylan Painter and Northeastern's Chris Doherty have recorded four each, while Hofstra's Abayomi Iyiola collected his third Sunday.
IT'S GOOD TO HAVE OPTIONS
Darlinstone Dubar scored 24 points vs. John Jay to become the fifth Hofstra player with 20 or more points in a game this season. Dubar joins Zach Cooks, Aaron Estrada, Jalen Ray, and Omar Silverio, who have all scored at least 20 in a contest for the Pride this year.
Estrada and Ray lead all CAA players with five games of 20+ points, while Cooks, Towson's Cam Holden and Nicolas Timberlake, and Delaware's Dylan Painter are tied for third with three 20-point performances on the year.
SUPER TUESDAY
Three CAA teams earned resume-building wins on December 7, as conference members collected victories over teams from the ACC, The American, and the A10. James Madison knocked off Virginia in a CBS Sports Network game in Harrisonburg, while Northeastern came back for a home win over UMass and Charleston notched a road victory at Tulane.
MEET ME TONIGHT IN ATLANTIC CITY
The CAA went 7-4 against the Atlantic 10 in the regular season with wins by five different CAA teams: Delaware and Northeastern each recorded two, while Drexel, Hofstra, and James Madison each earned one.
WHOLE LOTTA WINS
The longest-tenured head coach in the CAA, Northeastern's Bill Coen broke the Northeastern all-time wins record of 250, set by Jim Calhoun from 1972-86 in a 2021 CAA quarterfinal win over William & Mary. Coen is second in conference history in combined CAA and tournament wins with 172 (154 CAA wins, 18 tournament wins) and sits 11 victories from tying Jim Larranaga for first in CAA history.
Towson's Pat Skerry moved into the top 10 with Sunday's win over Northeastern, pulling even with Delaware's Monte' Ross and Hofstra's Joe Mihalich.
1. 183 Jim Larranaga, George Mason 1998-11
2. 172 Bill Coen, Northeastern 2006-pres.
3. 158 Bruiser Flint, Drexel 2002-16
4. 148 Blaine Taylor, Old Dominion 2002-13
5. 138 Tony Shaver, William & Mary 2004-19
6. 106 Dick Tarrant, Richmond 1982-93
7. 98 Tom Pecora, Hofstra 2002-10
98 Charles "Lefty" Driesell, JMU 1988-97
9. 97 Jerry Wainwright, UNCW 1995-02
10. 86 Pat Skerry, Towson 2011-pres.
86 Joe Mihalich, Hofstra 2013-20
86 Monte' Ross, Delaware 2007-16
TEAM NOTES
Charleston (9-5, 1-1)
• Dimitrius Underwood is ninth nationally in steals and steals per game entering the week.
• The Cougars have won seven of the season's first nine Rookie of the Week awards.
• Charleston's adjusted tempo of 75.5 is the fastest in the nation.
• The Cougars swept an in-season home-and-home with Tulane and hold a NET Quad 1 win over Chattanooga.
Delaware (10-5, 1-1)
• Dylan Painter's 60 made free throws lead the CAA.
• Ryan Allen's 276 career made three-pointers are one back of Hofstra alum Justin Wright-Foreman for 10th in CAA history.
• Ryan Allen's 35-point effort in a win over La Salle is the top scoring performance by a CAA player this season ... Jameer Nelson Jr.'s 29-point showing vs. Iona is tied for third.
• Kevin Anderson reached 1,000 career points against La Salle, becoming the fifth active CAA player to reach 1K with his current team.
Drexel (6-5, 1-0)
• James Butler has recorded a double-double in six of his last nine games ... Butler's six double-doubles are tied for the CAA lead.
• Butler is 13 rebounds away from 15th in CAA history ... His 939 boards are the second-most by a Drexel player in the program's time in the conference.
• Drexel's schedule has included a postponement for an opponent's bus (FDU), a four-hour delay and midgame relocation for a facility issue (Tulane), a game in which both teams wore Drexel uniforms (Coppin State), and four CoVID postponements (Temple, La Salle, Charleston, UNCW).
Elon (4-11, 1-1)
• Darius Burford (23) and Hunter McIntosh (20) provided 20-point efforts in a game Elon never trailed ... Burford earned CAA Player of the Week honors in the first week of conference play.
• Hunter McIntosh's 21.0 ppg in CAA play are the most of anyone with 2+ games played.
• Elon played seven high-major opponents in its non-conference schedule and four Quad 1 teams.
• Jerald Gillens-Butler hit a game-winning three-pointer with 1.3 seconds left to beat Winthrop.
Hofstra (9-6, 1-1)
• Hofstra holds a Quad 1 win over Monmouth and Quad 2 victory over Arkansas, both on the road.
• Abayomi Iyiola has averaged 12.6 rebounds per game over his last five contests with at least 11 in all of them.
• Aaron Estrada and Jalen Ray are tied for the CAA lead with five games each scoring 20 or more points this season.
• Hofstra has played three ranked opponents this year, taking Houston to overtime and playing a one-possession game at Maryland.
James Madison (9-3, 0-1)
• The Dukes played Sunday for the first time since December 11 ... The contest begins a stretch of nine games in the final 23 days of January.
• JMU's 10.1 steals per game rank 13th in the nation.
• Takal Molson scored the final four points of the game to help JMU defeat Virginia for the first time in program history.
• The Dukes' 135 points against Carlow were the most by a CAA team since George Mason in November 1995 ... James Madison's 55 made field goals and 39 assists were records for a CAA team.
UNCW (7-5, 1-0)
• Jaylen Sims sank a pair of free throws with three seconds remaining to defeat Delaware in the CAA opener.
• Sims' layup with two seconds left in overtime lifted UNCW past High Point ... Sims would score a team-high 23 points to push the Seahawks past Campbell.
• Trazarien White scored a career-high 21 points in the win over Mount Olive and earned CAA Rookie of the Week honors.
• The Seahawks have limited opponents to 62.5 points per game during their four-game winning streak.
Northeastern (6-8, 0-3)
• The Huskies hold two of the CAA's seven wins over the A10 this winter ... The CAA is 7-4 as a conference against the A10.
• Chris Doherty is second in the CAA with 9.4 rebounds per game and ninth nationally in offensive rebounding (3.71).
• Northeastern erased a 20-point deficit to defeat Colgate.
• Nikola Djogo and Chris Doherty both contributed double-doubles to send Northeastern to the Paradise Jam title game against Colorado State.
Towson (10-5, 1-1)
• Towson's 10-5 record matches the Tigers' best 15-game start under Pat Skerry (2015-16, 2017-18).
• Cam Holden is the first Division I player with 20 points, 19 rebounds, and eight assists in a game since Cleveland State's Norris Cole in 2011.
• Towson is 188 spots above its final 2020-21 ranking in KenPom.
• Towson has recorded a +10 rebounding margin in six of its wins.
William & Mary (3-12, 2-0)
• William & Mary is the first team to open CAA play with back-to-back one-point wins since the Tribe did it in 2009-10 ... W&M is 2-0 to begin CAA play for the fourth time in five seasons.
• The Tribe came back to win in the final seconds against Hofstra on a Julian Lewis layup with 10.9 seconds remaining.
• W&M alum and former CAA Player of the Year Nathan Knight made his first NBA start for Minnesota against Boston, scoring a career-high 20 points and grabbing 11 rebounds.
• Tyler Rice's nine assists in the opener at Wake Forest were the most by a CAA freshman over the last two seasons.