2022 Creighton vs Villanova - Women's
BIG EAST Games Of The Week: Creighton Meets Siegrist, 'Nova
BIG EAST Games Of The Week: Creighton Meets Siegrist, 'Nova
The season has been a turbulent one so far, but a few BIG EAST teams have found a way through the noise, and to the top of the standings.
Jan 13, 2022
by Briar Napier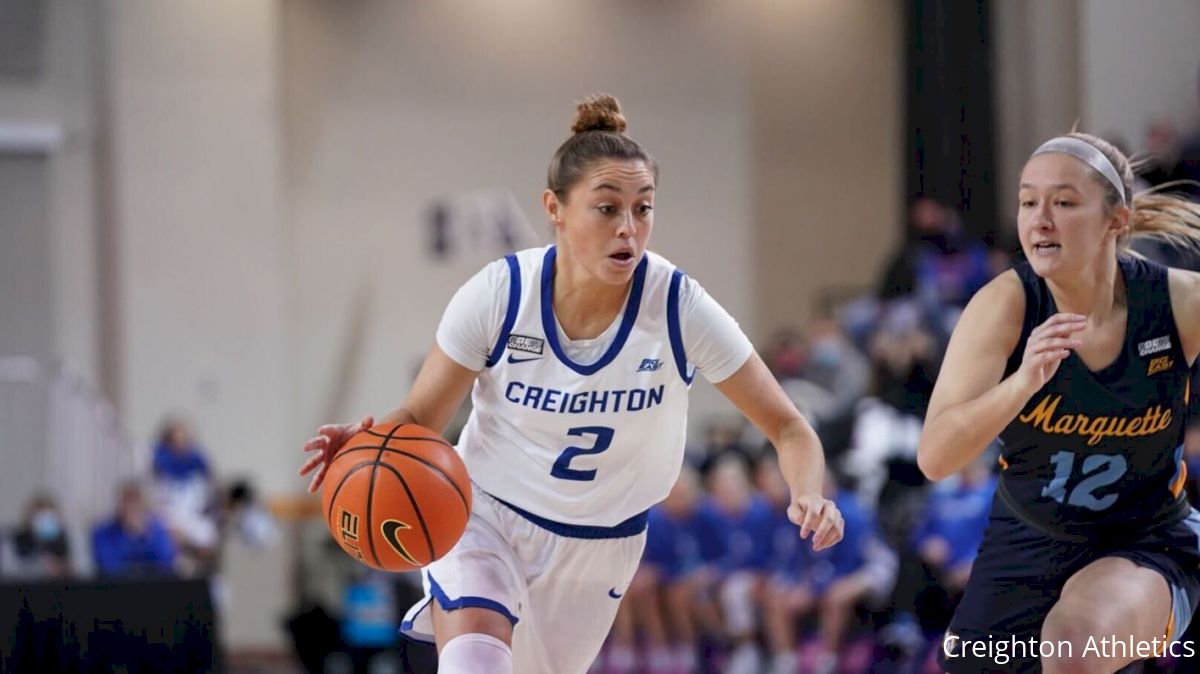 After a chaotic period following numerous COVID-19-related postponements and cancellations among BIG EAST teams, more games—hopefully—looked to be played on-schedule in the near future than in the past couple of weeks.
That's good news for both teams and fans, as the BIG EAST title race looks to be heating up at the right time.
After DePaul and Creighton had been jabbing with each other for the league lead following a long, virus-induced break from perennial powers UConn, the Huskies snatched back up the league's top spot following a Blue Demons loss and look to be controlling their own destiny the rest of the way.
That is, unless the rest of the league has something to say about it. Here are some games to check out this week across the conference, all of which can be caught live on FloHoops.
St. John's Vs. Seton Hall
St. John's could really use some good vibes right now. It's been over a month since the Red Storm last remembered what it was like to win a game, going 0-4 in the stretch while also having three games postponed due to COVID-19 cases both in opposing programs (like what happened to Georgetown for a scheduled New Years' Eve game) and in their own (like what happened against Xavier and Butler on Jan. 7 and 9, respectively).
Instead of having those tune-ups against the current bottom two teams in the BIG EAST, St. John's will need to claw its way back up the league table facing a five-game stretch that includes dates with Creighton, UConn and DePaul. However, what the Red Storm also can do is harken back to their conference opener Dec. 5. That's when they beat the Pirates 88-75 thanks to over 20-point nights from guards Leilani Correa and Kadaja Bailey, with Correa herself averaging a ridiculous 26.3 points, 9.0 rebounds and 3.3 assists in BIG EAST play, albeit over just three games. Still, St. John's defense in conference play has been the league's worst (84.0 points allowed per game) and it often needs big nights from its stars to keep pace.
BIG EAST play hasn't gone super smooth for Seton Hall, either (1-3 in league play), and the Pirates have had to go through an unwanted two-week layoff from New Year's Eve to Friday due to COVID-19 issues. But Andra Espinoza-Hunter (17.6 points, 6.4 rebounds this year) and Lauren Park-Lane (17.3 points, 7.3 assists per game) are still as good of a duo as you'll find in the conference, while Mississippi State transfer Sidney Cooks (14.4 points, 7.3 rebounds per night) is having a career year in her first BIG EAST season. Watch for the Pirates to try and get to the free throw line: Seton Hall shoots 79.7 percent from the charity stripe—sixth in the country—but St. John's often stays disciplined, only with a foul rate of 16.2 percent (17th in the country).
DePaul Vs. Butler
Was this matchup chosen as one of the league's games of the week because it's liable to be competitive? Probably not. It's the No. 3 team (and past No. 1 earlier last week) in the BIG EAST going against the No. 11 team in the BIG EAST. The Blue Demons have already demolished the Bulldogs once already, with a 101-64 rout on Dec. 4 in Chicago.
But if you want to see arguably the nation's most exciting offense be able to run out in full force, check this game out. DePaul is still No. 1 in America in average points per game (91.7 as of Thursday morning), still has five players averaging double-figure scoring numbers and still has the might of one of the best freshmen in the country in Aneesah Morrow, who is putting up video game numbers at 18.8 points, 12.2 rebounds, 2.7 steals and 2.2 blocks per night.
After COVID-19 issues in the UConn program shelved a highly-anticipated game with the Huskies on New Years' Eve in Chicago—leaving coach Doug Bruno's team without a game for over two weeks. The Blue Demons cruised on the road at Providence in their return game Jan. 7 by 21 points, though did drop a game in overtime at Marquette, a top-four team in the BIG EAST most of the season, five days later.
Butler, meanwhile, has serious issues to work out. A visit from Connecticut this past Wednesday in Hinkle Fieldhouse went predictably (a 92-47 UConn win) in the first of its three straight games against the top three teams (UConn, Creighton then DePaul) in the conference. Ouch. The Bulldogs have allowed 75 points eight times this year while the Blue Demons have missed that number just once. Butler being within striking distance late into this game would be highly unexpected, but if it is, graduate forward Celena Taborn (74.7 percent field goal percentage, fourth in the country) probably has something to do with it.
Creighton Vs. Villanova
When Villanova star Maddy Siegrist missed a six-game stretch earlier this season due to broken bones in her hand, the Wildcats went a middling 3-3 and averaged 58.8 points per game during that period.
The results after the reigning All-BIG EAST First Team selection returned Dec. 9 against James Madison? 'Nova now hasn't lost in over a month (5-0) and has averaged 68.8 points during its winning streak. It looked as if little could stop a healthy Wildcats team, which made it inconvenient following the win over St. John's on Jan. 2 that the Villanova program was struck down with COVID-19 issues and was forced to postpone games against UConn and Georgetown.
Barring any other hiccups—and if the Wildcats get through some league heavy hitters in DePaul and Marquette before—Siegrist and her squad should be back in full force for a tussle with Creighton, one of the conference's biggest surprises of the year.
At 10-4, the Bluejays have already equaled their win total for the entirety of last season, with their lone conference loss coming by just eight points this past Sunday at mighty UConn—the first-ever BIG EAST game the Huskies haven't won by double digits since joining the league following the 2019-20 season.
Much has been spoken about the efficient way Creighton plays offense (the Bluejays assist rate is 74.3 percent, higher than any other team in America) but coach Jim Flanery's defense in conference play has been vastly underrated, with the 51.8 points allowed in league play second best in the BIG EAST. Also, by the way, the 63 points Creighton allowed against UConn was the Huskies' joint lowest-ever tally in BIG EAST play. If the Bluejays can also bother Siegrist effectively, they'll be flying.