2022 UNC Wilmington vs Towson - Men's
CAA Games Of The Week: Close Games, Tight CAA Race Unfold
CAA Games Of The Week: Close Games, Tight CAA Race Unfold
Expect the CAA's playmakers to continue rising to the occasion as the push to a Frenzied February unfolds.
Jan 18, 2022
by Kyle Kensing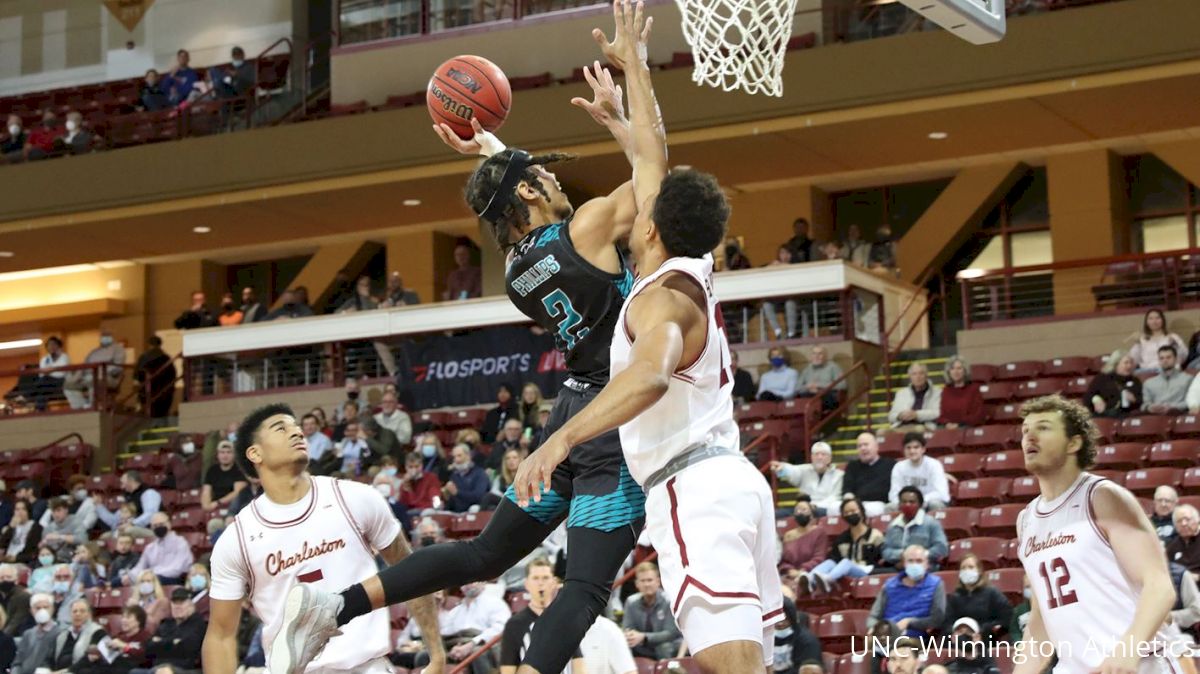 The Martin Luther King holiday marked the first five-game day of the young 2021-22 Colonial Athletic Association, and the loaded docket did not disappoint.
With three games decided by single-digit-point margins, including an overtime tilt, the league nears the end of its first month with seven teams sitting 1.5 games back of first or better.
Among them is Hofstra, which won thrillers over Delaware by five points; and against Drexel by three. Aaron Estrada's clutch, step-back jumper in the final minute answered the Bell for the Pride—that is, the answer to Dragons wing Xavier Bell, who scored the last of his 30 points on a lay-in the prior possession.
THERE'S THAT MAN AGAIN! #RoarWithPride pic.twitter.com/EW1949MiMi

— Hofstra Men's Basketball (@HofstraMBB) January 17, 2022
"Coach [Speedy Claxton] has put me in position not just to score, but also make plays," Estrada said in the postgame press conference. "I'm a willing passer as well, I'm not just a scorer. … Coach has put me in position to make plays, and that really helps our team out a lot."
Another round of tightly contested games are likely in the coming days. Expect the CAA's playmakers to continue rising to the occasion as the push to a Frenzied February—March Madness' precursor—unfolds.
Elon Vs. Drexel
Both Elon and Drexel lost heartbreakers last week, with the Dragons falling at Hofstra in the final minute and the Phoenix giving up a double-digit-point lead to Towson.
Elon rallied with a dominant showing against James Madison, last year's regular-season CAA champion.
"The other night [against Towson] was one of our toughest regular-season losses we ever had," Elon coach Mike Schrage said in Monday's postgame press conference. "Our offense didn't really help our defense. Obviously, that flipped today."
Kris Wooten and Hunter McIntosh combined for 13 made 3-pointers against the Dukes. The Phoenix will try to maintain that hot shooting in a road trip north, tipping off Thursday against the CAA's reigning NCAA Tournament representative, Drexel.
This rematch of last year's CAA Tournament finalists could be an interesting table-setter for the second half of the league season. Drexel played well despite being short-handed last week, and Elon has had a knack for improving as seasons go along under Schrage.
UNC-Wilmington Vs. Towson
Who could have envisioned this pairing being for first place atop the CAA? That will be a scenario for the two teams picked to finish near ‌Colonial's cellar in the preseason, especially for the winner.
As it stands heading into the week, UNCW is the CAA's lone remaining unbeaten team after a thrilling win at College of Charleston. Towson is the only Colonial squad with four league wins, the result of its comeback defeat of Elon and blowout of William & Mary.
The Seahawks win at Charleston on Monday marked their sixth straight victory. Before heading to Towson, they'll aim to make it seven in a row at James Madison on Thursday.
UNCW is aiming to complete a one-year turnaround similar to the Dukes a season ago, who finished at the bottom of the CAA in 2019-20 only to win the regular-season title in 2020-21.