2022 UNC Wilmington vs Towson - Men's
Love of the Game Has UNC-Wilmington Flying High
Love of the Game Has UNC-Wilmington Flying High
UNC-Wilmington is the last team in the CAA without a conference loss, and the owner of the league's longest current winning streak.
Jan 20, 2022
by Kyle Kensing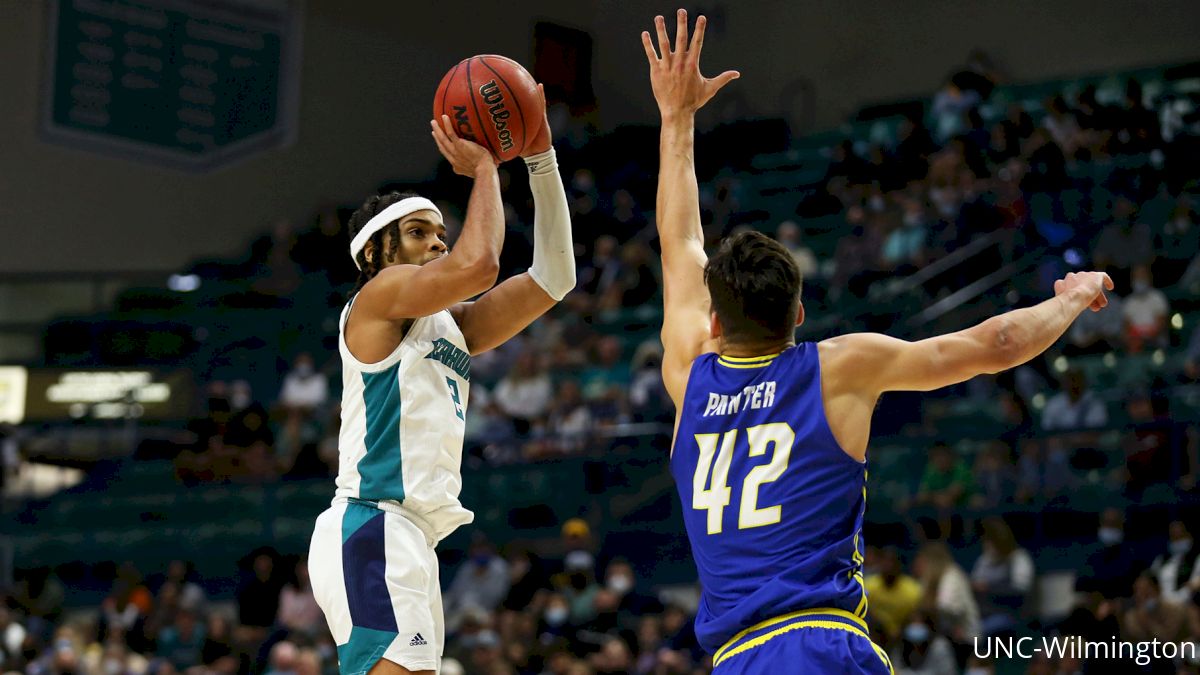 Examining what has made UNC-Wilmington the last team in the Colonial Athletic Association without a conference loss, and owner of the league's longest winning streak through games played Jan. 17, reveals a few key qualities.
None are more important than the Seahawks' collective love of simply playing the game, UNCW coach Takayo Siddle explained.
"Couldn't say that about last year's team," the second-year coach said. "The character of this year's team, the mentality is just a whole lot better."
Siddle coached on Kevin Keatts' staff for some outstanding Seahawks teams, and returned to UNCW in spring 2020—just as COVID-19 shut down the world. Not the best time for beginning the process of restoring a basketball program.
And, indeed, last season's Seahawks struggled to a 1-6 finish in the Colonial and a 7-10 record overall.
Rebuilding really began taking shape for the program in the 2021 offseason. Constructing around what Siddle described as the "core four"—Jaylen Sims, Mike Okauru, Shykeim Phillips and Jamahri Harvey—UNCW welcomed a host of newcomers who are fast settling into prominent roles.
Freshman Trazarien White went for eight points, three rebounds and three assists in a league win over Elon. Duquesne transfer Amari Kelly grabbed four offensive rebounds against Delaware and five in the Jan. 17 win at Charleston.
Jaylen Fornes isn't a new face around UNCW hoops—he averaged almost 12 points per game for the Seahawks in 2017-18 and appeared in 30 games as a freshman on the 2017 NCAA Tournament team—but he's returned to the program after a season at Nicholls State to provide veteran leadership.
"The mentality has changed," Siddle said. "These guys care about winning and are willing to do what it takes.
"I don't have to coach effort, I don't have to coach attention to detail," he added. "They're bringing it every single day."
Mentality provides an important cornerstone, but a team has to be able to execute as well. Since enduring some challenges early in the 2021-22 season, UNCW is executing to the tune of six wins spanning a month and a 3-0 start to CAA competition.
And how the Seahawks are executing is as fascinating as their script-flipping success.
UNCW has shown an ability to win both defensive struggles and uptempo track meets. Its third conference win, the first game in a crucial, four-game road swing, was an 81-76 defeat of Charleston.
The Cougars lead the nation in adjusted tempo, per KenPom.com, and the Seahawks went into TD Arena to beat Charleston with its own style.
That win contrasts against a 70-68 defeat of Delaware and 65-58 win over Campbell, both of which saw UNCW employ a more defensive approach.
"It's all about our matchups," Siddle said. "And understanding exactly how we're trying to attack."
UNCW's brand of basketball isn't exactly malleable, despite the Seahawks' ability to adjust based on matchup. This team's finding a signature identity that starts with ball possession, boasting one of the nation's 50 best offensive turnover rates. It also ranks top 25 in steals allowed.
Siddle credited the Seahawks' team offensive rebounding, and at almost 32 percent of opportunities snagged on the offensive glass, UNCW is among the nation's top 100. The coach also touted his team's savvy with 3-point shooting.
"Offensively, we want to be an attacking team that plays inside-out," Siddle said. "We have guys who can play off the dribble, make plays for themselves or others."
Sims and Okauru have excelled in this regard, showing off their ability to beat defenders off the bounce. Sims has an uncanny knack for getting to the rim and drawing fouls—contributing to UNCW's impressive 20 percent point distribution at the free throw line—and Okauru distributes the ball to open teammates when defenses try to rotate.
Defensively, the Seahawks are finding success with a full-court pressure look less focused on traps than it is frustrating opponents for 94 feet.
It's a brand of basketball that's easy to love. And their love of the game has the Seahawks flying past expectations.