2022 Villanova vs St. John's - Women's
BIG EAST Games Of The Week: Creighton, DePaul Showdown
BIG EAST Games Of The Week: Creighton, DePaul Showdown
DePaul and Creighton are on a collision course that will help decide superiority in the BIG EAST.
Jan 27, 2022
by Briar Napier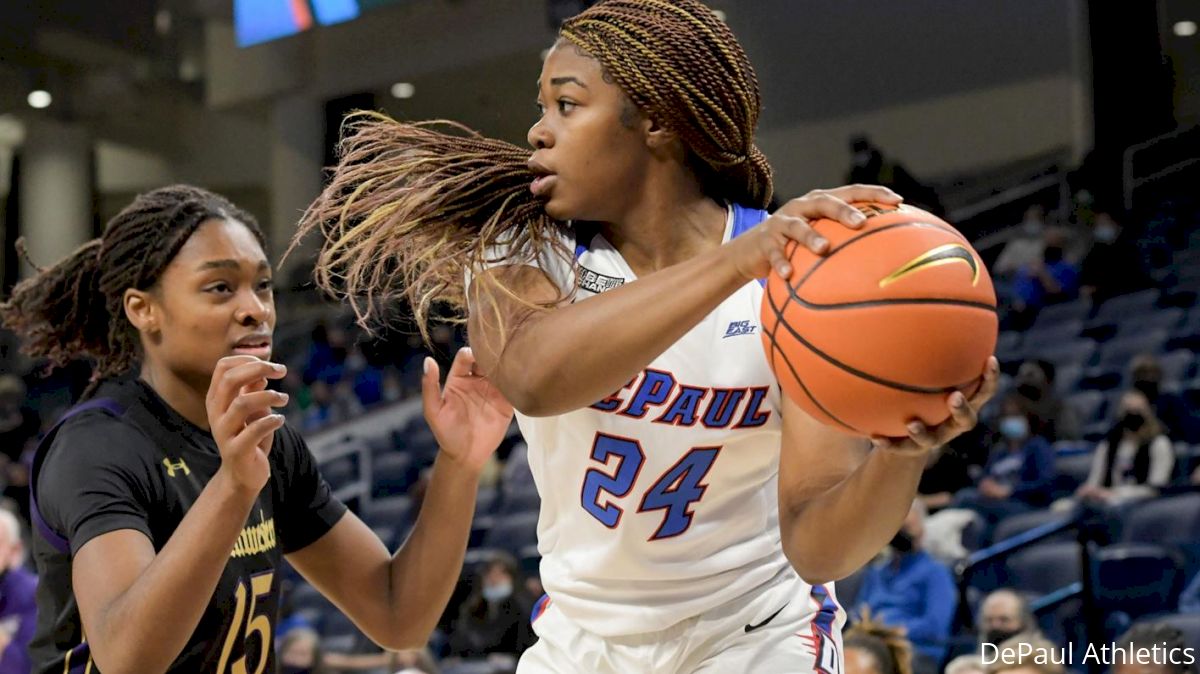 Can you feel it?
That's the feeling of the final month of the BIG EAST women's basketball regular season before the real fun begins in the postseason. And there are few bigger games than some on the slate for the first week of February.
Before all the hoopla surrounding March gets underway, there's still plenty of league position to figure out in a BIG EAST season that's seen plenty of surprises and competition throughout the conference table. There's no indication that any sort of stoppage of excitement is coming, either.
Take a peek at the three games to watch around BIG EAST women's basketball this week, all of which ‌will be broadcast live on FloHoops.
Villanova Vs. St. John's
When Maddy Siegrist scores a lot of points, Villanova usually wins. Seems like a simple formula, right? There are reasons many have raved about the junior—including many at FloHoops—as when she's on the floor producing, good things happen to the Wildcats. And nothing better has happened this season for the program than when 'Nova beat Creighton by double digits this past Sunday in Finneran Pavilion, dealing the Bluejays their first BIG EAST defeat by a non-UConn team of the season.
Siegrist dropped a 31-point, 12-rebound double-double in that game, but the recent return of another player on the Wildcats' roster could ascend Villanova to new places in the league standings late in the regular season. Graduate forward Breanna Herlihy, after missing nearly three weeks in January, returned for Villanova's win over Providence and scored 17 points as a complement to Siegrist in the Creighton win. As a talented player herself,—Herlihy was All-BIG EAST Second Team last season—when she and Siegrist get going, 'Nova becomes a tough team to tame.
The Wildcats visit St. John's, who can match other teams' offensive output at times (73.5 points scored per game) but definitely can't stop it consistently (73.4 points allowed per game) as a promising 3-1 start has spiraled down into a 6-12 record. The Red Storm did get a 28-point blowout win against Georgetown on Tuesday, snapping what was an eight-game losing streak, and only lost by two to the Wildcats on Jan. 2 on the road, while Siegrist and Herlihy combined for 40 points. But the confidence that 'Nova is evoking in its run of eight wins in nine games looks far different this time around.
Creighton Vs. DePaul
Let's get straight to the point, this is the biggest game of the year in the BIG EAST not involving UConn. It might be the conference game of the season regardless of UConn. These two programs were the closest to ending the Huskies' 168-game conference winning streak (dating back to their days in the American Athletic Conference), with DePaul being agonizingly-close in a two-point loss Wednesday spoiled thanks to UConn guard Caroline Ducharme's game-winner with 1.5 seconds left.
Meanwhile, Creighton on Jan. 9 lost by nine to the Huskies in Connecticut, an impressive feat considering the Huskies haven't lost to an opponent at home since Feb. 3, 2020 when Sabrina Ionescu and Oregon did it. This will be the first of two meetings between the current No. 2 and 3 in the conference, both of which are strikingly efficient on offense but in completely different ways.
For the Blue Demons, it's all about volume: coach Doug Bruno's team has both made and attempted more field goals than any other team in the country, leaving it as no surprise that Depaul scores more points than any team in America (91.4) as of Thursday morning. Freshman Aneesah Morrow, already putting up scary numbers this season (20.8 points, 12.6 rebounds, 2.8 steals, 2.0 blocks per game), only seems to be even more devastating to defenses as the season progresses, with three straight games of at least 30 points and 14 rebounds, including against UConn.
The Bluejays score a very good 72.5 points a night, meanwhile, but do it through taking care of the basketball and finding the best chances to score. Approximately three-fourths of Creighton's shot attempts come off assists (No. 1 in the country) while it has a 1.55 assist-to-turnover ratio that is also the best in the country. The number of shots the Bluejays take isn't how they beat you, it's the quality of shots. Under the Friday night lights in a big-time atmosphere in Chicago, expect this one to feature plenty of scoring—and possibly finish as an all-time classic.
Seton Hall Vs. Butler
Seton Hall has had a yo-yo of a regular season, never seeming ‌to find any sort of consistency or rhythm throughout a streak of matchups. In fact, in a somewhat-quirky stat, the Pirates both have never won nor lost more than two games in a row at any point this season. It could change in Seton Hall's upcoming slate of games. After the Pirates play against DePaul, the third-ranked team in the BIG EAST at the moment, they enter a three-game stretch when they play the three bottom teams in the league in Georgetown, Xavier and finally, the Bulldogs.
Guards Lauren Park-Lane (16.9 points, 6.6 assists per game) and Andra Espinoza-Hunter (15.8 points, 5.5 rebounds per game) are still a one-two punch to be reckoned with around the conference, with both contributing heavily to an offense that turns the ball over a league-low 11.3 times per game in conference play.
Butler, meanwhile, is a putrid 1-15 and has the dubious distinction of having the worst defense in America—allowing 82.1 points per game—and is desperately looking for something to go right, having lost its last four games by margins of 45, 51, 34 and 30 points. Oof. Butler doesn't have a BIG EAST win yet (or even has finished a league game within double digits of an opponent) but does have a surprisingly-high 2-point percentage at 49.9 percent, meaning that the Bulldogs can be alright in spurts. But again, the horrid defense and poor numbers in other stats like rebounding (45.8 percent total rebound rate) and turnovers (25.3 percent rate) often just flatten any sort of momentum as quick as it arrives.
Seton Hall, if it gets through the two other games following DePaul unscathed (the Pirates are favored in both, per analytics site Her Hoop Stats), has the chance for that elusive third straight win served on a silver platter.