2022 Xavier vs Creighton - Women's
BIG EAST Games Of The Week: Several Teams In The Hunt
BIG EAST Games Of The Week: Several Teams In The Hunt
With the final month of the season in full force, a handful of BIG EAST teams are vying for an invitation to the big dance.
Feb 4, 2022
by Briar Napier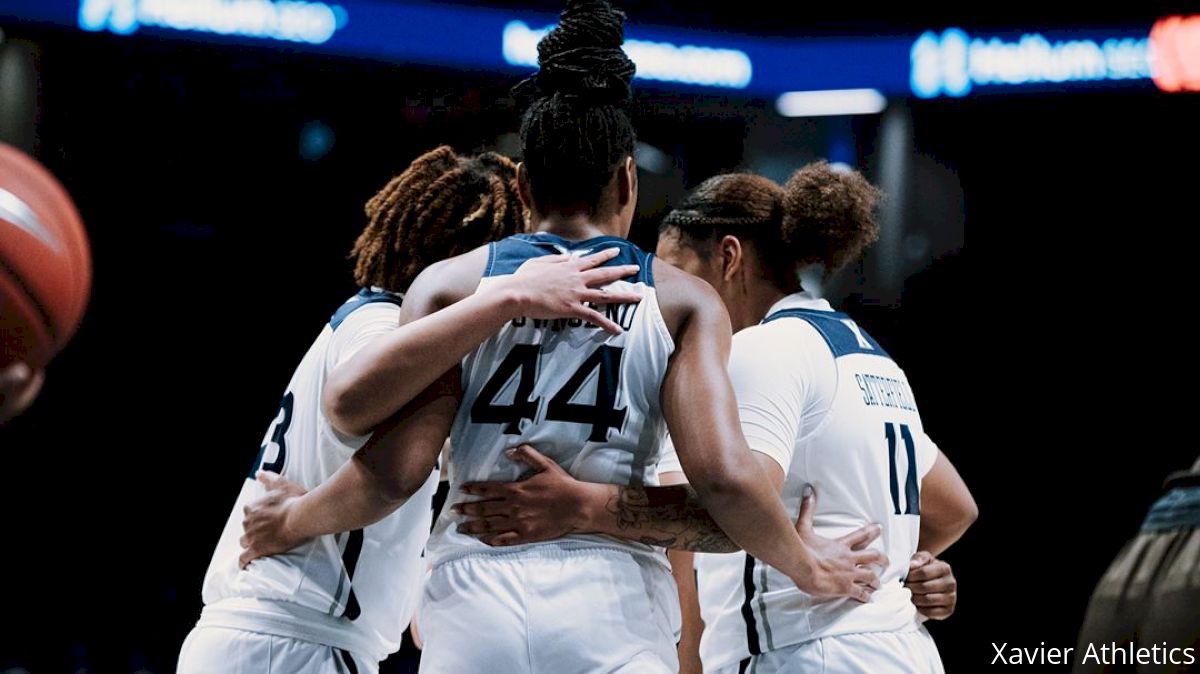 What can you claim on your resume?
For several BIG EAST women's basketball teams, that's a question they're attempting to answer with confidence as the final month of the regular season is in full force and NCAA Tournament bids are taking shape. Some programs (like UConn and DePaul) should be in, some (like Creighton and Marquette) are squarely on the bubble and others are trying to find a seat at the table with a strong final stretch of games.
Not all get invitations to one of the most exciting events in sports, with those who have legitimate chances looking to make do on their opportunities. And it all starts with showing out against your league foes.
Here's this week's BIG EAST women's basketball games of the week, all of which can be streamed live on FloHoops.
NOTE: All tip-offs are listed in Eastern Time and are subject to change.
Xavier Vs. Creighton
Creighton needs a strong month to close out the regular season. As the result of a massive game against DePaul awaits (this preview was written Friday morning before the Blue Demons-Bluejays game later that night), dropping two of its three games leading into the matchup (albeit at Villanova and against UConn at home) has Creighton currently sitting third in the BIG EAST standings.
They're a bit off the pace, and though the result against DePaul is important, the Bluejays need to continue to get the job done against the league's bottom half to stay on the right side of the NCAA Tournament bubble and get back to the Big Dance for the first time since 2018.. ESPN Bracketology currently has coach Jim Flanery's team as one of the "Last Four In." Still wickedly efficient as the No. 1 team in America in assists per game (20.5) and assist-to-turnover ratio (1.56), the Bluejays' style is well-known across the league at this point but a lot harder to contain.
The Musketeers will attempt to control it better than they did in the two teams' first meeting Jan. 2 in Cincinnati, when, despite Xavier having four players hit double digits in scoring, it lost by 16. Things haven't exactly gotten better since for Xavier, as Friday morning it had lost seven of eight dating to that first Creighton game. But an overtime win against Georgetown on Jan. 28 showed some positives in the Musketeers' game, particularly when guard Nia Clark (11.7 points, 2.8 assists, 1.5 steals) can get going and produce.
Villanova Vs. Seton Hall
If it weren't for some bad injury luck in the early portion of the season, Villanova would likely be in the conversation for the NCAA Tournament bubble. With a dominant February, it could conceivably still barge its way into the talk for a ticket to the tourney. Much has already been discussed about how valuable forward Maddy Siegrist (24.5 points, 9.4 rebounds) is to the Wildcats and for good reason as the junior is indisputably one of the best players in the BIG EAST. Much has also been said about how much better a team 'Nova is with her in the lineup—since Siegrist missed six games in the early part of the season due to an injury, the Wildcats have won 10 of 11 games since her return. But because of that rocky start without its star in most of the games—Villanova started the season 3-5—the Wildcats currently aren't considered for selection in ESPN's bracket projections. Taking care of business at Seton Hall would help.
The Pirates' three-game onslaught to close out January (at UConn, at Marquette and vs. DePaul) went predictably as Seton Hall lost all three games by an average margin of 24 points. But roaring back and beating league basement-dwellers Georgetown by 29 to tip-off February was a raucous response, and guard Lauren Park-Lane's play in the league (17.5 points, 6.4 assist per game) can lead to results like that. As Villanova awaits dates with the likes of UConn and DePaul in the final full month of the regular season, it can't forget matchups with teams like Seton Hall, either—its postseason life depends on it.
DePaul Vs. Georgetown
Probably the only non-UConn team in the BIG EAST that can consider itself safely in the NCAA Tournament field at the moment—ESPN currently has DePaul listed as a No. 7 seed—the Blue Demons have earned the plaudits they've received and, barring a monumental collapse, should see themselves dancing in March. Coach Doug Bruno's team has only lost three times since Nov. 27, but oh, do those losses sting. DePaul's three defeats since that date have been by a combined 10 points to Notre Dame, Marquette (in overtime) and UConn. The latter matchup had the Huskies needing a game-winner with 1.6 seconds to play to beat the Blue Demons.
On paper, Georgetown isn't a team that should scare DePaul, especially considering the Blue Demons stomped the Hoyas 102-69 on Jan. 16 in Chicago, but Georgetown made a loss to Creighton respectable in a 10-point defeat on Jan. 21 at home. And even though the Hoyas have a middle-of-the-pack defense (73 points allowed per BIG EAST game, seventh in the conference) by league standards, DePaul is another animal, still holding an iron grip on the top spot in the country for scoring at 91.2 points per game.
Superstar freshman Aneesah Morrow scored 23 points in the first meeting against the Hoyas—kicking off an ongoing streak as of Friday morning of six straight games with 20 or more points—and should be well in the running to do so again as a major part of DePaul's high-octane offense. If Georgetown has any chance of staying competitive, it's likely through sophomore guard Kelsey Ransom, who is currently leading the Hoyas in scoring in BIG EAST play at 12.6 points per game.