2022 Creighton vs Seton Hall - Women's
BIG EAST Games Of The Week: Villanova Did What?
BIG EAST Games Of The Week: Villanova Did What?
If there's a time to watch the BIG EAST women's basketball slate, it's now. Play is ramping up and talent is shining as teams reach their full potential.
Feb 11, 2022
by Briar Napier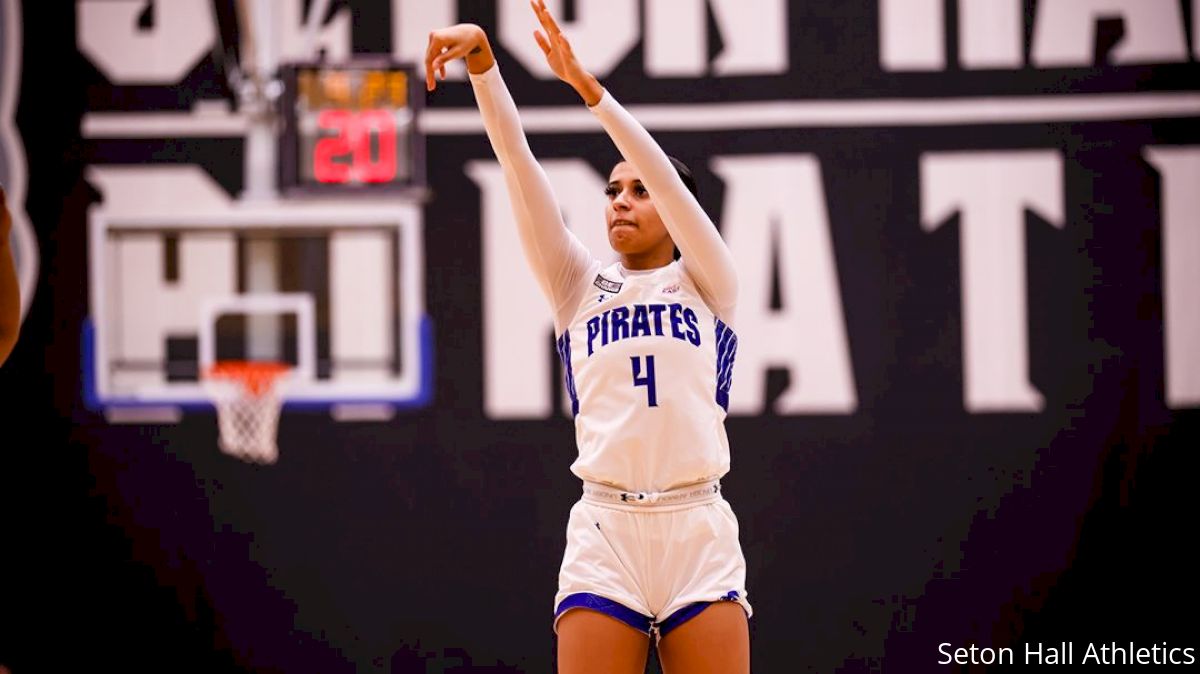 You truly don't know just what you're going to get in a week of BIG EAST women's basketball this season.
The final full month of the regular season is kicking into high gear, and there's still plenty left to play for. Conference tournament seedings are being shifted by the day as there's no guarantee on any given night—as a certain team learned this week.
If there's any time to take a peek at the BIG EAST women's basketball slate, it's now. Play is ramping up and talent is shining as teams reach close to their full potential headed into the postseason.
What games are there to check out on FloHoops this week? Here are three to look out for at a critical time for league standings and positioning.
Marquette vs. DePaul
DePaul gets two slots on the Games of the Week list this time around. Not because there's any bias favoring the Blue Demons, but because this is a season-defining week for them. Coach Doug Bruno's team dropped a critical game in the BIG EAST title race against Creighton on Feb. 4 at home, but Villanova—another major opponent this week, more on that matchup below—did DePaul a favor by shockingly beating league leaders UConn in Hartford. There's still a lot of work to be done to catch the Huskies (who are two games ahead before their game against the Blue Demons, played Friday), but if Lady Luck is on the Blue Demons' side, she's got to arrive soon with plenty of reinforcements.
That includes taking care of business against Marquette, which itself is making a late charge at the top of the league standings as the Golden Eagles ride a six-game winning streak (as of Thursday) before a trio of three brutal matchups against Villanova, UConn and finally the Blue Demons. And although it could be argued that Marquette's winning run has just been full of bullying basement-dwellers, the 50-47 win Sunday over Creighton was legit as the Golden Eagles' defense held a Bluejays team that leads the country in assists per game (20.0) to just 12. In fact, Marquette's defense (54.4 points allowed per game) is the best in BIG EAST play, already helping it ‌defeat the Blue Demons 88-85 in overtime Jan. 12 in Milwaukee. Can lightning strike twice for Marquette, or will DePaul and super freshman Aneesah Morrow (20.6 points, 13.4 rebounds per game) break through and split the season series?
Creighton vs. Seton Hall
Creighton's wings got clipped over a five-game stretch from Jan. 23 to Sunday as the Bluejays lost three of five, with all defeats coming to foes battling with them near the top of the table in Villanova, UConn and Marquette. The nine-point win Feb. 4 at DePaul was undoubtedly impressive, however, and though Creighton has came down to Earth since briefly being first in the BIG EAST, it still is an extremely talented and well-disciplined team that makes good decisions, still holding the best assist-to-turnover ratio (1.51) of any school in the country. The Bluejays have a trio of games (as of Thursday) upcoming in which they are highly-favored—Xavier, Butler and at St. John's—before the difficulty levels ramp up in the final two games of the year, the first being on the road against the Pirates.
Things have looked bleak for much of the year for the Pirates, who were projected to finish third in the league in the preseason coaches' poll but were staring a losing record in the face late last month. However, Seton Hall has righted the ship in recent times, winning four straight games as of writing and has broken the 90-point barrier in two of them. There's still a sizable gap between the Pirates and the upper echelon of the BIG EAST standings, but if Seton Hall is trying to make a late push to claw its way into the mix, beating Creighton in New Jersey would certainly be a solid way to do that. The Bluejays got the better of the Pirates in the first meeting, an 83-60 drubbing Jan. 14 in Omaha, but Seton Hall's current home record (7-4) has a slight advantage over Creighton's current away mark (6-5).
Villanova Vs. DePaul
Thanks to recent events, the stakes for this game have just been upgraded from white-hot to nuclear. Much has already been typed this season about how much better Villanova is with Maddy Siegrist (25.1 points, 9.7 rebounds per game) both healthy and playing at an All-America caliber level. But there might actually be no limit to just how good the Wildcats can be. Case in point: UConn suffered its first conference loss in 145 games (!) in a shocking 72-69 defeat Wednesday at the hands of the Wildcats in the XL Center in Hartford, with double-doubles from both Siegrist and partner-in-crime Brianna Herlihy (15 points, 10 rebounds against the Huskies) leading the charge in a thrilling upset. After a putrid 3-5 start, which included a 19-point loss to an under-.500 Providence team, Villanova has now won 13 of its past 14 games, along with eight straight.
The one loss in that timeframe? The road trip to DePaul on Jan. 14. A three-point halftime lead for 'Nova that night was erased following a second-half surge from the Blue Demons, who utilized their still-No. 1 offense in America (90.2 points per game) in full force even as Siegrist—who popped off for 31 points and 14 rebounds that night—did her best efforts to try and play catch-up. Villanova hadn't played a game in nearly two weeks before the first DePaul meeting (COVID-19 outbreaks shut down two scheduled games) but now hasn't lost a game since, as of Thursday evening, meaning that this week's matchup between the two should be close to the top potential both teams can reach this year. Expect plenty of fireworks, and now with the Wildcats creeping their way into the NCAA Tournament bubble conversation, there's a lot on the line, too.