2022 Hofstra vs Delaware - Men's
Hofstra's Aaron Estrada Is More Than Mr. Mid-Range
Hofstra's Aaron Estrada Is More Than Mr. Mid-Range
The way he is playing heading into the stretch run of the 2021-22 season, one title that should apply to Estarda: All-American.
Feb 11, 2022
by Kyle Kensing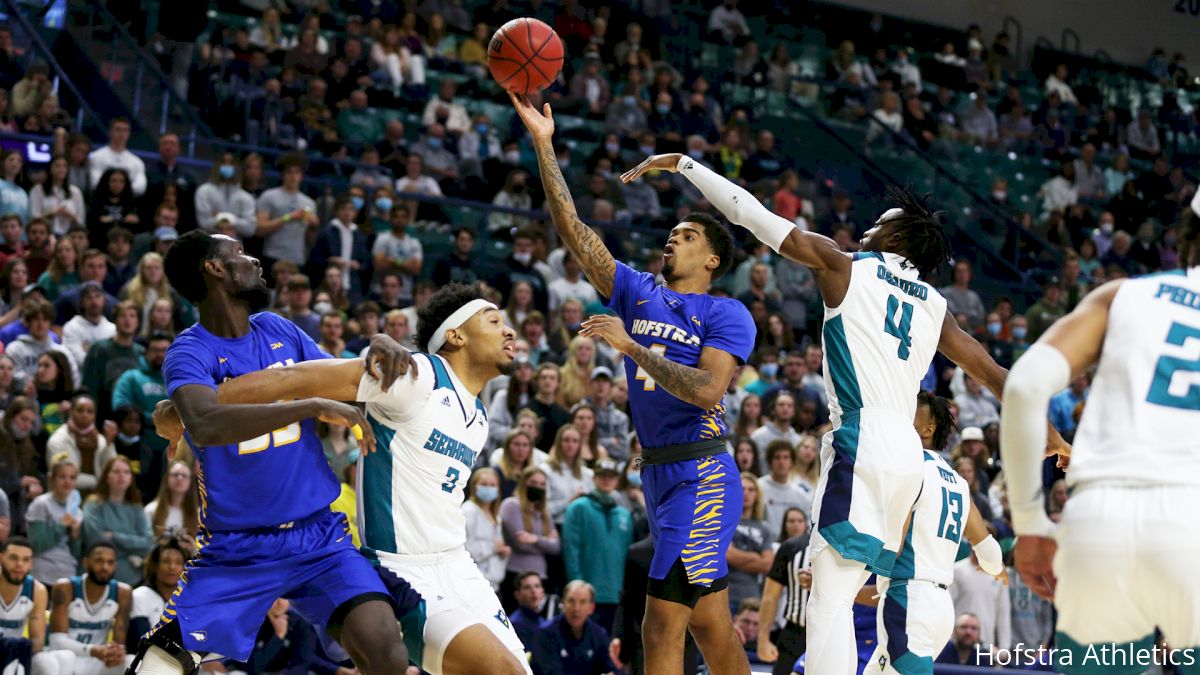 He's garnered the nickname Mr. Mid-Range, but there are other facets to Hofstra guard Aaron Estrada's game worthy of monikers.
The way he is playing heading into the stretch run of the 2021-22 season, one title that should apply to Estrada: All-American.
The Oregon transfer has mastered what Hofstra coach Speedy Claxton referred to as "a lost art" with his ability to shoot effectively in ‌the space spanning from beyond the key and inside the 3-point arc.
People on Twitter have been calling @HofstraMBB's Aaron Estrada "Mr. Mid-Range."

There may be some validity to that.#CAAHoops on @FloHoops:https://t.co/iakDWYEYBF pic.twitter.com/9opNmbYXCi

— CAA Basketball (@CAABasketball) February 11, 2022
It's a shot that defined the careers of All-Americans and Hall of Famers like Adrian Dantley, and was an invaluable weapon even for high-fliers like Grant Hill and Michael Jordan. But the trend in offensive strategy in more contemporary times has placed emphasis on 3-point attempts set up largely from attacking the rim.
Claxton said that, as a result, defenses focus on defending the paint and extending out beyond the arc. The area between has thus become fertile ground for clean looks for those with the ability to shoot that under-emphasized jump shot consistently.
And Estrada shoots from mid-range consistently. Per CBBAnalytics.com's shot chart, Estrada averages 48.8 percent shooting from mid-range inside the paint—the national average is 43.7 percent.
His mid-range shooting from outside the paint is a whopping 59.3 percent, a full 24 percent higher than the national average. The disparity isn't the byproduct of a small sample size, either: Estrada has attempted 108 of these shots through Feb. 10.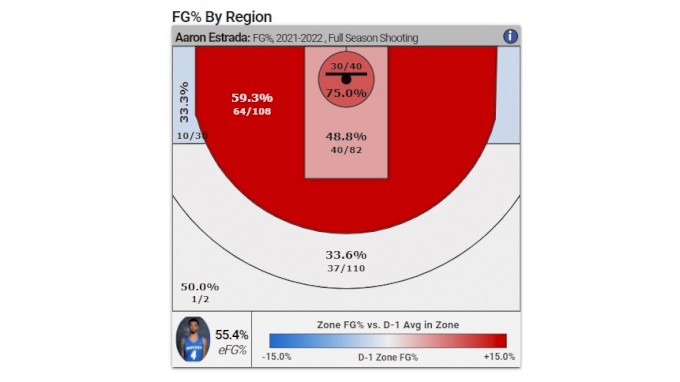 Estrada moved into the nation's top 50 individual scorers on the season following his 32-point outpouring in an 83-73 win at Drexel on Feb. 10, posting a shade below 19 points per game.
Since the calendar turned to 2022, however, Estrada is averaging 27.5 points per game. He has more games of 30-plus points in 2022 (three) than performances of fewer than 20 (two), and he's getting buckets with efficiency over volume.
At Drexel, Estrada shot 14-of-21 from the floor. It was his fourth game in a five-game stretch shooting 60 percent or better, the kind of numbers more typical of a big man shooting exclusively in the post than of a jump-shooting guard.
His touch is the proverbial rising tide for the Hofstra offense, which ranks 10th in the nation in 2-point field goal percentage at 56.5 percent.
A player doesn't typically put up those kinds of numbers with a one-dimensional scoring approach, and Estrada does indeed find ways to score other than the mid-range J.
"The kid is unbelievable," Claxton said following the Drexel win. "He can make shots in a variety of ways."
To wit, Estrada is the NCAA leader in free-throw percentage at 95.1 percent, and his 3-point shooting has started to pick up the deeper the Pride go into Colonial competition.
"Coming into conference play, I knew I wasn't shooting [the 3-pointer] that well," Estrada said following Hofstra's 73-71 win over UNC-Wilmington on Feb. 7, when he went 5-of-9 from deep. "That's something I really emphasized, working and working on stuff, trying to get a lot of 3s up.
"And another thing is, I always say it's just confidence," he continued. "Coaches…give me a lot of confidence to shoot the ball. All that contributes to me progressing as a shooter."
Over the three-game stretch against James Madison (2020-21 regular-season CAA champion), UNCW (1st place in the CAA through Feb. 10) and Drexel (2021 CAA Tournament champion), Estrada made at least four 3s in every game and went a combined 15-of-25 from deep.
His evolving scoring ability, buoyed by that old-school mid-range game, has Hofstra in the hunt for a CAA championship and first NCAA Tournament berth since 2001 with the 2020 edition canceled.
Estrada will also be in the mix for individual accolades to join that Mr. Mid-Range label.
Did you say Haggerty Award favorite? https://t.co/nQm674xRD7

— Hofstra Men's Basketball (@HofstraMBB) February 11, 2022