2022 Villanova vs Butler - Women's
BIG EAST Games Of The Week: Tickets Punched, Bubbles Bursting
BIG EAST Games Of The Week: Tickets Punched, Bubbles Bursting
Only NCAA Tournament mainstay UConn is a surefire bet to make the Big Dance from the BIG EAST, leaving the rest of the top echelon to stake their claim.
Feb 18, 2022
by Briar Napier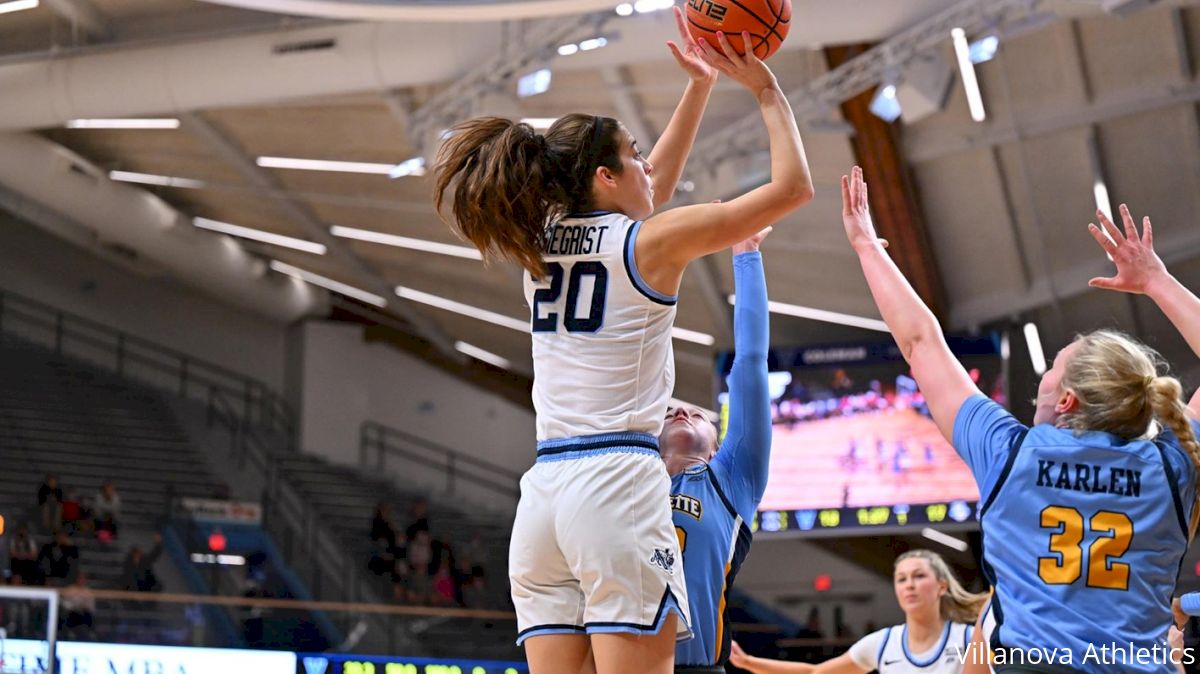 See any bubbles in the air?
If you do, that's because the final weeks of the regular season are counting down—and multiple teams across BIG EAST women's basketball are trying to make sure the bubbles they're on don't pop beneath them.
At this point in the year, only NCAA Tournament mainstay UConn is a surefire bet to make the Big Dance, leaving the rest of the top echelon of the league to fight for one of the coveted 68 slots given to programs across the country. At this point in the year, merely winning against most opponents matters less than doing it impressively, with any style points a bonus for your team—and a potential season-defining mistake for your opponent.
What are the games to watch across the league as the last full week of the regular season closes? Check out these three matchups across the league, all of which will be streamed live on FloHoops.
Villanova Vs. Butler
With Villanova playing its way into the thick of the NCAA Tournament bubble of late after winning nine straight games and shockingly ending UConn's 169-game conference winning streak Feb. 9, the last thing the Wildcats needed was a bad loss. Well, Seton Hall—who has won five straight but are tourney longshots at 13-10 as of Thursday—ended the Wildcats' winning run with a thud, with the Pirates' Lauren Park-Lane (33 points) outdueling 'Nova star forward Maddy Siegrist (31 points) both in scoring and in the team game last Sunday.
That defeat dropped Villanova into the "Next Four Out" category of ESPN analyst Charlie Creme's NCAA Tournament projections last updated Tuesday, and with chances running out to impress the selection committee, the Wildcats need some eye-opening performances. Would beating up on last-place Butler influence ‌decision-makers that much? Maybe not, but Villanova can't afford to take any risks at the moment. Siegrist is still playing at a BIG EAST Player of the Year-level with 26.4 points and 9.9 rebounds per game to go along with a 50.3 percent field goal percentage and should keep the flow going in her second meeting of the season against the Bulldogs, the first of which 'Nova comfortably won the first meeting 59-44 on Jan. 28. Butler, meanwhile, has been pretty hard to watch; the Bulldogs are 1-22 with no BIG EAST wins and have lost seven games by 30 or more points, which is unsurprising considering Butler also has the nation's worst defense when going by points per game allowed (79.3). Siegrist, meanwhile, is in the form of her life, averaging 31.0 points per game over her last six including a 42-point outburst Feb. 11 against Marquette. If you want to tune into a one-woman show Friday, Butler-Villanova might just be your game.
Seton Hall Vs. DePaul
Well, well, well, the BIG EAST might just have a spoiler on its hands. Seton Hall probably isn't making the NCAA Tournament without an unlikely run to the BIG EAST Tournament title next month. That doesn't mean the Pirates can't throw wrenches into other teams' hopes in the meantime. After all, as mentioned in the previous excerpt, Seton Hall—not Creighton, Marquette or even UConn—was the team to end Villanova's white-hot midseason run throughout the league, and the Pirates even did it by double digits. Now, with plenty of confidence on a winning run of its own, coach Anthony Bozzella's team could set itself up with a more-favorable draw in the conference tourney with a nice closing run in the regular season, which ends with a visit to Chicago to take on the Blue Demons.
DePaul is on the right side of the NCAA tourney bubble but is far from certain to make it in, with Creme currently placing coach Doug Bruno's team in the "Last Four Byes" category as a No. 10 seed. But it would also almost feel unfair to place a player with the skill and athleticism of Blue Demons super freshman Aneesah Morrow (20.9 points, 13.8 rebounds, 2.6 steals, 1.9 blocks per game) outside the tournament. And how did Morrow perform the first time DePaul played and beat Seton Hall back on Jan. 30, exactly? By scoring 22 points and corralling 27 rebounds (yes, that's not a typo) as the nation's leading rebounder ate glass like it was a thing to do. But the Pirates' current winning run started on the first game back following the DePaul loss, making for what could be an enticing rematch if that streak continues into their final game before the conference tournament.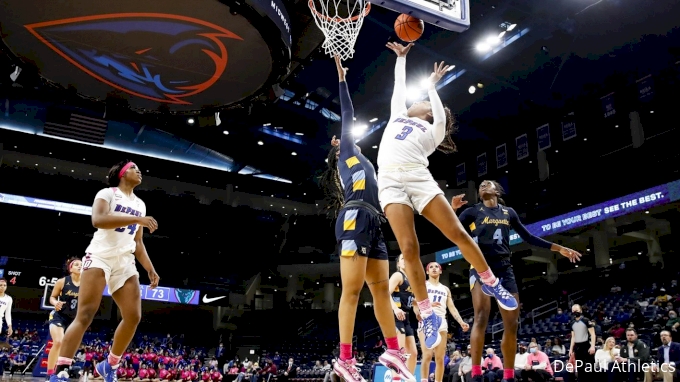 St. John's Vs. Marquette
Is Marquette's bubble bursting? The Golden Eagles need to reestablish some confidence—and quickly. Three straight double-digit defeats heading into Thursday—even if they were to a gauntlet of foes in Villanova, UConn and DePaul—were not what coach Megan Duffy's team needed to happen, especially as all three teams it faced could realistically make the NCAA Tournament. Creme has Marquette now as one of the "First Four Out" in his latest projection as what was a lethal defense has shriveled in the past three games. In fact, before the aforementioned three-game run, the Golden Eagles had allowed more than 70 points just twice this season, once to Georgia in November and then in an overtime win over DePaul on Jan. 12.
In Marquette's last three games, it's allowed more than 70 points, respectively. The good news for the Golden Eagles is that their final three games of the regular season are all against teams they previously beat, making for a prime opportunity to restore some mojo headed into a BIG EAST Tournament that's likely to make or break a ticket to the NCAA tourney for the fifth straight time.
St. John's, although having a disappointing season overall at 10-15 as of Thursday, can put up the offensive numbers to frighten many teams, sitting only behind DePaul in the BIG EAST at 75.7 points per game in league play this season. Leilani Correa (17.9 points per game in conference play) has been a key piece of the offense when the Red Storm needed it, like when she put up a 35-point night against the Blue Demons on Dec. 19. She'll need to pick the lock of the Marquette defense, like she did in a 17-point night against the team on Jan. 30. Now, with the added pressure of the Golden Eagles fighting for their tournament lives, it may cause a make-or-break scenario.