CAA Men's Basketball
CAA Men's Basketball Report | Feb. 21, 2022
CAA Men's Basketball Report | Feb. 21, 2022
Catch up on the CAA Men's Basketball weekly news, notes, and awards.
Feb 21, 2022
by FloHoops Staff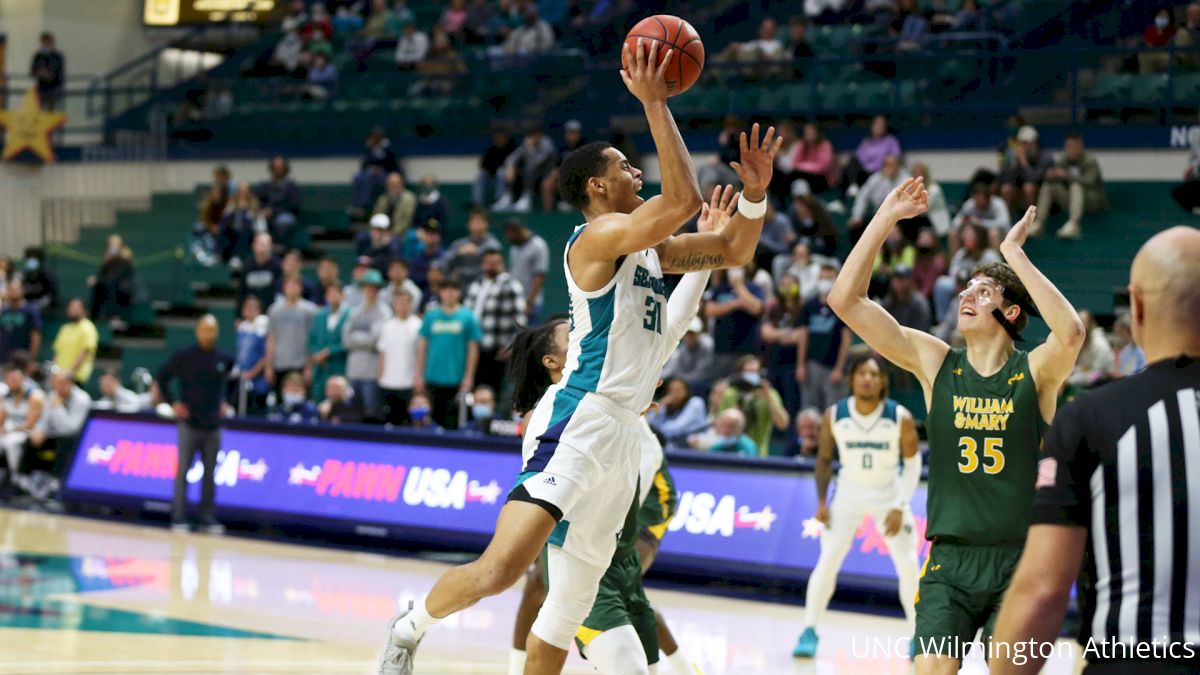 Monday, February 14
UNCW 80, William & Mary 73 (OT) *
Charleston 79, Drexel 75 *
Delaware 81, James Madison 60 *
Tuesday, February 15
Hofstra 97, Elon 64 *
Thursday, February 17
James Madison 71, Charleston 63 *
Delaware 71, Elon 62 *
Drexel 72, William & Mary 57 *
Towson 79, UNCW 55 *
Saturday, February 19
UNCW 78, James Madison 77 (OT) *
Hofstra 76, Northeastern 73 *
Towson 80, Charleston 77 *
Delaware 73, William & Mary 69 *
Drexel 71, Elon 60 *
Tuesday, February 22
Charleston at Northeastern * (NESN+/FloHoops)................. 7 p.m.
Wednesday, February 23
James Madison at Towson * (FloHoops)................................ 7 p.m.
Thursday, February 24
William & Mary at Northeastern * (NESN/FloHoops)...... 6:30 p.m.
Elon at Hofstra * (SNY/FloHoops).......................................... 7 p.m.
UNCW at Drexel * (NBCSP+/FloHoops)................................. 7 p.m.
Charleston at Delaware * (NBCSP/FloHoops)....................... 7 p.m.
Saturday, February 26
Elon at Northeastern * (CBSSN)........................................... 12 p.m.
William & Mary at Hofstra * (FloHoops)................................. 2 p.m.
UNCW at Delaware * (FloHoops)............................................ 4 p.m.
Charleston at Drexel * (NBCSP+/FloHoops).......................... 4 p.m.
Towson at James Madison * (FloHoops)................................ 4 p.m.
Monday, February 28
Delaware at Towson * (FloHoops) - Resumption of 1/27............ 6 p.m.
Charleston at Hofstra * (FloHoops)........................................ 7 p.m.
End of Regular Season
WEEKLY AWARD WINNERS
PLAYER OF THE WEEK
Jaylen Sims, UNCW
Senior | Guard | Charlotte, N.C. / United Faith Christian
Sims averaged 24.0 points and 6.7 rebounds in a three-game week that included a pair of overtime victories for UNCW. Sims scored 22 or more points in all three contests with 26 on Monday against William & Mary, 22 on Thursday vs. Towson, and 24 points along with 10 rebounds while playing all 45 minutes of an overtime win over James Madison on Saturday. Sims averaged 41.3 minutes per game and played 124 of a possible 130 during a stretch of three games in six days.

ROOKIE OF THE WEEK
Jyare Davis, Delaware
Freshman | Forward | Newark, Del. / Sanford
Davis wins his fourth-consecutive Rookie of the Week honor after helping Delaware to a 3-0 week with 11 or more points in all three games. Davis collected double-doubles of 14 points and 14 rebounds on Monday vs. James Madison and 11 and 10 in a Thursday win at Elon. The forward from Newark was tied for the team lead with 16 points in Saturday's victory at William & Mary. For the week, Davis averaged 13.7 points on 62% shooting and collected 9.3 rebounds per game.
NEWS AND NOTES
THE FINAL COUNTDOWN
The final week of the CAA schedule, originally constructed to have four games on Thursday and five on Saturday, will involve conference competition on five of seven nights to close the regular season.
Single games on Tuesday and Wednesday will be followed by the traditional Thursday/Saturday matchups before the regular season concludes with 1.47 games next Monday, as Hofstra will host Charleston and Delaware will complete the final 18:42 of its suspended game at Towson.
OH MY, OMAR!
Hofstra's Omar Silverio provided a record-setting performance in the Pride's road victory Tuesday, scoring 40 points and breaking the CAA single-game record with 11 made threes. Silverio went 11-of-16 from distance on his way to breaking the program and conference marks. Four players in CAA history made 10 threes in a game prior Tuesday. Silverio's 40-point performance was the highest total by a CAA player since former Hofstra teammate Desure Buie scored 44 against Elon on Jan. 4, 2020.
LUCKY NUMBER NINE?
UNCW leads the CAA at 13-3 after opening conference play with nine straight victories. The Seahawks were picked ninth in the CAA preseason poll - the same spot occupied the previous October by 2021 regular season champion James Madison.
YEAR OF THE TIGER?
Towson has risen 223 spots in KenPom from the end of last year, climbing from 298 to 75 as of Friday. The last CAA team to finish the year higher was UNCW at No. 59 in 2016-17. Towson was as high as No. 62 in the NET this season (a CAA record) and leads the state of Maryland in the NCAA's metric.
Towson's 21 wins this season lead the CAA and the 21-7 start is the Tigers' best through 28 games in the program's Division I history.
PRIDE ROCK AND ROLLING
Hofstra's Aaron Estrada has risen to the ranks of the CAA's leading scorer during a remarkable offensive stretch. Estrada has scored 20 or more points in 12 of 15 conference games, highlighted by 30-point efforts in wins over Delaware, Charleston, James Madison, and Drexel. The guard from New Jersey leads the CAA with 23.5 points per game in conference contests and leads the conference with five Player of the Week honors. The Pride has won six straight as a team.
LIKE OFFENSE? YOU'VE COME TO THE RIGHT PLACE
Conference play in the CAA has seen an impressive rate of the ball going through the basket. Some of the categories in which the CAA ranks in the top 10 among the 32 conferences in league games:
• Two-Point FG%: 5th (51.7)
• Free Throw%: 8th (73.6)
• Effective FG%: 5th (51.7)
• KenPom Efficiency: 5th (105.2)
7,000+
Elon's Hunter McIntosh reached 1,000 points for his Phoenix career on February 10, becoming the seventh active CAA player to score 1,000 or more points in a conference member's uniform.
1. 1,753 Ryan Allen, Delaware
2. 1,682 Jalen Ray, Hofstra
3. 1,597 Camren Wynter, Drexel
4. 1,296 Kevin Anderson, Delaware
5. 1,211 James Butler, Drexel
6. 1,200 Jaylen Sims, UNCW
7. 1,069 Hunter McIntosh, Elon
NOTHING BUT NET
Towson leads CAA teams in the NET rankings at 75, while Hofstra is second at 99. Charleston holds a Quad 1 win with a victory at Chattanooga and Hofstra added one at Arkansas, while UNCW earned one in conference play with an overtime win at Towson.
Hofstra has played eight total games against Q1 and Q2 with wins at Arkansas and Monmouth, while Charleston and Elon have faced seven. Elon (19) and Hofstra (37) played two of the toughest non-conference schedules in the nation this winter, per the NET rankings.
TEAM NOTES
Charleston (14-12, 6-8)
• Dimitrius Underwood is 18th nationally with 2.23 steals per game ... Underwood's 2.4 steals per game lead CAA players in conference games.
• Reyne Smith is 35-for-37 from the free-throw line in CAA play and 63-for-68 on the season.
• Charleston is seventh nationally with 41.08 rebounds per game.
• The Cougars swept an in-season home-and-home with Tulane and hold a NET Quad 1 win over Chattanooga.
Delaware (19-9, 10-5)
• Delaware's 54.1 effective field goal percentage ranks 32nd nationally, while its 54.6% rate on two-pointers places the Blue Hens 29th.
• Ryan Allen passed George Mason's Lamar Butler for eighth in CAA history in made three-pointers Saturday and now has 298 for his career ... Allen is one behind current Hofstra guard Jalen Ray.
• Ebby Asamoah leads the CAA with a 48.1% mark from three-point range (39-for-81) in conference games.
• Jyare Davis has scored 11 or more points in each of his last seven games and recorded back-to-back double-doubles.
Drexel (14-12, 9-7)
• James Butler is eight rebounds away from being the 11th player to collect 1,000 in his career in the CAA ... Five have achieved the feat in the last decade, including Drexel's Samme Givens in 2011-12.
• Butler is ninth nationally in defensive rebounding percentage at 30.4%.
• Camren Wynter stands at 567 career assists, six shy of Richmond's Greg Beckwith for seventh in CAA history ... Wynter passed Old Dominion's Drew Williamson (555) for eighth last week.
• Amari Williams' 40 blocks in CAA play are 10 more than the next-highest total.
Elon (8-21, 5-11)
• Elon shot a season-best 59.6% to hand UNCW its first loss of CAA play on Feb. 3.
• The Phoenix has taken a conference-leading 43.9% of field goal attempts from outside the three-point line.
• Michael Graham is second in the CAA in total blocks (30) in conference play.
• Elon played seven high-major opponents in its non-conference schedule and has faced five Quad 1 teams.
Hofstra (19-9, 11-4)
• Jalen Ray is up to seventh in CAA history with 299 career three-pointers ... Ray is seven shy of Drexel's Phil Goss for sixth.
• Aaron Estrada has scored 20+ points 12 times in CAA games ... Estrada leads the CAA with 23.5 points per game against league foes.
• Omar Silverio's 40 points Tuesday were the most by a CAA player since Hofstra's Desure Buie scored 44 on Jan. 4, 2020.
• Hofstra holds a Quad 1 win over Arkansas and a Quad 2 win at Monmouth ... The Pride took Houston to overtime and played a one-possession game at Maryland.
James Madison (15-12, 6-10)
• Vado Morse ranks second in the CAA with 19.5 points per game against league competition ... Morse has scored 15+ points in 12 straight games.
• Justin Amadi's 65.3 effective field goal percentage ranks 18th nationally, while his 68.3% mark on two-pointers against D1 opponents is good for 23rd.
• JMU's 8.7 steals per game rank 25th in the nation.
• The Dukes' 135 points against Carlow were the most by a CAA team since George Mason in 1995 ... James Madison's 55 made field goals and 39 assists were records for a CAA team.
UNCW (19-8, 13-3)
• UNCW defeated James Madison by one point in both meetings this season despite trailing in the final second of both contests.
• James Baker Jr. leads the CAA in conference games at 69.7% on field goals.
• UNCW's 12-game winning streak from Dec. 11-Jan. 31 was the longest in program history, eclipsing an 11-game streak by the 2015-16 Seahawks.
• Jaylen Sims' buzzer-beating three to win at James Madison was the No. 1 play on SportsCenter.
Northeastern (7-19, 1-14)
• Chris Doherty leads the league with 9.2 rebounds per game on the season ... Doherty is second in the CAA with seven double-doubles.
• Doherty is fifth nationally in offensive rebounds per game (3.64) and 15th in offensive rebounding percentage (15.6).
• The Huskies hold two of the CAA's seven wins over the A10 this winter ... The CAA is 7-4 as a conference against the A10.
• Northeastern erased a 20-point deficit to defeat Colgate.
Towson (21-7, 12-3)
• Towson is 223 spots above its final 2020-21 ranking in KenPom, climbing from 298 to 75.
• The Tigers' 86-50 win over Elon was the program's largest margin of victory over a Division I opponent since a 122-58 win over Buffalo on March 7, 1992.
• Jason Gibson has matched Towson's single-game record with eight three-pointers twice this season (Coppin State, Hofstra).
• Cam Holden is the first Division I player with 20 points, 19 rebounds, and eight assists in a game since Cleveland State's Norris Cole in 2011.
William & Mary (5-24, 4-12)
• Brandon Carroll has 36 blocks in 26 games this season.
• Julian Lewis and Langdon Hatton earned the Tribe two of the first four CAA Rookie of the Week awards of conference play.
• W&M alum and former CAA Player of the Year Nathan Knight made his first NBA start for Minnesota against Boston, scoring a career-high 20 points and grabbing 11 rebounds.
• Tyler Rice's nine assists in the opener at Wake Forest were the most by a CAA freshman over the last two seasons.