BIG EAST Women's Basketball
BIG EAST Player Of The Year: Aneesah Morrow Or Maddy Siegrist?
BIG EAST Player Of The Year: Aneesah Morrow Or Maddy Siegrist?
The case for and against each star in contention for the BIG EAST Player of the Year award.
Feb 24, 2022
by Briar Napier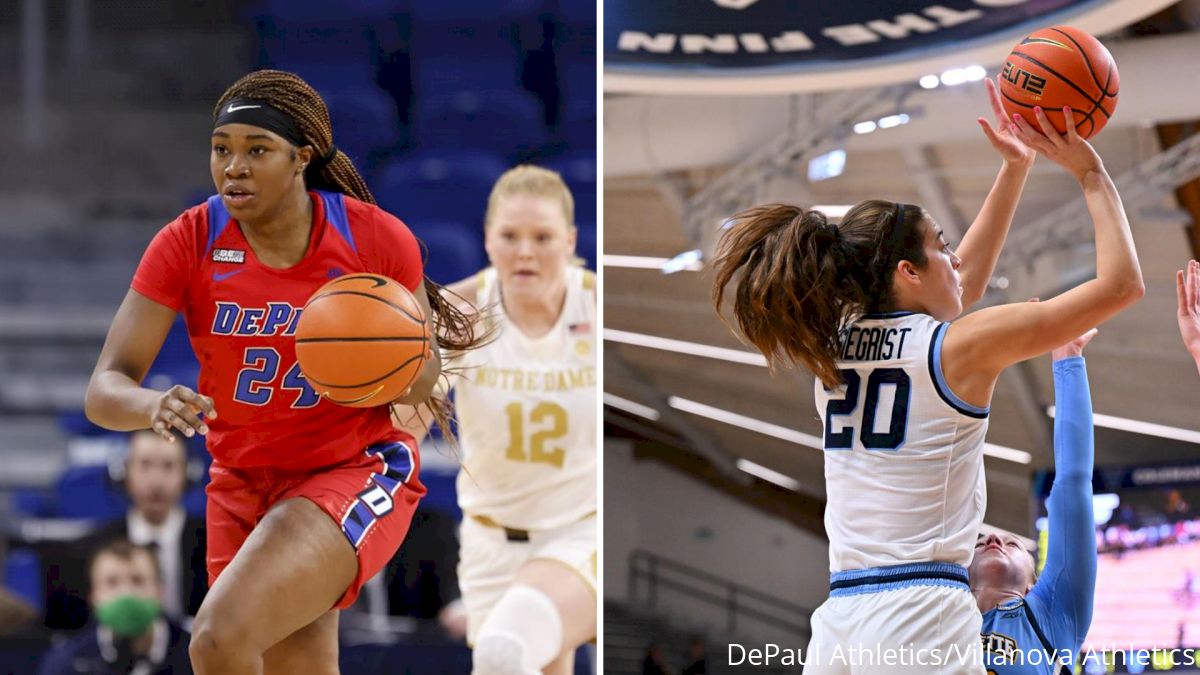 Voters can't really go wrong with either of the top options in the BIG EAST Player of the Year race this season.
The harder part is picking who to slot in for the award.
With UConn superstar and reigning league player of the year Paige Bueckers having missed the majority of the season due to a knee injury, the door has swung wide open for another player to unseat her atop the throne.
There's Aneesah Morrow, DePaul's stat sheet stuffer that's taken the BIG EAST by storm and could be the third freshman ever (along with Bueckers and Maya Moore) to win the league's top individual honor. And there's Maddy Siegrist, Villanova's walking bucket that could get the Wildcats to a miraculous NCAA Tournament berth—and the program's first conference player of the year since 1988.
Days are numbered in BIG EAST play and time is running out to impress. If the season ended today's here's the case for (and against) each player being the BIG EAST's Player of the Year.
Aneesah Morrow (DePaul, F, Fr.)
The Case For
When Bueckers entered the UConn lineup last season and became likely the most immediately-dominant freshman in BIG EAST history, there were few expecting her to have a worthy challenger for that title the very next year. But Morrow is more than living up to that lofty billing—she's arguably passed it already. Morrow could reasonably finish as the BIG EAST leader in four different statistical categories with averages of 22.9 points, 15.1 rebounds, 2.6 steals and 1.7 blocks a night in league play, an achievement unheard of in league history, let alone for a true freshman.
The Chicago native scored 31 points in her college debut against Texas Southern in November and hasn't missed a beat since, currently riding a 21-game streak of double-doubles as a human vacuum of boards—just ask Seton Hall, the program she snagged a career-high 27 rebounds against Jan. 30. Only Bueckers and Iowa's Caitlin Clark (both of which are considered two of the top players in America) have matched Morrow's current tally of four USBWA National Freshman of the Week honors. Might as well throw in another award on Morrow's plate—with all she does on the court, she can handle it with ease.
The Case Against
Morrow is undoubtedly individually talented, but it's hard to argue against the fact that her lofty numbers are due in part to the style that DePaul plays. The Blue Demons have the highest-scoring offense in America—a mark they've held for much of the season—with 88.3 points per game as of Wednesday, and coach Doug Bruno has often played his entire starting five of more than 35 minutes per game down the stretch of the regular season. Morrow has only played less than 31 minutes once in the past 10 games, which is both a testament to her durability but also a possible sign that her gaudy statistics could be a bit inflated.
Maybe more importantly for those deciding between Morrow and Siegrist for the league Player of the Year honor, the Villanova star has outscored Morrow in both meetings this season. Siegrist dropped 31 to Morrow's 18 in DePaul's win back on Jan. 14, but Siegrist repeated the feat (while the Wildcats got revenge) by winning the scoring battle 25-23 in 'Nova's nine-point win this past Sunday. That was especially important for the NCAA Tournament bubble battle, with DePaul moving down to the "Last Four In" and Villanova up to the "First Four Out" categories in ESPN "bracketologist" Charlie Creme's latest bracket projections. There's momentum on the Wildcats' side, and it could critically sway the POY race late in the year, too.
Maddy Siegrist (Villanova, F, Jr.)
The Case For
Villanova would be languishing with those in the basement of the BIG EAST without Maddy Siegrist. No, really, just look at the differences in the Wildcats' performances when Siegrist missed six games early in the year due to injury compared with the games she's played. In that six-game stretch, Villanova went 3-3 with a loss to 12-11 Temple and a defeat by 19 to Providence, which is currently 6-12 in BIG EAST play. The Wildcats' record since Siegrist returned to action Dec. 9 against James Madison? 16-2. And of those 16 wins, none was more critical to Villanova's season than a stunning 72-69 win Feb. 9 at UConn, a result which ended the Huskies' incredible 145-game regular-season conference winning streak.
Siegrist is averaging 26.3 points per game—second in the country behind only Iowa superstar Caitlin Clark—Siegrist is one of the smoothest scorers in America that gets a massive amount of volume (19.5 field goal attempts a game) as a three-level bucket-getter. In February alone, Siegrist has cracked the 30-point threshold four times (with a high of 42 on Feb. 11 against Marquette) playing the type of game that's meant for March Madness…
The Case Against
…that is, if Villanova even gets that far. Things are certainly looking up for the Wildcats' chances to make the tourney as of late—and Morrow's DePaul is by no means a lock, either—but 'Nova's 3-5 start to the year, which included an opening two games that Siegrist played before the injury, has left the team having to play catch-up to the rest of the field to get to the postseason. Not all of that is Siegrist's fault, but it does reveal a peculiar statistic under the surface—she's scoring below her average against likely NCAA Tournament teams.
Against Princeton, Maryland and UConn, all three of which either were in or received votes for this week's Associated Press Top 25, Siegrist scored 10, 11 and 17 points, respectively, for her three lowest single-game outputs of the year. The Maryland and Princeton games were before her absence, meaning it's possible Siegrist may not have been at 100 percent, but many of her eye-popping numbers have come against teams either around or well below Villanova's level. A deep run of Siegrist dominance in the BIG EAST Tournament may silence some doubters, but until then, questions do remain on if she can keep her scoring output humming against the nation's best.