BIG EAST Women's Basketball
BIG EAST Bubble Watch: Who's In The Hunt?
BIG EAST Bubble Watch: Who's In The Hunt?
Here's where the four bubble teams in the BIG EAST stand headed into next week's conference tournament.
Feb 27, 2022
by Briar Napier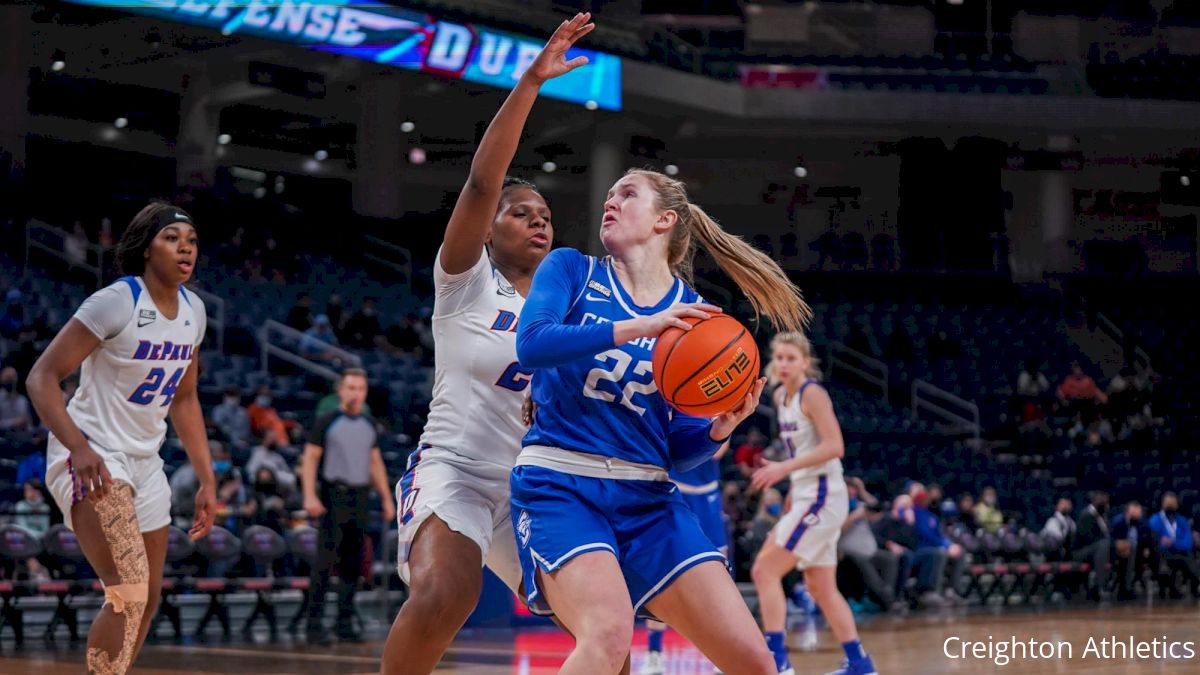 Tensions are sky-high for some BIG EAST teams right now.
Except for UConn, there's likely no league team that's a surefire bet to make the NCAA Tournament. However, there's a legitimate chance some combination of five squads could make it, as the league's elite have just been that good this year.
The selection committee only gives out a finite number of bids to the Big Dance, though, and some in the BIG EAST will be left out. But some will also get their shot at glory, earned by a season of consistency and the right wins at the right time.
Here's where the four bubble teams in the BIG EAST stand headed into next week's conference tournament.
NOTE: All records and statistics are accurate as of Saturday morning.
Creighton Bluejays
Record: 20-7 (15-4 BIG EAST)
Why they're in: The Bluejays have outperformed all expectations this season, and it should be rightfully rewarded with a ticket to the Big Dance for the first time since 2018. Besides a season-opening loss to Drake, all of Creighton's defeats this season have been to solid tournament teams or ones at least on the tourney bubble, with coach Jim Flanery's team winning just about every game it was favored in on the schedule. Efficient play is a major reason for that consistency, as Creighton is No. 1 (and has been most of the year) in assist-to-turnover ratio at 1.63, turning mistake-free basketball into wins. Not bad for the sixth-ranked team in the league's preseason coaches' poll.
Why they're not: Creighton would probably need to endure an inexcusable loss in the BIG EAST Tournament to have any chance of not making the NCAA tourney as ESPN "bracketologist" Charlie Creme currently has the program seeded eighth in the Greensboro Regional, per his latest projections. Judging by the track record this season, that seems unlikely to happen as the Bluejays' resume has just too few major blips. Creighton's current NCAA Evaluation Tool (NET) rank—a major determinant for the tournament selection committee to offer bids to schools—is 29th, putting them solidly in the field. A loss in the regular-season finale against DePaul on Sunday, plus a bad loss in the league tourney, could make that mark dip. But as it stands, it's hard to see the Bluejays being on the outside looking in.
DePaul Blue Demons
Record: 21-9 (13-6 BIG EAST)
Why they're in: Now, this is interesting territory. DePaul, largely considered a near-lock for the NCAA Tournament most of the season, is now the first team out of the field in Creme's latest projections. But if some members of the selection committee are looking for teams that pass the "eye test," look no further. The Blue Demons are the most electric offense in America and have been most of the year, pacing the country with 88.3 points per game, nine games of which DePaul broke the 100-point barrier. Freshman forward Aneesah Morrow is a bonafide superstar, putting up video game numbers of 20.8 points, 13.9 rebounds, 2.7 steals and 1.8 blocks per game as a two-way force that's found a perfect fit. This team loves to overwhelm opponents, and there's no indication that offensive prowess would stop in the postseason.
Why they're not: There's a reason bracket predictors aren't as high on DePaul as they used to be. The Blue Demons have sputtered down the stretch in conference play, losing four of their past seven games (as of writing this) at a time where they definitely could not afford to have a poor run of form. A four-point loss to Seton Hall—which is not considered to be on the tourney bubble—on Friday night at home especially didn't help things. Also, the committee won't forget a 20-point early-season loss to Texas A&M, a team that's now languishing near the bottom of the SEC standings with a 4-11 conference record.
Villanova Wildcats
Record: (20-7, 14-4 BIG EAST)
Why they're in: Why shouldn't they be? Villanova has a nearly identical record to a team in the same league that is almost certainly in (Creighton) and undoubtedly has the best resume of any bubble team listed in this article. The Wildcats have won over every other team listed on the BIG EAST bubble (including a season sweep over Marquette), but also pulled off a result no one had ever done to UConn in 149 games of conference play back on Feb. 9—beating the Huskies (and in Connecticut, no less). 'Nova has proven it can both tussle with and defeat the elites in the college hoops world, and with a player as made for March moments as Maddy Siegrist (26.5 points, 9.7 rebounds per game), it's almost too perfect of a fit for the field.
Why they're not: Man, that 3-5 start was rough. So rough, in fact, that it's probably the reason Villanova is even in this spot and not solidly in the field. Yes, Siegrist was injured for a six-game stretch that included bad losses to Temple (12-12) and Providence (11-17). But those games still count on the record, and the Wildcats didn't produce in them, with the Providence loss especially looking bad because the Friars are currently 6-13 in the BIG EAST and won that game by 19. Plus, Siegrist was around for Villanova's first two games against solid tourney teams Princeton and Maryland, and the Wildcats were beaten soundly by 17 and 21, respectively. The UConn win absolved many demons, but it definitely didn't erase all of them as Villanova probably needs a deep run in the league tournament to guarantee safety.
Marquette Golden Eagles
Record: 19-9 (12-7 BIG EAST)
Why they're in: Of all the teams listed, the Golden Eagles are likely in the most peril as they've completely fallen off Creme's projections board in recent weeks. Marquette at times has played some of the best basketball from any BIG EAST team all season, with the league's second-best defense (58.3 points allowed per game in conference play) to boot. Seven BIG EAST teams didn't even crack the 50-point mark against Marquette, and coach Megan Duffy's team has proven it can score with the best of them, too, beating high-flyers DePaul in an 88-85 overtime thriller back in January. As long as Marquette doesn't slip up, it's still very much in the hunt for a ticket to the NCAA tourney.
Why they're not: Marquette just hasn't garnered the impressive wins it's needed to. The Golden Eagles went 2-6 against the BIG EAST's top four in the standings (UConn, Creighton, Villanova and DePaul). A 2-4 stretch in the past six games hasn't helped, either, especially when all four losses—twice to UConn, once to Villanova and DePaul—came by double digits. The non-conference slate was a bit disappointing, as well, as Marquette lost by 16 to Colorado and 25 to Georgia, two teams that should make the NCAA tourney and would've made for nice add-ons to the resume. Like Villanova, the Golden Eagles probably need a deep BIG EAST tournament run to stay afloat, but unlike Villanova, that alone won't guarantee them a spot in the field. Marquette simply needs to show more than it has thus far, and time is running out to do so.