CAA Men's Basketball
CAA Men's Basketball Report | Feb. 28, 2022
CAA Men's Basketball Report | Feb. 28, 2022
Catch up on the CAA Men's Basketball weekly news, notes, and awards.
Feb 28, 2022
by FloHoops Staff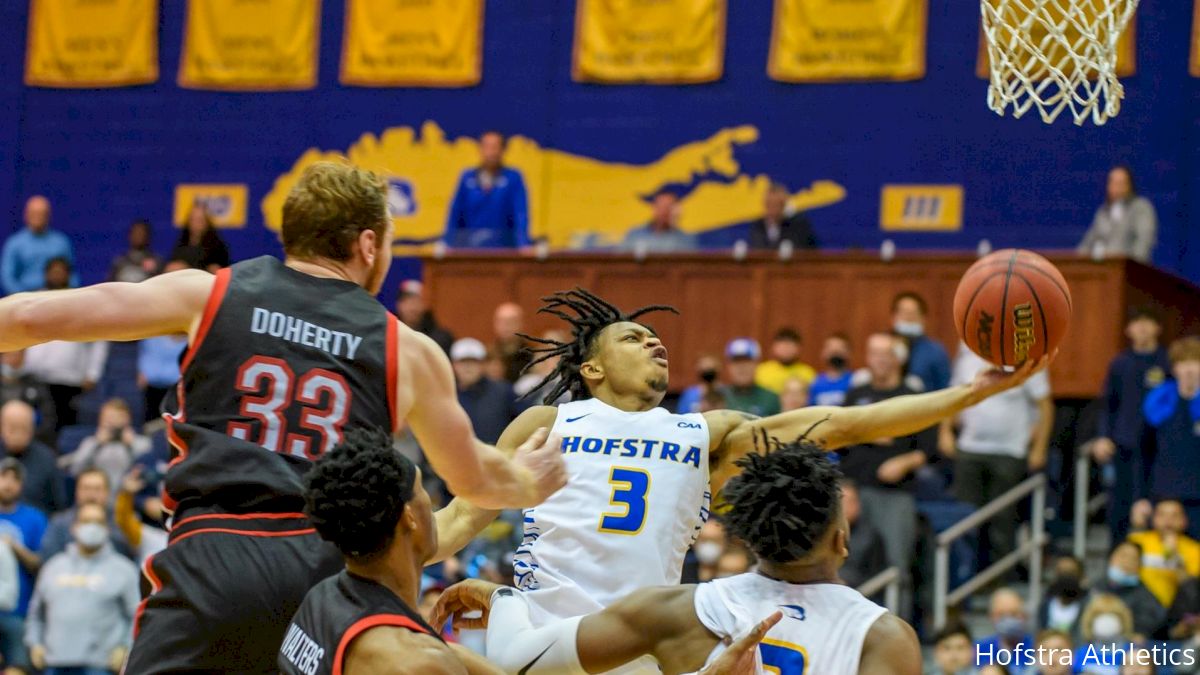 Tuesday, February 22
Charleston 83, Northeastern 72 *
Wednesday, February 23
Towson 84, James Madison 65 *
Thursday, February 24
Charleston 99, Delaware 96 *
UNCW 69, Drexel 63 *
Elon 81, Hofstra 55 *
Northeastern 62, William & Mary 28 *
Saturday, February 26
Drexel 80, Charleston 79 *
UNCW 69, Delaware 62 *
Elon 67, Northeastern 54 *
Hofstra 83, William & Mary 67 *
Towson 95, James Madison 59 *
Monday, February 28
Delaware at Towson * (FloHoops) - Resumption of 1/27...................... 6 p.m.
Charleston at Hofstra * (FloHoops)............................................... 7 p.m.
End of Regular Season
CAA Championship Presented by Jersey Mike's
Entertainment & Sports Arena - Washington, D.C.
Saturday, March 5 – Opening Round
(8) William & Mary vs (9) Northeastern (FloHoops)...................... 5 p.m.
Sunday, March 6 – Quarterfinals
(1) TBD vs 8/9 Winner (FloHoops).............................................. 12 p.m.
Delaware vs Drexel (FloHoops)................................................ 2:30 p.m.
(2) TBD vs (7) Elon (FloHoops)....................................................... 6 p.m.
(3) Hofstra vs (6) Charleston (FloHoops).................................. 8:30 p.m.
WEEKLY AWARD WINNERS
CO-PLAYER OF THE WEEK
Dimitrius Underwood, Charleston
Graduate Student | Guard | Mesquite, Texas / Horn
Underwood helped Charleston to a 2-1 start to its four-game road trip to close the regular season by averaging 18.7 points, 8.7 rebounds, 7.3 assists, and 2.3 steals per game while shooting 59%. The guard from Texas was in double figures in all three games, beginning with a 19-point, eight-rebound, eight-assist performance in a win Tuesday at Northeastern. Underwood tallied a double-double of 14 points and 11 rebounds while adding eight assists in a Thursday victory at Delaware before scoring 23 points and collecting seven rebounds and six assists in a one-point setback at Drexel on Saturday.

CO-PLAYER OF THE WEEK
Amari Williams, Drexel
Sophomore | Forward | Nottingham, England / Myerscough
Williams averaged 16.5 points and 15.0 rebounds per game while adding a game-winning dunk for the Dragons on Saturday. The forward from England scored 20 points on Thursday against UNCW and added 19 rebounds – the most by a Drexel player in 26 seasons – before adding another double-double in an 80-79 win over Charleston. Williams' dunk with 1.7 seconds remaining proved to be the difference as Drexel secured a spot in the 4/5 game of the CAA Championship with the victory. Williams added 1.5 blocks per game on the week.

ROOKIE OF THE WEEK
Jyare Davis, Delaware
Freshman | Forward | Newark, Del. / Sanford
Davis closes out the regular season with the final five Rookie of the Week honors and a run of nine straight double-figure scoring efforts. The forward from Newark scored 20 points and added five rebounds Thursday in a three-point setback against Charleston before collecting 23 points and seven rebounds on Saturday vs. UNCW. Davis shot 73% for the week, going 8-for-11 from the floor in both games.
NEWS AND NOTES
LAST THINGS FIRST
Before nine teams make the trip to the nation's capital for the CAA Championship, four teams will complete their regular season on Monday. Hofstra hosts Charleston on Long Island in a make-up of a January contest, while Delaware will make the short trip to Towson for a short visit. The Blue Hens and Tigers played the first 21 minutes of their January 27 game before a "micro burst of vapor" that settled on the playing surface caused the game to be suspended. The game will resume with 18:42 to play and Delaware leading 38-29.
SCOREBOARD WATCHING
UNCW earned a share of the conference regular season crown with a win at Delaware and would capture the outright title and No. 1 seed with a Towson loss. The Seahawks last won the CAA regular season title in 2016-17.
Towson can earn a share of the regular season title with a win and in doing so would also lock up the No. 1 seed. The Tigers are aiming for their first regular season championship in any conference since winning the Big South in 1993-94.
The team that possesses the No. 1 seed at the conclusion of play Monday would also hold the rights to the NIT autobid should they not be the team that cuts down the nets in D.C. on March 8.
YEAR OF THE TIGER?
Towson has risen 233 spots in KenPom from the end of last year, climbing from 298 to 63. The last CAA team to finish the year higher was UNCW at No. 59 in 2016-17. Towson is up to a CAA-record 59 in the NET and leads the state of Maryland in the NCAA's metric.
Towson's 23 wins this season lead the CAA and the 23-7 start is the Tigers' best through 30 games in the program's Division I history. Towson is two victories away from matching its Division I single-season mark of 25 in 2013-14.
LUCKY NUMBER NINE?
UNCW went 15-3 in the regular season after opening conference play with nine straight victories. The Seahawks were picked ninth in the CAA preseason poll - the same spot occupied the previous October by 2021 regular season champion James Madison.
LAUNDRY DAY
Delaware and Drexel are locked into facing each other in the 4-5 game of the CAA Quarterfinals with Monday's action a formality to decide who will wear white and who will wear blue on Sunday.
Delaware is the No. 4 seed with a win Monday, while Drexel will be the No. 4 seed with a Delaware loss in the completion of the suspended game.
PRIDE ROCK AND ROLLING
Hofstra's Aaron Estrada has put together a remarkable offensive showing in CAA play. Estrada has scored 20 or more points in 12 CAA games with 30-point efforts in wins over Delaware, Charleston, James Madison, and Drexel. His 21.9 points per game in conference contests lead the CAA and he has recorded a conference-best five Player of the Week honors. The Pride has won seven of its last eight.
LIKE OFFENSE? YOU'VE COME TO THE RIGHT PLACE
Conference play in the CAA has seen an impressive rate of the ball going through the basket. Some of the categories in which the CAA ranks in the top 10 among the 32 conferences in league games:
• Two-Point FG%: 6th (51.7)
• Free Throw%: 8th (73.9)
• Effective FG%: 5th (51.6)
• KenPom Efficiency: 7th (104.9)
7,000+
Elon's Hunter McIntosh reached 1,000 points for his Phoenix career on February 10, becoming the seventh active CAA player to score 1,000 or more points in a conference member's uniform.
1. 1,790 Ryan Allen, Delaware
2. 1,707 Jalen Ray, Hofstra
3. 1,629 Camren Wynter, Drexel
4. 1,312 Kevin Anderson, Delaware
6. 1,229 Jaylen Sims, UNCW
5. 1,222 James Butler, Drexel
7. 1,108 Hunter McIntosh, Elon
NOTHING BUT NET
Towson leads CAA teams in the NET rankings at 59, while Hofstra is second at 115, and Delaware (147), Charleston (149), and Drexel (150) join them in the top 150. Charleston holds a Quad 1 win with a victory at Chattanooga and Hofstra added one at Arkansas, while UNCW earned one in conference play with an overtime win at Towson.
Hofstra has played eight total games against Q1 and Q2 with wins at Arkansas and Monmouth, while Elon has also faced eight and Charleston has played seven. Elon (19) and Hofstra (36) played two of the toughest non-conference schedules in the nation, per the NET rankings.
WELCOME TO THE CAA!
The CAA announced the additions of Hampton, Monmouth, North Carolina A&T, and Stony Brook as full members of the league for the 2022-23 season. The Pirates and Aggies join from the Big South, the Hawks from the MAAC, and the Seawolves from the America East. Hampton, Monmouth, and Stony Brook all played at least one CAA team in their non-conference schedules.
TEAM NOTES
Charleston (16-13, 8-9)
• Dimitrius Underwood's 65 total steals rank seventh nationally ... Underwood's 2.4 steals per game lead CAA players in conference games.
• Reyne Smith's 82 made three-pointers are the third-most nationally by a freshman this season.
• Charleston is 12th nationally with 40.38 rebounds per game and fourth in offensive rebounds (13.83).
• The Cougars swept an in-season home-and-home with Tulane and hold a NET Quad 1 win over Chattanooga.
Delaware (19-11, 10-7)
• Delaware's 54.3 effective field goal percentage ranks 27th nationally, while its 54.7% rate on two-pointers places the Blue Hens 28th.
• Ryan Allen is up to eighth CAA history in made three-pointers with 303 for his career ... Allen is two back of current Hofstra guard Jalen Ray for seventh and three shy of Drexel's Phil Goss for sixth.
• Jyare Davis has scored 11 or more points in each of his last nine games ... Davis' 67% field goal percentage leads all CAA players in conference games.
• Ebby Asamoah leads the CAA with a 46% mark from three in conference games.
Drexel (15-13, 10-8)
• James Butler became the 11th player in CAA history with 1,000 career rebounds on Thursday and now has 1,005 ... Butler is seven rebounds back of UNCW's Brian Rowsom for 10th.
• Butler is 10th nationally in defensive rebounding percentage at 30.1%.
• Camren Wynter stands at 576 career assists, passing Richmond's Greg Beckwith for seventh in CAA history on Saturday ... Wynter enters the CAA Championship four shy of VCU's Joey Rodriguez (580) for sixth.
• Amari Williams' 43 blocks in CAA play are 11 more than the next-highest total.
Elon (10-21, 7-11)
• Elon's 55 rebounds on Thursday were the Phoenix's most in a CAA game and one shy of the program record against a Division I opponent.
• Four of Elon's six CAA victories have come by double digits, winning games by 17, 23, 13, and 26 ... The Phoenix's average margin of victory in its six league wins is 15 points.
• Michael Graham is second in the CAA in total blocks (32) in conference play.
• Elon played seven high-major opponents in its non-conference schedule and has faced five Quad 1 teams.
Hofstra (20-10, 12-5)
• Jalen Ray is up to seventh in CAA history with 305 career three-pointers ... Ray is one back of Drexel's Phil Goss (306) for sixth with James Madison's Kent Culuko (320) fifth.
• Aaron Estrada has scored 20+ points 12 times in CAA games ... Estrada leads the CAA with 22.6 points per game against league foes.
• Omar Silverio's 40 points at Elon were the most by a CAA player since Hofstra's Desure Buie scored 44 on Jan. 4, 2020.
• Hofstra holds a Quad 1 win over Arkansas and a Quad 2 win at Monmouth ... The Pride took Houston to overtime and played a one-possession game at Maryland.
James Madison (15-14, 6-12)
• Vado Morse ranks second in the CAA with 18.1 points per game against league competition ... Morse scored 15+ points in 12 of his final 14 games of the year.
• Justin Amadi's 65.0 effective field goal percentage ranks 16th nationally, while his 68.2% mark on two-pointers against D1 opponents is good for 23rd.
• JMU's 8.5 steals per game rank 30th in the nation.
• The Dukes' 135 points against Carlow were the most by a CAA team since George Mason in 1995 ... James Madison's 55 made field goals and 39 assists were records for a CAA team.
UNCW (21-8, 15-3)
• UNCW has won 20 games in a season for the first time since 2016-17.
• Jaylen Sims is third in the CAA with 17.9 points per game in conference play.
• UNCW's 12-game winning streak from Dec. 11-Jan. 31 was the longest in program history, eclipsing an 11-game streak by the 2015-16 Seahawks.
• Jaylen Sims' buzzer-beating three to win at James Madison was the No. 1 play on SportsCenter.
Northeastern (8-21, 2-16)
• Thursday's 28 points allowed were the fewest by a CAA team since Drexel held Towson to 27 on Jan. 4, 2012 ... Northeastern held an opponent under 30 points for the first time since 1963.
• Chris Doherty leads the league with 9.1 rebounds per game on the season ... Doherty is second in the CAA with eight double-doubles.
• Doherty is 12th nationally in offensive rebounds per game (3.39) and 17th in offensive rebounding percentage (15.1).
• The Huskies hold two of the CAA's seven wins over the A10 this winter ... The CAA is 7-4 as a conference against the A10.
Towson (23-7, 14-3)
• Towson is 235 spots above its final 2020-21 ranking in KenPom, climbing from 298 to 63.
• Towson is eighth nationally in offensive rebounding percentage (36.2).
• The Tigers' 86-50 win over Elon was the program's largest margin of victory over a Division I opponent since a 122-58 win over Buffalo on March 7, 1992 ... Towson matched that 36-point margin on Saturday at JMU.
• Jason Gibson has matched Towson's single-game record with eight three-pointers twice this season (Coppin State, Hofstra).
William & Mary (5-26, 4-14)
• Brandon Carroll has 41 blocks in 28 games this season.
• Julian Lewis and Langdon Hatton earned the Tribe two of the first four CAA Rookie of the Week awards of conference play.
• W&M alum and former CAA Player of the Year Nathan Knight made his first NBA start for Minnesota against Boston, scoring a career-high 20 points and grabbing 11 rebounds.
• Tyler Rice's nine assists in the opener at Wake Forest were the most by a CAA freshman over the last two seasons.