2022 CAA Men's Basketball Championship
Hofstra's Aaron Estrada Voted CAA Player Of The Year
Hofstra's Aaron Estrada Voted CAA Player Of The Year
Hofstra junior guard Aaron Estrada's stellar all-around performance in his first season on Long Island propelled him to CAA Player of the Year honor.
Mar 4, 2022
by FloHoops Staff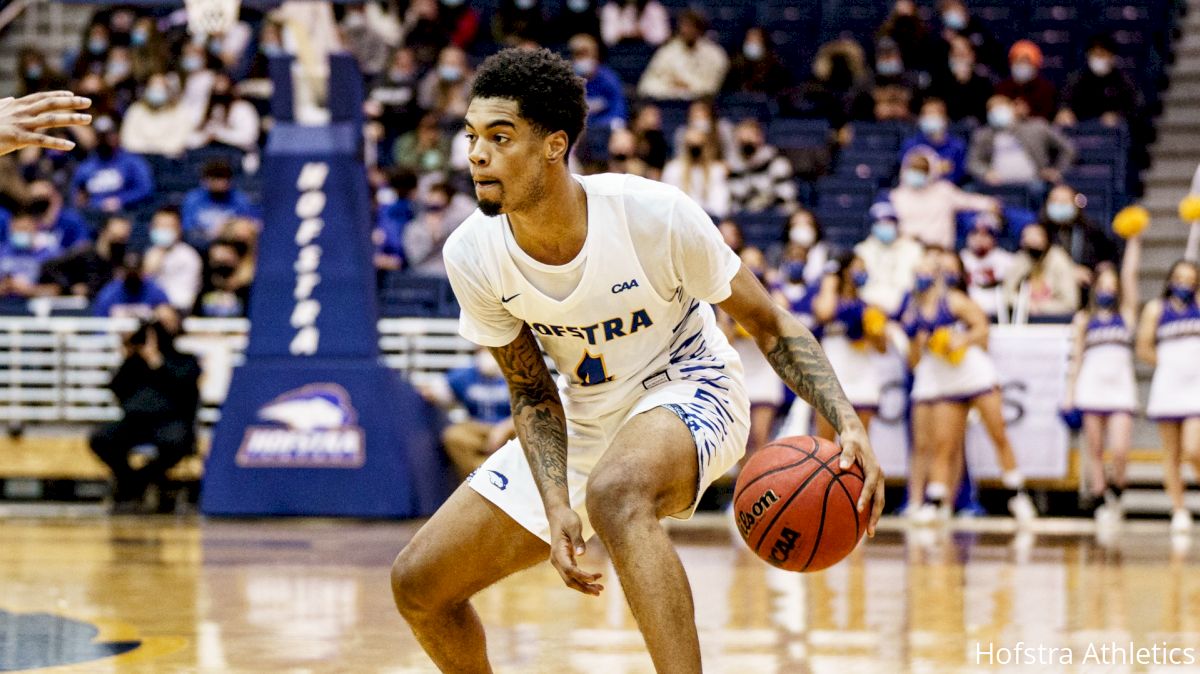 Hofstra junior guard Aaron Estrada's stellar all-around performance in his first season on Long Island propelled him to Colonial Athletic Association Player of the Year honors for the 2021-22 season in a vote of league coaches, communications directors, and media.
Estrada was one of two Hofstra players to earn an end-of-season award, as graduate student guard Zach Cooks was named CAA Sixth Man of the Year. Delaware redshirt-freshman forward Jyare Davis was selected as CAA Rookie of the Year, Drexel sophomore forward Amari Williams was chosen as CAA Defensive Player of the Year, and UNCW's Takayo Siddle was named CAA Coach of the Year in his second year at the helm.
In addition, Elon junior guard Hunter McIntosh was selected as CAA Scholar-Athlete of the Year, while Drexel senior guard Matey Juric is the recipient of the Dean Ehlers Leadership Award, in recognition of both student-athletes' achievements on and off the court.
Estrada authored an outstanding season, scoring 18.5 points per game – nearly three points ahead of the second-leading scorer. The junior guard was in double figures 13 times in 18 CAA games with four contests of 30 or more points. Estrada also led the conference in assists per game (5.0) while ranking in the top 10 in rebounding (5.8) and steals (1.5). Estrada's Player of the Year honor is the fourth for Hofstra in the last seven seasons.
Davis emerged in the season's final month as one of the most formidable big men in the CAA. The redshirt freshman from Newark was averaging 4.5 points and 1.9 rebounds per game through January 24 before capitalizing on an expanded role to score in double figures in the final 10 regular-season games, averaging 15.7 points and 6.9 rebounds during the stretch. Davis, who contributed three 20-point games in his final 10 league opportunities, is the third Blue Hen to win the award in the last six seasons.
Williams also made the most of stepping into an elevated role in league play, leading the CAA with 43 blocks – 11 more than any other conference player – against league competition. The sophomore from England ranked second in the league in rebounding average in conference games with 8.6 boards per contest, while contributing back-to-back double-doubles to close league play. Williams is the first Dragon to win Defensive Player of the Year honors since Chaz Crawford in 2007.
Cooks began his Hofstra career with two statement performances, scoring 26 points in an overtime clash against defending Final Four team Houston and 29 in a win at Duquesne. The graduate student from Georgia scored in double figures in each of his first 11 games in a Hofstra uniform and 16 times in total on the season. Cooks averaged 12.4 points per game in the regular season and was third in assist-to-turnover ratio (1.9). Cooks is the first Hofstra player to win the honor since it was first awarded in 2018.
McIntosh compiled a 3.92 grade point average while earning a Bachelor's degree in Finance and is currently working on a Master's in Business Analytics. He has been a member of the CAA Commissioner's Honor Roll and Elon President's List during all five semesters and graduated summa cum laude last December. The Phoenix team captain is a two-time all-conference honoree and was the CAA Rookie of the Year in 2019-20. McIntosh is the first Elon player to earn the honor since Tyler Seibring in 2019.
Juric holds a 3.98 GPA while majoring in Biological Sciences and minoring in psychology. He plans on attending medical school next year. A team captain, he is a two-year member of the Dragon Leadership Academy, which helps build student-athlete leaders at Drexel. On the court, Juric has played in every game this season and is a three-time winner of the team's Defensive Player of the Year award.
Siddle has led UNCW back to the ranks of CAA contenders in essentially his first full season upon returning to Wilmington. The Seahawks started the year 3-5 before rattling off a program-record 12-game winning streak that included a 9-0 start to CAA play. UNCW would go on to capture a co-regular season championship at 15-3 – the Seahawks' first since 2017. Siddle, who was an assistant on that team, is the first from UNCW to win Coach of the Year honors since Kevin Keatts in 2016 and the seventh recipient from Wilmington in conference history.
Player of the Year: Aaron Estrada, Jr., G, Hofstra (Woodbury, N.J.)
Rookie of the Year: Jyare Davis, R-Fr., F, Delaware (Newark, Del.)
Defensive Player of the Year: Amari Williams, So., F, Drexel (Nottingham, England)
Sixth Man of the Year: Zach Cooks, Gr., G, Hofstra (Lawrenceville, Ga.)
Scholar-Athlete of the Year: Hunter McIntosh, Jr., G, Elon (Snellville, Ga.)
Dean Ehlers Leadership Award: Matey Juric, Sr., G, Drexel (Toronto, Ontario)
Coach of the Year: Takayo Siddle, UNCW
All-CAA First Team
| | | | | |
| --- | --- | --- | --- | --- |
| Name | Cl. | Pos. | School | Hometown |
| Aaron Estrada | Jr. | G | Hofstra | Woodbury, N.J. |
| Cam Holden | Sr. | G | Towson | Forsyth, Ga. |
| Jaylen Sims | Sr. | G | UNCW | Charlotte, N.C. |
| Nicolas Timberlake | R-Jr. | G | Towson | Braintree, Mass. |
| Camren Wynter | Sr. | G | Drexel | Hempstead, N.Y. |
All-CAA Second Team
| | | | | |
| --- | --- | --- | --- | --- |
| Name | Cl. | Pos. | School | Hometown |
| John Meeks | Gr. | F | Charleston | Burlington, N.C. |
| Vado Morse | Sr. | G | James Madison | Suitland, Md. |
| Jameer Nelson Jr. | Jr. | G | Delaware | Haverford, Pa. |
| Mike Okauru | Gr. | G | UNCW | Raleigh, N.C. |
| Charles Thompson | Jr. | F | Towson | Fort Washington, Md. |
All-CAA Third Team
| | | | | |
| --- | --- | --- | --- | --- |
| Name | Cl. | Pos. | School | Hometown |
| Darius Burford | So. | G | Elon | Bolingbrook, Ill. |
| Hunter McIntosh | Jr. | G | Elon | Snellville, Ga. |
| Jalen Ray | R-Sr. | G | Hofstra | Hampton, Va. |
| Dimitrius Underwood | Gr. | G/F | Charleston | Mesquite, Texas |
| Amari Williams | So. | F | Drexel | Nottingham, England |
CAA All-Rookie Team
| | | | | |
| --- | --- | --- | --- | --- |
| Name | Cl. | Pos. | School | Hometown |
| Ben Burnham | Fr. | F | Charleston | Fort Mill, S.C. |
| Jyare Davis | R-Fr. | F | Delaware | Newark, Del. |
| Julian Lewis | Fr. | G | William & Mary | Ann Arbor, Mich. |
| Tyler Rice | Fr. | G | William & Mary | Columbia, S.C. |
| Reyne Smith | Fr. | G | Charleston | Ulverstone, Australia |
CAA All-Defensive Team
| | | | | |
| --- | --- | --- | --- | --- |
| Name | Cl. | Pos. | School | Hometown |
| Cam Holden | Sr. | G | Towson | Forsyth, Ga. |
| Shykeim Phillips | Jr. | G | UNCW | Winterville, N.C. |
| Charles Thompson | Jr. | F | Towson | Fort Washington, Md. |
| Dimitrius Underwood | Gr. | G/F | Charleston | Mesquite, Texas |
| Amari Williams | So. | F | Drexel | Nottingham, England |