BIG EAST Women's Basketball
BIG EAST Women's Tournament: UConn, Villanova Rematch In Final
BIG EAST Women's Tournament: UConn, Villanova Rematch In Final
After some hectic moments, UConn and Villanova handled business to square off in Monday's BIG EAST Tournament championship game
Mar 7, 2022
by Briar Napier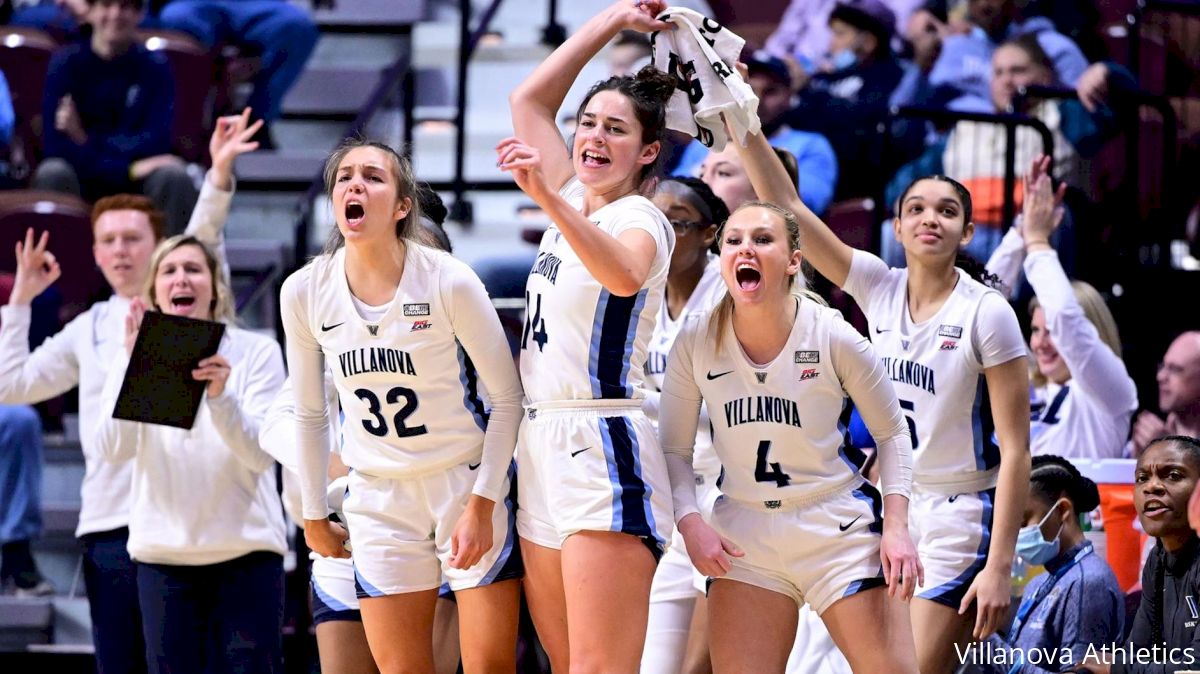 Some lower-seeded semifinal teams made things interesting, but it's the BIG EAST's two best teams that will be competing for a conference tournament title Monday.
After some hectic moments in Saturday's quarterfinal games, Sunday's semifinal matchups proved to be a bit more tame as UConn and Villanova handled business to square off in the BIG EAST Tournament championship game at Mohegan Sun Arena in Uncasville, Connecticut. With just a day left in the league season, the two most worthy teams are going to cap it off in style.
What went down in Sunday's semifinal round? Here's a look at how UConn and Villanova got their Ws and set themselves up for a titanic rematch Monday night.
UConn Cruises To Final, Has Marquette Done Enough?
To little surprise, UConn is back within a win of another conference tournament title. It would be the Huskies' ninth straight if indeed they win in the BIG EAST Tournament final Monday—after the top seed comfortably won 71-51 over No. 5 Marquette in Sunday's semifinal meeting.
The Huskies led wire-to-wire and got out to a 22-6 lead after the first quarter, preventing the Golden Eagles from producing a second shock in successive days after beating No. 4 DePaul by 20 in Saturday's quarterfinals. Marquette sophomore forward Liza Karlen, who was the hero of the rout against the Blue Demons with a career-high 26 points, was held to just four by the Huskies on 1-for-11 shooting. In fact, the Golden Eagles as a unit were held to merely 31.3 percent shooting from the field as three different Huskies (Evina Westbrook, Christyn Williams and Dorka Juhasz) scored in double figures. Perhaps scariest of all for UConn's remaining opponents is that superstar Paige Bueckers, who is still on a minutes restriction as she comes back from a knee injury, was a non-factor with two points in 18 minutes. The Huskies are clearly going dancing regardless of if they win Monday's title game or not, though the case for Marquette is a little more interesting.
ESPN "bracketologist" Charlie Creme put the Golden Eagles in his "Next Four Out" category in Sunday morning's bracket projections following the eye-popping blowout over DePaul, but the designation also signals that Marquette's efforts might have come too late. Few impressive performances against teams solidly in the NCAA tourney have been part of Marquette's downfall, as the schedule includes double-digit defeats to UConn (three times), Creighton, Georgia and Colorado, all of which should be squarely in March Madness. Ultimately, the team's bid is now in the hands of the selection committee—it'll decide the Golden Eagles' fate for a spot in college basketball's most historic event.
Villanova Fends Off Seton Hall, Closer To NCAA Berth
It wasn't cut-and-dry, but second-seeded Villanova saw off No. 6 Seton Hall 64-55 in their BIG EAST Tournament semifinal meeting, with the Wildcats getting revenge for their 72-60 defeat to the Pirates back on Feb. 13—Villanova's only loss in its past 16 games. 'Nova's 23-12 first quarter proved huge as Seton Hall played from behind for most of the game, cutting a 10-point fourth-quarter deficit to as low as four but not getting closer as the Wildcats sealed their trip to the BIG EAST tourney title game.
Unsurprisingly, BIG EAST Player of the Year Maddy Siegrist (24 points, 14 rebounds) was spectacular again for Villanova, but Seton Hall guard Lauren Park-Lane matched Siegrist with 24 points of her own. Unusually, just seven players combined (four for Villanova, three for Seton Hall) scored in the entire game, making for a showcase of star power. But the Wildcats made their presence felt on the defensive end, too, holding the Pirates to 35.7 percent shooting from the field and just 3 for 18 (16.7 percent) from 3-point range after shooting over 45 percent as a team in the upset win over No. 3 Creighton in the quarterfinal round Saturday.
By Creme's most-recent NCAA tourney projections, Villanova is about as on the bubble as it gets in the "First Four Out" category—though getting revenge against Seton Hall in the postseason had to have been nice, it probably did little for getting the Wildcats into the Big Dance as the Pirates are likely WNIT-bound. Still, the fact that 'Nova is in this situation in the first place after starting 3-5 and losing to Providence and Temple is a remarkable achievement, and emphasizes exactly why Siegrist (who was injured for a portion of that opening stretch) has been the best in the BIG EAST this year.
ℂ𝕙𝕒𝕞𝕡𝕚𝕠𝕟𝕤𝕙𝕚𝕡 𝕄𝕠𝕟𝕕𝕒𝕪.

8 ET. FS1. pic.twitter.com/ULm6zfzvnb

— BIG EAST WBB (@BIGEASTWBB) March 7, 2022
UConn Vs. Villanova: The Rematch
The two top seeds in the BIG EAST meet for all the marbles in the conference tournament final at 8 p.m. ET Monday on Fox Sports 1, with the stakes being especially high for both teams for entirely different reasons.
For UConn, it's about reestablishing its stake as the unquestioned queen of the BIG EAST. Battered and bruised by injuries and a midseason COVID outbreak, the Huskies still had the talent at their disposal to fairly easily cruise to a ninth consecutive regular-season conference championship with just one loss in league play. The one defeat? That was at the hands of none other than Villanova on Feb. 9, who shocked UConn 72-69 (in Connecticut, no less) to end the Huskies' 149-game conference winning streak. Monday's meeting will be the first time that the two teams have tussled since that night, and if UConn—whose five losses are the most it's had since 2011-12—wants to silence some criticism and prove that it should be taken seriously as a legitimate national title threat again, it needs to make a statement against the only BIG EAST team that beat it this year.
As for Villanova, a second straight win over the Huskies would not just be a monumental achievement, but it would also officially seal the deal on getting the Wildcats to the NCAA Tournament by holding the league's automatic bid. UConn, in the grand scheme of things, is clearly in the Big Dance and really has nothing to lose—Villanova, on the other hand, might not be in March Madness without a win. Not only that, Siegrist, who broke a 30-year-old conference record by averaging 27.9 points per game in league play, finally gets to get a matchup this year with Bueckers in a showdown of the BIG EAST's two most decorated players. The two schools have unquestionably been the cream of the crop of the conference this year and deserve to be in this spot with a surefire berth to the NCAA Tournament on the line. Which team earns it, however, is left to be decided—but either one could.