2022 CAA Women's Basketball Championship
CAA Women's Tournament Preview: Drexel Looking To Repeat
CAA Women's Tournament Preview: Drexel Looking To Repeat
Defending CAA Women's Basketball Tournament champion Drexel is back to defend its crown in the postseason with a smothering style.
Mar 10, 2022
by Briar Napier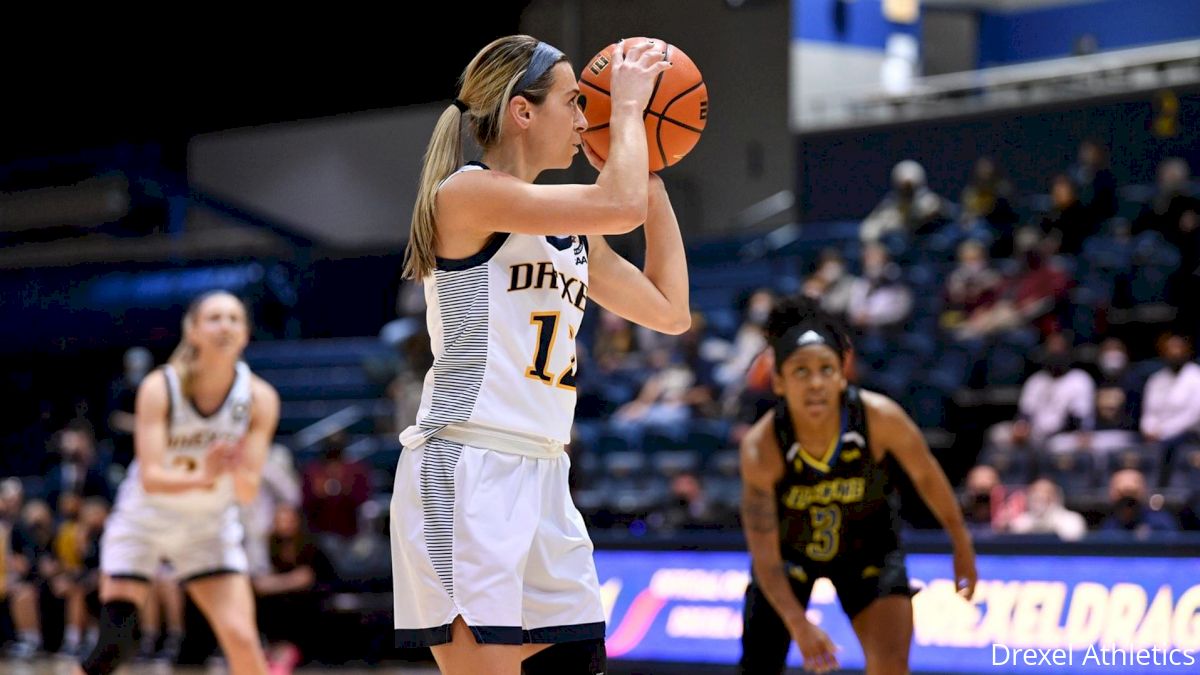 Colonial Athletic Association fans, the time you've been waiting for is here.
Defending CAA Women's Basketball Tournament champion Drexel is back to defend its crown in the postseason with a smothering style and plenty of pedigree among their opposition. But with others right on the Dragons' tails, it's far from a guarantee that Drexel is making it two straight.
Meanwhile, No. 3 seed Towson is attempting to reclaim the CAA tourney crown it had in 2019, while Delaware is looking to reestablish its glory from the Elena Delle Donne days with a CAA tournament win for the first time since she was a Blue Hen—this time with a player that could be just as good.
What's to look out for across the CAA before play begins Thursday? Look no further for a preview of the squads trying to secure an NCAA Tournament automatic berth and watch the CAA Tournament in its entirety on FloHoops.
NOTE: All tipoff times are listed in Eastern Time and are subject to change. James Madison is not in the CAA Tournament due to a postseason ban imposed by the league.
No. 9 UNCW Seahawks
The record: 3-25 (0-18 CAA)
The lowdown: The Seahawks' no-good, very bad year hasn't featured a win since December, and only two against Division I opponents. With 20 losses in 2022, UNCW is at or near the bottom of just about every statistical category. Across the whole year, the defense hasn't been great (69.6 points allowed per game) and the offense (54.1 points per game) hasn't scored nearly enough to keep up most nights, meaning often the Seahawks get down early and stay down. Fifth-year guard Sierra DaCosta (13.3 points per game) was a nice pickup in the transfer portal from East Carolina, but with the team featuring some of the nation's worst rebounding rate (61.1 percent) and 2-point percentage (38.6 percent), it's an uphill battle every time the Seahawks step on the floor. Expect little difference in the CAA tourney opener.
The first game: vs. Hofstra, 2 p.m. Thursday
No. 8 Hofstra Pride
The record: 7-19 (4-14 CAA)
The lowdown: The Pride can at least have confidence behind the fact that they've already beaten their first-round tournament opponent twice by double figures in the regular season, but beyond that, there's been few high points. Hofstra (52.9 points in CAA play) was the lowest-scoring squad in the league this season and also had the dubious honor of recording the worst 3-point percentage (23.1 percent) of any team in America. The defense held up well most nights in the CAA—Hofstra was second in the league in steals per game (9.0)—but the Pride just couldn't find ways to put the ball in the basket. Basically, if a team doesn't get too flustered by Hofstra's defense, they'll win more often than not. The Pride can probably make it work against UNCW, but likely not against top-seeded Drexel if they win.
The first game: vs. UNCW, 2 p.m. Thursday
No. 7 William & Mary Tribe
The record: 10-19 (5-13 CAA)
The lowdown: The Tribe's record may be a bit deceiving, having taken Drexel to double overtime Jan. 30 and within single digits of victories over top-half teams like College of Charleston, Elon and James Madison. Nonetheless, there's a reason William and Mary is the third-to-last seed: it didn't win any of them. Four of the five CAA wins came against Hofstra and UNCW as a fun guard duo in Sydney Wagner (15.3 points per game) and Riley Casey (14.5 points per game) just didn't get very much help a lot of nights. Turning over the ball on nearly a quarter (24.8 percent) of their possessions didn't necessarily help the Tribe this year, either. Quarterfinal foe Delaware swept the regular season series in comfortable fashion—though William & Mary has shown they can play above their standing on occasion. They'll need to finish the job for good to pull off an upset.
The first game: vs. Delaware, 5 p.m. Friday
No. 6 Northeastern Huskies
The record: 14-14 (8-10 CAA)
The lowdown: A five-game slide in February prevented the Huskies from sneaking their way into the top four seeds, though it's not hard to see Northeastern being able to give Towson a run for their money in the quarterfinals. Guard Kendall Currence (17.1 points per game in CAA play) was one of the league's more underrated guards over the year, showing up in some big moments along the way—like when she dropped 31 points in a narrow loss to Towson on Jan. 28. But an average of 18.0 turnovers per game for the team has been a problematic stat all year that's led to some ugly scorelines, like a 56-43 loss to Hofstra in which the Huskies gave it away 25 times. Northeastern is passable in a lot of other categories, however, and if they gets going at the right time, could advance out of Friday's play in the CAA tourney.
The first game: vs. Towson, 7:30 p.m. Friday
No. 5 College of Charleston Cougars
The record: 17-12 (9-9 CAA)
The lowdown: In terms of fun teams to watch, there may be no better in the CAA. The Cougars have four players on the roster averaging double-figure scoring, led by guard Jenna Annecchiarico's team-high 16.9 points to go with an awesome 6.2 assists per game. Senior forward Arynn Eady has been a force down low on top of it, too, posting near double-double numbers of 11.9 points and 9.2 boards to go with 2.1 blocks and 2.0 steals a night. Those two are big figures in Charleston scoring 73 points per game this year, but the Cougars' defense goes for broke far too often. They'll aggressively pursue steals, averaging 11.0 per night, but sometimes, if they get figured out, get burned and the defense begins to fall apart (see Delaware hanging 103 points on them Feb. 4). Still, this team was one of only two in the league to beat Drexel this season, doing so in a 74-73 thriller Feb. 6. Could the Cougars make that magic last for three rounds in the CAA tourney?
The first game: vs. Elon, 2:30 p.m. Friday
These Cougs get down the floor FAST. pic.twitter.com/ewEdsO9Jby

— CofC Women's Basketball (@CofCWBB) March 5, 2022
No. 4 Elon Phoenix
The record: 17-11 (9-9 CAA)
The lowdown: Elon had the tiebreaker over Charleston in seeding because the Phoenix swept the regular-season series. Whereas Charleston prefers flash, Elon goes for a more consistent look—for better or for worse. Case in point: Elon went 0-6 against the top three-seeded teams in the CAA tourney, yet went 9-1 against every other team in it (sans James Madison), putting the Phoenix squarely in the middle of the pack. Senior guard Brie Perpignan has scored at least 10 points in 21 straight games amid a career year on both ends of the floor (16.7 points, 5.4 assists, 1.8 steals per game). What you see is largely what you get with Elon as it tries to beat Charleston for the third time this season in the quarterfinal—both prior games the Phoenix won by exactly five points.
The first game: vs. College of Charleston, 2:30 p.m. Friday
No. 3 Towson Tigers
The record: 23-6 (14-4 CAA)
The lowdown: Now we get into the meat of the league. The Tigers have a highly-impressive resume dating back to when they won their season opener against Florida, a likely tournament team, by 17 points. They've also won 11 of their past 13 games. Junior guard Aleah Nelson (16.9 points, 5.1 assists per game) is one of the league's finest floor generals, while sophomore forward Allie Kubek (14.6 points, 50.9 percent field goal percentage) holds things down on the low block. But how Towson overwhelms most teams comes via the fact that the team is ferocious on the glass, averaging 44.4 boards a night for a mark that's currently seventh-best in the nation. With few blips on the schedule—the Tigers' worst loss is probably to a still-solid College of Charleston team—coach Diane Richardson's squad could easily barnstorm its way to a second conference tourney title since 2019.
The first game: vs. Northeastern, 7:30 p.m. Friday
No. 2 Delaware Fightin' Blue Hens
The record: 21-7 (15-3 CAA)
The lowdown: Haven't seen Jasmine Dickey play yet? You need to. The No. 3 scorer in America (25.0 points per game) has terrorized opponents all season as Delaware's offense is largely just giving the ball to her and letting her do work. No, really: Dickey shoots more field goals per game (22.9) than any player in college basketball, which leads to some downright disgusting stat lines. Just ask Charleston, which she dropped 52 points on (on 33 shots) last month. But the Blue Hens also get a ton of scoring created by second-chance opportunities, with Delaware No. 2 nationally in offensive rebounds per game (17.1) and senior forward Ty Battle No. 4 nationally at 4.8 offensive boards a night. Drexel was the only CAA tourney team to figure Delaware out, and the Dragons did it twice. If the two heavyweights are on a crash course for the title game—and a berth to the NCAA Tournament—it's on.
The first game: vs. William and Mary, 5 p.m. Friday
We going back-to-back 😤 #AOW #Elite@_JD20 has been named the 2022 @CAABasketball Player of the Year AND is an All-CAA First Team selection

🗞️ https://t.co/z3eiEojgWZ pic.twitter.com/mg7gFnzq4X

— Delaware Women's Basketball (@DelawareWBB) March 9, 2022
No. 1 Drexel Dragons
The record: 24-4 (16-2 CAA)
The lowdown: Drexel prefers to keep it low and slow, but when you play defense like the Dragons do, you can do it pretty successfully. Coach Amy Mallon has picked up well from where now-Villanova coach Denise Dillon left off when she bolted for the BIG EAST following the 2019-20 season. Mallon has Drexel allowing just 55.8 points per game this season. The Dragons play one of the slowest offenses in college basketball—their 63.9 possessions per 40 minutes are the second-lowest in America—but are remarkably efficient, rarely turning the ball over (11.2 turnovers per game) while possessing a core of players that know how to put the ball in the basket. Senior guard Keishana Washington (19.4 points per game), for instance, doesn't let Drexel's pace stop her from putting up some explosive numbers, like a 40-point outburst she had in January against William & Mary. Forward and Bucknell transfer Tessa Brugler (14.0 points, 8.6 rebounds, 1.4 blocks) is a two-way terror on top of it, making for a combo and system that's proved too tough to tame for many CAA opponents this season. And, as defending conference tournament champions, the Dragons have the swagger and confidence to know they can get back to the Big Dance, too.
The first game: vs. winner of UNCW/Hofstra, noon Friday