CAA Men's Basketball
CAA Men's Championship: Defense Sends Delaware Dancing
CAA Men's Championship: Defense Sends Delaware Dancing
Delaware's toughness showed throughout the CAA men's basketball tournament, it earned the team its first NCAA Tournament invite since 2014.
Mar 10, 2022
by Kyle Kensing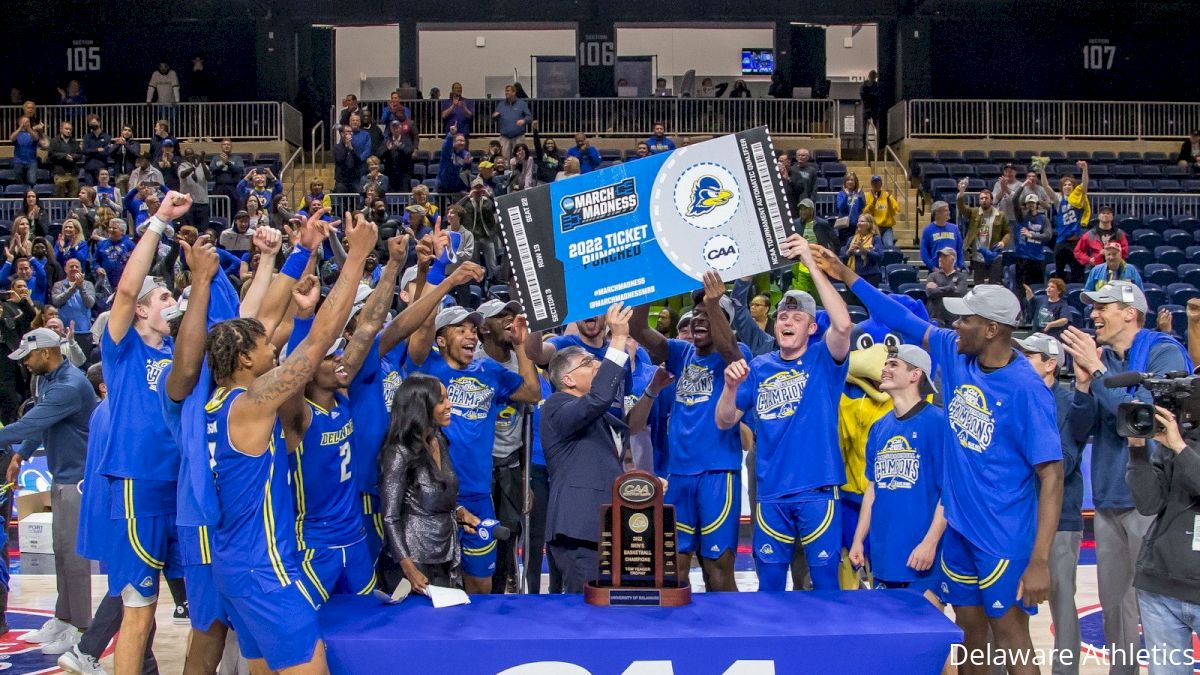 She may not have a trophy to show for it, but Colleen Ingelsby just might be one of the MVPs behind Delaware's run to the Colonial Athletic Association Tournament championship.
The Blue Hens ended the 2021-22 regular season on a two-game losing skid, including giving up a nine-point, second-half lead in the resumption of a postponed matchup with Towson. The co-regular season champion Tigers outscored Delaware 42-19, 40 of which were scored after the restart around the 18-minute mark.
On the drive home, Blue Hens coach Martin Ingelsby engaged his wife Colleen in a fateful text conversation.
"I said, 'Hey, we'll be back around 9:30. Let's get a bottle of wine and drink our sorrows away,'" He said.
"And she texted me right back and said, 'Nope. You're going to come right back home and figure this [expletive] out.'"
Figure it out, they did.
Along the way to the CAA Tournament title and the conference's automatic bid to the NCAA Tournament, Delaware played three of the most impressive defensive games of the season. The Blue Hens completed a three-game run in which they held each opponent to 56 points or fewer—including the Towson bunch that blitzed them for 40 points in less than 18 minutes just a week earlier.
In the 59-55 championship game win over co-CAA regular-season champion UNC Wilmington, Delaware held Jaylen Sims—who powered the Seahawks to a semifinal victory the night before, with 26 points—to 4-of-15 shooting from the floor.
Among the misses was a step-back 3-point attempt that would have given UNCW the lead in the closing seconds. Sims made a great move, but Jyare Davis—the actual Most Valuable Player of Delaware's tournament run—was there to contest.
The defensive performance UD put together in three consecutive games stood in stark contrast to both the Towson loss, and a home slip-up just a few days earlier in which the Blue Hens gave up 99 points to Charleston.
As Ingelsby spurned his sadness wine and the Delaware staff got to work on a solution, one thing became clear.
"We needed to be better on that end, we needed to be tougher," Ingelsby said.
"We got back to some tough stuff on the defensive end."
Toughness emanated from the Blue Hens not just on defense, but all phases of the game.
A moment that captured Delaware's renewed physicality came on offense just before the under-eight timeout against UNCW. Andrew Carr received a pass from Davis and went up under duress from Seahawk defenders.
Carr scored two of his 17 points and drew a foul, resulting in a three-point play that flipped a one-point deficit into a two-point advantage.
As he walked to the foul line, Carr let out a yell and held his arms in a kind of flex.
Andrew Carr with the 3⃣-point play to put @DelawareMBB up two. pic.twitter.com/5lULfhDdvy

— CBS Sports Network (@CBSSportsNet) March 9, 2022
"We feed off of energy as a team, and the bench was really into it at that point," Carr said, adding with a laugh: "I know I'm not as big of a guy as everyone else, [but] I love flexing after an and-one…[The team] always love hyping me. It was a great feeling and it was a big step in locking in defensively."
Carr also made a critical play on defense just before half, denying UNCW a six-point lead going into intermission.
Andrew Carr with a huge block before the half 🚫 @DelawareMBB pic.twitter.com/nrktJNRAyB

— CBS Sports Network (@CBSSportsNet) March 9, 2022
Carr and the rest of the Blue Hens were also showing their toughness on the boards. He posted a double-double with 12 rebounds, while Ebby Asamoah effectively sealed the win when he snared a missed free throw with 14 seconds left and Delaware leading by just two.
In those late-game moments, whether it was sealing the victory contesting a shot or grabbing an offensive rebound against UNCW, or shutting down Towson's run to pull away in the semifinals, Delaware looked just a little bit fresher.
Perhaps ironically, Ingelsby credits the approach to practice after the Towson loss on Feb. 28, in which the Blue Hens went at it in competitive scrimmages.
"We played a lot. We needed some guys to have success and see some shots go in," he said.
"We finished with eight-minute periods…I referenced them a lot during the games. 'Hey, we've got an eight-minute game, eight-minute period to play, let's lock in. Can we get three stops in a row?'
"And that's what we did every day leading into when we came down here to play," he added.
"It was not fun. It was tough. It was physical. We mixed up the jerseys. It was really, really competitive. Guys weren't happy with coach. Guys weren't happy with their teammates. But there was a competitive spirit brought out during that time."
The result is worth it. Delaware will be called on Selection Sunday, earning its first NCAA Tournament destination since 2014, and the first of Ingelsby's tenure.
And on that night, Martin Ingelsby will have a much better reason to share a glass of wine with Colleen.