2022 CAA Women's Basketball Championship
CAA Women's Tournament: Drexel And Delaware Set For Showdown
CAA Women's Tournament: Drexel And Delaware Set For Showdown
One vs. Two. It's Drexel and Delaware with an automatic berth into the Big Dance at stake Sunday in the championship round of the CAA Women's Championship.
Mar 13, 2022
by Kyle Kensing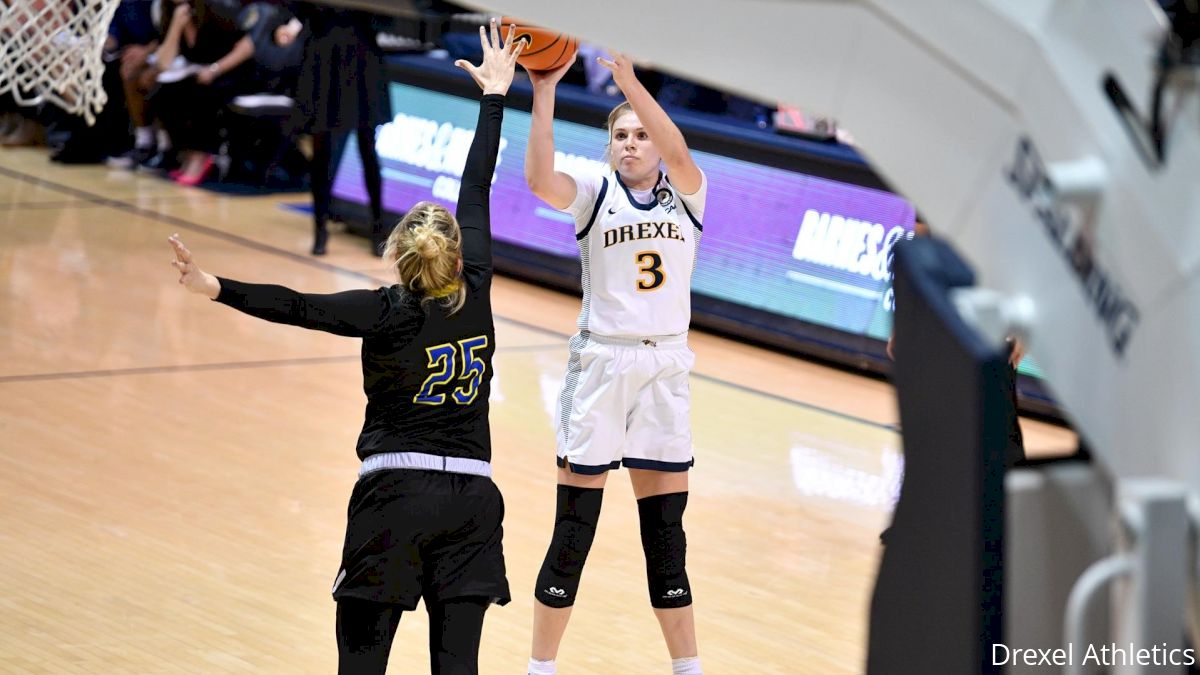 One vs. Two. It's Drexel and Delaware with an automatic berth into the Big Dance at stake Sunday in the championship round of the Colonial Athletic Association Tournament.
The host Dragons led big throughout then weathered a late Charleston rally in Saturday's semifinal, while the Blue Hens outlasted Towson in a back-and-forth affair that featured all the drama expected of March basketball.
Drexel swept the regular season against Delaware, including a 65-64 thriller late in the campaign. Keishana Washington outgunned Jasmine Dickey with 32 points to Dickey's 22. The two outstanding scorers face-off once more with the highest of stakes on the line.
No. 1 Drexel 71, No. 5 Charleston 65
The Dragons and Cougars split the regular-season series, with the visiting team winning each time by a single point. Saturday's semifinal rubber match seemed headed in a much different direction when host Drexel stormed to a big first-half lead.
Wow what a dominant start!

Nihill finds Brugler and @drexelwbb extends their lead, 33-11#CAAHoops on @FloHoopshttps://t.co/iakDWYnnd5 pic.twitter.com/YYqVo0FKIx

— CAA Basketball (@CAABasketball) March 12, 2022
"We always learn from our opponent what worked and didn't work," Drexel coach Amy Mallon said. "And we knew we started off a little slow last time. We really had to take the lead here, and I think on both ends — aggressively on the offensive end, but just as aggressively on the defensive end — and that really set the tone for the game."
A Charleston team that Cougars coach Robin Harmony said was "playing with house money" after beating Elon in the quarterfinals seemed to loosen up at intermission, but was in much too deep of a hole to rally.
Charleston scored more points in both the third and fourth quarters – 22 and 25 – than it tallied in the entire first half (18). Despite winning the third period 22-16, however, the Cougars found themselves down by 21 points with 8:34 to go when Keishana Washington buried a 3-pointer and Tessa Brugler scored in the lane on consecutive Drexel possessions.
The Dragons never had to sweat out their win, leading by 20 points with 3:36 to go, but they also didn't score another point from then on as Charleston closed out on a 14-0 run.
Brugler scored 22 points and grabbed 16 rebounds in the win for her 12th double-double of the campaign.
"Really, really showing everybody why she's one of the best…position post players [and] versatile players in our league," Mallon said.
Washington went for 25 points and dished five assists. The Dragons scored a remarkable 28-of-31 field-goal attempts off of assists, led by Maura Hendrixson's nine off the bench.
"Let's go out with a BANG"@drexelwbb will play for the #CAAChamps 🏆 tomorrow pic.twitter.com/VU5F14OFNi

— CAA Basketball (@CAABasketball) March 12, 2022
No. 2 Delaware 56, No. 3 Towson 55
CAA Player of the Year and All-America candidate Jasmine Dickey went for 22 points and 16 rebounds, Ty Battle added 11 points and 13 rebounds, and Delaware scrapped its way into the championship game against a tough Towson bunch.
"Well, that was fun, right?" Blue Hens coach Natasha Adair sighed to open her press conference.
It was probably a bit nerve-racking more than fun for Delaware, particularly the final few seconds. In what had otherwise been a defensive tussle for almost the entirety of the second, third and fourth quarters, the Blue Hens and Tigers scored seven combined points in the final 11 seconds.
Dickey knocked down a pair of free throws that broke a 52-all stalemate, but Tarriyonna Gary responded with a quick 3-pointer that gave Towson the lead with just eight seconds remaining.
But Tyi Skinner got to the foul line on Delaware's ensuing possession and, with ice in her veins, knocked down the decisive foul shots.
IT'S @ShowTim3_Tyi!!!!!!

The #BlueHens up by 1 pic.twitter.com/IulljCnQZU

— Delaware Women's Basketball (@DelawareWBB) March 12, 2022
"Preparation," Skinner said with a smile of her ability to make her free throws under pressure. "You won't be scared if you prepare, right? I take those shots every day in practice, I make 'em. I'm a really good shooter, so I've got to make those shots."
Dickey's typically big-time performance placed her in elite company with 1,000-plus career points and rebounds.
Go ahead and add your name to the record books @_JD20

Dickey becomes the sixth Blue Hen in program history to score 1,000 career points and pull down 1,000 career rebounds #AOW #Elite pic.twitter.com/6u1i4fviVa

— Delaware Women's Basketball (@DelawareWBB) March 12, 2022
Both Dickey's individual success and Delaware advancing on with a shot at March Madness reflect hours of tireless work.
"This game means so much," Adair said, "Because of what you all don't see. You don't see their hard work every day."