2022 CAA Women's Basketball Championship
CAA: Delaware Completes Road Back To March Madness
CAA: Delaware Completes Road Back To March Madness
Delaware beat Drexel in the final after failing to win a CAA championship and get a bid in the NCAA Tournament a season ago.
Mar 14, 2022
by Kyle Kensing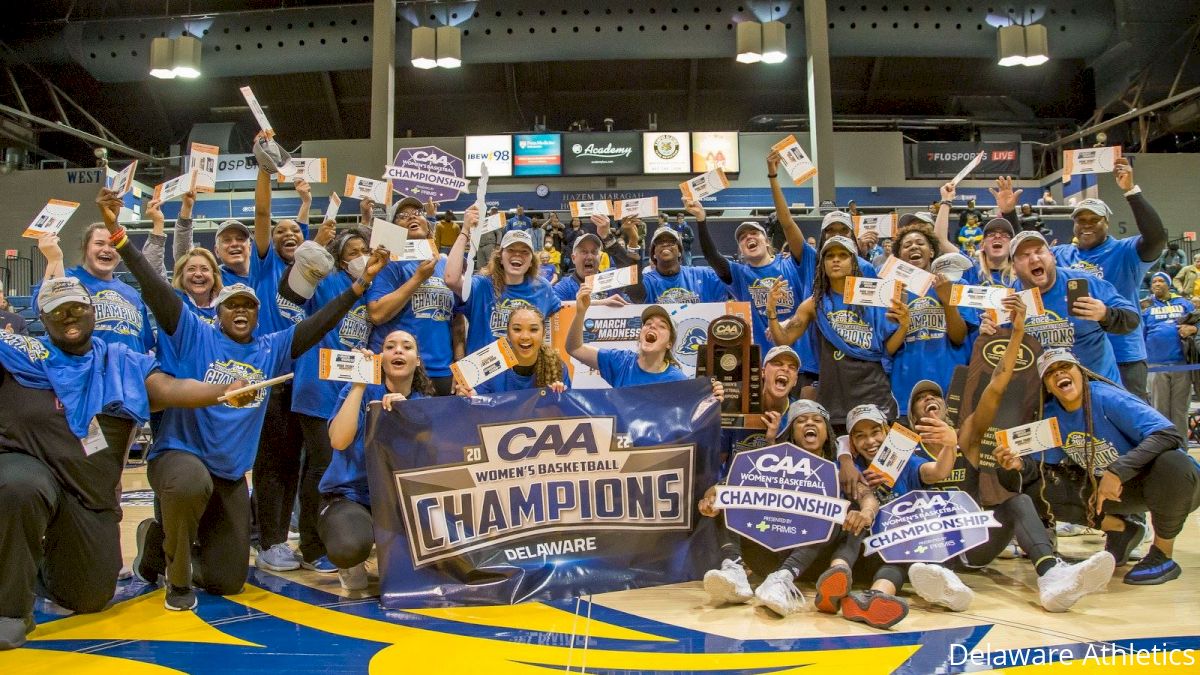 The freshly cut nets Jasmine Dickey and Natasha Adair wore around their necks after Delaware's 63-59 defeat of Drexel appeared especially festive—like championship leis.
After falling short of a Colonial Athletic Association championship and bid in the NCAA Tournament a season ago, earning the right to cut down the nets in Daskalakis Athletic Center proved just that much more gratifying.
"We talked about this since last year," Adair said.
"Everyday, we just worked. We said the road back here was probably gonna be the hardest road, and as long as we stayed the course, as long as we stayed together, everything on the journey was going to prepare us for today."
Sunday's championship-game win over host Drexel, which swept the regular-season series, demonstrated that Delaware was built for this moment—and no one more so than Dickey.
The CAA Player of the Year saved some of her best work this season for the biggest stage, scoring 27 points with 18 rebounds, three assists and two steals. Of her 18 boards, half were offensive.
She scored timely buckets that proved vital to preserving the win. Dickey's 3-pointer midway through the fourth quarter extended the Blue Hens' lead to 16 points, and a mid-range and-one jumper with a little more than two minutes remaining pushed the lead to 11.
AND ONEEEEEEEEEEEEEEEEEEEEEEEEEEEEEEEEEEEEEEEEEEEEEEEEEEEEEEEEEEEE!!!!!!!!!!!!!!! @_JD20 pic.twitter.com/J9MONOB1nW

— Delaware Women's Basketball (@DelawareWBB) March 13, 2022
It was a cushion they'd need as Drexel furiously fought back.
Keishana Washington, who Drexel has been able to rely on for points in pressure situations all season, scored 22 in Sunday's championship. The Dragons also got 17 points from Tessa Brugler.
Fourteen of Brugler and Washington's combined 39 points came in the final six minutes, as Drexel shaved the 16-point gap all the way down to three.
"As everybody saw, in the end, this team fought to the very end," Dragons coach Amy Mallon said.
"We weren't our best today…but, I couldn't be prouder of the leadership to finish the season, to be where we are in this position, to go 26-5 on the season, just shows the consistency we got from this team."
Drexel's season continues thanks to its regular-season CAA championship. The Dragons will play in the WNIT, which tips off on March 16.
Delaware was in a similar position a season ago. The Blue Hens fell short in the CAA Tournament, but capitalized on their automatic bid to the WNIT by advancing to the semifinals.
That postseason experience helped pay dividends in 2022 with Delaware's showing in the league championship. The path to the Big Dance included a semifinal defeat of Towson by the slimmest of margins preceding the wild comeback of the championship game.
"We were locked in," Dickey said.
"We remember that feeling that [we] had last year, and it hurt. We didn't want to be in that position anymore, so we told ourselves to fight. We weren't leaving here without a ring.
"We weren't leaving here without this," she added, tapping the championship trophy.
And that meant not leaving without a ticket to the Big Dance. Just hours after wrapping up the CAA championship, the Blue Hens reveled in the joy of Selection Sunday.
This moment though...#BlueHens #AOW #Elite pic.twitter.com/Fd9DgR1Xj0

— Delaware Women's Basketball (@DelawareWBB) March 14, 2022
Delaware's NCAA Tournament matchup with No. 4-seeded Maryland marks the Blue Hens' first game in the tourney since the 2013 Sweet 16 behind program legend Elena Delle Donne. Delle Donne was among the many Blue Hens faithful voicing support of this 2022 squad.
Always a great day to be a #bluehen but today is extra great! Congrats!! 🎉 keep it going!! https://t.co/MIJB6Y4uQw

— Elena Delle Donne (@De11eDonne) March 13, 2022
Support from the Delaware fan base will continue into March Madness. After so many Blue Hens fans showed up to Philadelphia, turning a true road game into what Adair described as feeling "like a home game," Delaware can expect another good crowd in the Tournament.
UD plays just 90 minutes from campus in College Park on March 18—a short trek at the end of a long road.