2022 Roman College Basketball Invitational
College Basketball Invitational: Stacked Field In Daytona Beach
College Basketball Invitational: Stacked Field In Daytona Beach
Daytona Beach offers its own slice of the month's madness with 16 of the nation's best mid-major conference teams.
Mar 15, 2022
by Kyle Kensing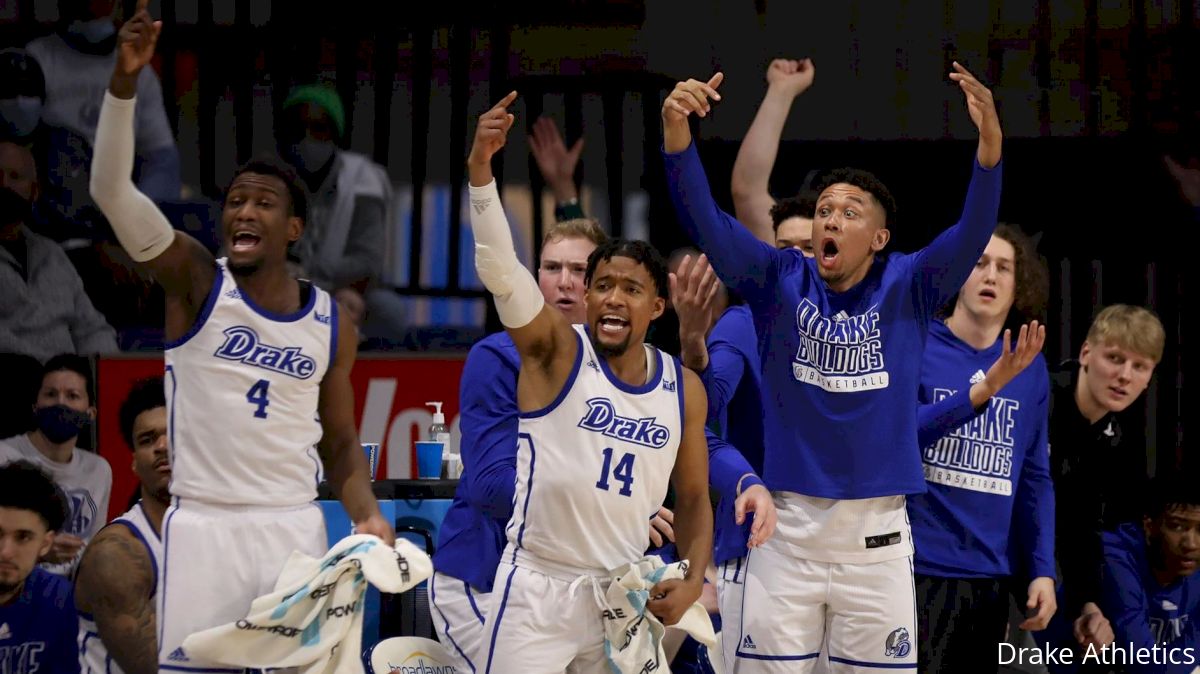 Sunshine, surf and some high-quality basketball: Daytona Beach is once again home to the College Basketball Invitational.
The CBI returns to the Ocean Center after staging the 2021 edition there in response to the COVID-19 pandemic.
"The response we received before, during, and after last year's CBI was overwhelming," Gazelle Group President Rick Giles said in a press release issued in January.
"Because of that, we felt a return to Daytona Beach was warranted."
A Spring Break destination and neutral-court setting combine a pair of college traditions at this time of year. Daytona Beach offers its own slice of the month's madness with 16 of the nation's best mid-major conference teams.
FIRST ROUND
No. 1 Drake Vs. No. 16 Purdue-Fort Wayne
Drake, which delivered one of the most exciting games in the 2021 NCAA Tournament, brings its March magic to the CBI in 2022 as the top overall seed.
The Bulldogs reached the championship round of the Missouri Valley Conference Tournament behind a largely veteran corps—seniors Garrett Sturtz, D.J. Wilkins and Roman Penn all averaged in double-figures scoring. Drake's leading scorer, however, is freshman Tucker DeVries at 13.9 points per game.
Purdue-Fort Wayne won a share of the Horizon League, split with Cleveland State. The Mastodons won 10 straight before falling to Northern Kentucky in the HL Tournament, riding one of the nation's most dangerous 3-point shooting offenses.
PFW ranks No. 40 nationally in its distribution of 3-pointers attempted to total field-goal attempts per KenPom.com, and No. 29 in its percentage of points scored beyond the arc. Leading scorer Jarred Godfrey shot 37.3 percent on 177 attempts from deep, while Deonte Billups and Bobby Planutis hit 39.9 percent on 153 and 148 3-pointers.
No. 4 Stephen F. Austin Vs. No. 13 UNC Asheville
Coach Kyle Keller continues the longstanding tradition of success at Stephen F. Austin, guiding the Lumberjacks to their first postseason as members of the Western Athletic Conference.
SFA finished the regular season just outside the KenPom top 100 thanks to an excellent defense that thrives on generating takeaways. The Jacks rank seventh in the country in defensive possessions resulting in takeaways, with six players averaging a steal or more per game. Among that band of bandits is Gavin Kensmil, who is also SFA's leading scorer and rebounder at 16.7 points and 6.8 rebounds per game.
Countering that greedy defense is a UNC Asheville offense that posted a shade below 75 points per game, good for No. 74 nationally. Drew Pember leads the Bulldogs at 15.4 points per game on 55.8 percent shooting from the floor.
The 6-foot-10 Pember as UNCA's mantelpiece makes for an interesting contrast against Stephen F. Austin, which primarily plays a roster featuring no one taller than 6-foot-7.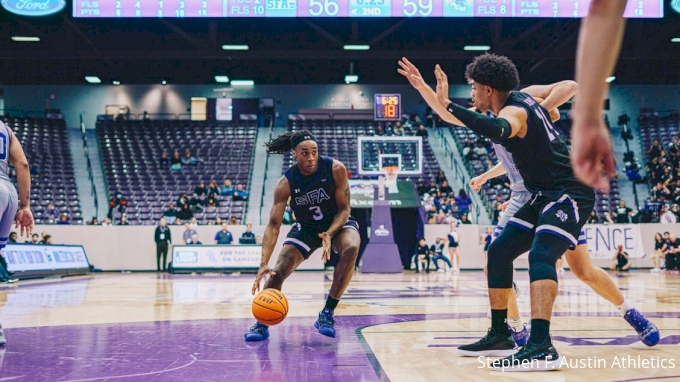 No. 2 Middle Tennessee Vs. No. 15 California Baptist
Cal Baptist, a newcomer to Div. I, makes its D-I postseason debut with the CBI. The Lancers went 18-15 against a tough schedule that included Texas and Arizona, as well as the new-look WAC league slate.
The challenging schedule continues in Daytona Beach against Middle Tennessee, a KenPom top 100 squad and one of the most consistently strong mid-major conference programs of the last half-decade.
MTSU boasts a tenacious defensive style, holding opponents to just 31 percent shooting from 3-point range. The Blue Raiders also ranked in the top 60 nationally in both blocked-shot percentage and steals percentage. Teafale Lenard is a defensive dynamo off the bench with averages of 1.4 blocks and a steal per game, while leading scorers Josh Jefferson, Eli Lawrence and Donovan Sims all produced better than a swipe per contest.
Cal Baptist will look to counter with methodical ball movement. Taran Armstrong is among college basketball's best distributors at 6.3 assists per game, leading an offense that scores 63.9 percent of its field goals off assists.
No. 3 Ohio Vs. No. 14 Rice
Last season, Ohio University became one of the main Cinderella stories of the NCAA Tournament when it knocked off defending national champion Virginia. The roles are reversed for the Bobcats this time around when they come into the CBI as one of the presumptive teams to beat.
Ohio went 24-9 in the regular season with an uptempo, high-scoring brand of basketball. Jeff Boals' bunch posted at least 80 points 12 times, including in a season-opening win over Belmont. Mark Sears, one of the nation's best shooters at 42.1 percent from beyond the arc, averages 19.5 points per game.
Rice can get up and down in its own right, led by Carl Pierre and his 15.3 points per game. Pierre is one of three Owls who average in double-figures along with Travis Evee and Max Fielder, together giving Rice a 74.4-point per game output.
Fielder's interior presence complements the high-scoring perimeter tandem of Pierre and Evee, but he can expect plenty of resistance from Ben Vander Plas and Jason Carter.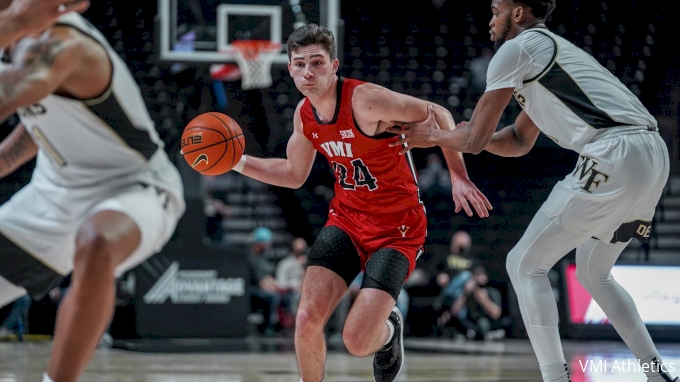 No. 8 VMI Vs. No. 9 UNC Wilmington
Making the field of the 2022 CBI marks a culmination in a steady climb for VMI basketball under Dan Earl. The Keydets ranked among the nation's worst teams both in record and analytics from 2016 through 2018, failing to win more than nine games in a season over that stretch.
Last season marked a breakthrough with an above-.500 finish, and this year saw VMI go 9-9 in the always-tough SoCon and 16-15 overall. Credit an explosive offense that ranks No. 43 in adjusted efficiency, led by 19.4-point per game scorer Jake Stephens.
Stephens is one of four Keydets putting up 13.2 points per game or more along with Kamdyn Curfman and Trey Bonham. With a trio of dependable scorers, VMI mirrors its CBI opponent UNC Wilmington.
The co-Colonial Athletic Association champs reached the conference tournament title game to culminate one of the most surprising turnaround seasons in college basketball. Jaylen Sims, Mike Okauru and Shykeim Phillips all delivered big-time performances for the Seahawks, while James Baker Jr. and Trazarien White emerged as key contributors down the stretch in the regular season.
No. 5 Florida Atlantic Vs. No. 12 Northern Colorado
FAU embarks on just the fourth postseason in program history and first under coach Dusty May. The Owls also have the opportunity to become FAU's first 20-game winner since the 2010-11 squad matched a program record 21 wins.
Alijah Martin and Michael Forrest combined to average better than 27 points per game, leading the way for the Owls. Martin is among the best 3-point shooters in the CBI field with a 40 percent average on 6.4 attempts per game.
Northern Colorado comes into Daytona Beach fresh off a deep run in the Big Sky Tournament. The Bears play one of the fastest styles in the country behind 21.2-point per game scorer Daylen Kountz. Kountz led UNC to a 78.2-point per game yield.
As effectively as they score points, however, the Bears have given up plenty—76.8 a clip, one of the highest opponent outputs of the 2021-22 season. Expect a shootout in this opening-round matchup.
No. 7 UNC Greensboro Vs. No. 10 Boston
UNC Greensboro rolls into the CBI as one of two SoCon teams in the field, and boasts one of the best regular-season wins among the competitors with a 54-51 defeat of Vermont in November.
That game is indicative of the Spartans' bread-and-butter: grinding defense. Thirteen times opponents scored fewer than 60 points against them, the byproduct of holding teams to 41.8 percent shooting from the floor. What's more, UNC Greensboro forces opponents to take contested 3-pointers at an exponential rate: 25.9 per game vs. 27.3 2-point field-goal attempts allowed per game.
The Spartans' approach makes for a fascinating style clash against Boston U., a team that can push the pace with a trio of effective scorers. Chief among them is Javante McCoy, 17.-7-point per game scorer who shoots 53.1 percent from inside the 3-point arc and 44.2 percent beyond it.
Sukhmail Mathon and Walter Whyte add 15.1 and 13 points per game, and both shoot better than 53 percent on 2-point field-goal attempts.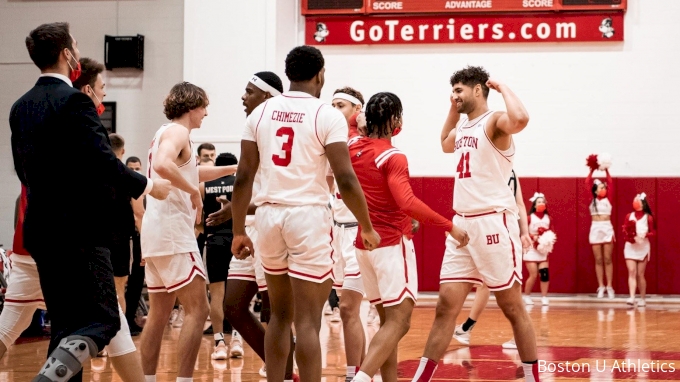 No. 6 Abilene Christian Vs. No. 11 Troy
Another participant in the 2022 CBI that advanced in the 2021 NCAA Tournament, Abilene Christian is the third WAC program in Daytona Beach. The Wildcats reached the championship game of #WACVegas, the conference's annual tournament in Sin City. They have won 47 combined games in the last two seasons, 23 were this year.
Coryon Mason played a big part in last season's Southland Conference championship with 11 points, six rebounds and four steals in the league title game, and went for 11 points in the NCAA Tournament upset of Texas. This year, he's ACU's leading scorer at just below 12 points per game and finished with 14 against New Mexico State in the WAC Tournament finale.
Troy comes into the CBI a 20-game winner after spending much of the regular season in the hunt for the Sun Belt Conference regular-season championship. The Trojans play a hard-nosed defensive style that allows only 65.1 points per game, and the feature one of the most formidable interior tandems of any squad in Daytona Beach with Efe Odigie and Zay Williams.