BIG EAST Women's Basketball
BIG EAST Postseason Preview: Four League Teams Make The Cut
BIG EAST Postseason Preview: Four League Teams Make The Cut
UConn, Creighton, Villanova and DePaul all had varying paths to make it to this point, and will have unique challenges coming up throughout the next week.
Mar 16, 2022
by Briar Napier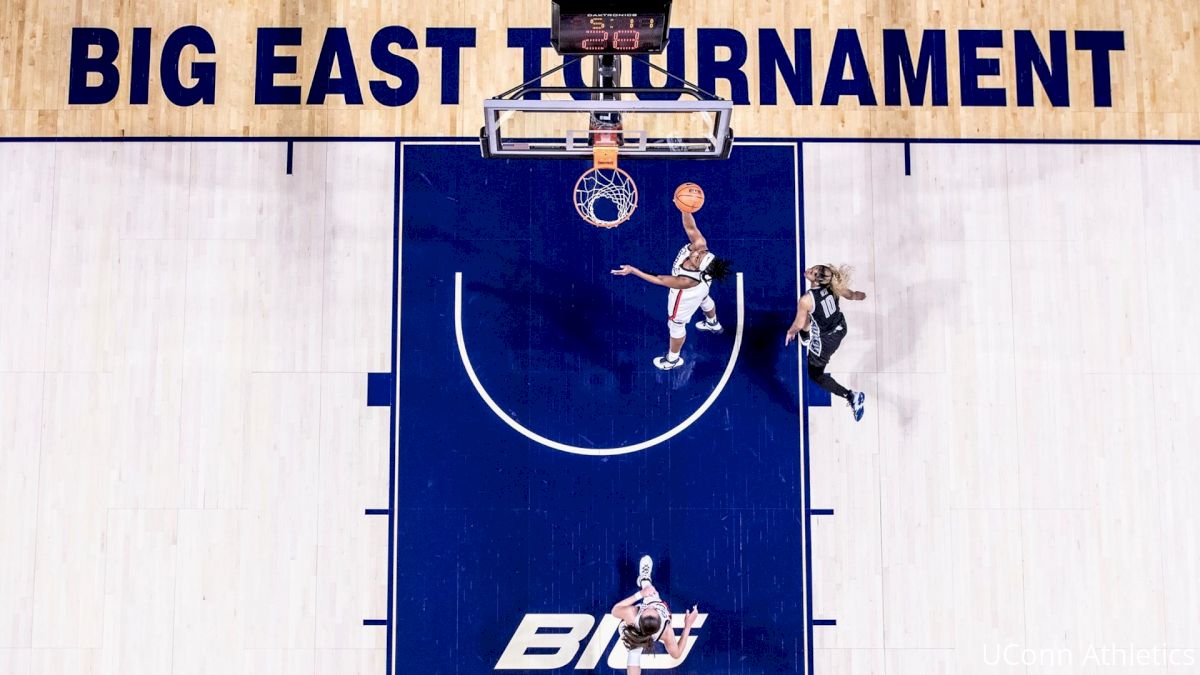 The brackets are being filled, the picks are being made and the TV schedules are being set.
March is here, and it's arrived in all its glory.
Even though things got a bit unstable for some BIG EAST women's basketball teams as the hours ticked down to the reveal of the NCAA Tournament field this past weekend, four teams from the league ended up making the Big Dance, meaning that there's plenty of conference representation ahead in the 68-team field.
UConn, Creighton, Villanova and DePaul all had varying paths to make it to this point, and all will have unique challenges coming up throughout the next week as they make their 2022 March Madness debuts. Here's a look at what to watch for in each game involving a BIG EAST team as one of the most exciting periods in sports gets underway.
NOTE: All tipoff times are listed in Eastern Time.
No. 2 UConn Vs. No. 15 Mercer (Bridgeport Region)
When: 1 p.m. Saturday, Mar. 19
Where: Gampel Pavilion, Storrs, Conn.
The lowdown: Of the 26 times UConn has been a top-two seed playing in the NCAA Tournament Round of 64, the Huskies are 26-0 in the first round and have won by at least 40 points on 18 occasions. For Mercer, it probably means it's in for a world of hurt. The Bears will not have lost in nearly two months heading into this weekend, but they also haven't played a team near the caliber of the Huskies in that stretch, either.
UConn's superstar guard, Paige Bueckers, and her continued recovery (which includes a minutes restriction) coming off a knee injury will be one of the bigger storylines, but the Huskies probably won't need her in this one, anyway. Coach Geno Auriemma's unit breezed through the field at the BIG EAST Tournament as veteran guard Christyn Williams (14.6 points per game) was named the tourney's Most Outstanding Player. As with most Huskies teams, there's more than just her on the roster, as freshmen Azzi Fudd (12.4 points) and Caroline Ducharme (11.2) have the looks of two more budding stars in the ranks in Connecticut. Expect UConn to get up big early and stay there as it gets further rest before what could be a tricky matchup in the Round of 32 against the winner of UCF/Florida.
No. 10 Creighton Vs. No. 7 Colorado (Greensboro Region)
When: 1:30 p.m. Friday, Mar. 18
Where: Carver-Hawkeye Arena, Iowa City, Iowa
The lowdown: Creighton was probably the least worried of the non-UConn BIG EAST teams regarding its NCAA Tournament status on Selection Sunday, but that didn't mean the Bluejays avoided a tough matchup to tipoff their first March Madness appearance since 2018. Coach Jim Flanery's team gets Colorado—which made a run to the Pac-12 Tournament semifinals before losing to eventual No. 1 seed Stanford—for a chance to almost certainly play All-American Caitlin Clark and Iowa in the Round of 32.
The Buffaloes get after it on defense by averaging 10.8 steals per game, a direct challenge to the stable Creighton offense that has a better assist-to-turnover ratio (1.63) than any other team in the country. But the key to the game for the Bluejays will likely be stopping fifth-year guard Mya Hollingshed, one of the Pac-12's best backcourt players, who plays to a tune of 14.1 points and 7.1 rebounds per game. Fellow BIG EAST member Marquette was unable to contain her back on Nov. 19 when the Golden Eagles and Buffaloes squared off, with Hollingshed notching a 22-point double-double as Colorado won by double digits. Can Creighton learn from a league foe's prior mistakes and get itself to the next round of March Madness?
No. 11 Villanova Vs. No. 6 BYU (Wichita Region)
When: 1 p.m. Saturday, Mar. 19
Where: Crisler Center, Ann Arbor, Michigan
The lowdown: After three seasons with the Wildcats, Villanova star forward and newly-named BIG EAST Player of the Year Maddy Siegrist finally gets to test her skills against the best in America in the NCAA Tournament. As for 'Nova's matchup? It's a 26-3 team that is one of the most potent and efficient offenses in the country. No one said the first time would be welcoming. The West Coast Conference regular-season champions, BYU couldn't complete a trifecta of season wins against fellow field-makers Gonzaga in the WCC Tournament but still did more than enough to make it to the Big Dance comfortably—a distinction that Villanova could never really claim this year as it hung on the bubble until the very end.
Junior guard Shaylee Gonzales has been a stud do-it-all guard for the Cougars with 18.7 points, 5.9 rebounds, 4.3 assists and 2.3 steals a night. However, even she can't hold a candle to the absurd run Siegrist has been on throughout the latter part of the season, with the junior scoring at least 24 points in eight consecutive games leading up to the Wildcats' loss to UConn in the BIG EAST Tournament title game. BYU is a similar team to Creighton, rarely turning the ball over but also combining it with a fast-paced offense (77.8 points per game) not unlike the speed of DePaul. That familiarity could prove vital as Villanova attempts to get to the Round of 32 for just the second time since 2004.
No. 11 DePaul Vs. No. 11 Dayton (First Four into Greensboro Region)
When: 9 p.m. Wednesday, Mar. 16
Where: Hilton Coliseum, Ames, Iowa
The lowdown: The move to follow the men's bracket and go to a 68-team field for the first time this season was likely DePaul's saving grace. The Blue Demons appeared to be on the outside looking in after losing five of its final nine games while getting an early exit from the BIG EAST Tournament via Marquette's 20-point blowout. But alas, DePaul snuck in via a spot in the play-in games, meaning freshman phenom Aneesah Morrow (21.7 points, 13.8 rebounds, 2.7 steals, 1.8 blocks) gets to finish off her record-shattering first year with a trip to March Madness.
They'll take on the 25-5 Flyers in a classic case of unstoppable force meets immovable object: DePaul has the No. 1 offense in America still at 88.3 points per game, while Dayton holds a top-15 defense that holds opponents to just 54.7 on average. Both teams also average over 40 rebounds per game, leaving the possibility open for a gritty showdown ahead as the they fight for the right to play No. 6 Georgia in the Round of 64. Watch for Flyers sophomore guard Makira Cook, who is currently amid a breakout campaign as she averages a team- and career-high 14.6 points per game with 2.8 assists averaged to boot.