2022 Roman College Basketball Invitational
Roman CBI Day One First Round Capped By Ohio Thriller
Roman CBI Day One First Round Capped By Ohio Thriller
Day one of First Round action in the 2022 Roman College Basketball Invitational ended with a bang.
Mar 20, 2022
by Kyle Kensing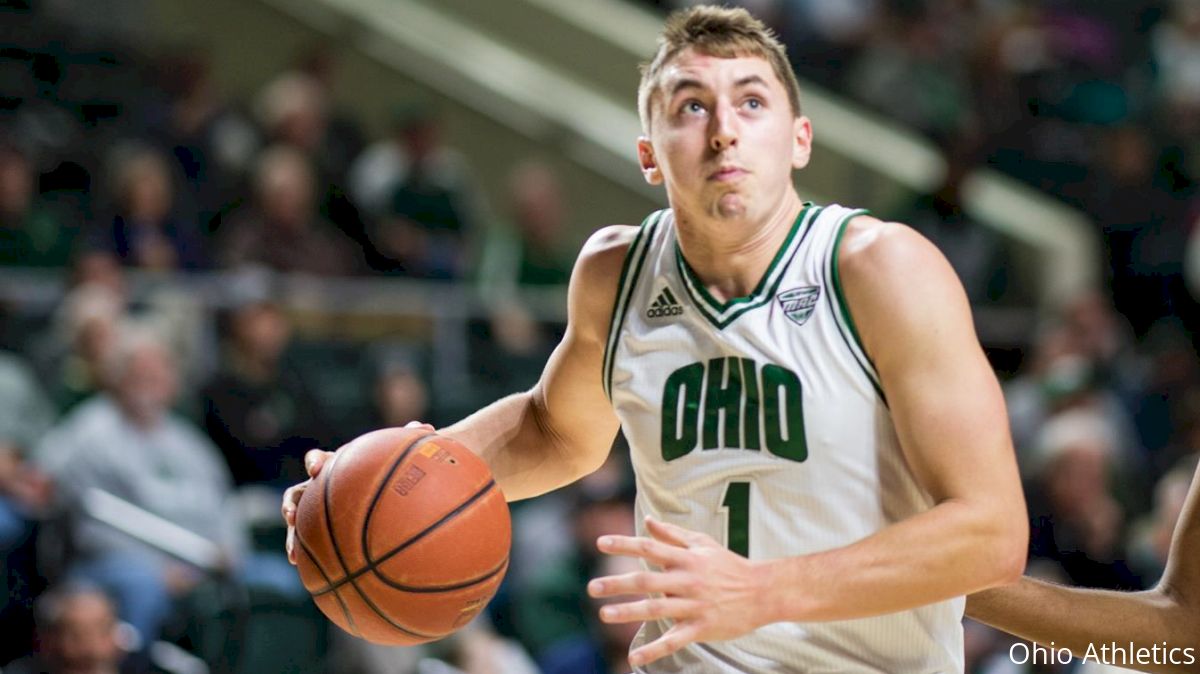 Day one of First Round action in the 2022 Roman College Basketball Invitational ended with a bang.
The final 8.5 of @OhioMBasketball's win over Rice in the @CBITourney was nuts pic.twitter.com/zBRsRt0nj9

— Kyle Kensing (@KyleKensing) March 20, 2022
Mark Sears answering Carl Pierre's go-ahead jumper with a coast-to-coast lay-in capped the first day at the Ocean Center in style. Ohio University won the last of four games – and the CBI is just getting started.
GAME 1: No. 1 Drake 87, No. 16 Purdue Fort Wayne 85
Heavy rainfall visited sunny Daytona Beach in Saturday's first game, courtesy of Drake's Okay Djamgouz and his 6-of-8 3-point shooting. He paced the Bulldogs to a collective 11-of-22 performance from deep and scored a game-high 20 points off the bench.
Drake controlled throughout thanks to its balanced scoring. Five Bulldogs scored in double-figures, with Tucker DeVries and Garrett Sturtz joining Djamgouz with 14 points each; ShanQuan Hemphill with 11 points; and Tremell Murphy adding 10 points.
Murphy's contribution continued a special week for the senior forward, who became a father just a few days earlier.
Purdue Fort Wayne ended its 2021-22 season with 21 wins, the program's most since the 2015-16 campaign. Jarred Godfrey finished with team-highs of 16 points and three assists for the Mastodons.
GAME 2: No. 13 UNC Asheville 80, No. 4 Stephen F. Austin 68
Stephen F. Austin was on the business end of some of the more memorable March upsets in recent years, but UNC Asheville turned the tables in the CBI First Round.
The Bulldogs forced 16 turnovers and held the Lumberjacks to 4-of-18 shooting from 3-point range. Taijon Jones, meanwhile, matched SFA's total with four 3-pointers. Drew Pember added three from deep, part of a stellar all-around performance from the UNCA big man.
Pember scored 17 rebounds, grabbed eight rebounds, and blocked six shots – all game-highs. He also threw down one of the day's best dunks.
GAME 3: No. 2 Middle Tennessee 64, Cal Baptist 58
Cal Baptist took the fight to MTSU early, surging ahead with a 10-point lead. The Blue Raiders whittled the gap down to a point by halftime and dominated the first 10 minutes of the second half.
Behind DeAndre Dishman – who posted a game-high of 17 points and team-highs of six rebounds and four assists – MTSU outscored Cal Baptist 20-3 out of intermission to build a 16-point lead with a little more than 10 minutes to go.
Taran Armstrong helped a Lancers comeback with five of his eight points and a steal leading to fastbreak, while Ty Rowell erupted for three of his four 3-pointers. The Lancers roared all the way back to within two points, but Justin Bufford made some critical plays late and Donovan Sims delivered the knockout punch.
GAME 4: No. 3 Ohio 65, No. 14 Rice 64
The final 8.5 seconds provided a fitting conclusion for what was an intense and competitive contest throughout. Pierre scored 20 points, including several clutch baskets that gave Rice the opportunity to win. Mylyjael Poteat shot 5-of-7 from the floor for 10 points and completed a double-double with 11 rebounds.
Travis Evee and Chris Mullins both scored in double-figures for Rice with 12 and 11 points, but the Owls fell just short in this back-and-forth finale.
Jason Carter was dynamite for Ohio with 26 points and 12 rebounds, both game-highs. He also came through defensively in key moments.
Meanwhile, Sears' critical play wasn't limited to the game-winning bucket for Ohio. He finished with just eight points, but half came in the final minute and could not have been more crucial for the Bobcats moving on.