2022 Roman College Basketball Invitational
Star Players Shine Bright On CBI Sunday
Star Players Shine Bright On CBI Sunday
UNC Wilmington, Northern Colorado and Boston University were among the teams with marquee performances out of their leaders on Sunday.
Mar 21, 2022
by Kyle Kensing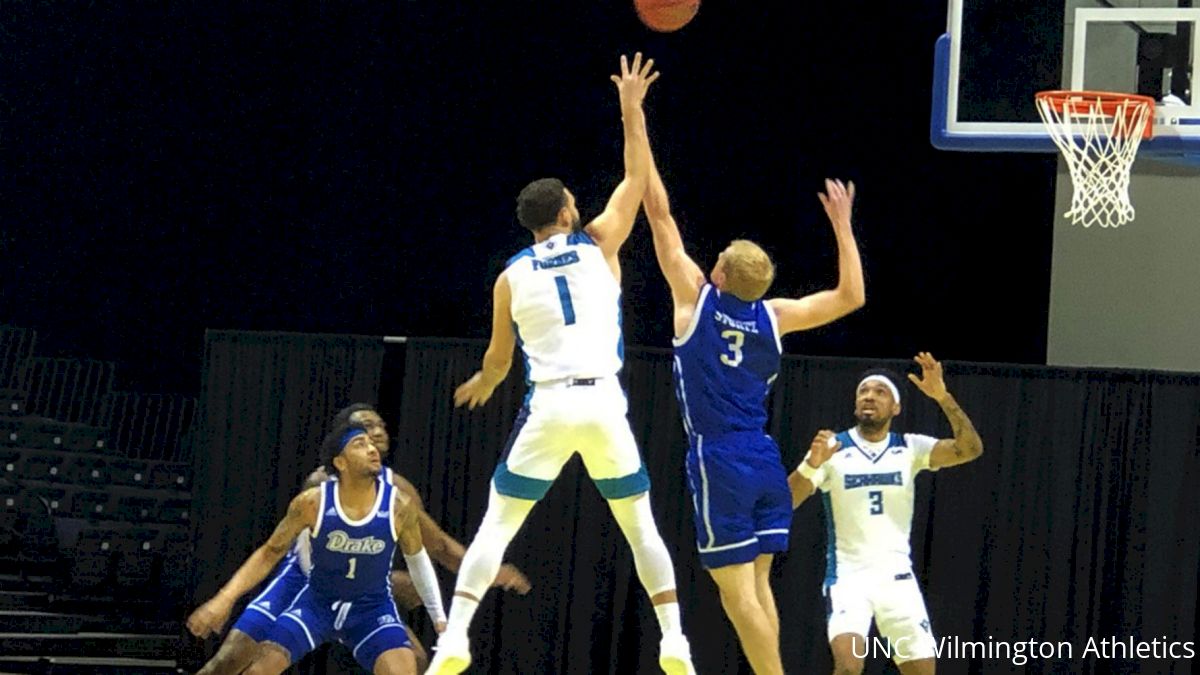 Star players stepped up in a big way during Sunday's First Round action at the College Basketball Invitational.
UNC Wilmington, Northern Colorado and Boston University were among the teams with marquee performances out of their season-long leaders on Sunday, while Abilene Christian cruised to set up a showdown of 2021 NCAA Tournament Cinderellas in Monday's quarterfinals.
No. 9 UNC Wilmington 93, No. 8 VMI 78
Mike Okauru's 27 points, including 4-of-8 shooting from 3-point range, and a big second half powered UNC Wilmington past VMI in Sunday's first matchup.
Among his triples was an NBA-range bucket that broke a 51-all tie and set the Seahawks on course for a comfortable win.
Clutch triple by @mokauru_3 beats the shot clock pic.twitter.com/s0KvZjM2ip

— UNCW Basketball (@uncwmenshoops) March 20, 2022
The co-Colonial Athletic Association regular-season champions put up 54 points on 53.1 percent field-goal shooting in the second half to surge ahead after a back-and-forth first half. Okauru led four Seahawks scoring in double-figures, with Jaylen Sims adding 18 points, James Baker Jr. scoring 13, and Shykeim Phillips finishing with 10.
We've seen this before. @shykeimphillips now has 10 points pic.twitter.com/78cRRhPkh2

— UNCW Basketball (@uncwmenshoops) March 20, 2022
UNCW shot 10-of-25 from 3-point range and an excellent 21-of-25 from the free-throw line, including 7-of-7 from Okauru and 8-of-9 from Sims.
The Seahawks advance to face Drake on Monday. The Bulldogs cruised in Saturday's First Round matchup with Purdue Fort Wayne.
No. 12 Northern Colorado 74, No. 5 Florida Atlantic 71
Daylen Kountz demonstrated why he's one of college basketball's premier scorers, going 11-of-16 from the floor for 23 points to pace Northern Colorado to the CBI's second double-digit-seed upset. The first? UNC Asheville, which Northern Colorado faces on Monday.
Kountz put in some of his best work in the clutch of this fiercely contested matchup, scoring on a crucial and-one down the stretch and giving the Bears a two-possession lead in the final minute.
Kountz was one of four Bears scoring in double-figures along with Kur Jongkuch and Bodie Hume, both of whom recorded double-doubles. Jongkuch shot 7-of-9 from the floor en route to 16 points and grabbed a game-high 12 boards, while Hume added 11 points and 11 rebounds.
Almost all of Hume's scoring came from the 3-point line, as he knocked down 3-of-8. Dur Kuxhausen's 3-of-7 shooting beyond the arc accounted for the entirety of his scoring from the floor, and he added a free throw for 10 points.
The two teams went back-and-forth for the better part of 40 minutes, with FAU's Johnell Davis pacing a quartet of Owls in double-figures at 18 points. Davis scored 11 in the second half, including a lay-in with 2:39 left to give FAU a lead, but that was the last time the Owls held an advantage.
No. 10 Boston University 71, No. 7 UNC Greensboro 68
A Walter Whyte 3-pointer with 17 seconds remaining broke badly for UNC Greensboro, as Boston University made it three double-digit seeds advancing to the CBI quarterfinals.
Whyte's triple pushed a one-point Terriers lead to four, effectively closing the door on the Spartans in a competitive matchup. Javante McCoy's assist after drawing the double-team to free up Whyte was the BU guard's third of the evening.
McCoy finished with 13 points and three steals, while Suhkmail Mathon paced the Terriers with 18 points and nine rebounds—five of which were offensive.
De'Monte Buckingham knocked down five 3-pointers and scored a game-high 21 points. Bas Leyte scored 17 points for the Spartans, including back-to-back buckets in the paint down the stretch that pulled UNCG within a point before Whyte's game-sealing jumper.
Boston will face second-seeded MTSU on Monday.
No. 6 Abilene Christian 82, No. 11 Troy 70
Abilene Christian is no stranger to making noise in March, and the Wildcats made it consecutive seasons with a postseason victory through a dominant performance vs. Troy.
ACU hung 48 first-half points on the Trojans and took a 21-point lead into the locker room. Troy cut the deficit to 12 briefly in the early second half, but the Wildcats rallied quickly to go back up by as many as 21 points down the stretch.
The Wildcats flexed both offensively, with four players scoring in double-figures, and defensively.
ACU forced 20 turnovers, four of which came off Mahki Morris steals. Reggie Miller came up with three swipes, as well.
Coryon Mason's 19 points led ACU, Chris Steele came off the bench to sink 4-of-5 3-pointers en route to 18 points, Miller chipped in 10 points and Airion Simmons added 11.
ACU meets Ohio in the quarterfinals, a matchup of two teams that won games both at last year's NCAA Tournament and this year's CBI.