2022 Roman College Basketball Invitational
UNCW Comeback Headlines CBI As Last Four Set
UNCW Comeback Headlines CBI As Last Four Set
The Seahawks weren't the only team to come from behind in Monday's CBI quarterfinals at the Ocean Center.
Mar 22, 2022
by Kyle Kensing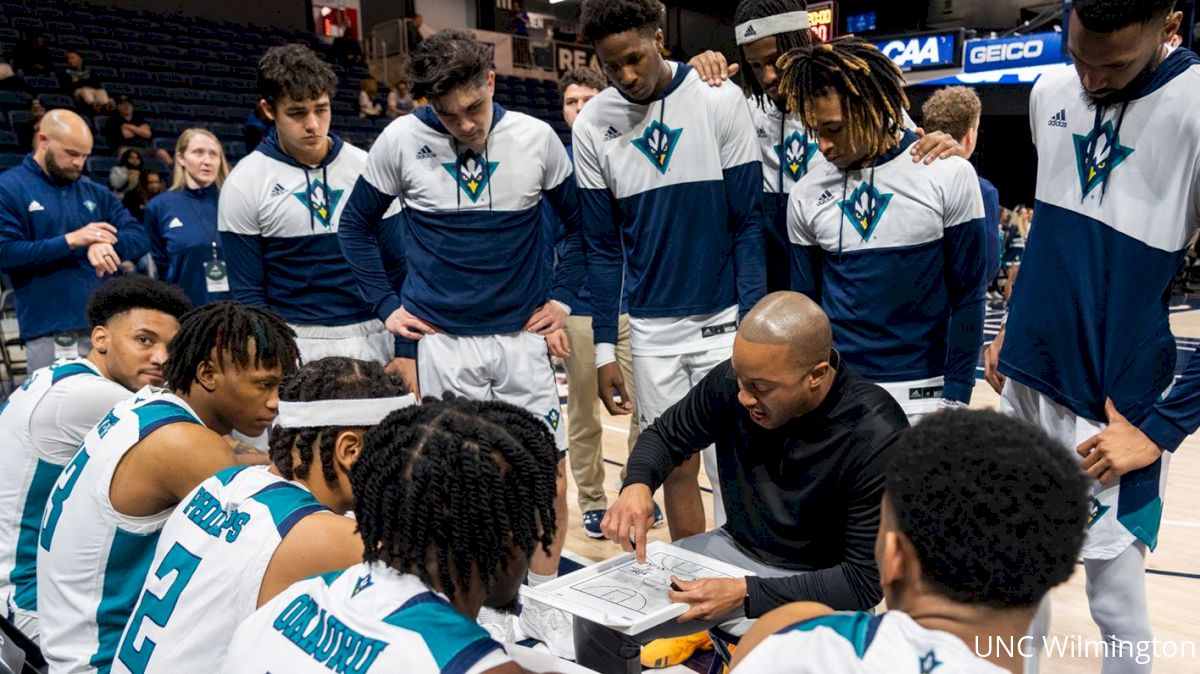 Comebacks are just what UNC Wilmington does. Nearly half of the Seahawks' 25 wins on the 2021-22 campaign—12 in total—were the culmination of rallies from down 10 points or more.
None before it were more dramatic than the 12th, a College Basketball Invitational quarterfinal win over top-seeded Drake.
UNCW's comeback from down 22 points wasn't just the most improbable rally of the Seahawks' wholly odds-defying season—it was also one of the least likely anywhere in college basketball this year. According to KenPom.com, it was the 11th least likely win this season based on win probability.
And UNCW wasn't the only team to come from behind in Monday's CBI quarterfinals at the Ocean Center.
No. 9 UNC Wilmington 76, No. 1 Drake 75
Tremell Murphy's free throw with 18:04 remaining pushed what had been a Drake lead from the jump to 22 points. Then, Shykeim Phillips and Mike Okauru went to work.
The duo combined for 25 points in the second half—Phillips with 14 of his game-high 24, Okauru with 11 of his 13—to lead the frenetic rally.
UNCW put up 52 points after intermission on a blistering 18-of-32 shooting from the floor, including 5-of-10 from 3-point range. The Seahawks' final two points came courtesy of Jaylen Sims, who endured a muted scoring performance by his own lofty standards with 11 points.
Few are better in crunch time when buckets matter the most—and there's data to back that up.
With this, Jaylen Sims (@jaylen_sims) moves onto the leaderboard of Lead Changing shots under 10 seconds left with 3. And into 2nd on Game Winners under 10 seconds left with 3 aswell https://t.co/RE3jUB55gm

— NCAA Buzzer Beaters & Pain (@NCAABuzzerBters) March 21, 2022
UNCW's thrilling season continues into Tuesday's semifinals, where, for the first time in this CBI, the Seahawks will be the higher seed.
No. 12 Northern Colorado 87, No. 13 UNC Asheville 84
Northern Colorado's win in Monday's second quarterfinal wasn't quite by the same margin of comeback as UNCW's win, but the Bears rallied from down seven in the second half of a fast-paced, entertaining game.
Daylen Kountz once again showed off his uncanny scoring pop with a game-high 29 points, including the final two that put the game out of reach for UNC Asheville. But the Big Sky Conference's leading scorer had plenty of help in Northern Colorado moving onto the semifinals.
Dru Kuxhausen hit a crucial 3-pointer with 4:12 remaining on a Kountz assist, and Dalton Knecht and Matt Johnson scored in the paint on consecutive possessions to give the Bears a lead for the final three minutes.
Kur Jongkuch delivered the KO shot, showing off his ball-handling ability on a beautiful breakaway dunk, initiated off Johnson's outlet pass.
Semifinals bound! #GetUpGreeley 🐻🏀🔥 pic.twitter.com/MkZEx3DYR1

— UNC Men's Basketball (@UNC_BearsMBB) March 21, 2022
Drew Pember went for a double-double of 24 points and 10 rebounds for UNCA, while LJ Thorpe scored another 24 points in the loss.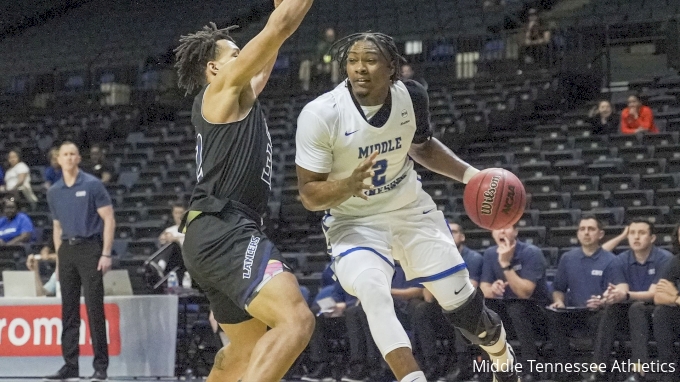 No. 2 MTSU 76, No. 10 Boston University 46
After a couple of thrillers to open the quarterfinal round, Middle Tennessee needed no dramatics to advance to the semifinals. Seven Blue Raiders scored between six and 14 points, and on the other end of the floor, MTSU allowed just 17 field goals made in a blowout win.
Teafale Lenard paced the Blue Raiders' balanced effort with 14 points, including 3-of-5 shooting from deep—a line that Elias King matched off the bench. King's three 3-pointers were part of a 12-point outing in just 14 minutes of action.
Lenard was also central to the outstanding defensive showing with four blocked shots and a pair of steals.
SWAT TEAM

📺 - @FloHoops (https://t.co/cPYuphc68Z)#MT ✘ @TeafaleJ pic.twitter.com/LcdvEzP9cy

— MT Basketball (@MT_MBB) March 21, 2022
No. 6 Abilene Christian 91, No. 3 Ohio 85
Despite 37 points from Mark Sears, hero of Ohio's opening-round win over Rice, Abilene Christian advanced to the CBI semifinals in a shootout.
The Wildcats and Bobcats combined for 112 second-half points, with each hitting 17 field goals. Ohio went 17-of-30 from the floor, and ACU finished a remarkable 17-of-24.
Coryon Mason scored 11 of his team-high 20 points in the wild second half, combining with Airion Simmons and his 10 second-half points (18 overall) to keep the Wildcats on pace with Sears. He went for 24 after intermission, keeping Ohio within striking distance of a game ACU led throughout.
The Wildcats built a cushion of nine points in the second half, but Ohio battled to keep the deficit within single digits. Any time the Bobcats made a push to pull the gap to one possession, ACU responded with key buckets.
.@lif3Airion finds @SniiperJones10 for the and-1!

🎥https://t.co/NtggnM2KfU#GoWildcats | #NewJourneySameGoal pic.twitter.com/7iJHQUdzLT

— ACU Men's Basketball (@ACU_MBB) March 22, 2022
Abilene Christian faces Middle Tennessee in Tuesday's semifinal, looking to make it two championship-game trips in 2022. The Wildcats reached the finals of the Western Athletic Conference Tournament in their first season as members of the league.