2022 Roman College Basketball Invitational
Expectation-Defying UNCW, MT Advance To CBI Finals
Expectation-Defying UNCW, MT Advance To CBI Finals
UNCW and Middle Tennessee earned their opportunities at postseason glory against most expectations. They each took the final step with emphatic wins.
Mar 23, 2022
by Kyle Kensing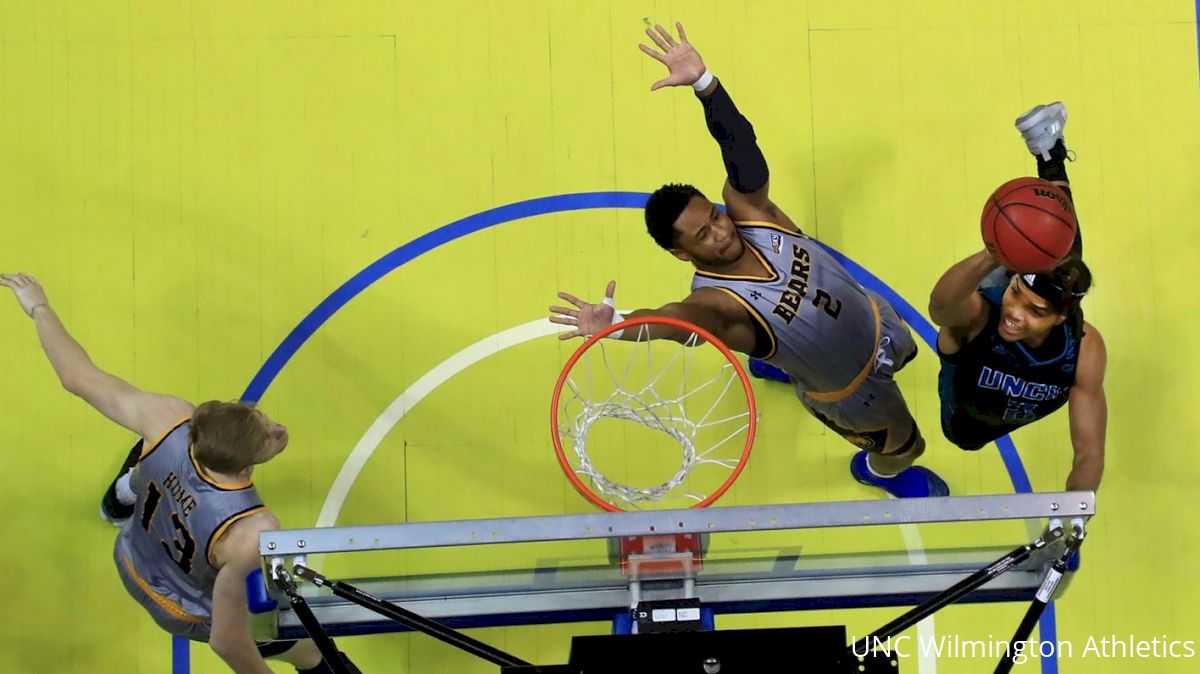 The championship round of the 2022 College Basketball Invitational is set.
Through three rounds and four days in Daytona Beach, UNC Wilmington and Middle Tennessee emerged from their sides of the bracket. The Ocean Center could not host a more worthy pair of teams.
UNCW's run to the CBI championship game caps a turnaround season in the program's second year under coach Takayo Siddle. The Seahawks—coming off a last-place finish in the Colonial Athletic Association a season ago and picked ninth in the league's preseason poll—won a share of the CAA regular-season title.
Behind the stellar trio of Jaylen Sims, Mike Okauru and Shykeim Phillips, UNCW established a program-record winning streak and reached the Colonial title game.
Middle Tennessee reaches the final stop on a similarly surprising journey. The Blue Raiders finished in the cellar of Conference USA during the COVID-shortened 2020-21 season, and were picked last in the preseason C-USA poll.
All Nick McDevitt's squad did was win Conference USA's East division, give NCAA Tournament teams like Murray State and Chattanooga all they could handle in the non-conference slate, and fall only a three-overtime decision short of playing for the C-USA crown.
Both UNCW and Middle Tennessee earned their opportunities at postseason glory against most expectations. They each took the final step with emphatic wins in the CBI semifinals.
No. 9 UNC Wilmington 80, No. 12 Northern Colorado 64
UNCW's season has been punctuated with repeated come-from-behind wins. But when roles were reversed and a double-digit-point halftime lead for the Seahawks fell to six points in the second half, they knew how to respond.
Dalton Knecht sandwiched a 3-pointer between Matt Johnson's barrage of three triples midway through the second half, and a Northern Colorado bunch, who showed off explosive scoring ability through its first two CBI wins, slashed a 55-41 deficit to 59-53.
Over the ensuing 9:37, the Seahawks outscored the Bears 21-11. The veteran leader Sims unsurprisingly ignited the response when he scored a putback off his own miss, then on the ensuing Northern Colorado possession, stripped the ball from Knecht.
Six quick points immediately doubled the UNCW lead, and the gap never dipped nine the rest of the way.
Sims led five Seahawks scoring in double-figures with 17 points. Phillips added 13 points and grabbed six boards, matching Okauru for a team-high. And, with contributions indicative of the bright future UNCW has before it, youngsters Jamarii Thomas and Jamahri Harvey scored 10 and 15 points.
Along with its balanced offense, UNCW can credit its semifinal win to defensive intensity. The Seahawks locked up Northern Colorado scoring machine Daylen Kountz, holding him to 5-of-13 shooting from the floor.
"We knew they wanted to shoot a lot of threes and knew they had a dynamic player at the guard position, so we wanted to bother him and be there on the catch," Siddle said in his postgame press conference.
"Our defense is what gave us energy and got our offense going."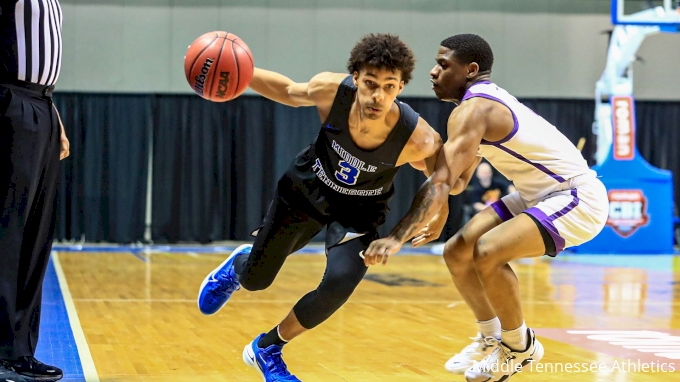 No. 2 Middle Tennessee 85, No. 6 Abilene Christian 69
Abilene Christian could not miss to open Tuesday's second semifinal at the Ocean Center. The Wildcats poured in 46 points by intermission, shooting 57.1 percent from the floor and 63.6 percent from beyond the 3-point arc.
Cameron Steele's 4-of-5 from long range paced ACU, and gave him 16 points at halftime. But in the second half, Middle Tennessee flipped a switch.
The Blue Raiders gave up just four made field goals the entire second half and just one more made 3-pointer. Their inspired defense turned into offensive opportunities.
Air @EliLawrence_12 😮

📺 - ESPN2#BlueRaiders ✘ #SCtop10 pic.twitter.com/o3GPzw2pJB

— MT Basketball (@MT_MBB) March 23, 2022
Six Middle Tennessee players scored at least six points in the second half, led by Elias King with nine of his 10 points. Eli Lawrence and Donovan Sims each scored 17 points for the Blue Raiders, and Sims dished five assists.
Among Sims' dimes was a perfect alley-oop on a baseline out-of-bounds play early after the break. The lob to Teafale Lenard accounted for the first two points in a game-changing, 17-4 MT run.