2022 Roman College Basketball Invitational
CBI Championship Thriller Puts Fitting Bow On Remarkable UNCW Season
CBI Championship Thriller Puts Fitting Bow On Remarkable UNCW Season
The Seahawks completed their championship campaign with a dramatic comeback in Wednesday's 96-90 title match against Middle Tennessee in Daytona Beach.
Mar 24, 2022
by Kyle Kensing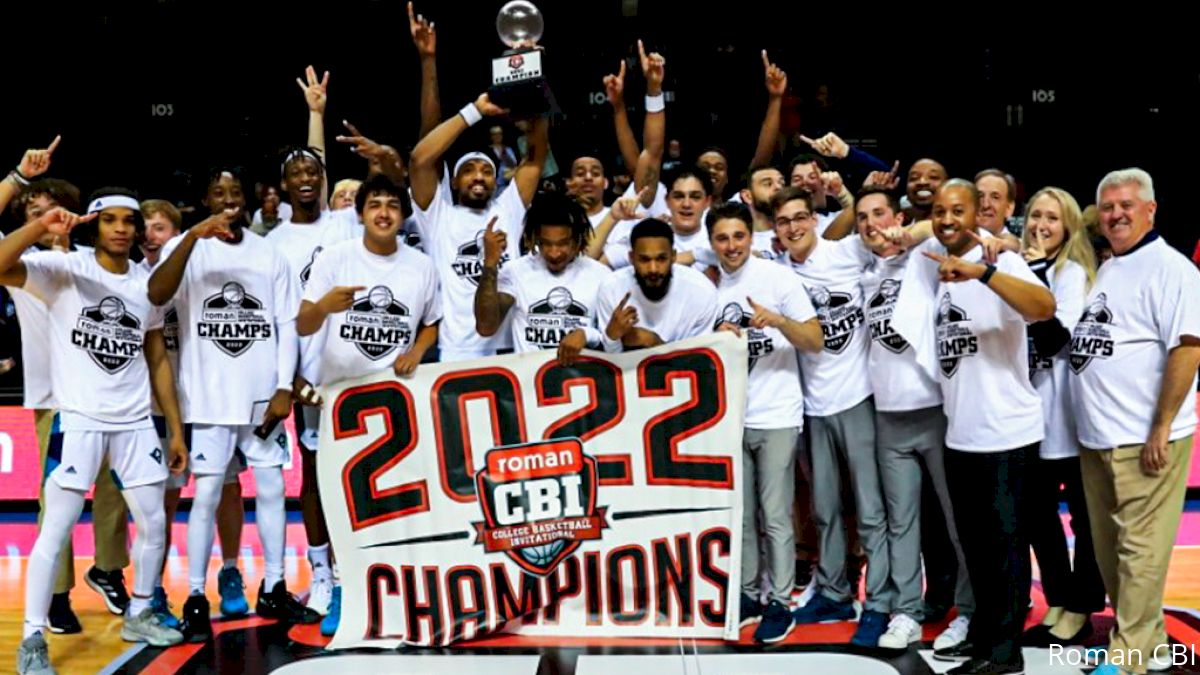 College basketball's most remarkable season-to-season turnaround ended with UNC Wilmington as champion of the 2022 College Basketball Invitational.
And it's only right the Seahawks completed their championship campaign with a dramatic comeback in Wednesday's 96-90 title match against Middle Tennessee in Daytona Beach.
Teafale Lenard's basket with 12:33 remaining gave Middle Tennessee a 50-39 lead. Nearly three-quarters of the way through the CBI Championship, the UNCW offense was struggling and MTSU was hitting its groove.
But as they proved repeatedly on the way to a share of the Colonial Athletic Association regular-season title—and again in a CBI quarterfinal defeat of Drake—falling behind by double-digits is when the Seahawks do their best work.
Veterans Mike Okauru and Jaylen Sims combined for five quick points, then Amari Kelly added a dunk. In less than three minutes, the 11-point deficit dropped to four to set the scene for an intense finish.
Even if that finish required an extra 10 minutes.
MTSU maintained its lead down the stretch, answering any time UNCW pulled to within a single possession. That continued into the final minute.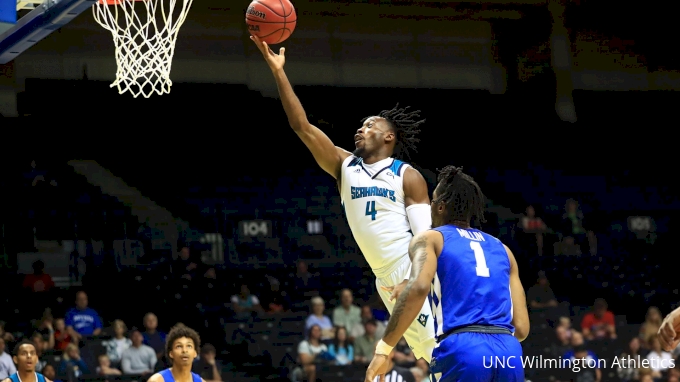 Jaylen Fornes got open cutting along the baseline, received a pass, and turned to fire a jumper. If Fornes wore shoes a half-size smaller, the bucket would have been a 3-pointer. His next attempt left no doubt, but Fornes' five quick points still left the Seahawks trailing by one.
Donovan Sims splitting his free throws on the other end opened the door for UNCW to force overtime, and the Seahawks' Sims continued the clutch play that defined him as the team's leader throughout 2021-22 with a pair of game-tying foul shots.
Sims scored 28 points, 14 of which came in the second half and another four in overtime before he fouled out.
UNCW also lost James Baker Jr. and Shykeim Phillips to disqualification. With Fornes dropping 19 points and Okauru taking over in the extra frames, the Seahawks weathered the foul-outs.
Okauru matched Sims' game-high with 28 points, 11 in the two overtimes. Okauru also pulled down what proved to be the victory-sealing rebound.
"For our older guys to go out as champions, and get some more exposure as they get ready to turn pro, I thought [the CBI] was huge," UNCW coach Takayo Siddle said in his postgame press conference.
Sims, Okauru and Fornes—all seniors—shined in their farewell outing. The future of Seahawks basketball also showed promise in sealing the CBI championship.
Siddle praised the underclassmen—players like Jamarii Thomas and Jamahri Harvey—for giving UNCW quality minutes. The CBI promises to be a building block for the program in 2022-23.
"It does wonders for our program," Siddle said.
"It gives us a lot of momentum going into the offseason. Hopefully, it helps us in recruiting, as well. But it's nothing but positives that came out of it."
Your champs. @uncwmenshoops pic.twitter.com/ac69vZl3Vf

— The CBI (@CBITourney) March 24, 2022
Although it fell short in an instant classic championship game, Middle Tennessee closed 2021-22 with 26 wins and a Conference USA divisional title after being picked to finish last in the league before the season.
The Blue Raiders' Sims scored a team-high 27 points and grabbed eight rebounds in the loss, while DeAndre Dishman shot 7-of-10 from the floor to finish with 17 points.
The dueling clutch buckets Donovan Sims and Jaylen Sims had going at one point could have been a game of H-O-R-S-E in the vein of the old Michael Jordan and Larry Bird McDonald's commercials.
DONOVAN SIMS SENDS US TO 2OT

📺 - ESPN2 pic.twitter.com/3Ngh1ONohv

— MT Basketball (@MT_MBB) March 23, 2022
At one point in overtime, the broadcast crew wondered aloud if the championship could be split. The Blue Raiders and Seahawks came about as close to a stalemate as possible with a victor still emerging.