2022 Arkansas Men's Basketball Foreign Tour - Barcelona
Highly Anticipated Arkansas Season Begins In Europe
Highly Anticipated Arkansas Season Begins In Europe
Arkansas men's basketball begins a significant season in Europe, playing against tough competition that should help the team kickstart its campaign.
Aug 1, 2022
by Kyle Kensing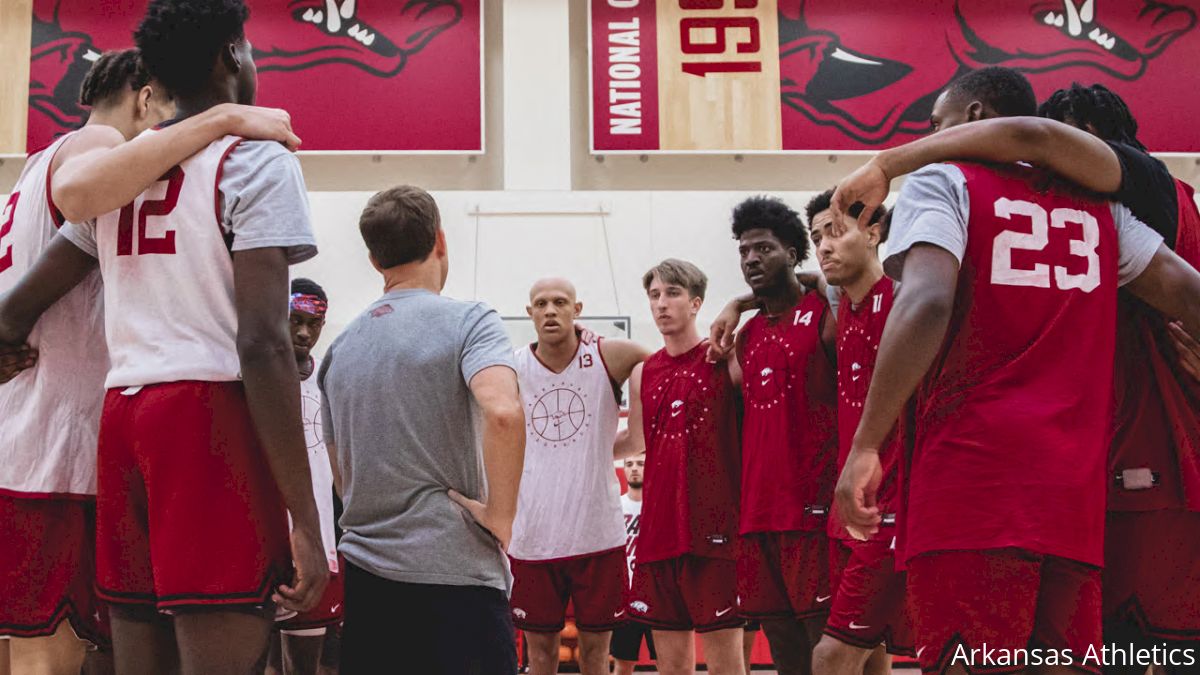 What's perhaps the most highly anticipated Arkansas Razorbacks season since the height of the Nolan Richardson era begins with a tour through Europe.
Arkansas tips off its weeklong excursion through Spain and Italy on Aug. 9 against Valencia. The Razorbacks continue action Aug. 11 vs. Barcelona, then wrap up Aug. 13 and 15 in Lake Como, Italy.
"I've been a part of a couple of these [foreign tours], one with Arizona State when we went to China and then at Nevada we went to Costa Rica," said Arkansas coach Eric Musselman during his summer press conference.
"There were some players [who] really struggled at Nevada. Kendall Stephens in particular couldn't make a 3-point shot.
"We got to the regular season," Musselman continued, "and he breaks Jimmer Fredette's all-time 3-point record in conference."
Costa Rica wasn't just a building block for Stephens. The 2017 foreign tour was a prelude to the Wolf Pack's run to the Sweet 16 in the 2018 NCAA Tournament. Nevada had not played that deep into March Madness since 2004, and the Pack fell a point shy against Cinderella Loyola from reaching their first-ever Elite Eight.
Advancing to the Elite Eight has become downright routine for Arkansas in Musselman's tenure.
Last year's run to the West Regional final, made possible with a dominant Sweet 16 win over No. 1-ranked Gonzaga, marked the program's first back-to-back finishes among the top eight since 1994 and 1995.
Those "40 Minutes of Hell" Hogs reached consecutive National Championship Games and won the 1994 crown, in the process making legends of names like Corliss Williamson, Scotty Thurman, Corey Beck and Clint McDaniel.
The 2022-23 Razorbacks will look for the program's first Final Four since those historic teams, boasting one of the nation's most talented rosters. Arkansas is almost entirely new-look compared to a season ago, with Davonte Davis as the lone holdover from the leading contributors, and that's what makes this European tour important.
"It's good for everybody to get some chemistry on the floor," Musselman said. And while a roster of 11 newcomers "tried to do a lot of stuff bonding-wise in a short time" in the summer, the coming week-plus will go a long way toward establishing familiarity among the group.
The reformed roster includes transfers Jalen Graham, a 6-foot-9 forward who averaged almost 10 points and five rebounds per game last season at Arizona State; Makhel and Makhi Mitchell, the twin-brother big men who led Rhode Island in both scoring and rebounding in 2021-22; and versatile Ricky Council IV, a 12-point per game scorer at Wichita State.
In addition, Arkansas welcomes the nation's No. 2-ranked recruiting class per 247Sports.com, featuring a trio of 5-star prospects: Anthony Black, Nick Smith and Jordan Walsh.
H🏀🏀PER

What do y'all think we'll see from @ntsmith1402 this season? pic.twitter.com/Bw1No0aJEc

— Arkansas Razorback Men's Basketball 🐗 (@RazorbackMBB) August 1, 2022
"The biggest change is in practice, the physicality," Black said at a July 28 press conference when describing the transition from the prep game.
"All the freshmen, we're used to it now. So we're playing more physical. We're taking bumps…a lot better."
Facing international competition promises to take that lesson in physicality a step further. Arkansas draws clubs with reputations for physical play in the European leagues.