CAA Men's Basketball
Charleston Men's Basketball Preview: Cougars Look For Another Step Forward
Charleston Men's Basketball Preview: Cougars Look For Another Step Forward
Under a new coach and with many new faces on the roster, the Charleston Cougars were competitive throughout their last season, but a bit inconsistent.
Sep 14, 2022
by Briar Napier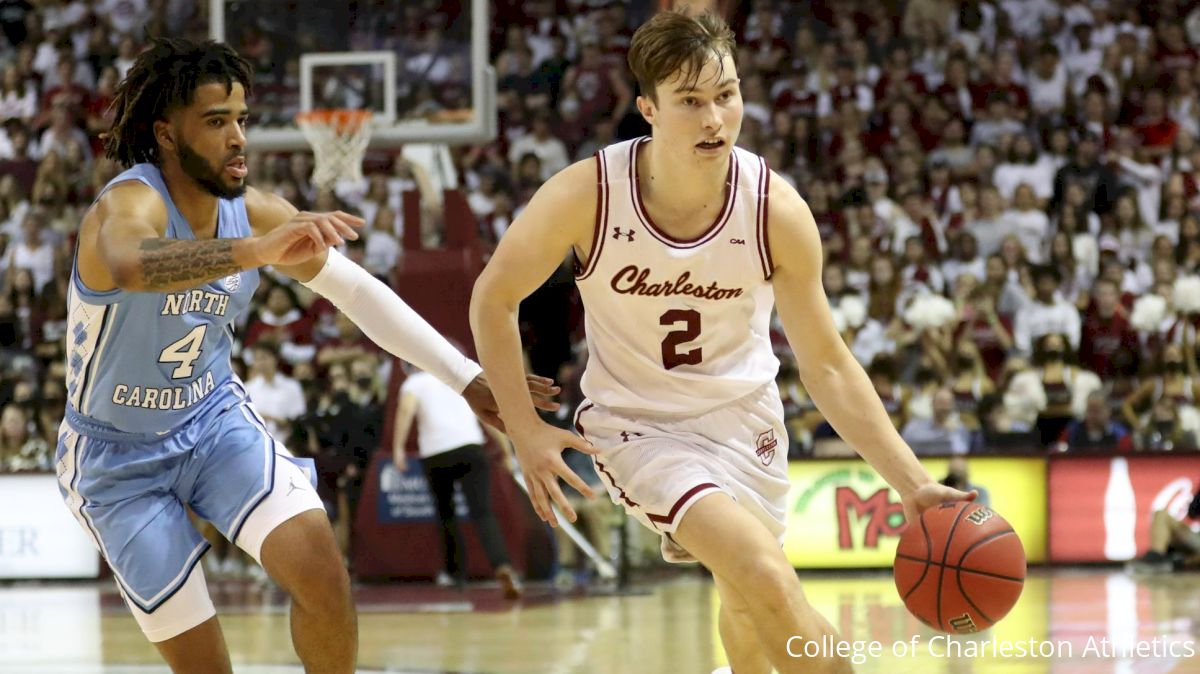 It was a year of adjustment for Charleston men's basketball, but also a key step forward.
Under a new coach and with many new faces on the roster, the Cougars were competitive throughout their last season, but a bit inconsistent. Exciting offense and good habits were countered with some chemistry and gelling issues potentially related to all of the turnover within the program.
Mark your calendar 🗓 The Cougs are coming 😤#OurCity 🏀🌴 pic.twitter.com/muxGrviDpv

— Charleston Basketball (@CofCBasketball) September 9, 2022
With the first-year jitters hopefully shaken off, perhaps C of C could make a deep run in the 2022-2023 that could take it to epic moments, up to and including, its second NCAA Tournament appearance since the turn of the century.
What is there to look out for with Charleston men's basketball this season? Below is a look into what the Cougars will bring to the table, as FloHoops previews every team in the league.
2021 Season Review
The Pat Kelsey era got off to a strong start, with the former Winthrop coach, who took the Eagles to three NCAA Tournaments in nine years, finished with a 17-15 record. The success came despite the program returning almost no players from the 2020-2021 team, which was led by former coach Earl Grant, who left to take the head job at Boston College.
Kelsey immediately instituted the breakneck pace of play that helped take Winthrop to great heights during his time there, with the Cougars putting up at least 80 points in 15 games and at least 90 in four.
Still, there were plenty of growing pains in the new system. Charleston scored (78.2) points and allowed 76.4, the most points per game in the CAA last season, using more of an "all-or-nothing" style, rather than the fast-yet-controlled team Kelsey devised at Winthrop.
It still was an encouraging first year in a new coaching era and should have C of C set for a potential breakout year.
Bucknell grad transfer and forward John Meeks (14.1 points, 4.7 rebounds per game) adjusted well to his new league and earned himself a spot on the All-CAA second team, while Division III transfer Dimitrius Underwood wasn't fazed by the jump in competition, doing double duty on both the All-CAA third team and All-Defensive team with a league-high 2.1 steals per game.
On The Court
If you compare Charleston's game film between 2020-2021 and 2021-2022, the two teams you'll see look nearly unrecognizable. That's not just because Grant's departure and Kelsey's hiring resulted in a mass player exodus, but also because the two coaches have about as massive of a difference of offensive styles as you can get.
First Night Charleston was a hit! 🔥 😤 Let's go Cougs! #OurCity 🏀🌴 pic.twitter.com/Gcfxic4iha

— Charleston Basketball (@CofCBasketball) August 21, 2022
Grant's teams were methodical and opted to find the open shot over something quick, averaging 63.5 possessions per game during the 2020-2021 season - one of the lowest totals of any team in the country - while having a 3-pointer-heavy philosophy that worked to the Cougars advantage as elite deep threats (38.2%, 11th in the country).
In the first year of the Kelsey offense, however, things changed dramatically.
C of C averaged a whole 10 more possessions (73.5, the second-most per game of any team in the country) from the year prior and took 36.9% of its shots at the rim, an 8.1% jump from the previous year, according to college basketball analytics site Hoop Math.
Sure, the faster pace also meant more miscues. The Cougars either turned it over or had a shot blocked on a massive 33.6% of possessions, but Charleston also was elite on the glass to counteract that, averaging 40.3 boards per game to rank over four rebounds ahead of the rest of the CAA.
The Cougars' defense was a bit sloppy at times and very, very foul-prone (20.6 per game, fourth-most in America), but Kelsey's best teams at Winthrop did well to create turnovers and at least keep opponents away from catching his electric offenses. Expect some growth to come on the defensive end with that in mind.
Key Returner
Reyne Smith, G, Soph., Ulverstone, Australia (12.1 points, 2.3 rebounds, 92.9% free throw percentage)
Charleston needed to have a hit in its backcourt, after All-CAA guard Zep Jasper transferred to Auburn, becoming a starter on what was the nation's No. 1 team last season at one point, and it got it through an awesome Aussie.
Smith was dynamite as a freshman in Kelsey's rapid offense, earning the starting role at two-guard early in the season and defining himself a role as a feared sharpshooter in the process. His 90 triples a year ago led the CAA and were the most hit in a single season by a freshman in school history.
His stellar year became even more impressive when taking into account that in the past three decades of Charleston basketball, only former NBA Draft picks Andrew Goudelock and Grant Riller had more points as a freshman than Smith's 386.
His near-automatic percentage at the charity stripe also ranked fifth in the country and tops among freshmen, with the move to the United States clearly not phasing the 6-foot-2 guard.
Smith didn't take many shots other than 3-pointers, however, while his poor assist totals (1.4 per game) for his position made him a bit of a predictable, yet simultaneously hard to stop, player his freshman year.
That could be a bit of a cause for concern with both Underwood and Brenden Tucker gone from the guard rotation, leaving Smith to potentially handle more responsibility to create offense, but no one can deny that he'll be a feared presence around the 3-point arc for years to come in the CAA.
Key Addition
Jaylon Scott, G, Gr., Allen, Texas (19.2 points, 11.5 rebounds at NAIA Bethel College)
Nabbing an effective two-way player from the transfer portal who played below the D-I level worked well for Kelsey, as Underwood proved to be a key piece of Charleston's product on the floor.
So, why not do it again?
Listen in to a Day in the Life of graduate transfers and MBA Students @JaylonScott9 & @ryanlarson_11 ! 📚 🏀 💪 #OurCity 🏀🌴 pic.twitter.com/HTOpt6l6Qp

— Charleston Basketball (@CofCBasketball) September 2, 2022
Scott was a monster for four years at the NAIA level, being named a two-time conference player of the year and three-time defensive player of the year at Kansas' Bethel College and being named a finalist for the 2022 NAIA National Player of the Year in the process.
The 6-foot-5 guard also was a menace guarding the ball, averaging 2.6 steals per game, while having four games of five steals or more, proving to be an elite ball-hawk who should fit snugly into the Cougars' rotation right away.
The one burning question, as it always seems to be with transfers like Scott, is how quickly can he adjust to the sudden leap in quality?
Though the NAIA undoubtedly produces great players who become contributors within and beyond the Division I level, not all of the studs who choose to move up to that level pan out.
Considering that Scott's talent isn't just a flash in the pan and has been sustained for a while now as a two-time NAIA first-team All-American, that does put him at an advantage to adjust to Charleston's tempo and the talent of the Division I game immediately.
Game To Watch: Charleston Vs. Delaware, Jan. 7
Every team in the CAA will want a piece of the Blue Hens this year, yes. They are the defending conference tournament champions and are sure to have a target on their backs all season long with redshirt junior Jameer Nelson Jr. - the son of the former Saint Joseph's and NBA star of the same name - running the show at point guard.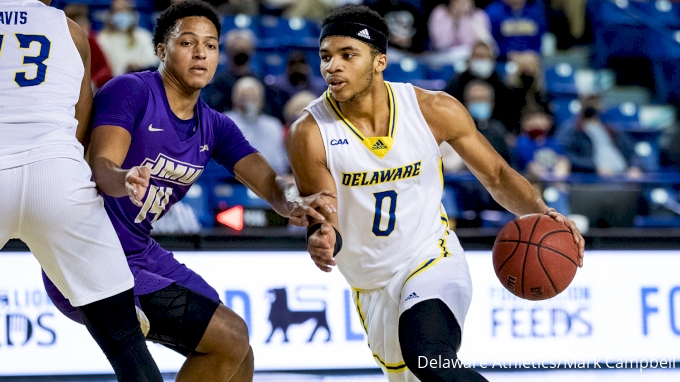 But Delaware and Charleston games were must-watch TV during the 2021 campaign, and it's reasonable to assume both teams got even better during the offseason.
UD got the better of C of C in a wild 67-66 win in the first meeting in Charleston, but the 99-96 Cougars victory in the rematch later in the year in Newark was arguably even better, as Delaware nearly stormed back from a 20-point second-half deficit. The teams combined for a ridiculous 73 points in the final 10 minutes.
Delaware didn't play an opponent closer over two meetings all season, and with the Blue Hens looking to be a rising mid-major power under coach Martin Ingelsby, the first meeting of two this season could get spicy.