CAA Women's Basketball
New Towson Coach Laura Harper Looks To Continue Winning Tradition
New Towson Coach Laura Harper Looks To Continue Winning Tradition
While the Towson Tigers lost some key pieces from last season, new head coach Laura Harper still has a solid nucleus of returning players.
Sep 23, 2022
by Stephen Kerr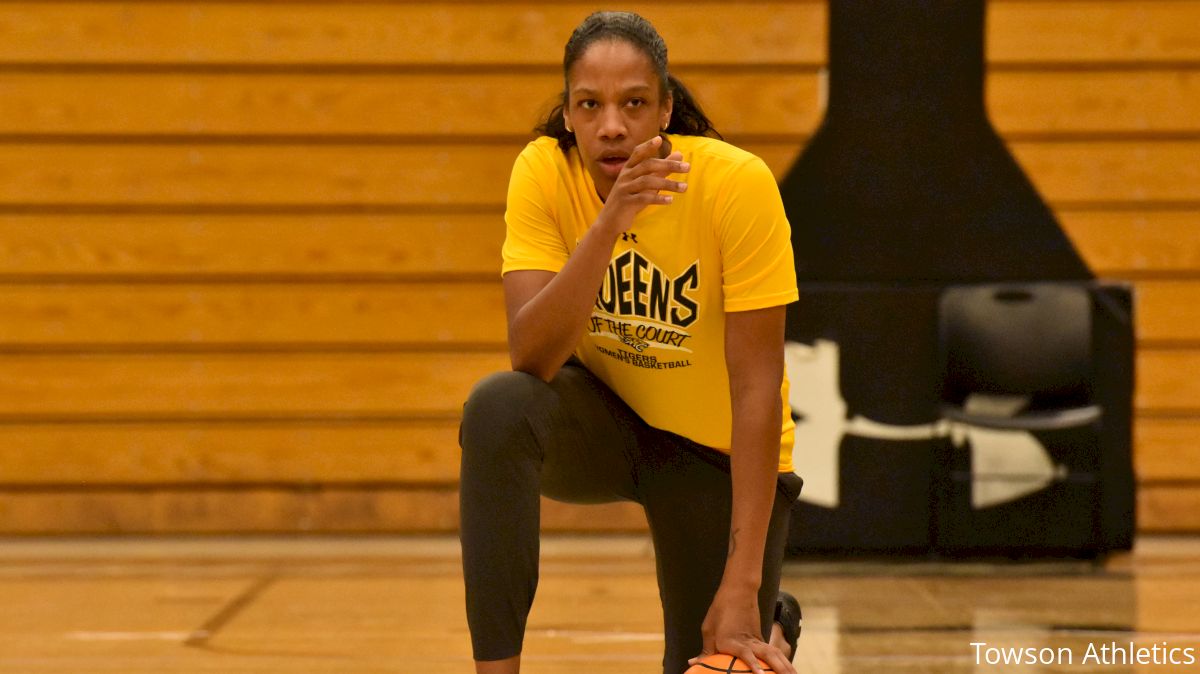 Last April, Laura Harper was looking forward to some downtime. She had just completed one of the greatest team turnarounds in the country as the head coach at Coppin State, and it was time for some rest and relaxation.
Harper's birthday was coming up, and she had planned an exciting trip out of the country with some girlfriends. But, as often happens, plans changed.
Her flight got canceled, and she was unable to secure another. Her vacation plans had been derailed. Like most people, Harper was devastated.
She had spent over $4,000 for the trip and was looking forward to having a great time with friends. Fortunately, she has always been grounded in a strong faith, believing everything happens for a reason.
Sure enough, the day Harper was supposed to have left, she received a call from Towson Director of Athletics Steve Eigenbrot.
Harper had expressed interest in the women's head basketball coaching position that had just been vacated by Diane Richardson, who accepted a similar position at Temple. Eigenbrot called to start a discussion.
Man, this is wild, Harper thought. Maybe I shouldn't be on the vacation right now. This is so much more important.
Harper went through the selection process, which included a 14-hour interview, campus visit and dinner. The day after the interview, she was offered the job. By noon, she broke the news to her Coppin State players, and the official announcement was made an hour later.
"That was probably the hardest thing, navigating the timing, being able to talk to my current team, and just remaining professional and respectful of every party involved," recalled Harper, who helped Maryland to a national championship as a player in 2006.
Harper got to make that long-awaited trip in August, spending a few days of fun in Jamaica.
The weeks before, and since, have been quite a whirlwind, as she prepares for her first season with the Tigers, who finished 24-9, before falling to Old Dominion in the first round of the WNIT.
It was the program's first postseason berth since 2019 and first appearance in the WNIT since 1969.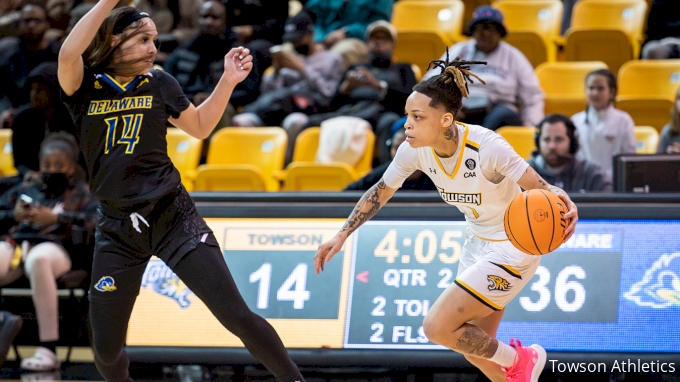 When Richardson took the job at Temple, it ended a five-year run at Towson that included two 20-win seasons, the team's first CAA championship and first NCAA Tournament appearance. The 24 wins during the 2021-2022 season was a program record.
"It's been a great five years," Richardson said after her departure was announced. "The success of the program is because of how the administration backs us up. Our student-athletes believed, and we accomplished some things that were really historic."
Harper was familiar with Richardson, who coached her for a year at Maryland. Richardson also had coaching stints at American University and George Washington, along with an assistant coaching position at West Virginia. She also coached at the high school level in Maryland, leading Riverdale Baptist High to five national championships.
"Coach Rich is like family to me," Harper said. "I have the utmost respect in everything she's done. She left the Towson program in an amazing place, and she had some high-caliber players that I am now afforded to coach."
In the four seasons prior to Harper's arrival at Coppin State, the Eagles went a combined 22-95.
In her second (and final) season, she led the program to a record six wins against Division I non-conference opponents, a six-game win streak midway through the season and its first winning campaign since 2013-2014.
Before Coppin, Harper worked as an assistant at five Division I schools, including Florida, George Washington, High Point, Loyola Maryland and a summer stint at American. She also spent a season as head coach at Montverde Academy, a top collegiate prep school in Florida, winning 18 games.
Maryland won the 2006 NCAA Women's National Championship during Harper's sophomore season. She was named the Final Four Most Outstanding Player after scoring a then career-best 24 points in the semifinal victory over North Carolina. She followed that performance with 16 points in the championship-clinching win against Duke.
For her career, Harper scored 1,407 points, grabbed 873 rebounds and set the school record with 198 blocks.
Harper credits Terrapins head coach Brenda Frese for being one of her greatest mentors. After it was announced Harper would be taking over the Towson program, Frese was quick to praise the choice.
"This is a home-run hire for Towson," Frese said following the announcement. "Laura is a rising star in our profession. All she does is win wherever she has been."
Following her collegiate career, Harper was the 10th overall pick of the Sacramento Monarchs in the 2008 WNBA Draft. She played two seasons, before spending the next three overseas playing in Italy, Turkey and Russia. Eight knee surgeries forced an end to her professional career, and she then turned to coaching.
"I came back to Maryland (after one of the surgeries) and was doing some rehab watching one of Brenda's teams," Harper recalled. "I was like, 'this is pretty cool. I think that I can give as much energy and passion to coaching that I want to in playing and not hurt myself'."
While the Tigers lost some key pieces from last season, Harper still has a solid nucleus of returning players.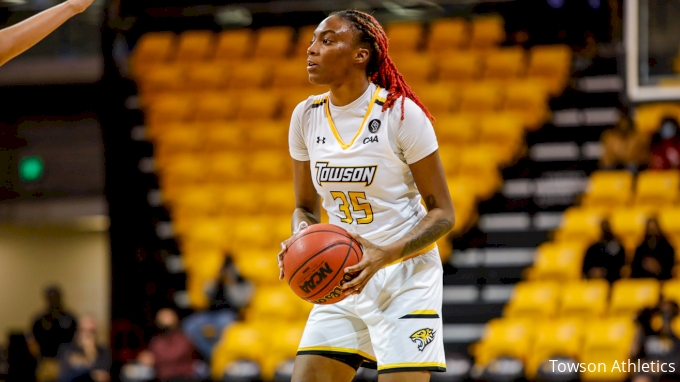 Guard Kylie Kornegay-Lucas averaged 8.3 points and 5.6 rebounds, earning the CAA Sixth Player of the Year Award.
Guard/forward Anissa Rivera was a CAA Preseason honorable mention, leading the Tigers with 7.1 rebounds per game and ranking third in points per game (10.3).
Skye Williams averaged 5.6 points and 2.5 boards in 32 games and four starts.
Guard/forward Ryann Evans scored 4.2 points and averaged 5.0 rebounds per game.
Among the new faces is Georgia transfer Alina Sendar, a 6-foot guard from Amsterdam, who played in eight games for the Bulldogs and represented the Netherlands at the FIBA European Championships in 2018, 2019 and 2022.
Freshman guard India Johnston, the 2021-2022 Delaware Girls Basketball Player of the Year, will be counted on to make an immediate impact.
Tiger fans can expect Harper's teams to play fast and hard, with multiple ball screen actions and a strong half court defense.
"We're starting to rev up the engine and make sure we can run out of the gate and flow into what we like," Harper explained. "We're going to defend and rebound. We have to if we want to be successful."
Some Photos from Our First Workout 🐯
# GohTigers x #UnitedWeRoar x #NCAAWBB pic.twitter.com/dsMCBJpeFy

— Towson Women's Basketball (@Towson_WBB) September 7, 2022
Towson will have a tough non-conference schedule, with five games against 2022 NCAA Tournament participants and three conference champions, in addition to CAA play.
The challenge of any coach starting with a new team is building a culture players want to buy into, while preserving a winning tradition. For Harper, it starts with player accountability.
"I've established a leadership committee," Harper said. "I think it allows ownership and accountability amongst the players. I can talk and preach all I want to, but if they're not bought in, and they haven't set the standards, it's a waste of time. Splitting the team up and making sure they have respect for coaches that are there for them... That's been really helpful for us."