2022 Miami (FL) vs DePaul - Women's
After Stellar Freshman Year, DePaul's Aneesah Morrow Not Resting On Laurels
After Stellar Freshman Year, DePaul's Aneesah Morrow Not Resting On Laurels
Sports became a welcome escape for Aneesah Morrow, who played for her mother from grade school through her time at Simeon High. Now, she's a star at DePaul.
Oct 11, 2022
by Stephen Kerr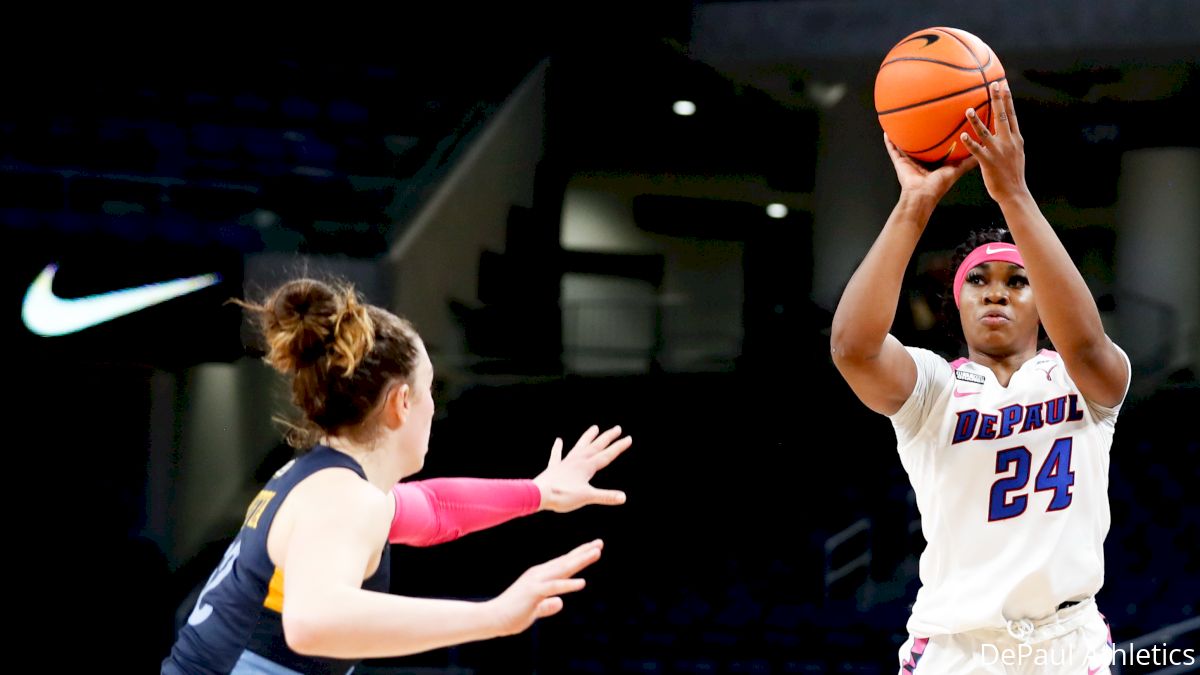 Webster's English Dictionary defines the word sophomore as 'a student in the second year of high school or college.'
It sounds obvious on the surface, but DePaul Blue Demons women's head basketball coach Doug Bruno takes the definition a step further.
Sophomore is a combination of the Greek words 'sophos,' which means clever or wise, and 'moros,' which means foolish.
Put together, a sophomore is, at least in Greek terms, a wise fool.
Bruno used this linguistics lesson on DePaul sophomore forward Aneesah Morrow as drills for the 2022-2023 season got underway.
"We talk to her every day about the Greek language," explained Bruno, a Chicago native who played under legendary DePaul coach Ray Meyer in the early 1970s and has guided the women's program to 18 NCAA Tournament appearances in over 35 years as head coach. "Every day, are you going to follow up last season? Are you going to be a wise fool?
"My approach with her is about her coming in here last year with something to prove. I ask, 'This year, you've already proven something. So how can you, in your head, your heart and your guts, come up with something to prove?'"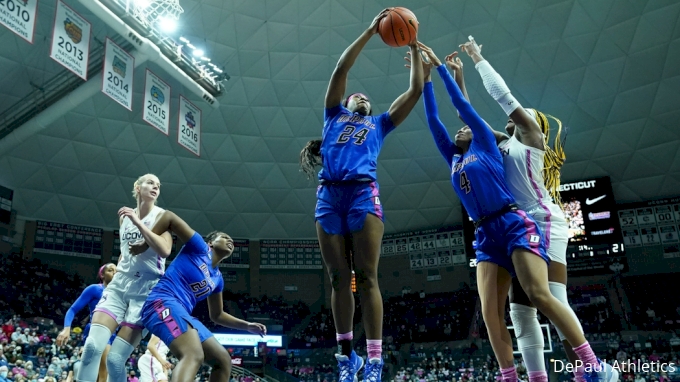 Bruno is wise to keep the success of his players in perspective. It's his job. While he finds it hard to rank Morrow's freshman season among the hundreds of athletes he's coached over the years, he doesn't gloss over her accomplishments, either.
"It was one of the greatest college seasons I've ever seen," Bruno said. "I love her approach, her competitiveness, I love how she comes to work every day and fights. I love the simplicity of her game, as long as she allows (herself) to keep it simple."
Bruno needn't worry about a lack of focus from the 6-foot-1 Morrow, a Chicago native who comes from strong athletic stock.
Her father, Edward, was a linebacker at the University of Nebraska, where he met Aneesah's mother, Nafeesah, an all-conference forward with the Cornhuskers.
Aneesah's brother, Ed, played at Nebraska and Marquette. Her older sister, Nazlah, starred at Miami Dade Junior College, before joining Aneesah in Lincoln Park, but had to sit out last season due to injury. Nazlah averaged 15.2 points and 13.2 rebounds per game as a sophomore at Miami Dade.
The Morrows lived in Chicago's 42 East during Aneesah's early years, before relocating to a safer neighborhood. Morrow remembers a time where she felt safe playing in the yard with cousins and friends, before the violence, drugs and gangs took control.
"There were a lot of things I shouldn't have seen when I was younger that I experienced," Morrow recalled. "I seen it all."
Sports became a welcome escape for Morrow, who played for her mother from grade school through her time at Simeon High School, where Nafeesah coached. While there was a high degree of expectation that usually comes from being part of an athletic family, Morrow's love for basketball was born out of her own inner desire.
"My (parents) never forced it on us," she said. "They just told us to go to school and do our best, go on the basketball court and give 110%. Every day, become a better person, and stay consistent."
Morrow led Simeon to a 35-2 record and the girls basketball program's first Class 3A state championship in 2020. As a senior, she averaged 28.4 points, 14.3 rebounds, 4.6 assists and nearly three steals per game. She was an All-State first-team selection by the Associated Press, Champaign News-Gazette and Illinois Basketball Coaches Association.
After eclipsing the 1,000-point mark as a junior, she was ranked as the No. 1 recruit in the state and 20th in the country by MaxPreps.
Gotta have a little fun when you're putting in the work 😁#DePaulBall x @AneesahMorrow24 pic.twitter.com/rS8w7Of5vM

— DePaul Women's Basketball (@DePaulWBBHoops) September 15, 2022
Having a mother as a coach came with the usual ups and downs, but Morrow credits her mom for always being supportive.
"We talk about it all the time," she said. "You kind of get frustrated because my mother is telling me what to do on the basketball court, then I have to listen to her at home and what to do about my grades. Eventually, she backed off and didn't give me as much criticism, because she didn't feel like I needed it."
When it came to choosing a college, Morrow knew she wanted to stay in the Chicago area. She watched many other players leave for major college programs in other states, but believed she could make a difference by staying local and considered DePaul the same high caliber as other schools. Her recruiting experience came during the height of the COVID-19 pandemic.
"A lot of coaches fell off, or they weren't as consistent," Morrow explained. "But Coach Bruno has been consistent since the day he recruited me."
Morrow started all 33 of the Blue Demons' games as a freshman, averaging 30.4 minutes per game. She wasted no time in making an impact, scoring 31 points and grabbing nine boards against Texas Southern in her debut.
She finished the season leading the team in scoring (21.9 ppg), rebounds (13.8), steals (89), and blocks (60). She led the nation in rebounds and offensive rebounds per game, and she was second in double-doubles with 27, including a nation-best streak of 23 in a row. Her career-high came in a victory over Creighton, when she scored 41 points and snared 18 rebounds.
DePaul finished 22-11 overall and 14-6 in the Big East, before falling to Dayton in the NCAA Tournament First Four game, 88-57. Morrow still managed to make her presence felt in that game, finishing with 28 points, 17 rebounds, four blocks and two steals.
The Associated Press, U.S. Basketball Writers Association, Sports Illustrated and the Athletic all voted Morrow to their All-American second teams. She received National Freshman of the Year honors from the USBWA, WBCA and the Athletic. She was named Big East Freshman of the Week a record 13 times and Conference Player of the Week three times.
The success Morrow had as a freshman came as a surprise even to her.
"I had to stay humble, collected, and continue to be better than the week before," Morrow said. "But going back, looking at my numbers and highlights, it's like, 'wow.'"
Even the best players can get better. Bruno would like to see her improve on defense, something Morrow worked on during the offseason.
"I've been working a lot on my guard skills because during the season, I was in the post a lot," Morrow explained. "I know I'm versatile, dominating and explosive. I wasn't able to display that last year, so that's something I've been working on."
.@DePaulDIBS is gearing up for Blue Madness 👀

See you on FRIDAY, Blue Demon Nation!#BlueGrit 🔵👿 pic.twitter.com/0O4z05oRXs

— DePaul Athletics (@DePaulAthletics) October 10, 2022
It's easy for players to live in their own worlds after instant success. Morrow wants to avoid that at all costs.
"I want to be a better leader," she said. "Even though I feel I was a good teammate, I want to be a great teammate this year and the best leader I can be, considering our team is going to be young."
It's all a part of life as a sophomore, or as Bruno puts it, being a wise fool.