2022 St. Joseph's (LI) vs Stony Brook - Men's
Stony Brook Men's Basketball: Seawolves Look To Make Mark In New League
Stony Brook Men's Basketball: Seawolves Look To Make Mark In New League
Stony Brook men's basketball has a chip on its shoulder. That could mean bad news for the rest of the CAA, as the Seawolves begin life in their new league.
Oct 11, 2022
by Briar Napier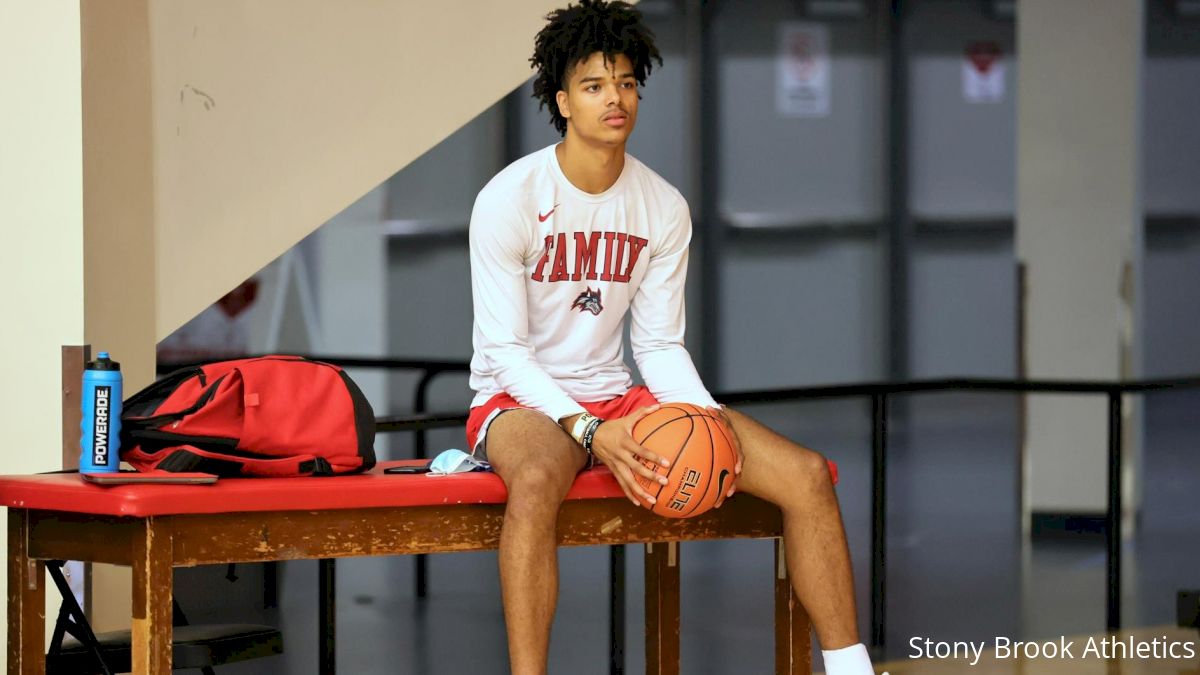 Stony Brook men's basketball has a chip on its shoulder.
That could mean bad news for the rest of the Colonial Athletic Association, as the Seawolves begin life in their new league this season.
Shut out of postseason play last year in controversial fashion (more on that below), Stony Brook is looking to make a triumphant return to the NCAA Tournament, possessing the pedigree and high hopes to do it. But the CAA is a brutal beast, and for a newcomer looking to make a mark in its first year, a jump to the top will not be easy.
There is a lot to like about the Seawolves this season. However, whether it results in silverware down the line is up to the program itself to find out through its play.
What is there to look out for with Stony Brook men's basketball this season?
Below is a look into what the Seawolves will bring to the table for the 2022-2023 season, as FloHoops previews every men's basketball team in the CAA.
2021 Season Review
A fairly consistent winning program since now-Rutgers coach Steve Pikiell took the Seawolves to five straight 20-win seasons and an NCAA Tournament in the 2015-2016 season, last year's campaign was encouraging at times for Stony Brook and coach Geno Ford, but perhaps fans of the program were seeking a bit more.
With a roster that featured 11 upperclassmen, the Seawolves went 18-13 overal,l with a winning record (10-8) for their final season in the America East. However, due to the league ruling the program ineligible for its postseason in February due to its status as a departing member, Stony Brook was shut out of any chance of competing for a spot in March Madness, despite the fact that it would've been the America East Tournament's No. 3 seed.
The move from the conference caused some uproar at the time, but despite protests, the America East stuck to its ruling and Stony Brook's season ended with a win over NJIT on March 1.
Guards Anthony Roberts (16.3 points per game) and Tykei Greene (14.0 points, 8.1 rebounds), one of the league's best tandems in the backcourt, each ended the year with All-America East second-team selections, and they likely would've been joined in postseason awards with guard Jahlil Jenkins (13.5 points), too, had he not missed the final seven games due to recovering from oral surgery.
On The Court
Ford has only officially been the head man for the Seawolves for the past three seasons, but the former Kent State and Bradley coach had been on Stony Brook's staff for a little while longer, serving as an assistant under former coach Jeff Boals, before he resigned to take the head job at Ohio in March 2019.
It'll be a uniquely new challenge for Ford in navigating his team through a new conference, however.
Stony Brook had been a member of the America East for over two decades, joining the league following its transition from Division II in the late 1990s.
Still, Ford had a style last season that often translates well to a foreign environment - low turnovers, few fouls and an efficient offense against league opposition.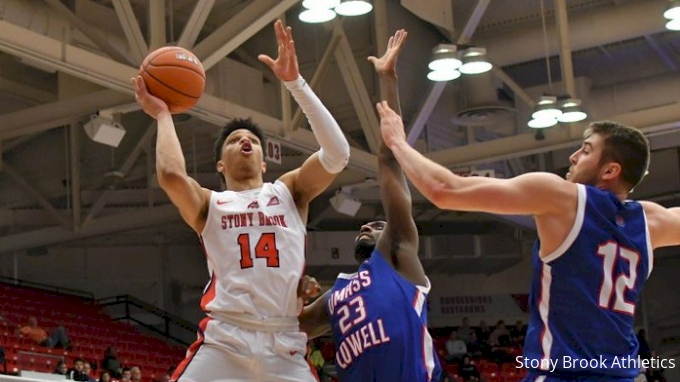 Stony Brook's opponents shot an average of less than 15 free throws per game last season, and considering that those same foes only shot a shade better than 68% from the line, the Seawolves finished as one of the nation's best teams when it came to limiting opportunities from the charity stripe.
Their turnover percentage in America East play of 15.1% (per KenPom) also ranked as the lowest in the league, whereas their 2-point percentage against conference foes of 50.3% ranked as the second highest.
The same could not be said, about Stony Brook's ability to guard those same shots, however.
Over the course of the entire year, the Seawolves allowed a 54.1% clip from opponents inside the 3-point line, a spotty interior defense that saw it torn apart inside by some of the league's best like Vermont, which beat Stony Brook twice by double digits, largely thanks to remarkable efficiency inside. That matter will need to improve for the Seawolves, if they wish to stay afloat in the CAA.
Key Returner
Frankie Policelli, F, Gr., New Hartford, New York
A player who found himself consistently starting in the Stony Brook lineup by the end of the season, Policelli likely will need to take more of a major role this time around as one of the program's lone returners from a year ago.
After sparingly playing his freshman year at Dayton and sitting out the 2019-2020 season due to NCAA transfer rules, Policelli found himself to be a double-figure a night scorer (10.7 points per game) in 2020-2021 who routinely gave the Seawolves good minutes down low.
💪 @frankpolicelli 💪

🌊🐺 x #CAAHoops pic.twitter.com/RHl8LpoHsO

— Stony Brook Men's Basketball (@StonyBrookMBB) October 5, 2022
The New Yorker took less of a chunk of the team's shots - a drop from 22.4 to 17.7% of the total attempts when he was on the floor between his two years there. In fact, last season as Stony Brook relied heavily on its guard play, with Policelli seeing a dip in his scoring averages to 7.7 per night in 2021-2022 as he played fewer minutes and, therefore, took less shots.
Now expected to be thrust in as one of the first names in the Seawolves' scorebook as the team's top returning scorer, how Policelli will handle what should be a revamped, possibly go-to scorer role, will be critical to Stony Brook's success in its first CAA season.
There are some hints that Policelli could be capable of the responsibility - he improved his 3-point percentage from 31.9 to 36.1% over the past two years, has been a career 82.7% free-throw shooter and ranked 11th in the America East last season in total rebounding percentage (10.3%) during his 24.7 minutes per game, showing he has some efficiency when he's on the floor.
Key Addition
Dean Noll, G, Gr., Medford, New Jersey
Ford and his coaching staff have a massive task ahead in replacing the amount of backcourt production the Seawolves lost, but bringing in quality, experienced transfers is a good way to start the rebuilding process.
Sacred Heart grad transfer Aaron Clarke, who was a third-team All-Northeast Conference selection who led the league in assists per game, could've easily been slotted into this spot, but the nod here goes to Noll for his potential for even more.
𝐖𝐄𝐋𝐂𝐎𝐌𝐄 𝐓𝐎 𝐓𝐇𝐄 𝐈𝐒𝐋𝐀𝐍𝐃, Dean!

📰 - https://t.co/IX9Nbxvsle

🌊🐺 x @DeanNoll2 pic.twitter.com/2a6vUOh0Wi

— Stony Brook Men's Basketball (@StonyBrookMBB) April 15, 2022
Whereas Clarke averaged double-digit scoring numbers per game for each of the past three seasons (including a career high 16 points per game in the 2021-2022 season), Noll found his footing later in the year in league play, leading the Big Red in points, rebounds and assists per night against Ivy League opposition, as the New Jersey native was named to the second-team All-Ivy for his efforts.
Cornell trusted Noll by placing him in the starting lineup for each of its final 13 games, after he had made just one collegiate start previously, and with so much gone at the guard spot for Stony Brook, it wouldn't be surprising to see Noll getting a big chunk of the minutes this time around for the Seawolves.
If he meshes with fellow newcomer Clarke early on, the duo could slide right in and do well to fill the void left behind by Roberts and Greene in the backcourt.
Game To Watch: Stony Brook Vs. Monmouth
Tri-State Area college basketball is steeped in tradition and history, and for the first time, Monmouth and Stony Brook - two schools situated in the heart of the region - will be doing battle this season as conference foes.
Like the Seawolves, the Hawks will be competing in the CAA for the first time, after moving from the Metro Atlantic Athletic Conference, where they won five regular-season conference championships, including three under current coach King Rice.
The Seawolves will make the trek to West Long Branch, New Jersey, through much of Long Island for their opening clash as CAA members, with the meeting coming early in the conference season as an opportunity for each program to feel itself out and give an idea of how much it'll be able to compete with the other league opponents.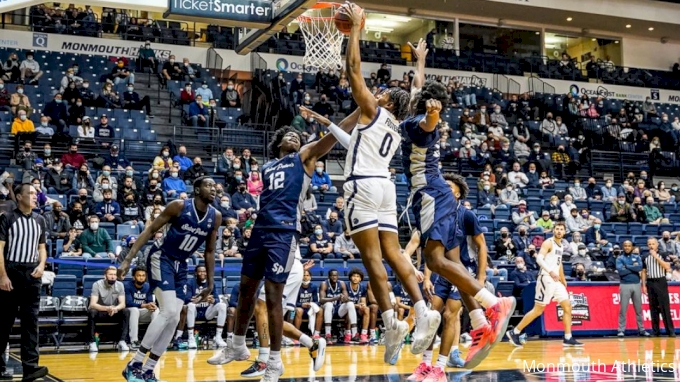 The Hawks lost all five starters from a team that was defeated in the MAAC Tournament title game - won by Saint Peter's, which went on to make a magical Elite Eight run - meaning Rice will have a team that still could be trying to gel by the turn of the year.
But with three straight winning seasons under his belt, it's likely the Hawks are going to come out ready to play and that the Seawolves must be prepared for what's to come.