2022 Marquette vs Georgetown - Women's
Georgetown Women's Basketball Preview: Young Hoyas Aim To Surprise
Georgetown Women's Basketball Preview: Young Hoyas Aim To Surprise
Georgetown finished the 2021-22 strong, but must replace key players to continue that momentum into the 2022-23 campaign.
Oct 13, 2022
by Ron Balaskovitz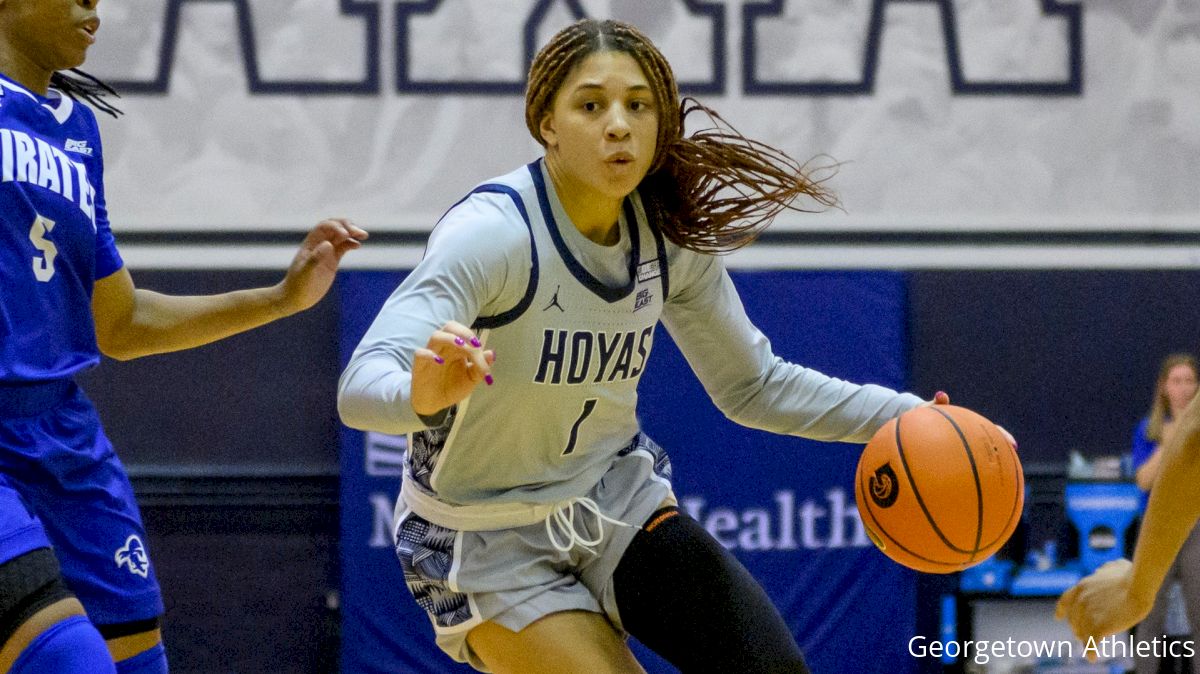 The BIG EAST proved to be tough sledding for the Georgetown Hoyas in 2021-22. Despite a strong nonconference showing, Georgetown struggled in conference play en route to a ninth-placed finish.
The Hoyas sputtered on the offensive end with a number of young players thrust into key roles early in their career. Despite that, the defense held its own. The experience gained from last year, coupled with promising play on D give reason for optimism heading into the Hoyas' 2022-23 campaign.
2021 Season Review
After a promising 6-4 mark in nonconference play, the Hoyas limped to the finish line in BIG EAST play, going 4-15 to finish the year with a mark of 10-19. The lingering effects of COVID-19 also disrupted Georgetown's momentum, with four consecutive games canceled over a stretch.
Despite the struggles and overall record, there were positives as the season wore on. After starting 2-15 in conference play, the Hoyas won three straight against BIG EAST foes, including a tournament game against Providence, before running into powerhouse UConn.
First Round Win ✔️

Let's do it again tomorrow!

Presented by @MedStarHealth #HOYASAXA #WeAreOne pic.twitter.com/c5LfsiIrwp

— Georgetown WBB (@GeorgetownWBB) March 4, 2022
Six of last season's 19 losses were by single digits, including a 0-4 mark in overtime. The big trouble for the Hoyas a season ago was their inability to score, averaging just a tick over 60 points per game, third worst in the 11-team BIG EAST. The problem for Georgetown wasn't turnovers or rebounding, both which were all in the top-half of the league. To put it mildly, unfortunately, the Hoyas couldn't throw it in the ocean at times.
For the season, Georgetown was dead last in the BIG EAST in shooting percentage, connecting at just 38.5 percent for the year. The Hoyas were last in free throw percentage, and ninth in 3-point percentage.
Add it all up, and that's how just two players average in double figures.
Making things tough for the Hoyas this year, is that leading scorer Milan Bolden-Morris is gone, as is third leading scorer Jillian Archer. The duo combined for one-third of Georgetown's offense a year ago.
A big question mark for the Hoyas is who will shoot the 3? Bolden-Morris made 83 of the team's 152 triples last season. The top-returning 3-point shooter is Brianna Scott, who made 11 last year on 48 attempts.
Outside of those two, the No. 2 scorer in Kelsey Ransom (12 ppg, team leading 108 assists) returns, as does Graceann Bennett (7.1 ppg, second on the team with 140 rebounds), giving the Hoyas two key starters around whom to build.
On the defensive end, the Hoyas presented a tough task for opponents to solve. The sixth-place finish in points allowed at 67.9 per game was middle of the road, but the Hoyas were fourth in field goal percentage, with teams just breaking 40 percent.
The Hoyas were third in the league in blocked shots at 3.8 per game, and were third in steals at eight per night. Erasing nearly 12 possessions per game is a good foundation to build on.
Key Returner
Kelsey Ransom, G, Junior, South River, NJ
Happy Birthday to Kelsey Ransom (@k_ransom34)! #HoyaSaxa | #Hoyas pic.twitter.com/qS3B9LUyZ7

— The NBS Sports Hour (@NBSSportsHour) September 12, 2022
On a team that struggled to score, Ransom was one of the few exceptions, getting most of her work done inside the arc despite her playing on the perimeter.
Ransom attempted just 24 3-pointers last season, but shot 47 percent on her 2-point attempts, second-best on the team.
In addition to being the top-returning scorer, Ransom was a strong rebounder at nearly five per game — good for third on the team — and she dished four assists per game in spite of Georgetown's collective shooting woes.
Needless to say, the Hoyas will be putting the ball in Ransom's hands a lot this season. Her primary responsibility figures to be cutting down on the 113 turnovers committed in 2021-22 while taking on a greater ball-handling role.
In addition to carrying the load offensively, Ransom managed a team-best 67 steals last season, tops on the team by 40, showing she can get it done at both ends.
Key Addition
Kristina Moore, F, Graduate Transfer, University of Florida
A team badly in need of experience added the Australian-born Moore back in May after she played four years for the SEC's Florida Gators.
The 6-1 Moore adds an experienced post presence to the roster. She appeared in 99 games for the Gators and over her time in Gainesville, averaged 5 points and 3 rebounds per game, including a career-high 15 this past season against Auburn. She showed her ability to stretch the court in that game with three made 3-pointers on three attempts.
Moore appeared in 25 games for the Gators last season, shooting over 36 percent from beyond the 3-point line, so she should bring a much-needed 3-point threat to the roster.
Fun fact about Moore: She was also on the Florida track team where she threw discus, and won a gold medal in the event at the 2015 Youth Commonwealth Games.
Games to Watch
Dec. 2 vs Marquette, Dec. 4 vs Xavier
After opening with six nonconference games, just two at home, the Hoyas will get the chance to open BIG EAST play on the right foot, getting a tough Marquette team in the league opener, followed by another home game against cellar-dweller Xavier on national TV on FS1.
The Hoyas dropped both to Marquette last season, but made the Golden Eagles earn it in a seven-point game in DC back in February. They split with Xavier last year, each team winning on the road, with Xavier's win coming in overtime before the Hoyas won by 14 later in the season.
It's two winnable games for the Hoyas to use as launching points into a potentially surprising season in the BIG EAST.