2022 Mount Olive vs UNCW - Men's
UNCW Men's Basketball: Flying High? Seahawks Look To Repeat Superb Season
UNCW Men's Basketball: Flying High? Seahawks Look To Repeat Superb Season
Few names outside of coaching circles knew of the name Takayo Siddle prior to last season. It's safe to say a lot more people now know his name.
Oct 15, 2022
by Briar Napier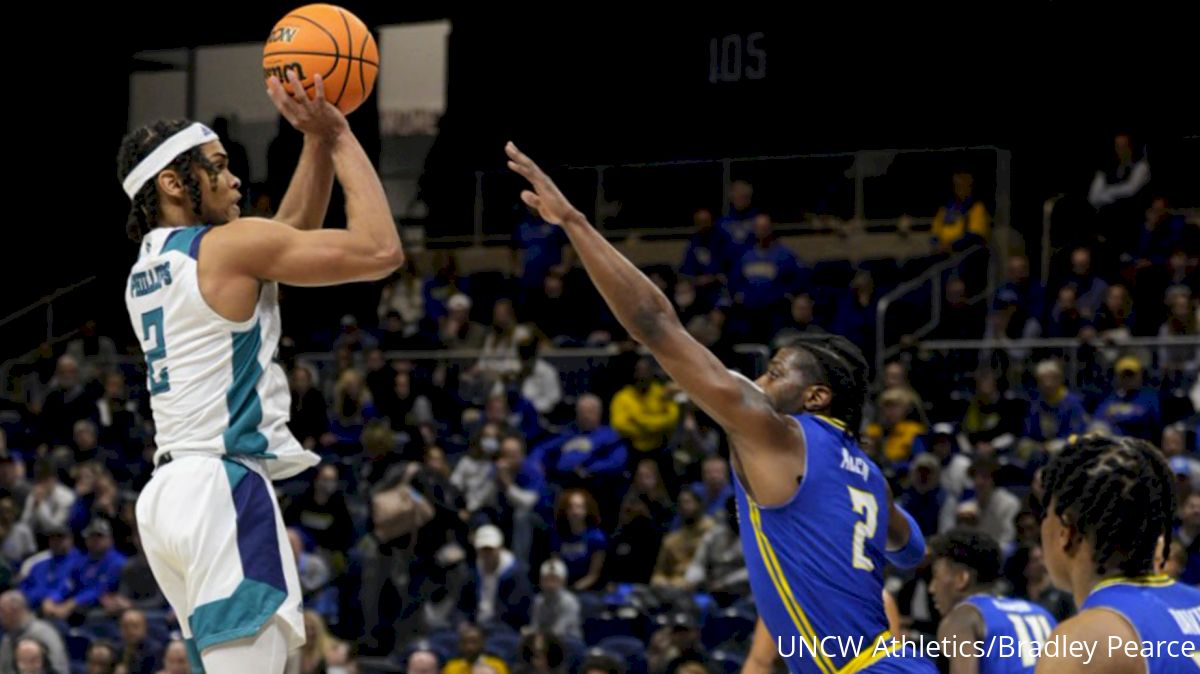 Few names outside of coaching circles knew of the name Takayo Siddle prior to last season.
It's safe to say a lot more people now know his name.
A former UNC Wilmington and NC State assistant under successful Seahawks coach Kevin Keatts, before being hired to the head role in Wilmington himself prior to the 2020-2021 season, Siddle led one of the country's best turnaround jobs a year ago. He helped turn seven wins into 27 in just one offseason, while getting a postseason tournament championship in the process.
Siddle and the Seahawks now have the foundation set, but building on what has been done so far is the real challenge for UNCW, and in the gauntlet of the Colonial Athletic Association, there are no guarantees. Still, there is a lot to like, unless your school is playing the Seahawks.
What is there to look out for with UNC Wilmington men's basketball this season?
Below is a look into what the Seahawks will bring to the table for the 2022-2023, as FloHoops previews every team in the CAA.
2021 Season Review
Kansas. Xavier. UNCW. Fresno State. What do those four programs have in common? They're the only ones in America that can claim they ended last year with a postseason tournament win.
The Seahawks' triumph came at the College Basketball Invitational, where they became the second CAA team to win the event. VCU did it first in 2010.
On the way to the victory, UNCW beat four opponents in four days and toppled Middle Tennessee State for the crown in a 96-90, double-overtime thriller.
That final win, one of an impressive number on the year for UNCW, came via a double-digit comeback - one of 10 occasions the Seahawks had been down by at least 10 points and eventually stormed back to win the game, the most of any team in the country.
We have a new resident in Trask Coliseum. Looks good up there, too.

2022 @CBITourney Champions!#HawkYeah #WinTheDay #UNCW @UNCWilmington pic.twitter.com/0LJiDOOZ4R

— UNCW Basketball (@uncwmenshoops) October 12, 2022
Second-year coach Takayo Siddle was named the CAA Coach of the Year after taking UNCW, which hadn't won more than 11 games in a single campaign since Keatts left to coach NC State following the 2016-2017 season, to within inches of both outright regular-season and tournament league titles, losing out on the former to Towson (which it tied for the regular-season crown) and the latter to Delaware in the CAA Tournament championship game.
Senior guard Jaylen Sims (16.4 points per game) was a deserved All-CAA first-team pick and critical during the Seahawks' storming to the CBI title, forming a lethal backcourt pairing with fellow senior guard and All-CAA second-team selection Mike Okauru (13.2 points).
On The Court
As mentioned, UNCW had a tendency to be the comeback kids last season, and it happened in numerous instances.
Double-digit fightbacks became the norm for the Seahawks, with some occurring during their 9-0 start to CAA play. Perhaps it was a bit indicative of the team's tendency to start a bit slower and grow into the game as it went on.
Still, the Seahawks were among the elite of the elite in the country when it came to holding onto the basketball. Teams averaged just 4.4 steals per night against them, the third-lowest opposing average in the country. More turnover-free possessions equates to more shot attempts, and therefore, more points.
Sights and sounds from 2022-23 Media Day festivities. 🙌💪🏀 pic.twitter.com/nb8V9VeoFf

— UNCW Basketball (@uncwmenshoops) October 6, 2022
Coupled with a great defense (69.0 points allowed per game), those two features combined allowed UNCW to help keep games close, even if things went awry for a point during it.
One thing that the Seahawks just couldn't shake, however, is that they were a pretty poor team shooting the basketball last season, going just 42.4% on the floor for the year, and had trouble creating scoring opportunities for others. They averaged just 10.6 assists per night, as well.
UNCW's league games last year rarely were blowouts - only one of its 15 CAA wins came by double digits - so it's clear the Seahawks like to live life on the edge a little bit. It's also indicative of a team that closes games extraordinarily well, a sign that few schools will want to suit up against UNCW late in the year.
Key Returner
Shykeim Phillips, G, Sr., Winterville, North Carolina
Defense was the skeleton of the Seahawks' style on the court last season, and Phillips was its backbone.
A good scorer who would tend to play second or third fiddle with Sims or Okauru, where Phillips really shined was on defense.
He held the CAA's top steal rate (or amount of possessions on the floor in which he recorded a steal) of 4.4% in league games for the 2021-2022 season.
He's even picked up multiple blocks in a game six times in his 68-game career in Wilmington, including a career high three against William & Mary in February, showing that even at 6-foot-2, Phillips isn't afraid to get in a ball-handler's face or in the way of a shooter's attempt toward the rim.
With Sims and Okauru gone, Phillips' involvement and evolvement in the offense will be something to monitor from Siddle and his coaching staff in the season's early days, especially considering that many of the newcomers on the roster are either unproven in playing on a team with the expectation and hope of UNCW, or possibly are too young and raw to contribute right away.
Phillips certainly can do it, having led the Seahawks in scoring seven times a year ago, and he showed out in the CBI as one of the tournament's top players, highlighted by a 24-point career-high outburst in the quarterfinals against Drake. Doing it consistently is the harder part, especially considering that UNCW went 6-8 last season when Phillips didn't reach double figures.
Key Addition
Donovan Newby, G, Jr., Chicago Heights, Illinois
Program turnarounds as rapid as the one Siddle instituted a season ago don't come without major contributors stepping up and emerging from out of nowhere.
Newby could be the player (or one of the players) to manage to do that this year.
Already an experienced contributor from his days of playing two seasons at Milwaukee, the Panthers struggled heavily in the Horizon League during his time there, but Newby showed plenty of flashes of potential, nonetheless.
We continue our special look at the 2022-23 newcomers by visiting with Chicago-area native Donovan Newby, who enjoys creating easy buckets for his teammates. #HawkYeah #UNCW #WinTheDay pic.twitter.com/NoYMB9h97L

— UNCW Basketball (@uncwmenshoops) July 5, 2022
He got the starting nod in 23 contests a season ago. He averaged 8.3 points, 2.3 assists and 1.8 rebounds per night across 26 minutes a game, handling the pressure of being a top option on a team that suddenly had much hype surrounding it. McDonald's All-American Patrick Baldwin Jr. signed with the Panthers to play under his father for an injury-riddled season, before going to the NBA.
The Seahawks brought in four freshmen and have other new faces, including North Dakota State transfer Maleeck Harden-Hayes (8.8 points, 5.2 rebounds per game in 2020-21), who could make an impact, as well, but Newby's quality 3-point shooting (39.3% in 2021-22) and excellent free throw shooting (90.1%) numbers should be the quickest jolt to the system for a Seahawks team that averaged 32.9 and 74.1% from those two categories, respectively.
Game To Watch: UNCW Vs. Delaware
The Seahawks were by no means disappointed with how last season went, but if they didn't come back to North Carolina with some silverware in hand, would their loss to the Blue Hens in the CAA Tournament title game still be stinging right now?
That game ended up being just one hole from which UNCW couldn't slither its way out. Then, UD got the league's auto-bid, just to bow out quickly in the NCAA Tournament, while the Seahawks ran through their field, who knows?
Maybe UNCW would've been one of those March Madness fairy tales for the ages with how well it played down the stretch.
This mid-February meeting in Newark will be the only time during the 2022-2023 regular season Delaware and UNCW will meet, and if it's anything like last year's classic that was full of lead changes and a late surge from the Blue Hens that eventually punched their ticket to the Big Dance, it should make for a barnburner.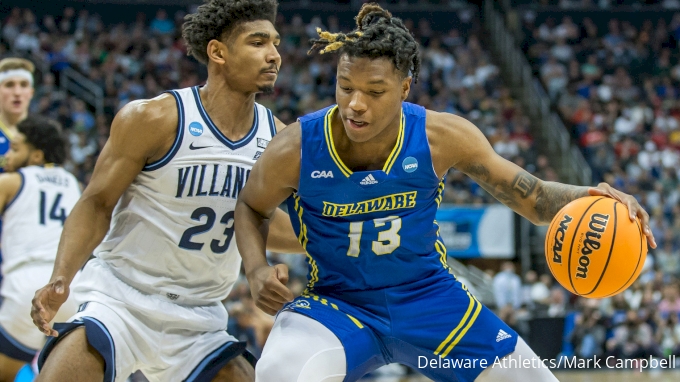 Redshirt junior guard Jameer Nelson Jr. (13.6 points per game last year) has the skillset, and name recognition from his NBA All-Star father of the same name, to grab the Seahawks' attention, but the enigma of the Delaware roster this season undoubtedly is Jyare Davis, an emerging 6-foot-7 pro prospect who only started four games. Three came in the same CAA Tournament, during which, he won its Most Outstanding Player award.
And, with it being a late-season clash, there's likely to be some serious CAA regular-season title implications at stake, too. Keep your eyes glued to the device for this one.