CAA Women's Basketball
Drexel Headlines CAA Women's Basketball Preseason Honors
Drexel Headlines CAA Women's Basketball Preseason Honors
Drexel has been selected as the favorite to win the 2022-2023 CAA Women's Basketball Championship, according to a vote of the league's 13 head coaches.
Oct 20, 2022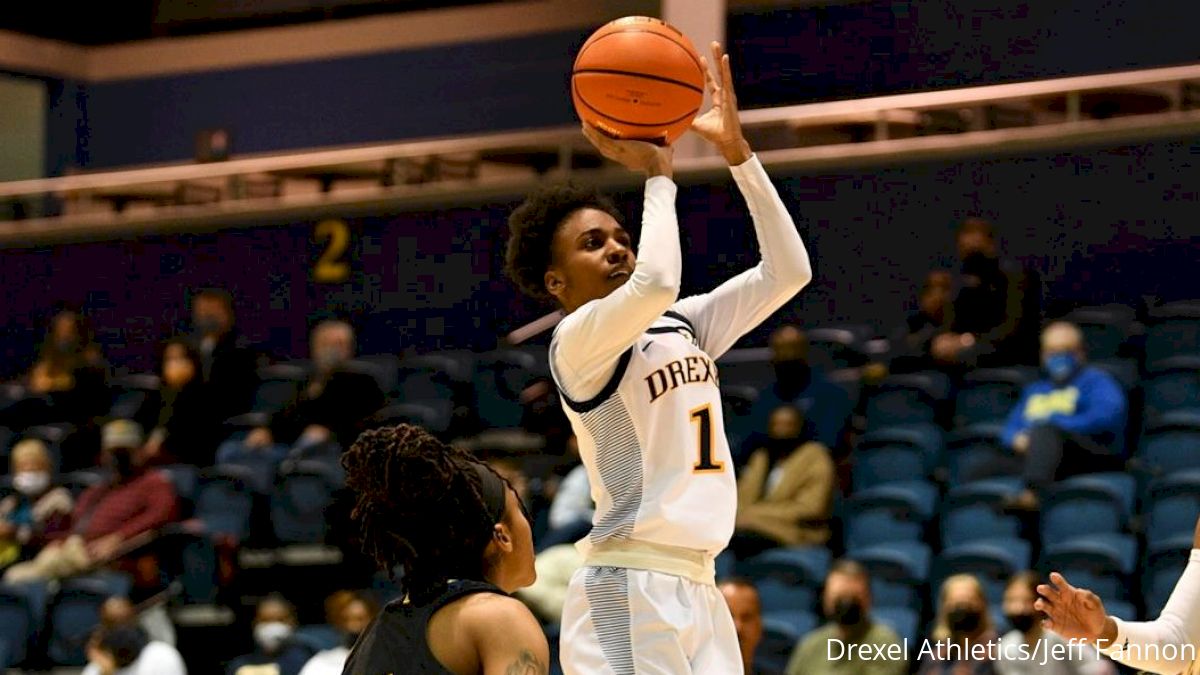 Drexel has been selected as the favorite to win the 2022-2023 Colonial Athletic Association Women's Basketball Championship, and Dragons guard Keishana Washington was named CAA Preseason Player of the Year, according to a vote of the league's 13 head coaches.
Drexel received 10 first-place votes, and 142 points overall, to sit atop the preseason predicted order of finish. Charleston followed, collecting one first-place vote and 125 points, while newcomer Stony Brook was tabbed third with 108 points.
Elon came in fourth with 103 points, followed by Towson, receiving two first-place votes and 99 points, while defending champion Delaware rounded out the top half of the poll in sixth with 92 points.
William & Mary tallied 81 points to sit seventh, and Northeastern was picked eighth, totaling 70 points.
Three new CAA members ensued, with North Carolina A&T tabbed ninth ahead of Hampton and Monmouth, who tied in the 10th spot. UNCW and Hofstra rounded out the 13-team poll.
Washington is joined on the preseason All-CAA first team by Charleston guard Jenna Annecchiarico, Towson guard/forward Anissa Rivera, and a pair of William & Mary guards Riley Casey and Sydney Wagner.
Selected to the preseason All-CAA second team were North Carolina A&T center Jazmin Harris, Towson guard Kylie Kornegay-Lucas, Elon center Evonna McGill, Hampton forward Nylah Young and Stony Brook guard Annie Warren.
Better. Every. Day. 👏 #FearTheDragon pic.twitter.com/WG9w2ABNXJ

— Drexel Women's Basketball (@DrexelWBB) October 19, 2022
Drexel advanced to its fourth straight CAA Championship title game a year ago in a historic season for the Dragons, in which they matched a program record with 28 wins, while recording the fewest losses in program history with just six.
The season featured the Dragons' second-longest winning streak in program history at 14 games from Nov. 27-Feb. 6.
Additionally, Drexel advanced to the third round of the WNIT, marking its deepest postseason run since 2009.
The Dragons will have to replace the production of three starters, but Washington returns. She was one of 13 Division I players to reach double-figure points in every game and finished the year second in the CAA, averaging 19.2 points per game.
Charleston had its best season in nearly a decade during the 2021-2022 season. The Cougars finished with their most victories (18) since 2013-2014, matched a program record for CAA wins (nine) and advanced to the CAA Championship semifinals for the second time in program history (2013-2014).
The Cougars will look to take yet another step this season, welcoming back their leader, Annecchiarico (16.6 ppg/6.3 apg/2.9 spg), who was a second-team All-CAA and CAA all-tournament team selection last year. Anika McGarity (11.3 pgg) also returns to the rotation, looking to add key contributions after taking a big leap from from Year 1 to Year 2 with Charleston.
Stony Brook, a newcomer to the league, brings five straight winning seasons and back-to-back postseason appearances to the table. The Seawolves return an experienced backcourt to their starting lineup, looking to Warren (12.0 ppm/4.2 rpg) and Gigi Gonzalez (9.6 ppg/3.6 apg) to help Stony Brook make noise in its first CAA season.
𝗧𝗛𝗘 𝗡𝗘𝗫𝗧 𝗖𝗛𝗔𝗣𝗧𝗘𝗥 🙌

🗓️ - https://t.co/XMJGZvbO6h
📰 - https://t.co/TFAUaM6smc

🌊🐺 x #CAAHoops pic.twitter.com/DGepDNDheF

— Stony Brook Women's Basketball (@StonyBrookWBB) August 16, 2022
Elon will build its core around McGill, its second-leading scorer (11.7 ppg) and rebounder (4.8 rpg) from last season, and graduate transfer Lenaejha Evans (14.0 ppg), an All-MAAC honoree, who they added from Rider. The experienced duo attempts to bolster a Phoenix lineup with four departing starters.
Towson looks to first-year coach Laura Harper to continue the momentum from a season in which the Tigers racked up a program-record 24 wins and made its first WNIT appearance since 1969.
Towson returns a pair of key contributors from last season in Rivera (10.3 ppg/7.1 rpg) and Kornegay-Lucas (8.3 ppg/5.6 rpg/3.2 apg), the CAA Sixth Player of the Year, to ease the transition.
Delaware faces a similar situation, as the Blue Hens turn the reigns to first-year coach Sarah Jenkins after winning the CAA Championship last season and making the team's first NCAA Tournament appearance since 2013.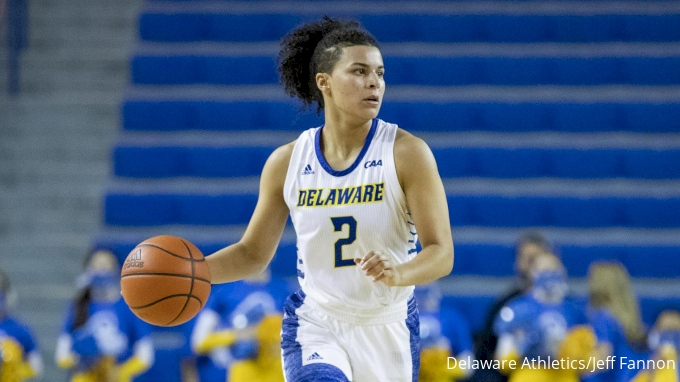 The Blue Hens will have a tall task, needing to replace all five starters from last year.
Tara Cousins (3.5 ppg) is the team's top returner from last season, while the Blue Hens added five transfers, including Kharis Idom (9.8 ppg/3.1 rpg) from UMass Lowell.
William & Mary is one of the most experienced teams in the league, returning 80% of its roster, including four starters.
Casey (14.5 ppg) and Wagner (14.6 ppg/3.3 apg) lead the way after earning third-team All-CAA honors last season. They are joined by Bre Bellamy (8.1 ppg, 5.2 rpg) and Dani McTeer (6.5 pgg/4.6 rpg), a CAA all-rookie selection, looking to help first-year coach Erin Dickerson Davis make a splash with the Tribe.
Northeastern has several new additions this season, but one familiar face is Gemima Motema (9.0 ppg/3.0 rpg). After being named to the CAA all-rookie team last season, Motema will look to take her game to new heights and build cohesion with the Huskie newcomers.
North Carolina A&T is in its third conference in three seasons. The Aggies have posted a winning record in four of the past five seasons and have six postseason appearances in the past decade.
Their top returner is Jazmin Harris (13.1 ppg/6.1 rpg), an All-Big South honorable mention selection in 2021-22. They also add a pair of Presbyterian transfers Maleia Bracone (10.6 ppg/4.6 rpg) and Nyah Willis (8.7 ppg/5.5 rpg).
Hampton also is a newcomer, joining the conference from the Big South. The Lady Pirates enter the league with an experienced team, retaining four starters and their four leading scorers from last season.
Hampton is led by Young (15.7 ppg/7.3 rpg), who earned All-Big South honorable mention accolades last year. She is accompanied by Madison Buford (9.2 ppg), Jemany Mapp (7.3 ppg/4.5 rpg) and Victoria Mason (6.6 ppg) as returning starters.
Monmouth is the final new addition to the CAA this season, entering the conference from the MAAC.
Last season was a growing year for the Hawks, who experienced a 12-win turnaround in their first season under the leadership of Ginny Boggess.
Monmouth brings back an experienced group, including four returning starters. Kaci Donovan (8.3 ppg) is atop the list of returning scorers from a team that retains a balanced attack with seven that averaged at least 5.0 points per game.
UNCW is the beneficiary of welcoming back Carrie Gross (9.4 ppg) and Micah Hoggatt (7.8 ppg/6.0 rpg), who will look to build on career-best seasons in 2021-2022. Also returning for Seahawks Is junior guard Mary McMillan (4.5 ppg, 1.7 apg), who has made 32 starts over the past two seasons.
Say hello to the 2022-23 UNCW Women's Basketball team!

👋👋👋#HawkYeah #UNCW pic.twitter.com/nQd1tqOjz1

— UNCW Women's Basketball (@UNCWwomenshoops) October 6, 2022
Hofstra is challenged with more roster turnover than this time last year. However, the Pride retains CAA all-defensive team member Rosi Nicholson (5.7 ppg/2.3 spg) and gains experience from transfers, including graduate transfer Brandy Thomas (12.7 ppg/6.2 rpg), a first-team All-NEC selection at LIU last year.
The 2022-2023 CAA Women's Basketball season tips-off Nov. 7, with 11 teams starting their journeys for a CAA title.
The year culminates March 8-12 at SECU Arena on the campus of Towson University for the 2023 CAA Women's Basketball Championship presented by Primis.
2022-2023 CAA WOMEN'S BASKETBALL PRESEASON POLL
| | |
| --- | --- |
| TEAM | POINTS |
| Drexel (10) | 142 |
| Charleston (1) | 125 |
| Stony Brook | 108 |
| Elon | 103 |
| Towson (2) | 99 |
| Delaware | 92 |
| William & Mary | 81 |
| Northeastern | 70 |
| North Carolina A&T | 58 |
| T10. Hampton | 43 |
| T10. Monmouth | 43 |
| UNCW | 28 |
| Hofstra | 22 |
( ) = First-place votes
2022-23 CAA WOMEN'S BASKETBALL PRESEASON ALL-CONFERENCE TEAMS
| | | | | | |
| --- | --- | --- | --- | --- | --- |
| First Team | School | Height | Class | Pos. | Hometown / Highschool |
| Jenna Annecchiarico | Charleston | 5-6 | Sr. | G | Baldwin, N.Y. / Baldwin HS |
| Riley Casey | William & Mary | 5-8 | Gr. | G | Brentwood, Tenn. / Franklin Road Academy |
| Anissa Rivera | Towson | 6-1 | Sr. | G/F | Capital Heights, Md. / National Christian Academy |
| Sydney Wagner | William & Mary | 5-6 | Gr. | G | Phoenixville, Pa. / Spring-Ford HS |
| Keishana Washington | Drexel | 5-7 | Gr. | G | Pickering, Ont., Canada / Durham Prep |
| | | | | | |
| --- | --- | --- | --- | --- | --- |
| Second Team | School | Height | Class | Pos. | Hometown / Highschool |
| Jazmin Harris | North Carolina A&T | 6-3 | Gr. | C | McLeansville, N.C. / Eastern Guilford HS |
| Kylie Kornegay-Lucas | Towson | 5-10 | R-Jr. | G | Camden, Del. / New Hope Academy |
| Evonna McGill | Elon | 6-1 | Gr. | C | Lowell, N.C. / Ashbrook HS |
| Nylah Young | Hampton | 5-11 | Jr. | F | Suffolk, Va. / King's Fork HS |
| Annie Warren | Stony Brook | 5-8 | Gr. | G | Atlanta, Ga. / Westlake HS |
2022-23 CAA Preseason Player of the Year: Keishana Washington, Drexel
Honorable Mention: Gigi Gonzalez (G), Stony Brook; Carrie Gross (G), UNCW; Anika McGarity (G/F), Charleston; Gemima Motema (G), Northeastern; Rosi Nicholson (G), Hofstra