2022 King (TN) vs Lincoln Memorial - Men's
Lincoln Memorial University Focusing On Success One Day At A Time
Lincoln Memorial University Focusing On Success One Day At A Time
Jeremiah Samarrippas, the longest-tenured assistant on previous head coach Josh Schertz's staff, took over an LMU program rich in basketball tradition.
Oct 25, 2022
by Stephen Kerr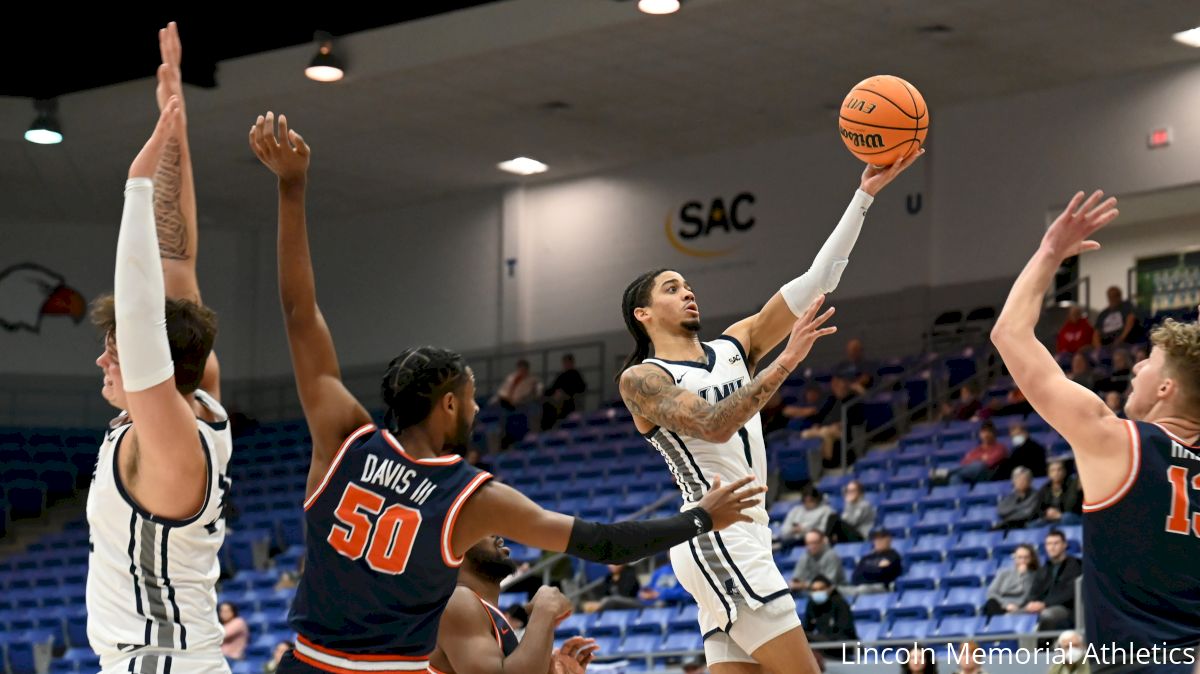 When coaches take over a program, they never know how their first season will play out.
Even if they've been on the staff as an assistant and experienced success under the previous regime, winning isn't guaranteed. Injuries, graduation and the transfer portal are just some of the challenges they may face.
Such was the case for Lincoln Memorial University men's basketball head coach Jeremiah Samarrippas when he took over as the 18th head coach in program history in April 2021.
Samarrippas, the longest-tenured assistant on previous head coach Josh Schertz's staff, was taking over a program with a rich basketball tradition that spanned over 100 years. Furthermore, the Railsplitters were a perennial NCAA Division II power, posting a 197-28 record since the 2014-2015 season, when Samarrippas became a graduate assistant.
In his first year as Head Coach @JSamarrippasLMU has been named the SAC Coach of the Year!

Coach Samarrippas lead the Railsplitters to a 24-3 regular season record and a Regular Season SAC Championship! 🎩⚒️🏀#LMUMBB #LEGACY #SAC #COTY pic.twitter.com/kg1M0ZCCSm

— LMU MBB (@LMUMBB) March 3, 2022
After taking the reins from Schertz, who became the head coach at Indiana State, Samarrippas lost eight players through either graduation or the transfer portal.
The veteran players who remained didn't see significant minutes during the 2020-2021 season. However, they had seen enough to buy into the winning culture of the program, no matter who the head coach was.
"Those guys who were here for a few years kind of continued the tradition of the way we approach games, the standard we have here at LMU," explained Samarrippas, who played two seasons at SMU, before finishing his career at Tennessee Tech, where he served as a team captain and eclipsed the 1,000-point scoring mark. "I didn't want it to be a drop-off. I wanted us to continue the tradition of winning at a high level. So, the guys who were returning kept that standard for us. Plus, we added a few guys we felt pretty good about their character, their talent and how they could impact us."
Samarrippas' first season couldn't have gone much better if it had been scripted.
The Railsplitters finished 26-5 overall and 21-3 in South Atlantic Conference play, sharing the regular-season title with Queens. LMU advanced to the NCAA Division II Regional semifinals, before falling to Queens, 81-76.
Four LMU players were selected to the All-Conference team: guard Chase Rankin, forward Jordan Guest, guard MeKell Burries and guard Alex Dahling. Guard Matthew Sells made the All-Freshman team, and Samarrippas was named Coach of the Year.
🚨Media Day Recap🚨

Check out the highlights/recap of our '22-23 Media Day 📸🏀

🏀🎩⚒🏀🎩⚒#LMUMBB #Splitternation #MediaDay pic.twitter.com/LLw7jrxEG8

— LMU MBB (@LMUMBB) October 13, 2022
As gratifying as his first season was, Samarrippas believes this year's team is capable of even greater accomplishments.
"A bunch of those games (were decided by) four or five points," Samarrippas said of last season. "I felt like we could have done a little bit better. We always can do better and improve. Hopefully, we can use last year as a learning experience and be a lot better this year."
Rankin, a 6-foot-1 graduate senior from Columbus, Ohio, started his collegiate career at Purdue Northwest, where he averaged 5.6 points, 2.2 assists and 1.3 rebounds per game as a freshman. He opted to leave the program after being told he wouldn't figure in the team's future plans.
After transferring to LMU, he redshirted the 2019-2020 season. Rankin played in 19 games in the 2020-2021 campaign, averaging 1.6 points per game.
A star at Gahanna Lincoln High School, where he averaged 15.4 points, 4.6 rebounds, 6.2 assists and 1.9 steals per game, Rankin had to learn to bide his time and wait for an opportunity to showcase his skills.
That chance finally came last season. He averaged 13.4 points and a SAC-best 6.1 assists during the regular season. He made 57.4% of his shots, placing him sixth in the conference in shooting percentage. He also became the only player in program history to record two triple-doubles and one of two players in the SAC to have at least one.
"For my whole life, I've been working so hard, and when I finally got an opportunity to play, I was confident in myself," Rankin said. "When the games come, I know I'm ready, I know I'm prepared. I like to call myself a gamer. When the lights are on, I know I can perform."
At SMU, Samarrippas played under former North Carolina Tar Heels head coach Matt Doherty, before ending his career at Tennessee Tech, where he averaged 10.4 points for the Golden Eagles. Instead of turning pro following graduation, Samarrippas opted to pursue college coaching.
During his two seasons as a graduate assistant at LMU, the Railsplitters went a combined 64-6. Schertz hired him as a full-time assistant following the team's run to the 2016 NCAA Division II national title game and a program-record 34 wins.
In the two previous seasons before replacing Schertz, Samarrippas stepped into a bigger role. He became the Railsplitters' top assistant for the 2020-2021 season. In 2019-2020, the team had its best season in terms of win percentage (.970), going 32-1 overall and undefeated in 22 conference games.
"Jeremiah was one of the smartest players I have ever coached," Doherty said last spring following the announcement of Samarrippas' hire. "He sees the game at a different level. In addition, he has a great personality that aided in recruiting good players and building team chemistry."
The biggest lesson Rankin says he's learned from Samarrippas is what he calls 'being where your feet are.'
"On the court, off the court, everybody goes through adversity and challenges," Rankin explained. "Being where your feet are and controlling what you can control is one thing I've emphasized in life that I've learned from Coach (Samarrippas). If you stress over things that are out of your control, it's going to drive you crazy."
Along with Rankin, the Railsplitters return Guest, Burries and Sells.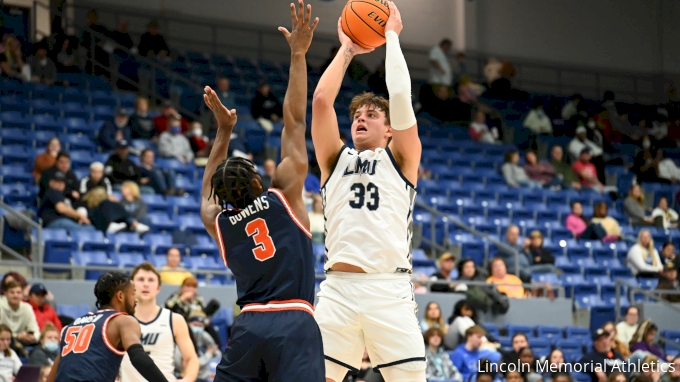 Guest averaged 16.6 points last season, finishing fourth in the SAC in scoring. He also grabbed 7.4 boards a game and a conference-best 6.22 defensive rebounds per game.
Burries finished third on the team in scoring (13.1 points) and led in 3-point percentage (47.2).
Sells averaged 11.2 points per game and shot 45.7 from the field.
The Railsplitters' biggest loss is Dahling, one of the most decorated players in program history.
Dahling finished last season fourth on the team in scoring with a 12.3 ppg average and became the 33rd member of the LMU 1,000-point club.
Among the new faces is Quay Kennedy, a 6-foot-8 graduate senior forward transfer from Lee University. Kennedy, with his long wingspan and ability to defend 1-5, will be heavily counted on to fill the void Dahling left on defense.
"Quay should be one of the best two-way players in Division II basketball," Samarrippas said. "Alex was probably our best overall defender last year. I think Quay will be that this year for us."
Samarrippas, who employed a seven-man rotation last season by necessity, also is counting on Martez Brown, a 6-foo-9 junior forward who averaged 14 minutes a game off the bench last season, to contribute more.
Graduate senior guard Luke Bartemes and freshman guard Elijah Bredwood should add valuable depth.
As the Railsplitters prepare to open the season at the Small College Basketball Hall of Fame Classic in Florida on Nov. 5-6, they'll be joined by Valdosta State and Alabama-Huntsville.
Rankin believes living in the moment is vital for the team to take the next step in Samarrippas' second season.
"Everybody has goals of winning a national championship," Rankin said. "I think the main thing for this team is to just focus on day-to-day preparation and how we can be better today than we were yesterday. If we come in with that mindset and still keep the chip on our shoulder... in the long run, it will help us play our best basketball when it matters the most."