2022 San Diego Invitational
Top 10 Shooting Guards In Women's Hoops: Fudd, Owusu & Cooke Among Best
Top 10 Shooting Guards In Women's Hoops: Fudd, Owusu & Cooke Among Best
Solve the shooting guard position on your team, and chances are your squad might be pretty good. Take a look at some of this year's best two guards.
Oct 29, 2022
by Briar Napier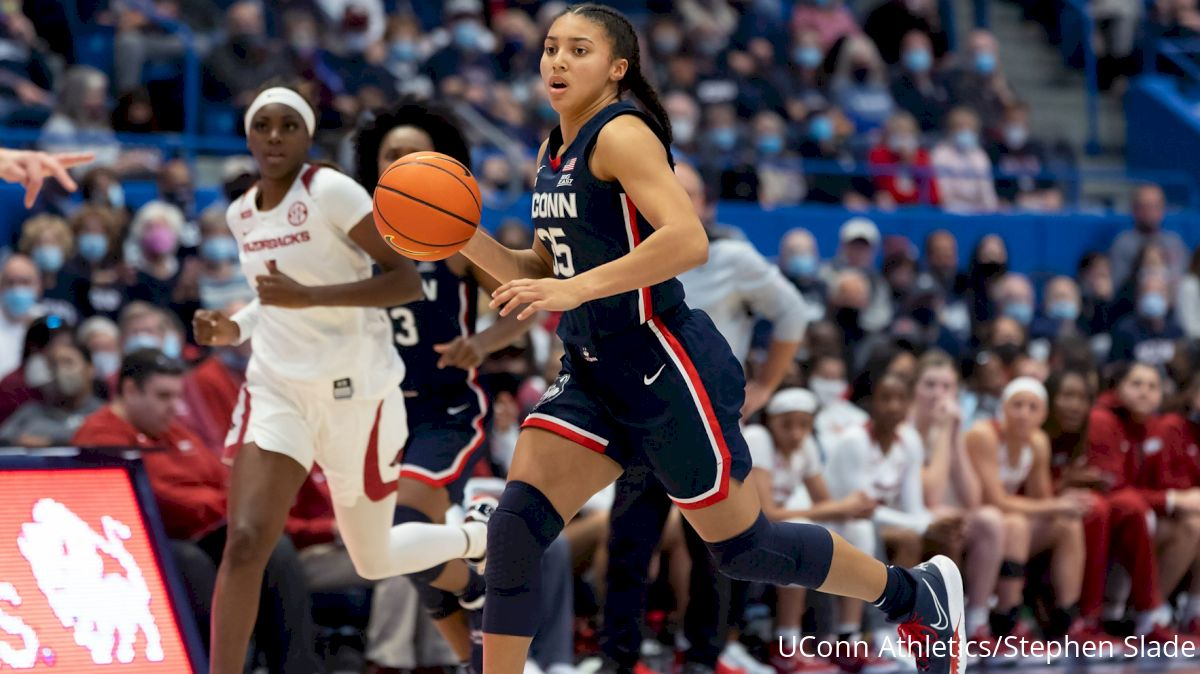 Solve the shooting guard position on your team, and chances are your squad might be pretty good.
The two-guard role is one of the more versatile positions on a basketball court and one of the hardest to master. Whether reserved strictly for "3-and-D" players, or combo guards who can help distribute with the point guard and take the ball down the court, what the starting shooting guard can give to a team often is a major mark in its overall identity.
There are many top two guards across the country, but judging by past seasons' successes and proven mettle as talented players on the wing, there are some who are standing out entering the upcoming season and worth keeping an eye on as the grind of the winter goes along.
Here's a look at 10 shooting guards to watch in women's college basketball this season, with games - many featuring some of the players below - being broadcast live on FloHoops.
Azzi Fudd, Soph., UConn
The No. 1 overall recruit in the Class of 2021, the spotlight is nothing new to Fudd.
She was one of the most highly decorated prep hoopers ever, boy or girl, but following a freshman season full of promise and potential as an emerging superstar in her first year at UConn, Fudd's value to the Huskies this season will be immeasurable.
Reigning Ann Meyers Drysdale Award winner and WNBA Draft pick Christyn Williams has moved on from manning the role of the two guard for coach Geno Auriemma and the rest of the UConn squad, leaving the door open for Fudd to take over and live up to the long legacy of legendary guards who have played for the Huskies over the years.
Junior point guard and 2021 Naismith Player of the Year Paige Bueckers, likely the best player in women's college basketball when healthy, will sit out the 2022-2023 season as she recovers from a torn ACL in her left knee. She already missed a significant chunk of time last season due to a separate injury in the same knee.
That leaves Fudd as UConn's leading returning scorer. She averaged 12.1 points and 2.7 rebounds per game on 43% 3-point shooting during the 2021-2022 season, evolving over the course of the year into a key piece of the Huskies team that made it to the national title game.
It also means she'll need to grow up fast and become the superstar UConn recruited her to be - but when it comes to pressure, Fudd already is an expert in handling it.
Ashley Owusu, Sr., Virginia Tech
One of the most sought-after transfers of the offseason, Owusu was a hot commodity after spending three seasons as the engine behind one of the nation's best offenses at Maryland.
The 2021 Ann Meyers Drysdale Award winner, Owusu averaged 14.6 points, 4.2 rebounds and 5.0 assists per game for the Terrapins, as the program went to the Sweet 16 twice. She was named to the All-Big Ten team all three seasons.
Now in Blacksburg with reigning Atlantic Coast Conference Player of the Year Elizabeth Kitley, the duo should make up one of the most talented, battle-tested guard-post teams in the entire country. That makes the No. 13-ranked Hokies - who were upset in last year's NCAA Tournament first round by Florida Gulf Coast - dark-horse Final Four contenders.
Though Owusu didn't have a as standout of a year last season as her award-winning sophomore campaign, part of that was due to the breakout year of All-American Angel Reese at the forward slot and her picking up some of the slack - a sign Owusu can produce with a superstar player down low, which she'll have at Tech with Kitley.
Following Owusu's career high 40.6% clip from 3-point range last year, as well, the Virginia native has appeared to truly evolve into an elite three-level scorer the Hokies will get to unleash on the rest of the country.
Hailey Van Lith, Jr., Louisville
The standout performer during Louisville's run to the Final Four last year, Van Lith was spectacular when the pressure amped up for the Cardinals, scoring 20 points or more in each of U of L's opening four NCAA Tournament wins, before she and the rest of her team ran into eventual national champion South Carolina in the national semifinals.
She was named as the Wichita Regional's Most Outstanding Player for her big performances in wins over Tennessee and Michigan to help the Cardinals get back to the Final Four for the third time in the past decade, but already had plenty of appreciation for her skills anyway as an All-ACC first-team pick that ended the year with averages of 14.4 points, 3.6 rebounds and 2.2 assists per game on 43.2% shooting from the field.
The trick this time around for Van Lith is to help Louisville's backcourt follow the massive success it had last year without two of its key pieces - Kianna Smith, a WNBA Draft pick of the Los Angeles Sparks, and Chelsie Hall, who graduated. Both out of the picture for the upcoming season after the trio started 34 of 34 games together last season.
Media Day frames 📸 #GoCards pic.twitter.com/HYm3t96wtX

— Louisville Women's Basketball (@LouisvilleWBB) October 27, 2022
Syracuse transfer Chrislyn Carr (14.2 points per game) and Florida State transfer Morgan Jones (13.8 points per game) should help in shouldering the load, but Van Lith is the key returner who'll likely be expected to ensure everyone is acclimated quickly - because if they are, Louisville could do big things once again this season.
Taylor Mikesell, Sr., Ohio State
Agonizingly close to its first Elite Eight appearance since 1993, Ohio State has two players - Mikesell and Jacy Sheldon - to thank for its deep run last season and being within two possessions of beating Texas and booking a trip to the national quarterfinals.
Both returned to Columbus for the upcoming season, which is great news for the Buckeyes, but bad news for the rest of the Big Ten.
Sheldon had been well-known to the league's women's hoops fans for a little while leading into her second All-Big Ten team appearance last year, but Mikesell's quick emergence into the fray was critical, as the Oregon transfer hit the ground running in her first year for OSU. She scored 18.6 points per game on 47.5% shooting from beyond the 3-point arc for one of the best percentages from deep in the country.
Mikesell scored in double figures in all but two games last year and proved to be one of the country's most dangerous offensive weapons.
When she found a groove on the floor - she knocked down eight 3s in a 32-point outburst against Illinois on Jan. 6, then went 11-for-13 shooting (including 5 of 5 from deep) in a season-high 33-point performance against Maryland a few weeks later.
Durable as can be, she played all 40 minutes eight times (including in all three of OSU's NCAA tourney games) and knocked down at least one 3 in all 32 games.
Mikesell has a method to her game, and when it's firing on all cylinders, it's near-impossible for a defense to stop.
Jade Loville, Gr., Arizona
To casual women's college basketball fans, Loville's name might not sound too familiar, or one as worthy of being mentioned among some of the top shooting guards in America.
But one look at her production shows she more than belongs in the conversation.
Following three years at Boise State, in which she had a breakout junior campaign as a first-time starter for the Broncos, Loville transferred to Arizona State for her senior year in a move that got her closer to her hometown of Scottsdale, Arizona, located not far from its fellow Phoenix suburb (and home of the ASU campus), Tempe.
The jump from the Mountain West Conference to the Pac-12 didn't faze Loville as she thrived for the Sun Devils. She scored 16.6 points per game on 43.3% shooting from 3 and was the most heavily used player (34.8% usage rate) in conference play.
We go by two mottos. #MadeForIt x #LeaveALegacypic.twitter.com/5GMGiakSb1

— Arizona Women's Basketball (@ArizonaWBB) September 20, 2022
Because Arizona State was merely OK to mediocre (12-14 overall) a season ago and was dumped out by Oregon State in its first game of the Pac-12 Tournament, few fans got to see Loville ball out on a national stage.
With her transfer to the Wildcats, however, it's much more likely that more people are going to see what she can do with their own eyes.
Coming off back-to-back NCAA Tournament appearances and still just two years removed from a spot in the national title game, U of A (ranked No. 19 in the Associated Press Preseason Top 25 poll) should be in the mix to make it three straight trips to March Madness for the first time since 2003-2005.
Additions like Loville, already proven in the Pac-12, should help it happen.
Charlisse Leger-Walker, Jr., Washington State
To change the trajectory of a college basketball program, you need program-changers on the floor. It's something that's much easier said than done, but when the ball is in the hands of Leger-Walker, good things seem to happen for the Cougars.
The New Zealander helped take Wazzu back to the NCAA Tournament last year. She did the same her freshman season, with her arrival to Pullman directly correlating with the first back-to-back March Madness appearances in program history.
The next logical step? Win a game at the Big Dance for the first time.
It's certainly a real possibility for the Cougars, as long as Leger-Walker keeps stuffing stat sheets: 16.1 points, 5.2 rebounds, 2.8 assists and 1.6 steals per game were her averages a year ago, a line that helped the Cougars pull off wins against the likes of UCLA and Arizona in conference play.
However, for the first time in her college career, Leger-Walker will have to go through a season without her sister, Krystal Leger-Walker, on the WSU roster with her. Krystal graduated and signed a pro contract in her home country during the offseason.
But, with all three of Wazzu's double-figure scorers from last season returning - Bella Murekatete and Johanna Teder are the others, along with Charlisse - there's a cohesion to the Cougars' unit that should keep them in the hunt for getting back to the postseason.
Sonya Morris, Gr., Texas
One of the main orchestrators of the No. 1 offense in America a season ago at DePaul, Morris, a two-time All-BIG EAST first-team pick, was unable to help the Blue Demons advance past the first round of the NCAA Tournament during her four years in Chicago.
The vibes for this season in Austin, however, are much different - there's a legitimate hope for a national title push, and Morris could be the weapon to help the No. 3 Longhorns get there.
got a squad 🤘#HookEm pic.twitter.com/UI03iHbYaL

— Texas Women's Basketball (@TexasWBB) August 26, 2022
The St. Louis native has tallied double-digit scoring averages in each of her past three seasons, posting a stat line of 17.6 points and 3.2 assists per game last year, while helping spread the wealth around for DePaul, once stud freshman and All-American Aneesah Morrow (21.9 points, 13.8 rebounds per game) showed she was going to be a major part of the Blue Demons' plans.
The biggest question is how Morris will handle the change in play style after four seasons under the wing of the wickedly fast philosophy of DePaul coach Doug Bruno. Though Texas coach Vic Schaefer also plays fast, it's nowhere near the pace at which DePaul played at last year, happy to engage in shootouts.
Perhaps the speed Morris will carry over will help UT get the edge it needs to return to the Final Four for the first time in 20 years, too.
Taylor Robertson, Gr., Oklahoma
Another year, another season in which Taylor Robertson torches opponents from beyond the 3-point line. What else is new?
Already the Big 12 and Oklahoma's all-time leader in career 3s, Robertson is within sight of former Ohio State star and current Indiana Fever guard Kelsey Mitchell's all-time NCAA record of 497 triples knocked down, with Robertson needing to hit 52 over the course of the year to break the record.
About as automatic of a shot as it gets in the country, the 5-foot-11 Kansan also is the NCAA's active leader in career free-throw percentage (91.9%) and has never averaged below 14.3 points per game in any season of her career.
She was named a unanimous All-Big 12 first-teamer a year ago and received AP All-America honorable mention.
Though Robertson's elite shooting has come to be expected, her development as a creator of offense was very influential for the Sooners. Robertson's 3.1 assists per game last season was by far a career-best, and that added wrinkle to her game certainly didn't hurt OU, which won a NCAA Tournament game for the first time in her career.
With Oklahoma considered to be a contender in the Big 12, perhaps Robertson's added dimensions to the way she plays could be a sign of something special to come for the Sooners this year.
Jordan Horston, Sr., Tennessee
Where would Tennessee have been last season if it didn't lose Horston for the season at the worst possible time?
Amid a breakout campaign in which she had been averaging 16.2 points, 9.4 rebounds and 4.0 assists this past season, Horston suffered an elbow injury in a mid-February conference game against Alabama and was out for the rest of the year, leaving the Lady Vols without a major piece of the lineup that got them to an 18-4 heading into that point.
Sure enough, UT only went 7-5 the rest of the way without her and was bounced in the Sweet 16 by Louisville - a long-awaited return for the program. It hadn't made it to that point since 2016, but Tennessee was left simultaneously wondering what could've been if its lineup was at full-strength.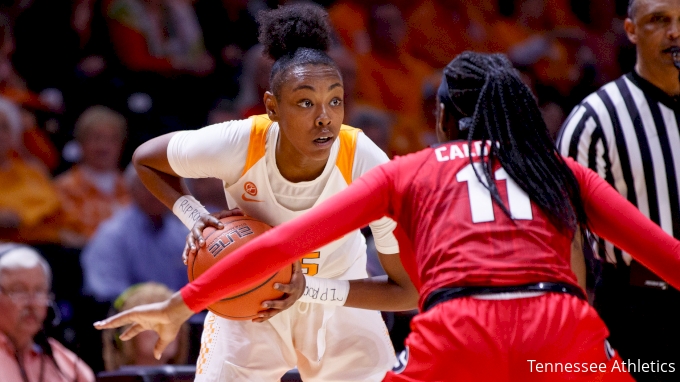 This season, barring any further major injuries or departures, the Lady Vols will know the answer to that question.
With no setbacks reported for Horston, along with the massive additions of Rickea Jackson (the Southeastern Conference's leading scorer at Mississippi State prior to her January departure) and others from the transfer portal - plus the return of 6-6 center Tamari Key - Tennessee is hungry to end a long Final Four drought, by its standards, of 14 years.
A healthy Horston will make the Lady Vols contenders to get back to the national semifinals for the 19th time and, maybe more symbolically, for the first time since legendary coach Pat Summitt's 2012 retirement.
Zia Cooke, Sr., South Carolina
National championships aren't won with just one player, and even in South Carolina's case, that couldn't be further from the truth, as the Gamecocks captured their second title under coach Dawn Staley last season.
Unanimous National Player of the Year Aliyah Boston deservedly gets a lot of the credit for how South Carolina has turned into a juggernaut over the past few seasons, but Cooke has been right there along the way, as well, as the Gamecocks' longtime starter at two guard.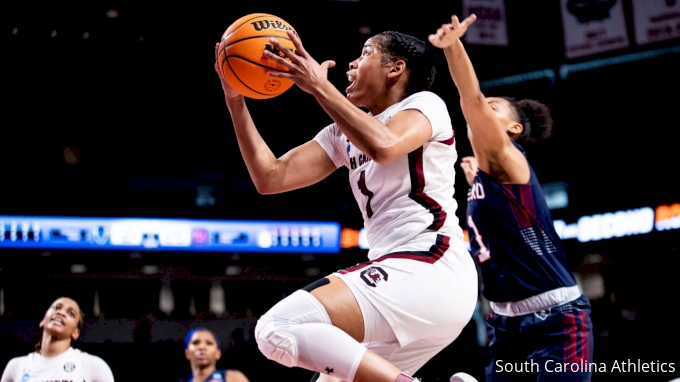 Her and Boston have started in every game they've played over the past three seasons - the only South Carolina players to currently own such a streak - as a clear indication in the trust Staley has in Cooke, an AP All-America honorable mention last season and a two-time All-SEC pick.
Holding a career scoring average of 12.8 point-per-game in Columbia, Cooke doesn't need to score a lot to be effective. He season-high for point in a game last year was 20.
Her ability to show up for the Gamecocks when she needs to - such as in Final Four wins over Louisville and UConn when she spearheaded second- and first-half runs, respectively - makes her an indispensable part of the South Carolina game plan, arguably as much as Boston.
And, as the nation's No. 1-ranked team in the preseason, it's clear others see Cooke's value on the roster, too.