2022 Women's Cancun Challenge
Top 10 Small Forwards In Women's College Hoops: Joens Eyes Award Three-Peat
Top 10 Small Forwards In Women's College Hoops: Joens Eyes Award Three-Peat
Positionless basketball is all the rage nowadays, and it's possible no role identifies closer to that definition than the small forward.
Nov 2, 2022
by Briar Napier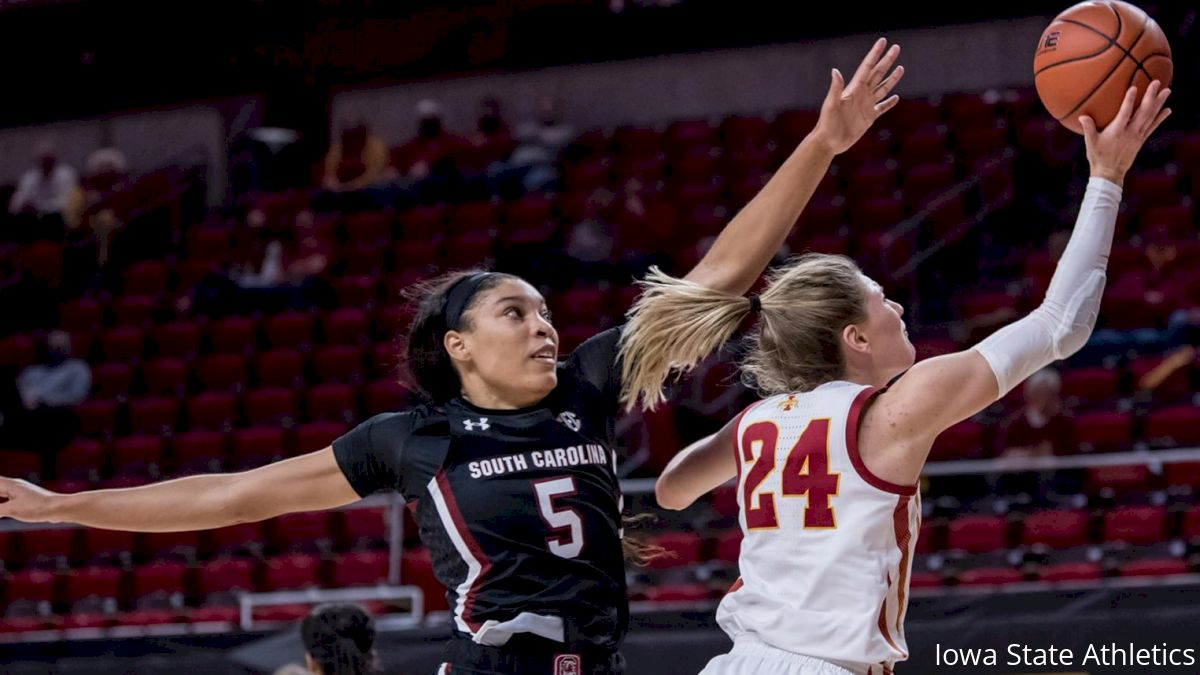 Positionless basketball is all the rage nowadays, and it's possible no role identifies closer to that definition than the small forward.
Too big for the backcourt defenses and too agile for the frontcourt enforcers, the best of the best at the 3 spot are Swiss Army knives. They can burn opponents in a variety of ways, ranging from size to shooting to ball handling to anything and everything in between.
Though there are plenty of names across the college basketball landscape that make a habit out of making an opposing defense's life difficult from the small forward spot - and many that are sure to emerge this upcoming season - several across the country already have made their names known as players worth watching.
Here's a look at 10 small forwards to watch in women's college basketball this season, with games - many featuring some of the players below - being broadcast live on FloHoops.
Ashley Joens, Sr., Iowa State
Even with the WNBA trying to entice her as one of the top prospects for the 2022 WNBA Draft, Joens felt she had unfinished business to take care of and said no to the draft process. Instead, she returned for a fifth year in Ames - much to the delight to the Cyclones and their fans - but to the horror of the rest of the Big 12 Conference.
The two-time reigning Cheryl Miller Award winner for being the best small forward in the country, Joens has a legitimate chance this season to join a small, yet elite, pack of women's college stars to win three national awards for being the best at their position over the course of their careers.
Sue Bird, Sabrina Ionescu (Nancy Lieberman Award) and Aliyah Boston (Lisa Leslie Award) already have achieved the three-peat.
An Associated Press second-team All-American last year and a three-time unanimous All-Big 12 first-team pick, Joens is a superstar who has averaged over 20 points per game in each of the past three seasons, while helping take the Cyclones to their first Sweet 16 since 2010 a year ago by averaging 20.3 points and 9.5 rebounds per game.
She tallied a double-double in 18 games and proved herself to be a more than capable deep shooter, too, at 37.6% from 3-point range, with her prowess being the major reason behind ISU's current spot at No. 8 in the AP Preseason Top 25 Poll.
If Joens plays again like the nation's best small forward, that placing could rise throughout the course of the year.
Haley Jones, Sr., Stanford
Jones first got much of the country's attention when her play in the 2021 NCAA Tournament - particularly in the Final Four and on - was vital in Stanford's first national title since 1992.
Her play in the 2021-2022 season to follow it up helped the attention stay there.
The Pac-12 Coaches' Player of the Year and an AP first-team All-American last season, Jones became Stanford's undisputed star and should be in the running for National Player of the Year conversations this time around, particularly if the No. 2-ranked Cardinal live up to the massive amount of hype they've built for themselves as back-to-back Final Four qualifiers.
Six and a half months removed from a national semifinals loss, @StanfordWBB is back to construct what they hope is a very hard ceiling at the top of #Pac12WBB.

✍️ @macsmith413 from Media Day on what this year holds for the Cardinal.https://t.co/WABjmZ0r4p

— Pac-12 Conference (@pac12) November 1, 2022
Simply, Jones' scoring numbers (13.2 points per game) are good, but they don't jump off of the page, but her elite vision on the court (3.7 assists) and willingness to jump into rebounding battles - more often than not, win them (7.9 rebounds) - are next-level attributes.
At 6-foot-1 it all makes her position hard to define, but that's something definitely intended to be a compliment, as it makes Jones an enigma, one of a few players in the women's game today being compared to the likes of Draymond Green and Magic Johnson.
Quite possibly the toughest defensive assignment in the country - too quick for the forwards, too strong for the guards - there's no indication at the moment that Jones is slowing down, and that's bad news for any team scheduled against the Cardinal this year.
Rickea Jackson, Sr., Tennessee
When Jackson suddenly opted to transfer out of Mississippi State in the middle of last season while being the Southeastern Conference's leading scorer, she almost instantly became arguably the nation's most sought-after transfer.
Now, she may be the key piece behind Rocky Top's recent revival and surge back to the top of the women's college basketball world.
Jackson, who was averaging 20.3 points, 6.7 rebounds and 1.5 blocks per game in Starkville, left the Bulldogs program in January and comes to Knoxville as a shiny new piece on coach Kellie Harper's loaded roster.
Harper has both elite returners (guard Jordan Horston, center Tamari Key) and talented transfers like Jackson, who are looking to build off the Lady Vols' Sweet 16 appearance a season ago.
She should slide nicely into the role left behind by WNBA Draft pick Rae Burrell, though Jackson's game tends to thrive more on the interior, as her 3-point percentage from a season ago (24.3%) needs work.
Still, paired with the 6-6 Tamari Key in the low post, Jackson will help give Tennessee a duo that few will know how to stop. Even fewer actually will have the personnel to do it, and potentially could be the X-factor behind UT making its first Final Four in the post-Pat Summitt era.
Morgan Jones, Gr., Louisville
Jones' career has been a steady rise, having spent the past four seasons at Florida State and grown from a role player off of the bench to a two-time All-Atlantic Coast Conference selection and heavy contributor on three NCAA Tournament teams.
Now, the Georgia native is faced with a new challenge - repeating those successes at a new program.
Jones joined one of the Seminoles' old ACC rivals, Louisville, with the Cardinals coming off a Final Four appearance and the departures of several key figures from that run.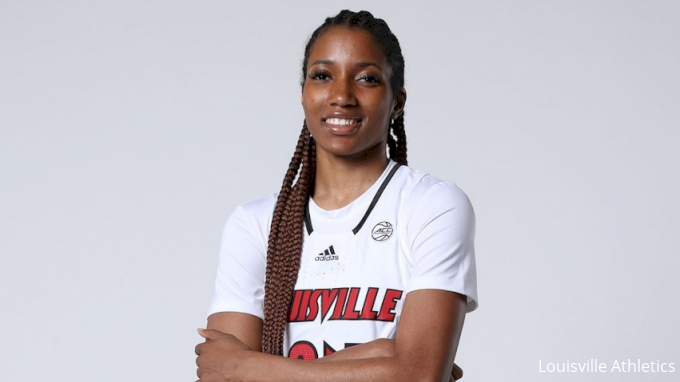 An all-around stud who averaged 13.8 points, 5.7 rebounds, 1.1 steals and 1.0 blocks per game a year ago, Jones should give U of L coach Jeff Walz a little bit of everything on both ends of the floor.
She's a versatile piece that should pair well with star returners, such as shooting guard Hailey Van Lith, and other new additions, including Syracuse grad transfer point guard Chrislyn Carr.
The fact that Jones has been there and done that in the ACC for several seasons should help her as she transitions to Louisville, too, and it's additionally evident in the fact that she already has been tabbed as a Preseason All-ACC selection, before ever playing a game for the Cardinals.
Louisville will need help from just about everyone on the roster if it's able to get through the gauntlet and back to the Final Four again, but add-ons like Jones should make the fight a little bit easier.
Madi Williams, Gr., Oklahoma
If it hadn't been for Joens at Iowa State running away with just about every award for a small forward, Williams likely would've been the hottest commodity at the position coming out of the Big 12 over the past few seasons.
Regardless, the Texan has a game that deserves to be acknowledged - and it may see her have her name selected early on in next year's WNBA Draft.
Williams stuffed the stat sheet on a nightly basis a year ago, averaging 18.0 points, 7.5 rebounds, 2.6 assists and 1.4 steals for the 25-9 Sooners, who made it to the second round of the NCAA Tournament, while Williams became the first player since program legend Courtney Paris to lead the Sooners in rebounding for four consecutive seasons.
Last year's campaign was the first time OU qualified for March Madness since 2018, and now that Williams and the rest of the roster has had a taste of the big time, it's safe to say that she and sharpshooter shooting guard Taylor Robertson will be gunning for a spot in the field - and as long of a stay in it as possible - once again.
A consistent player who also can shoulder the scoring load if need be, having tallied the program's all-time single-game scoring record with a 45-point outburst against West Virginia during her junior season, Williams will continue to help make Oklahoma a dangerous squad aiming to return to its former glory as a Final Four threat, of which it hasn't qualified for that round since 2010.
Grace Berger, Sr., Indiana
Berger has been the main catalyst behind what confidently can be described as the greatest period in Indiana women's basketball history. The Hoosiers' back-to-back Sweet 16 appearances over the past two years were the program's first two trips to the round.
Back for another go-round, this time with IU ranked 11th in the first AP Top 25 of the year, pollsters are high on Berger's Hoosiers, and for good reason.
The Louisville native averaged career bests in nearly every major statistical category, finishing the year with 16.2 points, 6.2 rebounds, 4.7 assists and 1.4 steals per game. Berger did it all on the floor, earning her third straight All-Big Ten first-team nod in the process.
Almost certainly going to be the program's winningest player of all time, as she's tied with two others at 90 victories, Berger should deservedly go down as a legendary figure at Assembly Hall, right up there with the many heralded men's players who have stepped foot on its floor.
The additional thing that could add to her legacy, however, is another deep tournament run, with Berger's junior year of 2020-2021 being the first time the Hoosiers ever made the Elite Eight.
But with so many barriers already broken by Berger in her storied career, what is there to stop her now?
Lior Garzon, Jr., Oklahoma State
Garzon evolved into the right-hand woman for BIG EAST Player of the Year Maddy Siegrist at Villanova last season, with Garzon starting in every game she played in and having the key ability of being able to burn teams on her own, when perhaps too much attention was focused on controlling Siegrist.
Now at Oklahoma State with plenty of room left to grow as just a junior, perhaps it's Garzon's time to shine as an individual star in her own right.
The Israel-born forward was named the BIG EAST's Co-Most Improved Player last season (along with sophomore guard Lauren Jensen of Creighton), following her major leap in production from 8.8 points per game (with one start) her freshman season to 13.1 points per game (with 32 starts) her sophomore season.
There's also some evidence that Garzon can be a go-to scorer in her own right, as well.
When Siegrist missed nearly a month early in the 2021-2022 season due to injury, Garzon averaged 16 points across the six games, with a season-high 26 points coming in a November win over Saint Joseph's.
The Cowgirls had a rough season a year ago, going just 9-20, but with Garzon's addition and the return of junior guard Lexy Keys (10.1 points, 2.7 rebounds per game), OSU could make some strides this season.
Caroline Ducharme, Soph., UConn
Pretty much any player who suits up at all, let alone starts and significantly contributes, for UConn and legendary coach Geno Auriemma, must live up to a lofty set of standards defined by decades of dominance for the nation's most successful women's basketball program.
But for the Huskies' expected starters this year, there's some added demand this time around.
Former Naismith Player of the Year and all-around superstar Paige Bueckers will miss the entire 2022-2023 season due to a torn ACL, suffered in the offseason, and the players remaining on the roster must pick up the production in the absence of the All-American.
Getting right for opening night! pic.twitter.com/glsCF0x71E

— UConn Women's Basketball (@UConnWBB) November 1, 2022
That leaves two sophomores - guard Azzi Fudd and Ducharme - as possibly UConn's most important players this season in terms of growth and development into stars the Huskies can turn to in hectic moments.
Ducharme, who started 11 games and showed flashes of stardom in parts of last season - such as a 28-point scoring spree in a January win over St. John's - was named an All-BIG EAST second-teamer, despite playing injured for portions of the year, ailments that required her to have offseason hip surgery.
Now cleared to play and having earned high praise from Auriemma for her ability to step up when Bueckers went down in a December game against Notre Dame, missing a significant part of the season in the process, Ducharme could be set for a breakout year - and with the cutthroat expectations UConn has every year, it might be expected.
Myah Selland, R-Sr., South Dakota State
No mid-major, or team outside the "blue bloods," is ranked higher in the preseason than South Dakota State at No. 23, and that's for good reason, as many teams can't catch the Jackrabbits when they're at full strength.
All the evidence needed to prove that is SDSU's run to the WNIT title last season, spearheaded by Selland, one of the most decorated players in program history.
Hailing from tiny Letcher, South Dakota (pop. 159), Selland has a game that has helped put the Jackrabbits on the map nationally, having averaged 13.6 points, 5.6 rebounds and 3.1 assists on a 51% field goal percentage across her five seasons in Brookings.
The Summit League Player of the Year in 2020-2021 season and the reigning WNIT MVP, the 6-1 Selland added a dangerous wrinkle to her skillset a year ago by shooting a ridiculous 46.5% from beyond the 3-point arc, a mark that was no fluke, as she shot a career-high 103 triples to make her one of the country's most dangerous inside-out threats.
Arguably, the only thing that has been able to stop her from having even more legendary numbers, however, is her own body. Selland has missed significant chunks of each of the past three years due to injury, missing seven games for the Jackrabbits early last season, before returning to help SDSU rip through the Summit League with a 17-1 regular-season record.
Could Selland's sixth season (due to a medical redshirt and the extra COVID year) be the charm for her and South Dakota State?
Aijha Blackwell, Sr., Baylor
From the moment she stepped on campus at Missouri, Blackwell was the Tigers' best player and a name SEC fans and women's hoops diehards came to recognize as a name on the rise.
However, her college choice didn't result in much national exposure for the forward, as Mizzou didn't make a NCAA Tournament in her three seasons there, having failed to find its way in, forced to navigate a brutal league.
At Baylor, her - and the Bears' - fortunes could quickly change.
Last season, Blackwell averaged 15.4 points per night on an efficient 49.5% clip from the field, but it was her rebounding prowess that made her one of the top transfer-portal targets this offseason. She averaged an incredible 13.0 boards per game, the No. 2 rank in the country, behind superstar DePaul freshman Aneesah Morrow's 13.8.
Blackwell plays much, much bigger than her 5-11 frame, and as Baylor reels off the loss of All-American and No. 2 overall draft pick NaLyssa Smith, there are a lot of rebounds that were corralled by Smith last year that need to be taken care of for this season.
Whole squad ready😎#SicEm | #GreaterThan pic.twitter.com/qow5psFLaf

— Baylor Women's Basketball (@BaylorWBB) November 1, 2022
The first year in the era of coach Nicki Collen was a bit of a mixed bag by Baylor's lofty standards, with the Bears going 28-7, before being dumped out of the NCAA Tournament via an upset loss to South Dakota.
With players like Blackwell coming into the fold, however, this season should make for a defining year in Waco in terms of which direction the program is headed without hall of famer Kim Mulkey on the sidelines.