2022 Women's Baha Mar Hoops Pink Flamingo Championship
Baha Mar Hoops Pink Flamingo Championship Players To Watch
Baha Mar Hoops Pink Flamingo Championship Players To Watch
At the Baha Mar Hoops Pink Flamingo Championship, eight teams will square off in the capital of the Bahamas - Nassau - across two exciting days of play.
Nov 3, 2022
by Briar Napier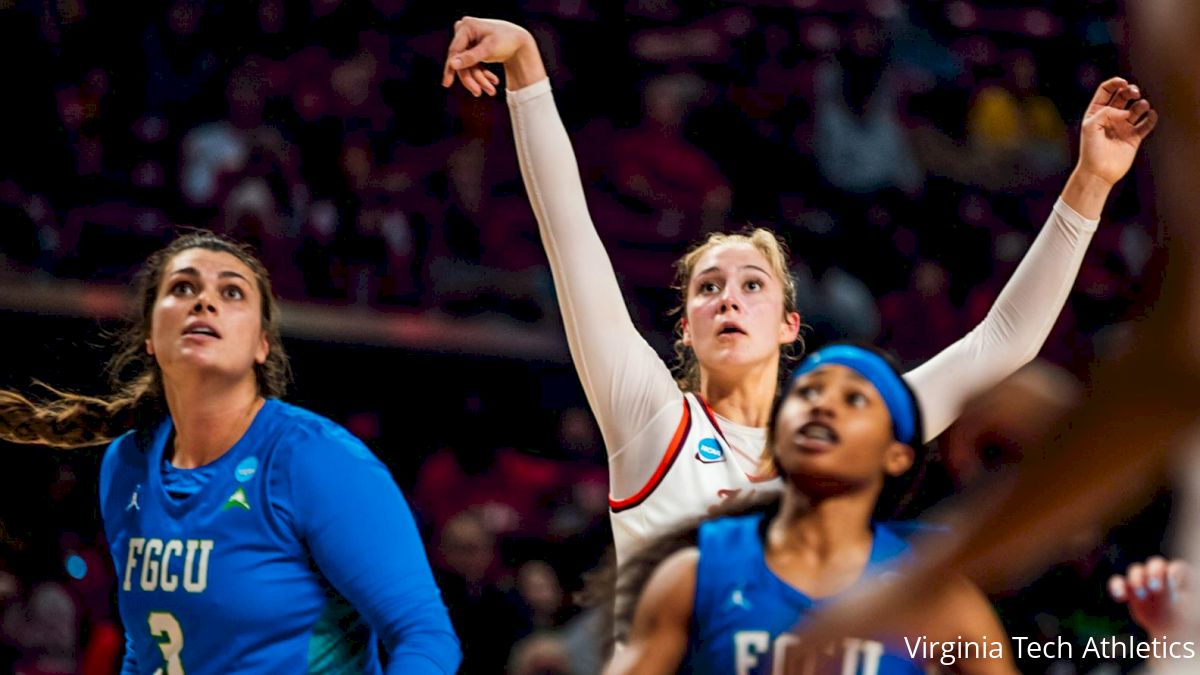 In the balmy Bahamas, the stars shine about as bright as the sun.
When college basketball's best come to play in the islands for the many tournaments that take place in a tropical hotspot during Thanksgiving week, it offers a rare opportunity outside the NCAA Tournament to see some of the best at their craft compete in a truly neutral environment.
At the Baha Mar Hoops Pink Flamingo Championship later on this month, that's no different.
Eight teams will square off in the capital of the Bahamas, Nassau, across two days of play in a test of fortitude and early-season mettle at a beach resort.
Numerous players are sure to make a difference across the two days of play, but for the five individuals listed below, they already have made marks over the course of their college careers and are especially worth watching.
Here's a look at some top players to check out during the Baha Mar Hoops Pink Flamingo Championship at the Baha Mar Convention Center. The event will take place Nov. 21-23 and will be streamed live on FloHoops.
Elizabeth Kitley, Sr., C, Virginia Tech
One of the top forward/center prospects for the upcoming WNBA Draft cycle, Kitley has been the Hokies' star attraction for at least two seasons, and deservedly so.
With the exception of towering South Carolina superstar Aliyah Boston, there's arguably no one better in America than Kitley in terms of being so dominant in the interior on both ends of the floor.
The reigning Atlantic Coast Conference Player of the Year and a third-team All-American by the Associated Press, the 6-foot-6 Kitley led the league in double-doubles (15) and had four or more blocks in nine games. She gave Virginia Tech a presence few programs could contain, as she was vital in getting the Hokies to back-to-back NCAA Tournaments last year for the first time since 2005 and 2006.
With averages of 18.1 points, 9.6 rebounds and 2.4 blocks - on an efficient 55.1% clip from the floor, no less - Kitley got her fill in just about every Tech game last year, leaving it up to opponents to try and limit just how much of a fill she got.
A deep postseason run has eluded Kitley thus far in her career, however, as the Hokies were upset as a No. 5 seed by Florida Gulf Coast in the first round of last year's March Madness, despite Kitley dumping in a school-record 42 points.
With some familiar (returning guard Georgia Amoore) and fresh (Maryland transfer Ashley Owusu) firepower in the roster this season, however, Kitley has likely the best squad she's ever had surrounding her in Blacksburg - and perhaps her best chance at some silverware in her college career, both in the islands and the Big Dance.
Gianna Kneepkens, Soph., G/F, Utah
Utah had one of the biggest one-season turnarounds in the country last season, going from a putrid five-win campaign during the 2020-2021 season to a 21-win effort a year ago, with a trip back to the NCAA Tournament for the first time in 11 years.
Kneepkens' emergence as an immediate jolt to the Utes as a freshman was a major reason why Utah made massive strides.
The Minnesotan got her starting role in the backcourt in December - on the back of a season-high 29 points off of the bench against BYU - and never lost it, riding that momentum all the way to a Pac-12 Freshman of the Year selection and a deserved place on the league's all-conference first team.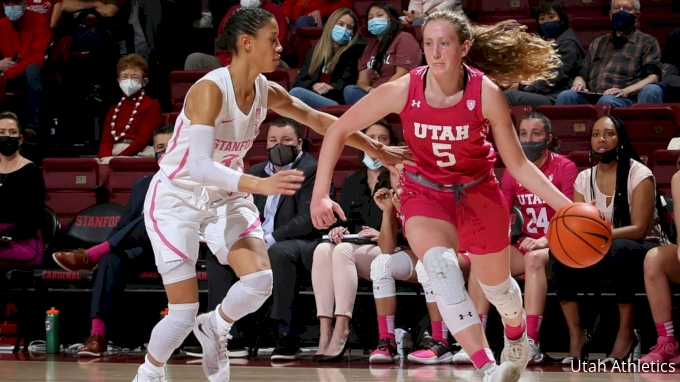 A strong shooter (38.4% from 3-point range) who seemed to grow cozier into her role in the offense as the year went along, Kneepkens, finished with an average of 11.8 points and 4.4 rebounds per game. She has the potential to break out even further for her sophomore season judging merely by the strength and promise shown in her freshman campaign.
Others around the country seem to think so, too, as she was one of 20 small forwards nationally to be named to the preseason Cheryl Miller Award watch list, being put among a list featuring current stars of the college game, such as Iowa State's Ashley Joens, Stanford's Haley Jones and Tennessee's Rickea Jackson.
High praise, indeed, but based on Kneepkens' game at such a young stage of her college career, they could be onto something.
Brittany Davis, Gr., G, Alabama
The breakout star of the Southeastern Conference a year ago, Davis emerged seemingly out of nowhere for the Crimson Tide at a time when the team needed new players to shoulder the load of production left behind from the 'Bama team that made the NCAA Tournament in 2021.
A former junior college transfer who came off of the bench in 30 games for the Tide in 2019-2020 (averaging just 6.6 points in 16.4 minutes per night), Davis was nowhere to be found on the floor when Alabama got to the postseason for the first time this century, as she had opted out of the year due to COVID-19.
But when the Georgia native returned to play, she came back with a vengeance.
.@therealbd23 🤝First Team All-SEC

📝https://t.co/m6ez7Omv0D#RollTide pic.twitter.com/D8DDDrgJJz

— Alabama Women's Basketball (@AlabamaWBB) October 26, 2022
Davis started all 34 of Alabama's games last year and tallied a team-high 17.7 points with 7.0 rebounds and 1.7 steals per game, though the Tide couldn't make it consecutive trips to March Madness for the first time since the 1990s. They found themselves on the wrong side of the at-large bubble.
A strong run to the WNIT quarterfinals, where Bama lost to eventual winner South Dakota State, was nothing to hang its head about, however, and Davis' 21.3 points per game during the WNIT run was a major reason why the Tide got so far in the first place.
Now a star on the floor every women's basketball program in the SEC knows about, no one is going to be caught by surprise by Davis' game this time around - but that doesn't mean schools are going to be able to stop her, anyway.
Hayley Frank, Sr., F, Missouri
An under-the-radar player in a loaded SEC, Frank has been quietly balling out for the Tigers over the course of the past three seasons, culminating in a 15-point-, 5.1-rebound per game campaign a year ago, with a ridiculous 46.2% mark from 3, the SEC's best, even after launching 173 triples across the course of the year.
But because Mizzou hasn't made the NCAA Tournament during her time in Columbia, much of the national scene hasn't quite been able to get a whiff of her game yet.
In the Bahamas, a few more fans and onlookers will get a look at her, and at the right time, especially because Frank will have a lot riding on her shoulders for the Tigers this season.
Just gettin' started 📈 pic.twitter.com/0OsxEQzAJW

— Mizzou Basketball (@MizzouWBB) October 27, 2022
Star forward Aijha Blackwell, who averaged 15.4 points and an incredible 13 rebounds per game last season, transferred to Baylor in the offseason, leaving Missouri without the player it largely has relied on for much of the past three years.
It simultaneously also makes Frank a potential All-SEC candidate, however, as coach Robin Pingeton likely will lean even more heavily on the Strafford, Missouri, native and the inside-out game that makes her so effective.
A three-level scorer who also surprisingly led the Tigers in blocks (even with the 6-4 now-LSU center LaDazhia Williams on the roster last season), watch for Frank to potentially make a difference on the floor in the islands, and especially check out what she'll be able to muster when Mizzou plays Virginia Tech on Nov. 23. at 1:30 p.m.
Jewel Spear, Jr., G, Wake Forest
The Wake Forest offense was often simple - give the ball to Jewel Spear and get out of the way to let her do things with it.
The ACC's reigning scoring queen (and the first sophomore to do it in the league in a decade), few players flung up more 3-pointers in America than Spear's 248. She sank 90 to give her a solid 36.3% rate from deep.
She hit a career and all-time school high 10 of those triples in a 40-point outburst against East Tennessee State last December, announcing to opponents on the Demon Deacons' schedule that she is not to be left open or allowed to get hot, or else defenses will pay.
Her 18.3 points per game was almost double the next-highest rate on her team, leaving it abundantly clear that Spear is Wake Forest's best and most important player entering the 2022-2023 season.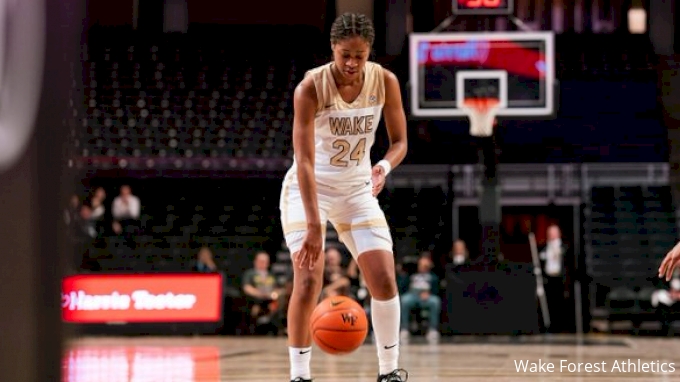 There will be a major difference in who is calling the shots for the Demon Deacons on the floor, however, and it's a change that could drastically impact Spear's role and potentially how much she produces.
Former coach Jen Hoover was dismissed in May, with the school's higher-ups opting to hire former American coach Megan Gebbia, after she took the Eagles to three NCAA Tournaments since the 2014-2015 season, compared to just two NCAA Tournaments in Wake Forest program history.
Though Gebbia's method of defense first often led to an offense that scored well below the national average (American scored 59.4 points per game a season ago), it was a method of success for her during her time in the nation's capital.
How it meshes with Spear's high-usage style of play will be a storyline to watch in the season's early goings.