2022 Villanova vs Marquette - Women's
Villanova Women's Basketball: Siegrist Returns, Team Eyes Silverware
Villanova Women's Basketball: Siegrist Returns, Team Eyes Silverware
Villanova became a must-watch program. With a standard of exciting basketball and an outstanding player, the Wildcats are ready to take on the BIG EAST.
Nov 4, 2022
by Briar Napier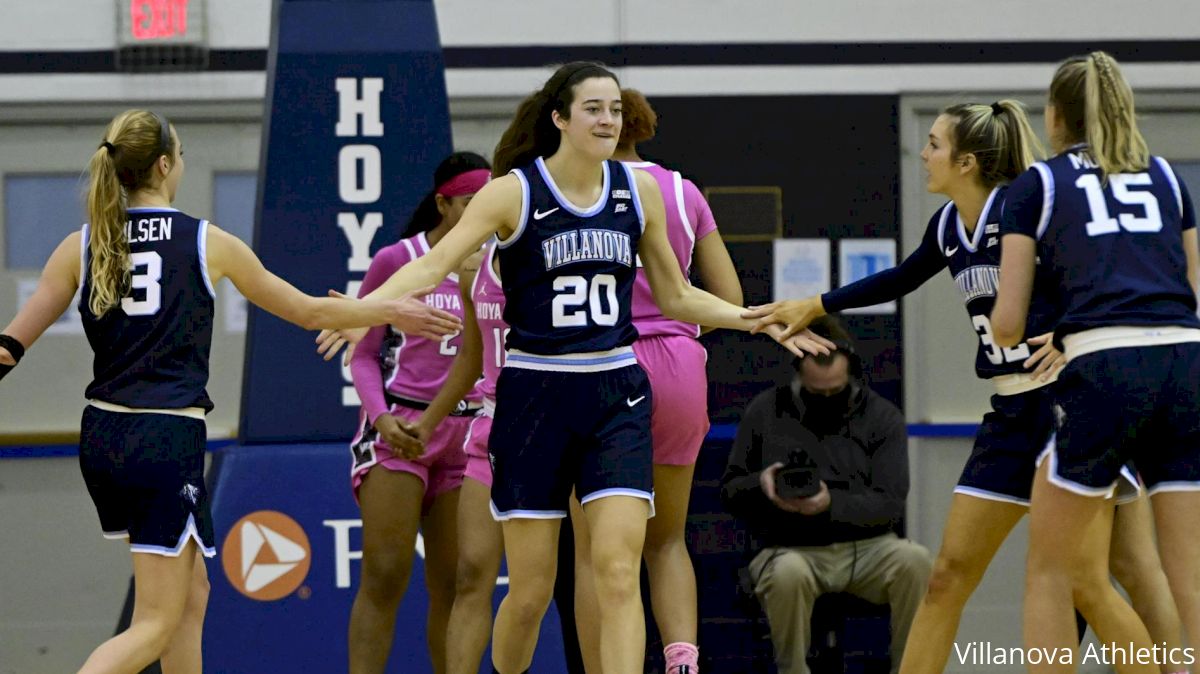 Villanova women's basketball became a must-watch program a season ago.
Now, with a standard of exciting basketball - mainly through one outstanding player - established in Philadelphia, perhaps the Wildcats believe they have something to prove in the BIG EAST title race this year.
With an All-America candidate in its wings and coming off an NCAA Tournament appearance, 'Nova has a right to be feared as a potential team to pull off something no other program has done in nearly decade - stop UConn from winning an outright regular-season conference championship.
The task is easier said than done, however, even with the Huskies dealing with some ailments and injuries of their own. But a program-changing player doesn't come around often, and one is here and suiting up nightly for Villanova. Perhaps some school history is in the making with her individual superstardom, too.
What is there to look out for with Villanova women's basketball for the 2022-2023 season?
Below is a look into what the Wildcats will bring to the table, as FloHoops previews every women's basketball team in the BIG EAST.
2021-2022 Season Review
A slow 3-5 start ended up finishing as a strong 24-9 campaign for the Wildcats, who bounced up, down and all around the NCAA Tournament bubble, before finding themselves on the right side of it with an at-large bid.
Villanova then proved the selection committee to be wise in picking the Wildcats, who upset No. 6 BYU in the first round as a No. 11 seed, before falling to No. 3 Michigan in the Round of 32.
It was a step forward for a team that previously had not found itself in March Madness since 2018, with a strong midseason stretch - only losing one game from Jan. 16 to March 6 - proving 'Nova could roll with the best of the brutal BIG EAST when the team fires on all cylinders.
No game proved that statement to be truer than when the Wildcats upset then-No. 8 UConn at the XL Center in February, ending the Huskies' mind-blowing 169-game conference winning streak and making coach Denise Dillon, a former 'Nova player, one of only two women to ever beat UConn as both a player and a head coach, along with Virginia player/South Carolina sideline leader Dawn Staley.
The heart and soul of the team unquestionably was junior forward Maddy Siegrist, who put up one of the best individual seasons in BIG EAST history. She earned the league's Player of the Year award and became the first Wildcat to earn the honor since Lisa Angelotti in the 1987-1988 season.
Siegrist's top running mates in sophomore forward Lior Garzon (13.1 points per game) and grad forward Brianna Herlihy (10.7 points, 8.2 rebounds, 3.1 assists per game) were additionally important in giving the Wildcats multiple options to turn to when defenses honed in on Siegrist - and perhaps crucially, neither of those players return to the program for the 2022-2023 campaign.
#BEMediaDay Scenes 🎥 pic.twitter.com/HPdeENr7rI

— Villanova WBB (@novawbb) October 19, 2022
On The Court
Understandably, most Villanova games last season were just new episodes of the Siegrist Show.
One of the top scorers in America with a massive usage rate of 33.5% (per analytics site HerHoopStats), Dillon on many occasions kept the Wildcats' offense simple: give the rock to Siegrist, and let her do things with it, which more often than not provided a winning formula Villanova could rely on.
However, 24-win teams don't often get to that point with just one player, and the Wildcats' efficiency on the offensive end was a key (and perhaps overlooked) part of their success a year ago.
Villanova recorded assists on 64.4% of its shots - a high number already on the surface, but especially telling when considering how skilled Siegrist is at creating shots and opportunities for herself.
The rate is an indication that 'Nova took ball movement and high-percentage looks to heart, especially if a 3-pointer was involved, as 36.4% of the Wildcats' shots last year were from beyond the arc, one of the highest percentages in the BIG EAST.
Plus, Villanova's backcourt rarely turned the ball over, with the team as a whole possessing a 1.18 assist-to-turnover ratio (25th in the country), and the squad didn't waste opportunities at the charity stripe, either, with a 76.1% clip for the year from the line.
The Wildcats check most of the boxes in terms of being considered a well-oiled machine on offense, but the rebounding could be a bit better - Villanova lost the overall rebounding margin for last year - to really kick the team's production into another gear.
Key Returner
Maddy Siegrist, F, Sr., Poughkeepsie, New York
Even with nine returners on the roster, could anyone else have really occupied this spot?
One of the finest players to step foot on the floor in Villanova (and BIG EAST) history, Siegrist has the opportunity this season to join a small, but elite, group of women to win multiple BIG EAST Player of the Year awards. Only Shelly Pennefather, Kerry Bascom, Rebecca Lobo, Diana Taurasi, Maya Moore and Skylar Diggins have pulled off the feat.
Siegrist broke a nearly 30-year-old record last year by averaging an incredible 27.9 points per game against conference opposition, setting a new BIG EAST single-season mark for scoring average, while her full-season average of 25.3 points per night was bested nationally only by Iowa superstar Caitlin Clark.
To further state how important Siegrist is to Villanova's success, when she missed six games early in the season due to a hand injury, the Wildcats went 3-3. When Siegrist returned, 'Nova went 21-4 the rest of the way.
.@tessa_Peloso checked in with @20sMaddy after last night's exhibition game win over Jefferson 🎤 pic.twitter.com/4vDLEJ2LJZ

— Villanova WBB (@novawbb) November 3, 2022
A three-level scorer who averaged more made field goals per game (9.5) than any other player in America, opposing defenses are essentially helpless to entirely stop Siegrist, rather being limited to just slowing down her impact on a game.
Good luck trying to do that, however, as last season Siegrist had 21 20-point games and nine 30-point outbursts, including a ridiculous 42-point, 13-rebound game against Marquette in February.
Though Siegrist does have another year of eligibility remaining after this one due to the pandemic, with WNBA scouts locking eyes on her as a potential first-round draft pick, there's no guarantee that she'll stick around. So, if this is indeed her last hurrah, expect fireworks throughout the year during Villanova games.
Key Addition
Maddie Burke, G, Jr., Doylestown, Pennsylvania
As mentioned previously, neither Garzon (who transferred to Oklahoma State) nor Herlihy (who graduated) will be suiting up for the Wildcats this season, leaving an open application for the 'Nova roster in terms of finding those who wish to play second (or third) fiddle to Siegrist on the floor.
It's likely that one (or a few) of the many other returners for the Wildcats will be stepping up into an increased role, but in terms of the new faces that dot the program for this season, only Burke brings with her high-level college hoops experience.
The Penn State transfer was poised for a big sophomore surge after a promising freshman campaign in which she was the Big Ten's Sixth Player of the Year. She earned it with 8.9 points and 3.5 rebounds per game as a good deep shooter (35.4% from 3 that season) who mostly came off of the bench.
However, Burke was just not made a major part of coach Carolyn Kieger's plans during this past season, seeing her minutes drop dramatically (26.3 to 14.2 per game) from her first year, and that helped lead to Burke's exit through the portal in the offseason.
Perhaps her addition comes at the right time for Villanova, as it looks for proven contributors to capitalize and produce when defenses are overly putting attention on Siegrist.
Not only that, it also could finally give Burke the major role on a team she looked destined for after a season in State College.
Game To Watch: Villanova Vs. Creighton
How's this for a BIG EAST conference opener?
If any team is going to unseat UConn as the queens of the league, it's almost certainly going to be either Creighton or Villanova, the No. 2 and No. 3 schools, respectively, in the BIG EAST Preseason Coaches' Poll released last month.
The only two schools in the league besides the Huskies to win NCAA Tournament games last season, Creighton in particular is coming off a historic run as a No. 10 seed to the Elite Eight, where the Bluejays stunned the likes of Iowa and Iowa State, before losing to eventual national champion South Carolina.
Villanova received the only non-UConn first-place vote in the aforementioned preseason poll, however, and with potentially the league's best player in Siegrist to guide the way, it could make the Wildcats worthy challengers to the crown.
This early-December showdown at Finneran Pavilion should tell BIG EAST fans plenty about which direction the league's title race is going to go, even if the product on the floor isn't as perfect and as fine-tuned as what both teams likely will put out in March.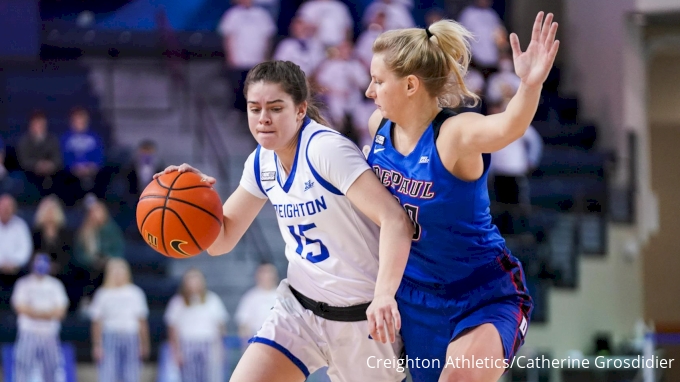 But with Creighton's three leading scorers from last year in Lauren Jensen, Emma Ronsiek and Morgan Maly all back in the fold, the firepower the Bluejays return will give the Wildcats a critical conference test right off the bat.
Still, if things go well for 'Nova, it also could put the rest of the league on notice right from the start of BIG EAST play.