2022 Battle 4 Atlantis Women's Tournament
Top WNBA Prospects To Watch In 2022-2023 Women's College Basketball
Top WNBA Prospects To Watch In 2022-2023 Women's College Basketball
Awaiting the WNBA is one of the most impressive classes of college basketball talent in recent memory, a group that includes champions and surprise stars.
Nov 7, 2022
by Kyle Kensing
Before they take the pro game by storm, the next wave of WNBA stars will headline the 2022-23 women's college basketball season.
This year's class of draft prospects could be one of the strongest in recent memory, with South Carolina's Aliyah Boston front-and-center. Boston has the makings of both a future Player of the Year and No. 1 overall WNBA draft pick.
There's plenty more to the class alongside Boston, however. The following are players to watch in 2022-23, limited to those who are draft-eligible come spring. While that means no Caitlin Clark — Iowa's scoring machine will not meet the age requirement until the 2024 draft — the '23 class includes UConn's Paige Bueckers.
Bueckers is not listed below due to her sitting out with a season-ending injury, but she warrants mentioning as a potential top pick in the next WNBA draft.
Aliyah Boston, Senior Forward, South Carolina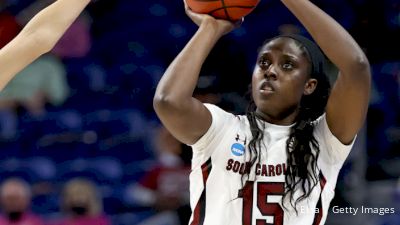 The centerpiece of reigning national champion South Carolina, Aliyah Boston is the overwhelming favorite to win 2022-23 National Player of the Year honors. Boston's performance in last spring's Final Four was one for the ages, demonstrating the versatility of her game.
She posted double-doubles in blowouts of both Louisville (23 points, 18 rebounds) and UConn (11 points, 16 rebounds). Putting forth her best performances against the best competition showed Boston's potential as a pro, the ceiling of which is remarkably high.
Boston compares favorably to fellow Gamecock A'ja Wilson, who earned two MVPs just five years into her WNBA career.
Jordan Horston, Senior Guard, Tennessee
The long-running history of Tennessee producing some of the absolute best players in women's basketball continues with Jordan Horston carrying the legacy of stars like Candace Parker. Horston's brand of basketball actually compares perhaps most closely to a star of the Lady Vols' late 1990s, Chamique Holdsclaw.
Horston is a long, rangy guard at 6-foot-2, bringing the playmaking ability of a point; the scoring efficiency of a top-notch two; and the energy of a hard-nosed power forward on the interior.
With Tennessee tabbed for a return to national championship-contention this season, thanks in part to Horston's return to the lineup at full strength, expect the senior guard's stock to skyrocket through the 2022-23 campaign.
Ashley Joens, Senior Guard, Iowa State
Iowa is home to more than one explosive-scoring guard. Ashley Joens figures to give Caitlin Clark of the rival Hawkeyes a run for her more as the nation's most prolific scorer this season, getting off to a strong start with 28 points in Iowa State's season-opening rout of Cleveland State.
Joens has averaged better than 20 points per game in each of the past three seasons, and last year shot a career-best 37.6 percent from 3-point range, and did so attempting nearly 100 more than the season prior. Should Joens connect on 40 percent or better from outside this season, she'll be right in the mix to lead the nation in points per game.
Haley Jones, Senior Guard, Stanford
Versatile perimeter player Haley Jones powers a Stanford team looking to win its second national championship in three seasons. Luckily for Hall of Fame coach Tara VanDerveer, her team's most talented player is also its most capable of picking up the slack in any facet of the game.
Jones isn't the most explosive scorer, but can turn it on when necessary — as reflected with her 55 combined points through the Sweet 16 into last season's Final Four. She's a top-flight rebounder, particularly for a perimeter player, and one of the most tenacious on-the-ball defenders in the game.
Combined with her ability to distribute the ball, Jones is a Swiss Army guard not unlike the Los Angeles Sparks' Brittney Sykes — yet in a 6-foot-1 frame.
Elizabeth Kitley, Senior Center, Virginia Tech
At the center of Virginia Tech's emergence a season ago — literally — was 6-foot-6 post presence Elizabeth Kitley. Kitley posted better than 18 points per game a season ago and came a hair away from averaging a double-double for a second consecutive season.
Kitley is an effective scoring presence in the paint, boasting a field-goal percentage north of 55 percent two of her three seasons with the Hokies. Last year, she drew more fouls to get to the charity stripe.
An outstanding shot-blocker as well, the return of Kitley alongside fellow Hokies veteran Ashley Owusu has Virginia Tech poised for an outstanding 2022-23.
Charisma Osborne, Senior Guard, UCLA
Consummate floor general Charisma Osborne leads UCLA in its pursuit of a conference championship, facing off against a typically stacked Pac-12.
The Bruins missed the NCAA Tournament field a season ago, but should be back in the Dance this year with Osborne running the show. She finished the 2021-22 campaign with purpose, which included a 31-point, 10-rebound performance against Oregon State in the WNIT. Osborne's ability to score as effectively as she sets up teammates makes her a handful for opponents to defend.
Maddy Siegrist, Senior Forward, Villanova
An instant impact player the moment she arrived at Villanova, Maddy Siegrist embarks on her senior campaign as a dark-horse contender for National Player of the Year and a fast-rising WNBA prospect.
Siegrist powered Villanova to a breakthrough 2021-22 campaign, including a road win over juggernaut UConn and victory in the NCAA Tournament. The Wildcats have the makings of a potential second-weekend team in 2022-23 thanks to Siegrist's continued presence as the pillar.
Siegrist averaged north of 25 points per game a season ago, combining a consistent 3-point shooting touch with an uncanny ability to get to the basket. While Siegrist thrives offensively facing up to the basket, she's more than willing to mix it up on the interior as evidenced by her near-double-double per game average on the glass.