2022 Battle 4 Atlantis Women's Tournament
Charisma Osborne Has More Than One Way To Power UCLA Basketball
Charisma Osborne Has More Than One Way To Power UCLA Basketball
UCLA's Charisma Osborne is an explosive scorer, but it's her ability to flourish in other areas that will shape UCLA in 2022-23.
Nov 11, 2022
by Kyle Kensing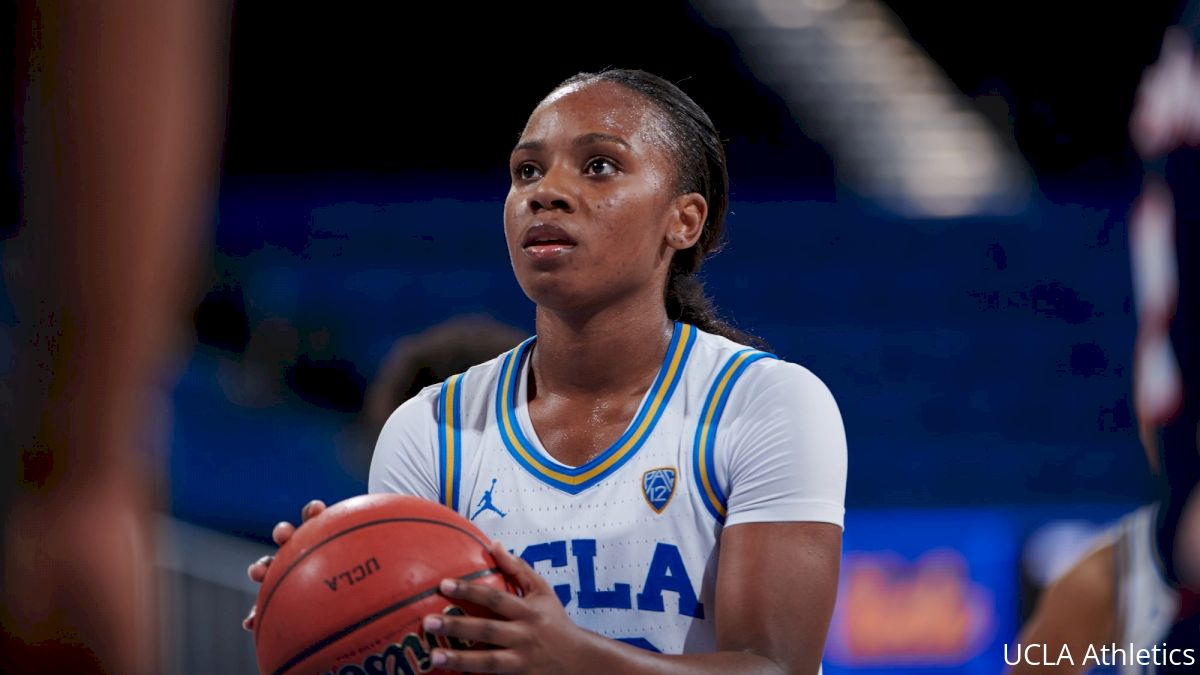 Modern basketball has rendered specialization by position largely obsolete. The best players in today's game are those who have a multifaceted skillset and an ability to snap in and out of different spots around the floor.
"If you look at the direction of the game, you're looking at spread-court offense," UCLA coach Cori Close said in the postgame press conference following the Bruins' Nov. 10 64-43 rout of UC River. "Look at the NBA, look at the WNBA, look at the Final Four teams. The days of the playing high-low post and just powering it in are over."
Few embody this evolution of the sport more than UCLA's Charisma Osborne. The Bruins senior is officially a guard, but her style of play transcends traditional labels.
Embarking on her fourth season as a key member of the Bruins, Osborne's done it all: clutch scorer. Lockdown defender. Table-setting passer. Even a physical banger on the interior with an intensity belying her 5-foot-9 frame.
But as UCLA rolls into the 2022-23 season, Osborne's versatility takes on even greater significance for a team looking to contend for a Pac-12 Conference championship.
Osborne debuted with a splash in 2019-20, averaging 12.2 points per game, but that was only a teaser before she bumped her scoring production to 17 a contest for the following season's NCAA Tournament team.
A season ago, she posted 16.4 points per game but saw slight dips in assorted advanced metrics. Although marginal, her offensive rating as a junior dropped below the standards set her freshman and sophomore campaigns, per HerHoopStats.com.
And when the NCAA Tournament arrived last March, the Bruins were left out of the field of 64.
To that end, Close drew a parallel between UCLA squad and the "Redeem Team," the 2008 Olympic men's basketball unit that reclaimed the Gold Medal after a disastrous 2004 Games.
A hallmark of that squad was its collective versatility, with the offense running through different players at any given time. Osborne is in position to be the primary scorer of the 2022-23 Bruins, but be able to do so in an efficient manner that accentuates her skills in other areas of the game.
"That actually is going to be really important for us, that they don't feel like Charisma has to get 18 and 10 every single game," Close said. "That there's people [who] can come alongside her and she doesn't have to be perfect every play from a shooting perspective."
On last year's 18-13 team, IImar'I Thomas followed Osborne with 15.7 points per game. After her, the gap between top scoring options dropped considerably from third-leading producer, Jaelyn Penn at 10.5 points per game; down to 6.5 Angela Dugalic in fifth.
As a result, as Osborne's shooting went, so went the Bruins.
Through the first two games of a new season, Osborne's still shown off her scoring punch with 20 points in the opening-night rout of Cal Poly, but Emily Bessoir has looked poised for a breakout campaign in her return from an injury that cost her the 2021-22 season.
The additions from a highly touted recruiting class also promise to open the floor more. In particular, guard Kiki Rice should complement Osborne nicely in the backcourt.
"I'm happy she's here, I don't have to bring it up anymore," Osborne said with a laugh following the win over UCR. Last season, Osborne had to operate as the primary scoring option while doubling as the point guard with the graduation of Jordin Canada.
With Rice sharing duties, UCLA has an option at point guard to give Osborne more ability to operate freely.
"Either one of us can bring the ball up the court. Kiki's a great shooter and great driver, as well," Osborne said. "We're interchangeable in that way."
Osborne showed off the possibilities with her not being confined to the point against Riverside, grabbing a career-high 13 rebounds.
As UCLA travels the road in pursuit of its 2022-23 goals, it's this kind of versatility that will shape the Bruins' identity.
"