2022 Cayman Islands Classic
Matt McMahon Brings A Winning Pedigree To LSU
Matt McMahon Brings A Winning Pedigree To LSU
Fifty years ago, LSU hired a transformative coach in Dale Brown. Matt McMahon's arrival brings hope of a similar spark to Tigers basketball.
Nov 11, 2022
by Kyle Kensing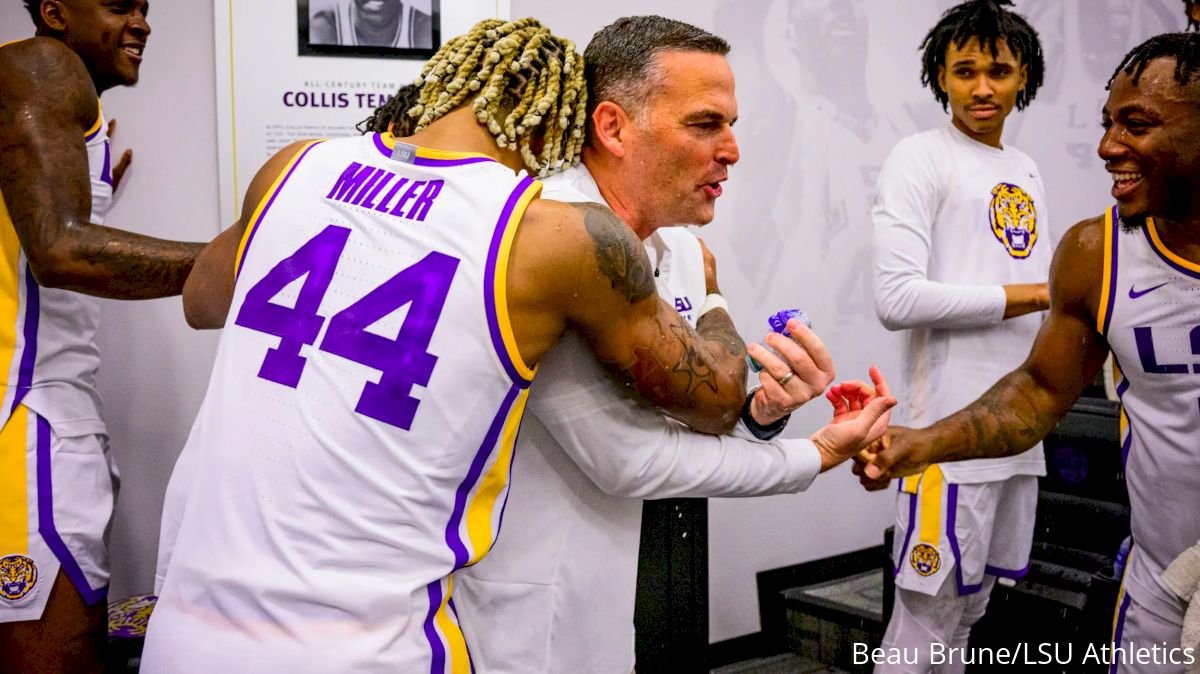 Few programs boast an alumni catalog quite as impressive as that of LSU basketball: Bob Pettit. "Pistol" Pete Maravich. Mahmoud Adbul-Rauf. Shaquille O'Neal.
Indeed, there was a time when LSU was the Southeastern Conference's Basketball School, more so than any member save Kentucky. But then came a guy named Nick Saban, and Death Valley transformed into one of the hotbeds of college football.
Fifty years ago this season, however, LSU athletic brass made a hire that was just as influential on the state of Tigers basketball when a high school coach-turned-assistant in the West was named head coach. Dale Brown came to Baton Rouge with little fanfare, but in six years, won an SEC championship.
In less than a decade, LSU reached a Final Four. Brown had built from the unfulfilled promise of Press Maravich's coaching tenure to build a consistent NCAA Tournament program.
On the half-century anniversary of Brown's hiring, Matt McMahon arrives with a far more established pedigree — university president William Tate called McMahon "a transformative talent" at the coach's introductory press conference in the spring — and McMahon inherits a more successful program than the Hall of Famer Brown. The Tigers tipped off the 2022-23 season having made the last three straight NCAA Tournaments.
But with the specter of an NCAA investigation, stemming from an FBI investigation, looming over predecessor Will Wade, McMahon came to LSU this past offseason facing a different challenge.
"Culture is the most overused word in sports. People just throw it around and have no idea what it means," McMahon said at his first LSU presser. "Culture will be clearly defined [at LSU]...Culture precedes positive results. Culture precedes championships."
That pursuit of a clearly defined culture is what McMahon and a revamped LSU look to build a long-term winner, not a flash-in-the-pan for a few seasons.
McMahon's track record suggests he can do exactly that. At Murray State, he inherited a program with lofty expectations; the Kentucky-based program can accurately be described as a mid-major blue blood with history comparable to that of LSU.
Starting with Jumpin' Joe Fulks in the 1940s, Murray State has had consistent winners and been something of a Cradle of Coaches to produce names like Mick Cronin.
But McMahon's tenure elevated the Racers to a higher standard. Murray State won NCAA Tournament games in 2019 thanks to an under-the-radar recruit turned superstar named Ja Morant.
The 2022 Racers replicated that feat, however, without an NBA lottery talent, demonstrating the flexibility of McMahon's approach. That some of the members from last year's Murray State squad — Justice Hill, Trae Hannibal and KJ Williams — serves as testament to the player buy-in of this method.
Of course, playing in a conference with the recruiting juggernaut that is Kentucky, recent Final Four participants in Florida and Auburn, and a vastly improved Tennessee puts a premium on signing NBA-caliber players.
Attracting elite NBA prospects has never been an issue for LSU, a program with prominence and resources to be a perennial Final Four contender. McMahon and his staff are seeing success immediately in that regard, landed a pair of highly touted recruits in the November signing period.
Corey In The House 😤

Corey Chest (@jazzworlddd) is officially an LSU Tiger!

🔗 https://t.co/2yRDgp8Y8U pic.twitter.com/dUFbmBfV7H

— LSU Basketball (@LSUBasketball) November 9, 2022
For LSU, the failure of the 2016 team to reach the Big Dance despite featuring No. 1 overall draft pick Ben Simmons reflects that talent alone isn't enough to carry a squad. Balancing blue-chip talent with unselfish offensive play and aggressive effort on defense is what McMahon and Co. aim to instill as the Tigers' defining trait.