2022 Women's Gulf Coast Showcase
Women's Gulf Coast Showcase: Don't Expect Easy Games From Tough Field
Women's Gulf Coast Showcase: Don't Expect Easy Games From Tough Field
Americans often flock to southwest Florida when the weather gets cold. So do the college basketball programs involved in the Women's Gulf Coast Showcase.
Nov 11, 2022
by Briar Napier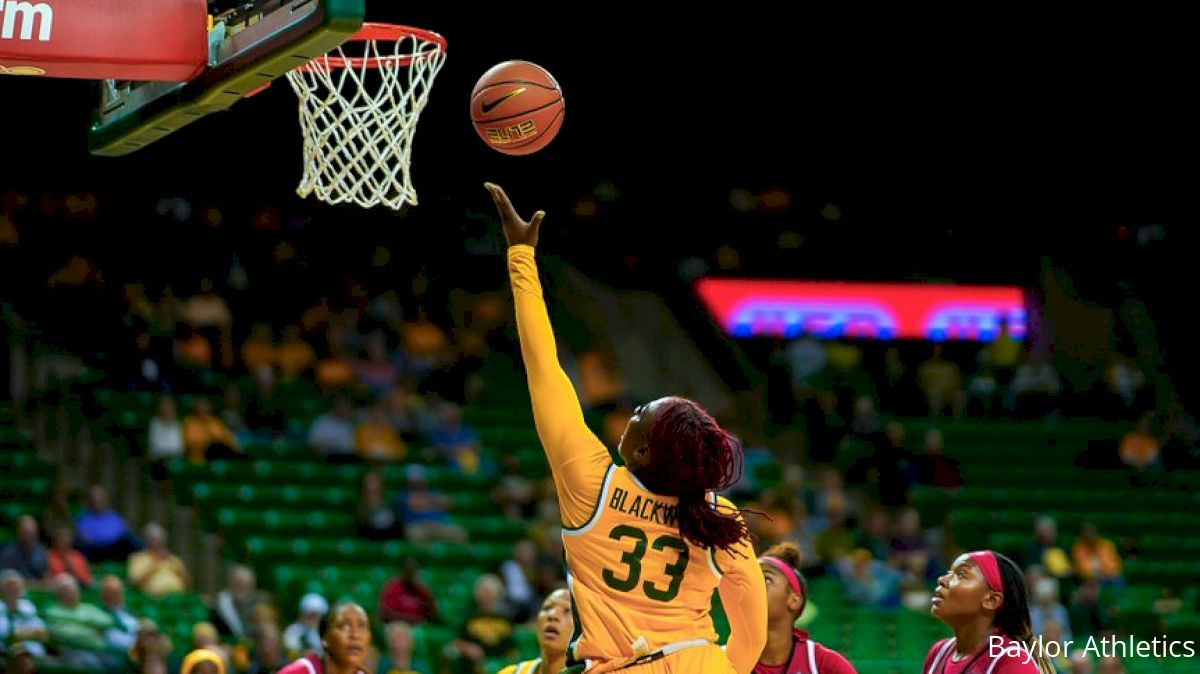 Americans often flock to southwest Florida when the weather gets cold, but so do the college basketball programs involved in the Women's Gulf Coast Showcase.
With the tournament, held in the tourist-heavy region of Florida's Gulf Coast, now marking 10 years of existence with this season's event, it boasts a field worthy of such distinction and history, with three loaded days of basketball between the tourney's eight teams.
Some players in the Women's Gulf Coast Showcase have very real chances of winning national awards or making their names known in the professional game later in their careers. Some teams could be busting brackets come March.
But before those accolades can be earned, those stars and schools must outlast and perform against the rest of the hefty competition in the Sunshine State during Thanksgiving Week.
Here's a look at the teams, players and matchups to check out at the Women's Gulf Coast Showcase.
The event will be held at Hertz Arena in Estero, Florida, from Nov. 25-27, and all competition will be streamed live on FloHoops.
NOTE: All tipoff times are listed in Eastern Time and are subject to change. All stats and records are updated as of Thursday evening.
Teams To Watch
With a hefty mix of big-name high-majors and up-and-coming mid-majors, the Gulf Coast Showcase has a serving of high-level basketball for every type of women's college basketball fan.
Baylor, a three-time national champion, enters Year 2 - and a very important campaign in particular - in the tenure of Nicki Collen, the former coach of the WNBA's Atlanta Dream. She was hired to lead the Bears program after hall-of-fame coach Kim Mulkey was hired away by LSU.
Though a regular-season Big 12 Conference title gave Collen some credentials in one of women's college basketball's toughest leagues, how she'd be able to recruit players to Waco and keep the standard built by Mulkey was bound to be one of Collen's defining question marks this offseason.
But with Missouri transfer guard Aijha Blackwell already being the Lady Bears' leading scorer in both of its wins to start the year against Lamar and Incarnate Word, it appears that Collen's recruiting chops are looking just fine.
Meanwhile, over at Michigan (which starts its Gulf Coast Showcase against Air Force at 5 p.m. on Nov. 25), the Wolverines are learning how to manage life without former Big Ten Player of the Year and WNBA Draft pick Naz Hillmon down low after she finished second all-time in program history in scoring and tallied the most career double-doubles (52) ever by a Michigan women's basketball player.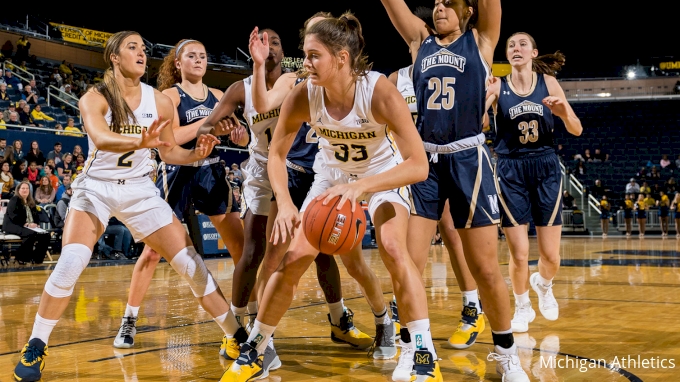 That's still a work in progress, though All-Big Ten honorable-mention forward Emily Kiser looked strong in a 15-point, six-rebound, five-assist performance in the Wolverines' dominant season-opening win over Delaware State.
And what about South Florida, which has made back-to-back NCAA Tournaments and returns one of the nation's most dangerous shooting guards in senior Elena Tsineke (14.3 points per game last season)? Don't be surprised if the Bulls make a dark-horse run deep into the Gulf Coast Showcase.
Players To Watch
If you haven't seen Villanova forward Maddy Siegrist rip a team to shreds yet - and if you have a FloSports subscription, get on that by checking out the BIG EAST games being streamed sometime. Don't miss out on watching the reigning BIG EAST Player of the Year do her thing.
With the exception of Iowa superstar Caitlin Clark, no player in America averaged more points per game than Siegrist's 25.3 per night a season ago, rocketing the Wildcats to their first NCAA Tournament appearance since 2018.
.@LucyOlsenbball Steal ➡️ @20sMaddy Bucket #NOVAvsMarist pic.twitter.com/t5yjnEX6Sw

— Villanova WBB (@novawbb) November 8, 2022
Back for another go-round with Villanova, she picked up right where she left off with a 21-point performance in the Wildcats' lone game (and win) at this time of writing against Marist. On paper, she likely is the top pound-for-pound player at the Gulf Coast Showcase.
Still, that definitely doesn't mean other players in the mix can't give her and Villanova a run for its money.
Baylor has Blackwell - one of the nation's leading rebounders a season ago - to provide ample competition to Siegrist, should their two teams meet in the semifinals, while freshman forward Bella Fontleroy also looks strong in the season's early goings with a limited stat line of 14.0 points and 5.5 rebounds tallied in her first two collegiate games.
Keep an eye on the two in-conference grad transfers that Georgia Tech, which takes on South Florida in each teams' first matchup at 7:30 p.m. on Nov. 25, managed to grab from the portal in guards Cameron Swartz (Boston College) and Bianca Jackson (Florida State). The duo combined for 37 points in the Yellow Jackets' win over Georgia State to start the year.
Game To Watch
Belmont vs. Villanova, Nov. 25 at 1:30 p.m.
Siegrist at 'Nova is worth the price of a subscription to watch this game alone, but don't sleep on Belmont, which quietly is evolving into one of the country's most consistent mid-major women's programs under coach Bart Brooks.
The Bruins have made six straight NCAA Tournament appearances - a remarkable achievement for a program that spent each of those seasons playing in the Ohio Valley Conference - but took the achievements a step further over the past two seasons when they beat Gonzaga, then Oregon, in the first round of those events as a No. 12 seed. It gave Belmont a reputation for playing spoiler and ending March Madness dreams before they can really begin.
Against Villanova, the Bruins very well may be up against the type of opponent they could see down the line in March, as they aim for another trip to the Big Dance in a new league, beginning play in the Missouri Valley Conference for the first time this season.
Perhaps most importantly for Belmont, is that its most important player from a year ago, junior guard (and MVC Preseason Player of the Year) Destinee Wells, opted to stick around the program after a massive 16.7-point-, 4.5-assist- and 3.6-rebound-per-game campaign last year to help the Bruins try and get to that point again.
Nonetheless, Belmont perhaps indicated it has some things to iron out of its own after barely sneaking by Chattanooga (a seven-win team last season) in its 2022-2023 season opener.
𝙎𝙤𝙢𝙚𝙩𝙝𝙞𝙣' 𝙖𝙗𝙤𝙪𝙩 𝙤𝙥𝙚𝙣𝙞𝙣𝙜 𝙣𝙞𝙜𝙝𝙩 𝙩𝙝𝙧𝙞𝙡𝙡𝙚𝙧𝙨

You won't want to miss the Curb on Sunday! #ItsBruinTime | #Splashville pic.twitter.com/jFaqU4UQKX

— Belmont WBasketball (@BelmontWBB) November 10, 2022
And, if Siegrist sees an opponent's weakness she can exploit on the offensive end, good luck stopping it.
Both squads probably will be a bit more polished heading into the Gulf Coast Showcase, however, but whichever school shows up more ready to go is probably going to take the W, too.